What to Wear to a Pandemic
revelling in the glory of cinematic wardrobe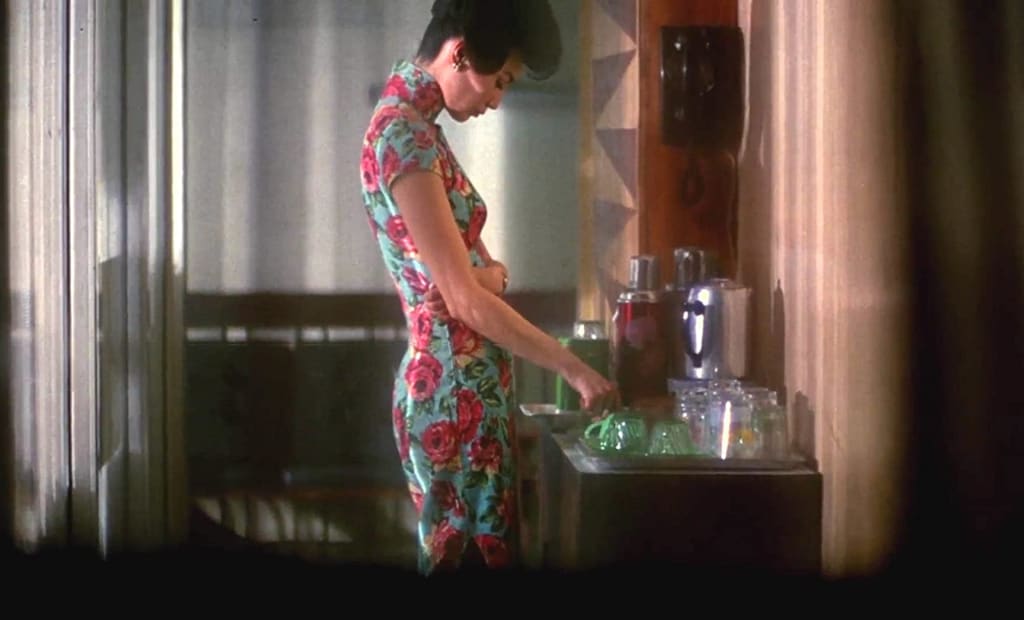 I have one outfit for the pandemic: my pjs - bubble-gum pink flowers floating across electric-blue flannel. I watch a lot of movies in them, and these days I take special pleasure in noting costume design. Take a break from sweat pants and lockdown with these filmic wonders -
Maggie Cheung wears twenty-one different cheongsams in Wong Kar-Wai's In the Mood for Love, and each one is as visually seductive as the whole film. In Breakfast at Tiffany's, Audrey Hepburn wears just two different LBDs, but both were designed by that master of chic - Givenchy.
Glinda, however, is a one frock woman. But what a frock! It is the one I most coveted when I was a kid. It still thrills me to watch The Wizard of Oz, just so I can revel in the vision of that sparkly, marshmallow-pink confection.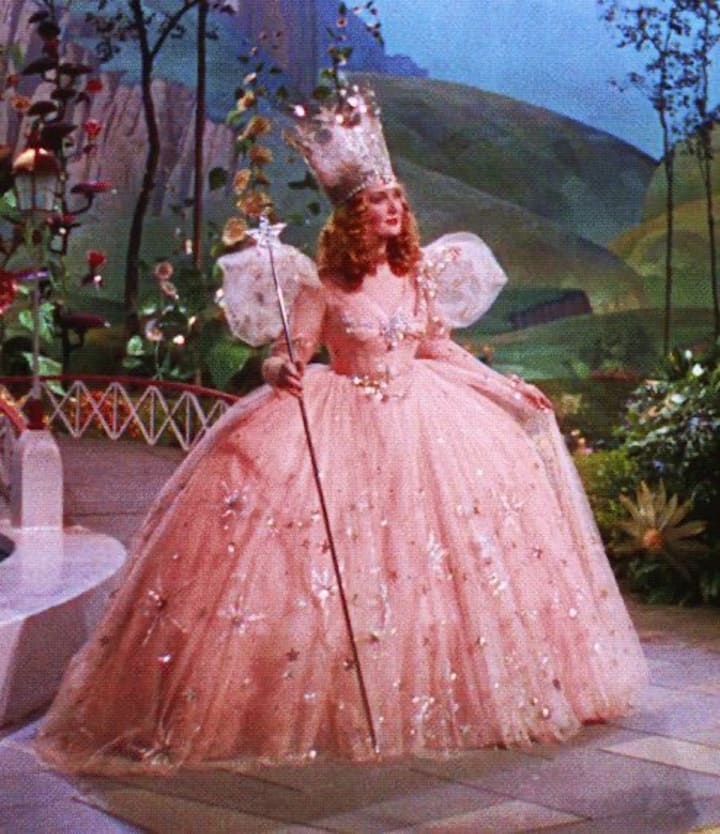 A masterpiece in tulle, souffléed onto Billie Burke's slender frame, it inspires me to wave my wand (the remote control) and trill to the wicked virus: "You have no power here. Be gone! Before somebody drops a house on you."
Adrian, who designed the Good Witch's threads, is my favourite pandemic-escape artist. He created many enduring pieces of sartorial genius that helped define character. Witness Kate Hepburn in The Philadelphia Story in her goddess gown. Designed to make her seem both untouchable and infinitely touchable, it's the gown I've most coveted as an adult.
Although, a close second is Daniela Vega's dazzling over-the-top outfit for the dance scene in A Fantastic Woman. The heartbreak in her character's eyes preceding the dance is replaced with a feeling of joy as she's launched into a flight of magical salvation - a moment that will see her through storms to come. I want the garment that can do that.
I write screenplays. So I watch and rewatch a lot of movies. Sometimes I put my feet up, eat popcorn, drink wine; but mostly I'm at the controls, conducting a stop and start analysis of structure, dialogue, character, whatever makes a good movie - including the Art of Costumery.
Just so long as I can bask in the shimmering raiment of the silver screen, I can get through lockdown or lock up or lock jaw. Movie accessories and costumes can alleviate any constraints I might feel due to Covid protocols. They lift me up and plunk me down into a land of artistic possibilities: Mata Hari's jewel-encrusted cap, Carmen Jones' fire-orange pencil skirt, the sun-bleached robes of Lawrence of Arabia, Marnie's butter-yellow purse.
Hitchcock himself probably choose that purse for the opening shot in Marnie. He had an exceptional eye for detail. And he insisted that all his actors, right down to the background players, be meticulously dressed. They were often exquisitely dressed too: Grace Kelly in Rear Window wears some gorgeous Edith Head attire. But I am more taken with the various day dresses Thelma Ritter sports for massage-and-binocular duty. For those, I'd shed my constant pandemic ensemble.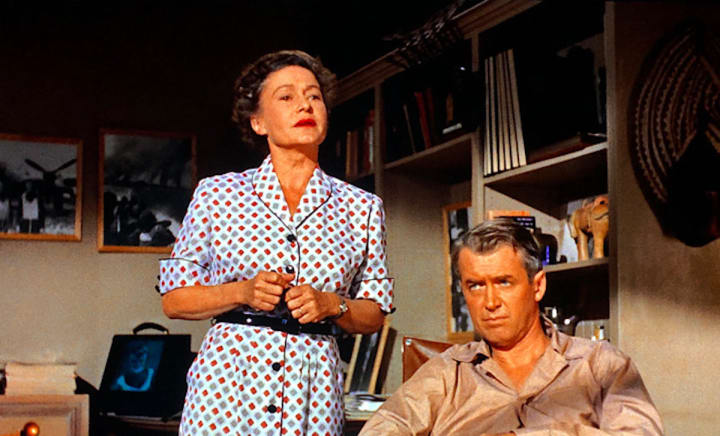 Alone in my home and inspired by Fellini's Juliet of the Spirits, I wore a chapeau with my pyjamas last night, a big one with ribbons and chiffon. For the record, I have amazing pjs. My partner bought them for me, long before I (or anyone) knew we might be spending a year in our nightwear. They are Betsy Johnson: bubblegum-pink flowers parading across a bright-blue flannel background. They go well with opera gloves too.
Speaking of which, I saw a movie last week that had a credit for gloves. I watched the whole thing just to glimpse the hand coverings that rated such an honour. It turned out to be a lousy flick all round and I've seen better gloves in boxing movies. I wanted my two hours back. Even during lockdown, when I have a lot of time on my hands, some togs and movies and matters just aren't worth spending such a valuable commodity as minutes on.
In the second act of Breakfast at Tiffany's, Audrey dons a most excellent candy-pink cocktail dress, but I rarely get that far into the movie anymore, as Mickey Rooney's racist portrayal of Mr. Yunioshi is not only a waste of my time but it threatens to destroy my fast forward button. You can learn from scenes like that but my best advice is to just watch the opening - it has everything: 1960s New York at dawn, iconic jewelry store, Moon River, diamonds, Holly Golightly with coffee. It's one of the best credit-rolls ever.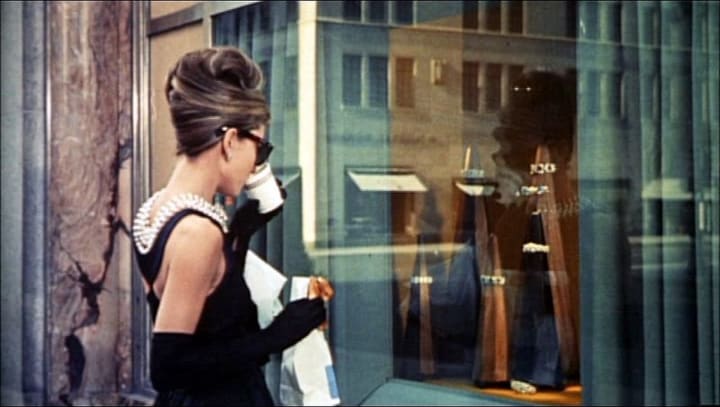 Naturally, I'm getting a whole lot more out of my pause/rewind/replay process than just fodder for my wardrobe lust. I see over and over again how costume shapes character and highlights emotional states.
Blanche DuBois' wilting frills in A Streetcar Named Desire speak to her shattered nerves and impending mental breakdown. And in They Shoot Horses, Don't They? one character's stolen movie star getup amounts to identity theft, as she doesn't know who she is without it and so begins her descent into madness.
This coronavirus year has been stop 'n' start in more ways than just my screenwriting lessons: open/close, stay/go. But tonight I'm taking a break - no analysis, just kicking back to enjoy the lavish visuals of Death in Venice.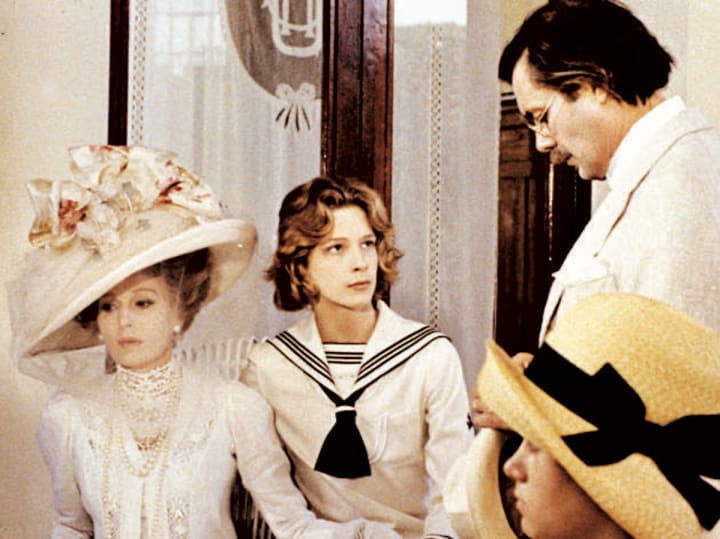 I must've seen it a hundred times but I never tire of Peiro Tosi's costumes: hats that are architectural wonders, Tadzio's sailor suits (and swimsuits), gowns as extravagant as wedding cakes, minstrel attire as grotesque as the raging pandemic that forms the backdrop to the story.
On second thought, Visconti's terrible beauty may be more than I can take just now. I think I'll accessorize my jammies with a nice glass of pink bubbly and rewatch some choice screwball instead.