What Not to Wear to Work
This is an article that should help all of the business-going women out there aspiring toward really achieving financial stability without having to "show off." Enjoy!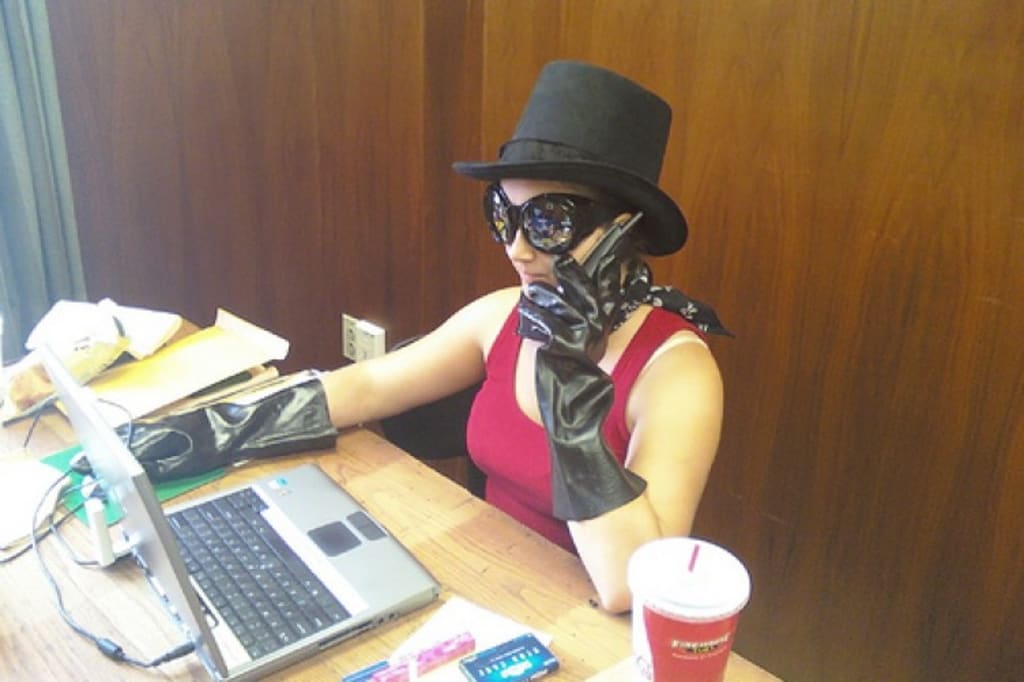 Numerous professional women are guilty of fashion faux pas without realizing it, and their lack of judgment can lead to being passed over for a job or even a promotion.
Dressing for a successful career does not mean to come in to work sexy, flirtatious, for pleasure, etc. Dressing for success is coming in with your business suit on and getting ready to work.
Exposure of Cleavage:
Showing too much cleavage is the main problem within the working industry and if you want to get ahead put on something more professional. Studies show that women who come to work dressed in sexy attire will most likely be passed over for a promotion.
Women who come to work and they look like they are there to work will get noticed more because of their attire. So if you want to get ahead in life just button up!
Short Skirts:
Wearing a small skirt is just sending the message that you are trying to compensate for skills you lack in. People's attention will be drawn downward when they approach you, instead of toward your face where their eyes should be. Save your minis for your after office hours. Put a skirt on that's is not going to show too much thigh and you will be okay and professionally dressed. I stress this because as I've gotten older and really started paying attention, there are several hiccups with dress code and I see from personal experiences that the ones with business attire don't necessarily obtain as much attention but hey, who am I to judge.
See-through Clothing:
Summer materials such as organza fabric look and feel pretty cool, but in certain lighted areas they will be able to see more than a co-worker's eyes should see! There will be outlines from your legs to other parts, which is inappropriate for work. The best way to make sure your goodies are not going to be seen at work is to take a look in the mirror and make sure you're fully covered up. Always wear a transparent blouse over camis or under jackets; transparent dresses and skirts should be layered over a slip or leggings.
Over-accessorizing:
Everyone should know about this one. If you come in to work with beads that your daughter just made in school, do you really think you are being looked at seriously? There is a time and place for everything and work is not the place for too many accessories. Wearing costume jewelry with too much makeup and trying to pull off a professional look is going to make you look gaudy and tacky. Be natural and limit the things you wear at work if you want to be taken seriously. I can say this will help you because limitations leaves one in mystery.
On an off day, yes accessorize so others can see how you would dress off the clock and you will get that "wow, you look amazing" vibe, opposed to a co-worker already knowing what you are capable of pulling off (especially if it's someone you may have an eye on).
Wearing too much perfume:
If you wear too much perfume it may become extremely uncomfortable for some to be around you. One or two sprays are good enough depending on the brand you are wearing. Keep it to a minimum when it comes to perfume. If you are wearing something like true star, you may need more than one spray but if you wear something like Shalimar, all you need is one spray and you are fine.
Trust me with this one, I've actually been embarrassed with wearing too much cologne and I could hear people coughing because of it. I actually sprayed it in my eye that morning being in a rush LOL.
I hope that I was able to help out in certain aspects of what not to wear to work and I hope that that you stay tuned for whats to come of my diversity!
Thank you for reading.