What is Athleisure Style? | 10 Athleisure Outfit Ideas to Try
This sporty style trend is certainly all the rage, and we often see celebrities and influencers using it.
You may have heard the term "athleisure" a lot lately. This sporty style trend is certainly all the rage, and we often see celebrities and influencers using it. So what is the athleisure style? In this article, I will introduce you to this fashion trend.
What Is Athleisure Style?
Athleisure style is a cross between the two words "Athletic" and "Leisure". In this fashion style, sportswear is worn as casual wear, blurring the "line" between function and fashion.
Leggings, joggers, sneakers, and tracksuits are some of the popular sportswear models used in this athleisure trend.
Why Is The Athleisure Style So Popular?
Athleisure as a sporty style has certainly made quite an impact in the fashion industry, especially in the world of women's fashion. The popularity of this sporty style is due to the fact that many people are beginning to realize the importance of living a healthy lifestyle.
From the beginning, the goal of athleisure was to create sporty clothing that was more comfortable and suitable for exercise, but in the 1970s, a new focus on materials and function grew in favor of exercise.
As athleisure wear became more comfortable, people were more likely to wear it outside of workouts.
Today, that innovation is one of the main reasons why athleisure is so popular. Since all companies are constantly working on improving their materials and technology, today you can find athleisure apparel made of different fabrics such as bamboo, spandex, and merino wool.
10 Athleisure Outfit Ideas That You Can Try
Fashion athleisure is ideal for combining with other clothing. Sportswear can be casual style, street style, or even sporty style. If you are not sure how to combine these styles, try referring to the images we have provided. Good luck.
1. Mix and match jeans and tracksuit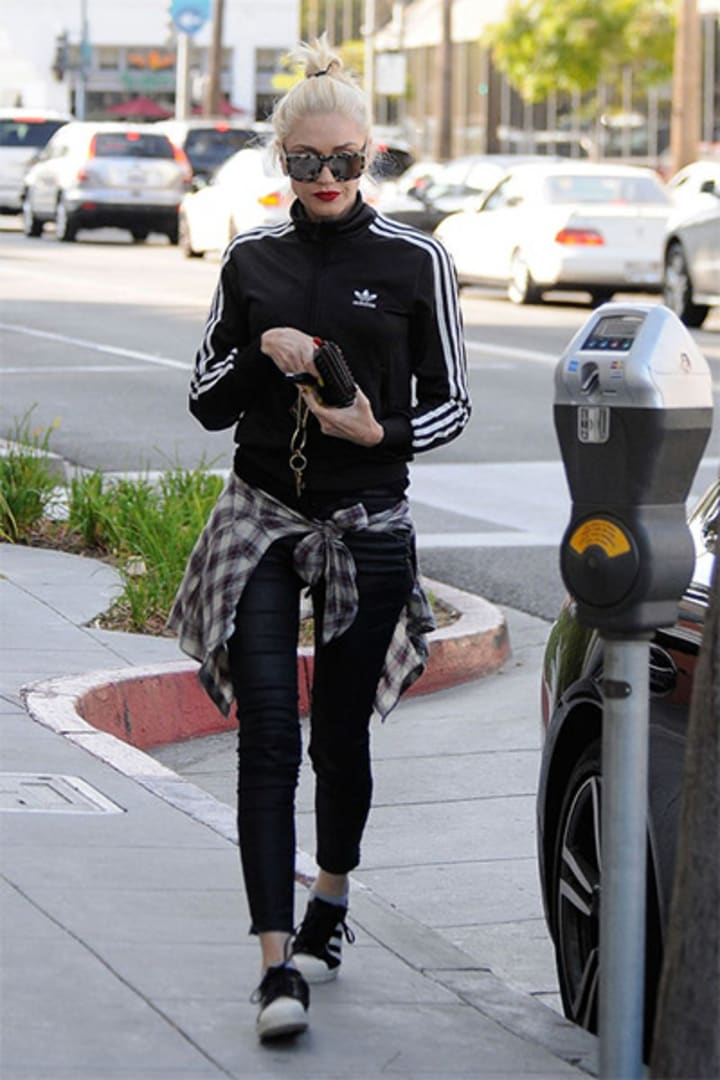 If you want to look sporty, put your tracksuit on top and mix and match it with skinny jeans. You can also tie a flannel shirt around your waist (this will hide the silhouette of your butt a bit).
You can also use your favorite sneakers for your daily activity. Don't forget to wear accessories such as glasses.
2. Combine your leggings with a sweater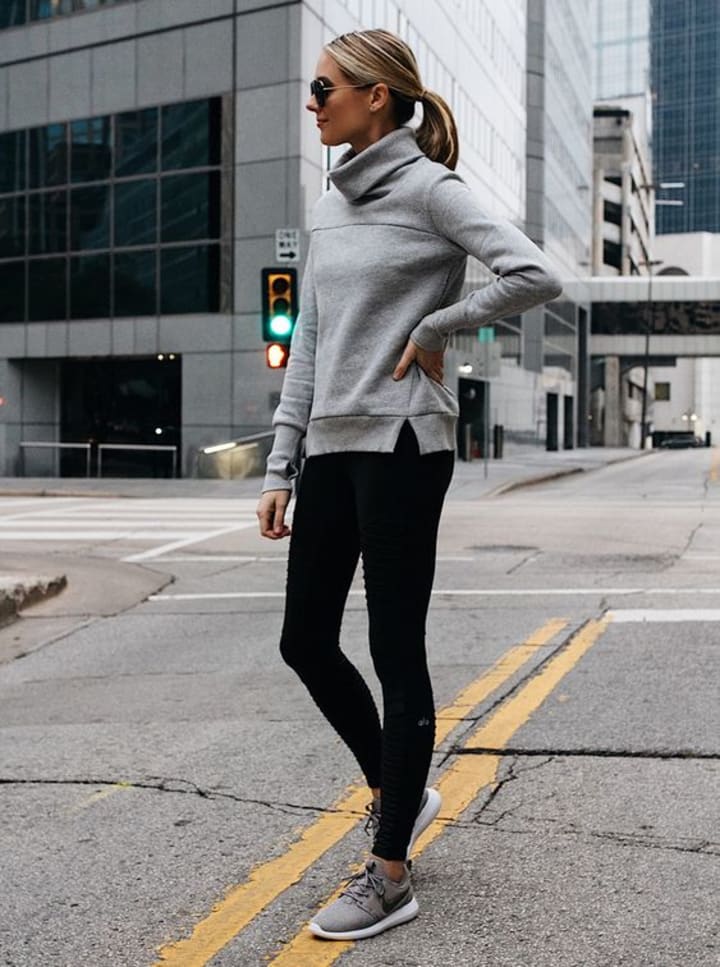 The next sporty athleisure style you can try is to combine a turtleneck sweater with leggings. Leggings are perfect for you if you have a slim and athletic body.
You can use this style when hang out at a café after your workout.
3. Combine it with a windbreaker jacket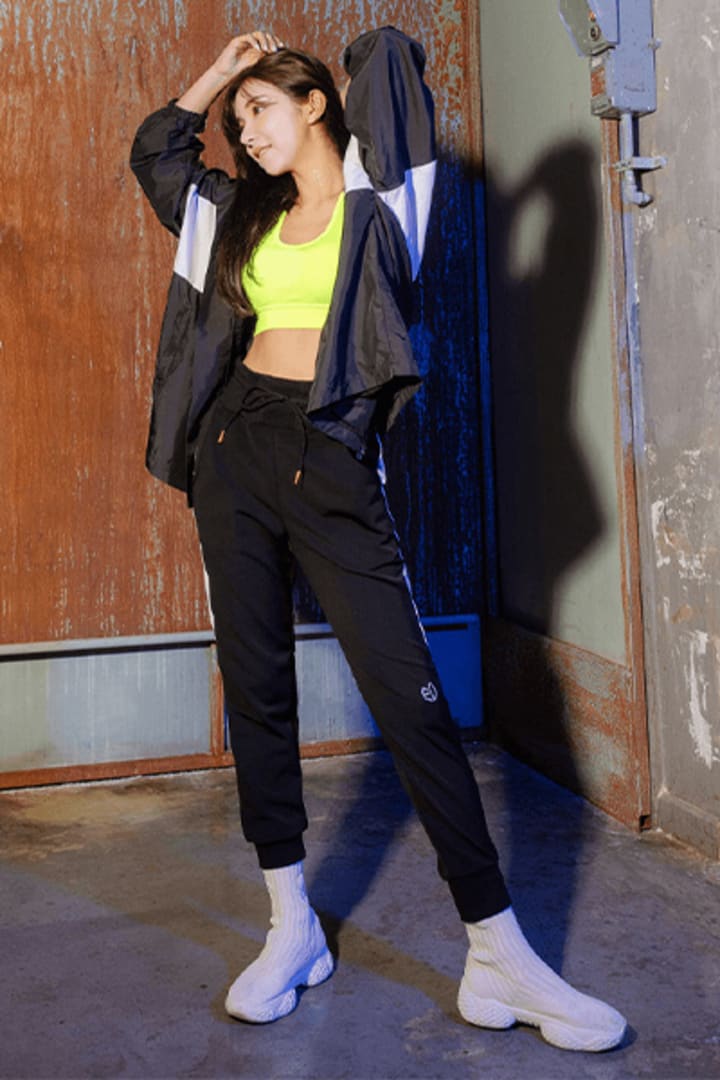 The jackets that mountaineers often use are actually used by people who like going to the gym.
Why not try this cool windbreaker. Then pair it with a brightly colored sports bra or cropped shirt. How about using sweat pants for easy movement?
Choose shoes that are easy for you to wear. For sporty style, sneakers and sports shoes are a safe choice.
4. Combine short jeans and a letterman jacket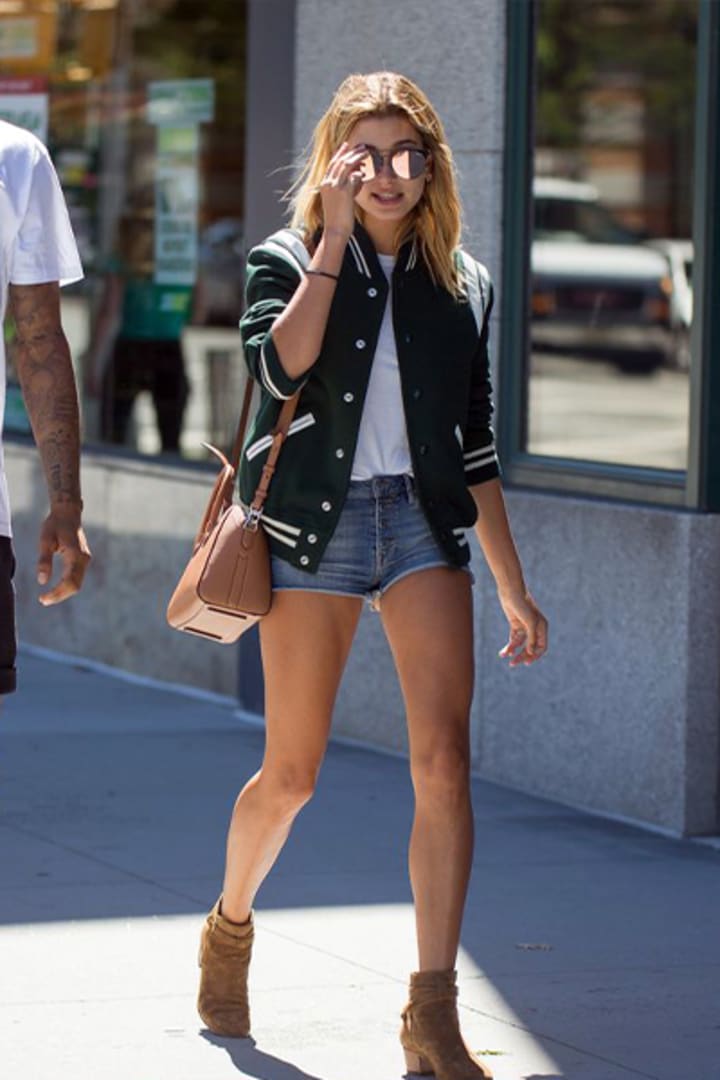 The letterman jacket (commonly known as the varsity jacket), part of the baseball jackets worn by Harvard students, is now an inseparable part of the sporty style.
You can pair your letterman jacket with a plain white t-shirt and short jeans. You can also match it with some accessories such as glasses and boots to start your daily activities.
5. Jogger pants and running shoes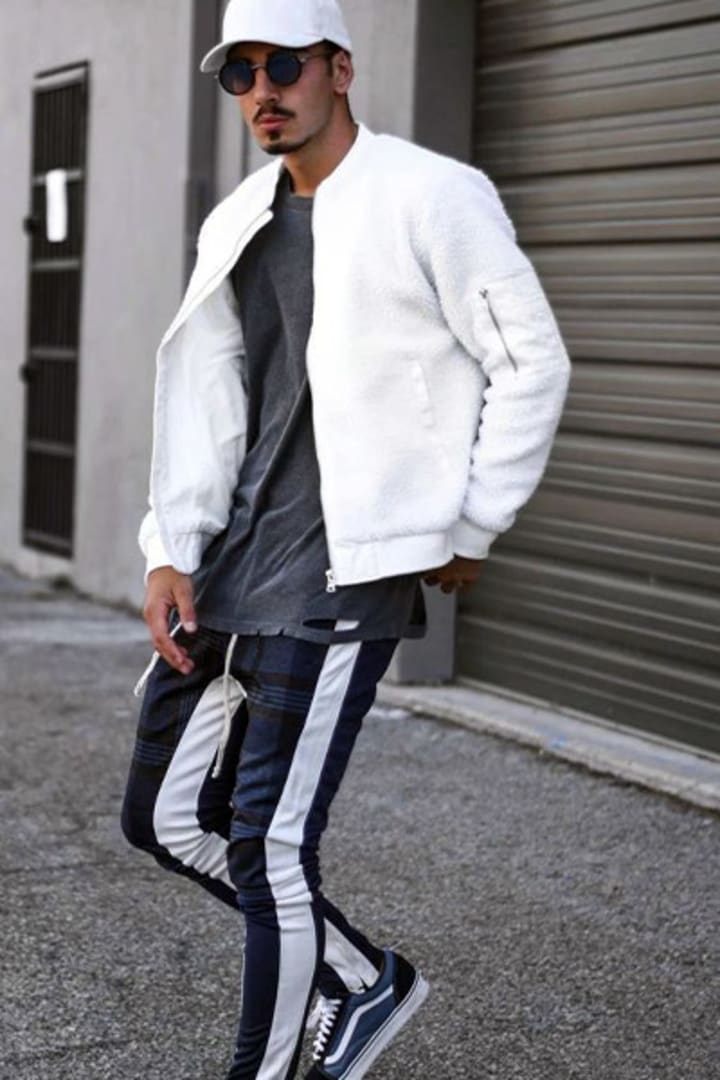 If you like jogging, you may have heard of jogger pants. These running pants can be a great complement to the athleisure style that is currently in vogue.
For bottoms, use jogger pants and running shoes. For outerwear, try an oversized T-shirt and a soft fleece jacket. How about wearing glasses and a baseball cap to protect your face from the sun?
6. Casual style using beanie hat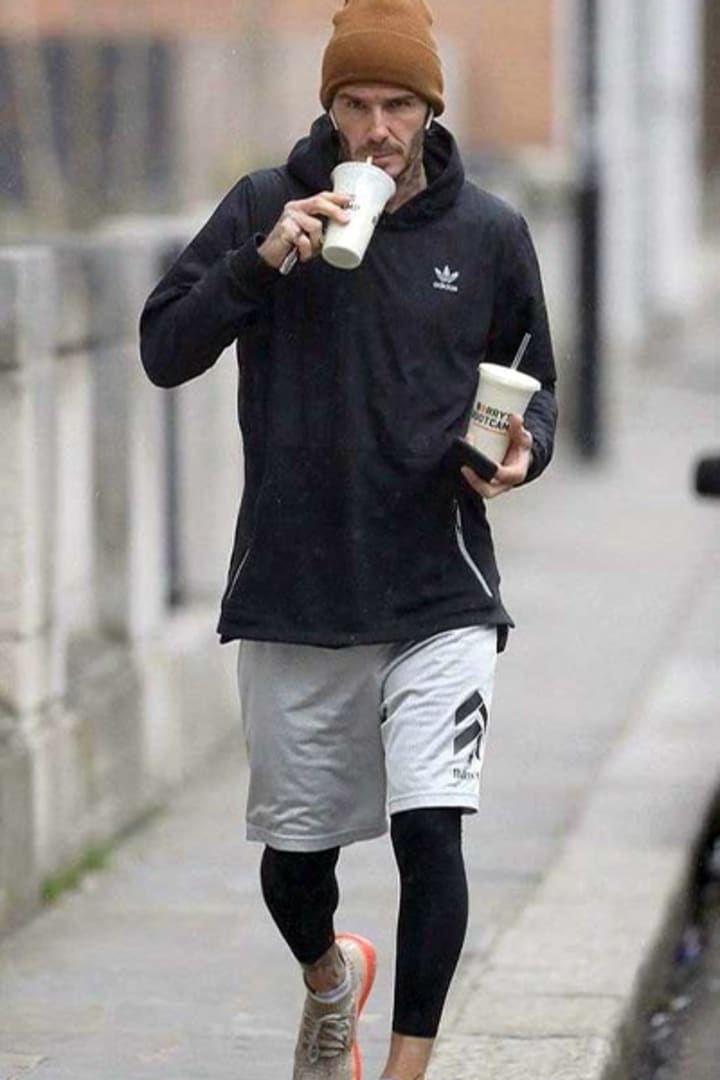 David Beckham is a real example of a celebrity who always had this fashion style. Whatever he wears is always cool and he is a role model for many people.
So what athleisure style can you emulate from Victoria Beckham's husband? How about using a beanie hat combined with a hoodie jacket? You can also wear leggings with sporty shorts.
7. Always use your favorite best sneakers for your shoes.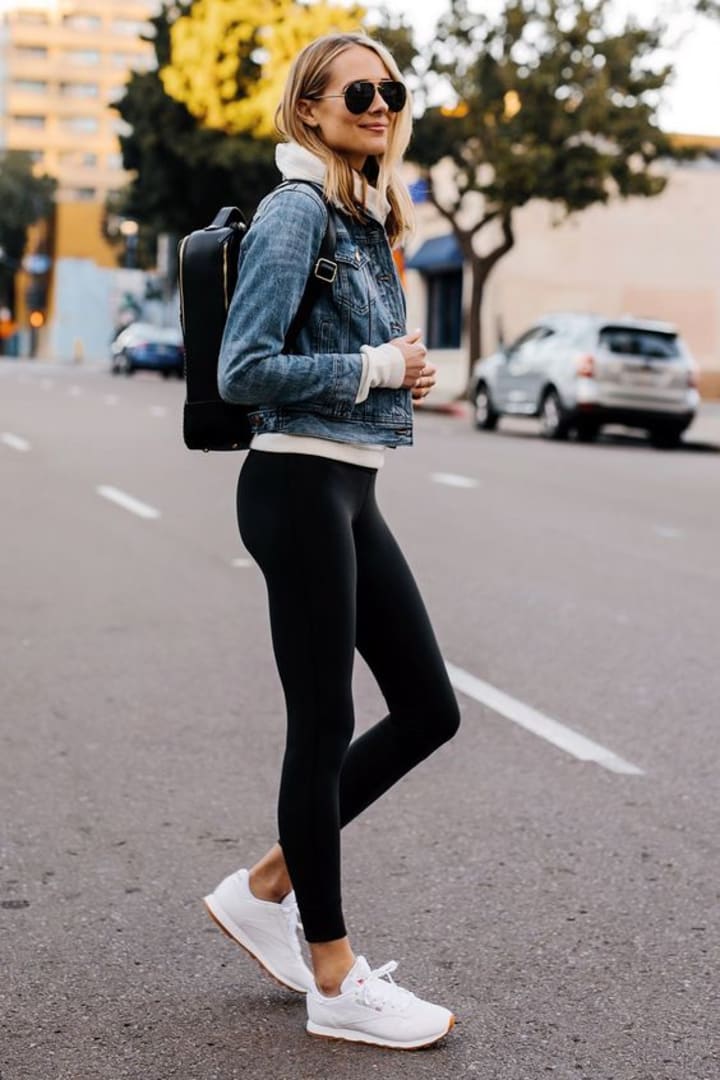 Sneakers are sports shoes that can be used as part of a casual look. If you have a slim and athletic body, try using this outfit. Pair the sneakers with black leggings. For the top, you can use a hoodie wrapped in your favorite jeans jacket.
Don't forget some light accessories like glasses. Tired of using a tote bag? Then try using a backpack.
8. Athleisure style with a baseball cap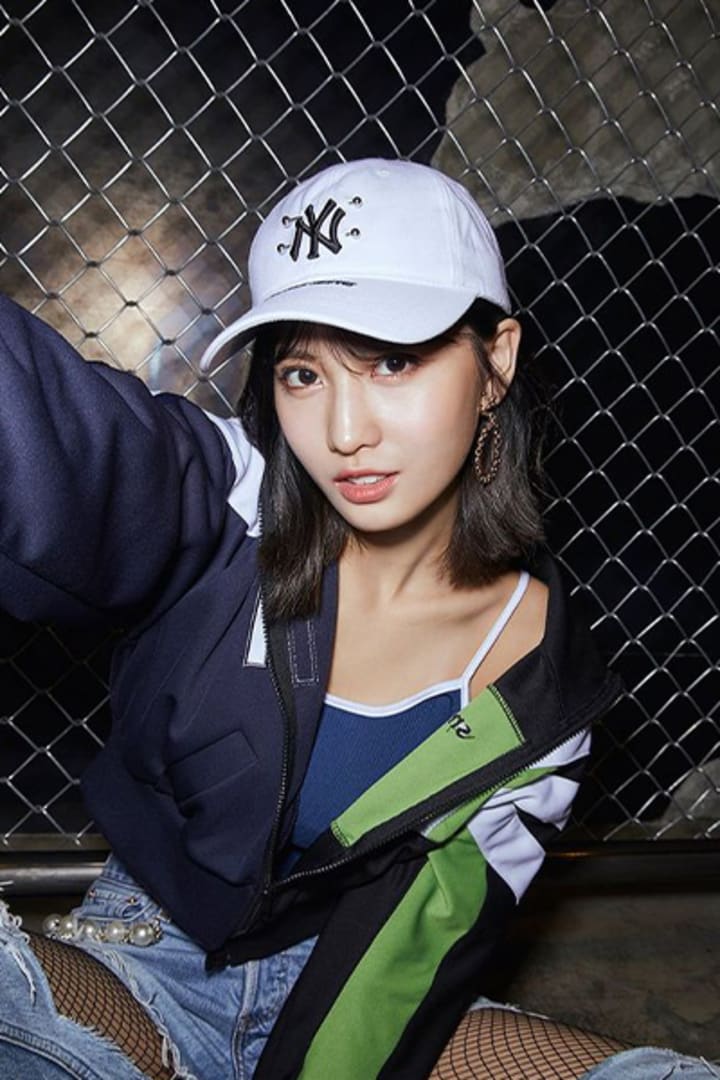 Recently, the athleisure style has become popular in many parts of Korea. This is because celebrities and influencers are also using this style.
If you are a K-POP fan, maybe you already know the girl group Twice.
You may want to copy the very cool Momo Twice style. Try pairing a windbreaker jacket with a crop top and a sports bra. Don't forget to add a pair of short jeans and a baseball cap to complete the athleisure look.
9. Use sport suits like Lisa (BLACKPINK)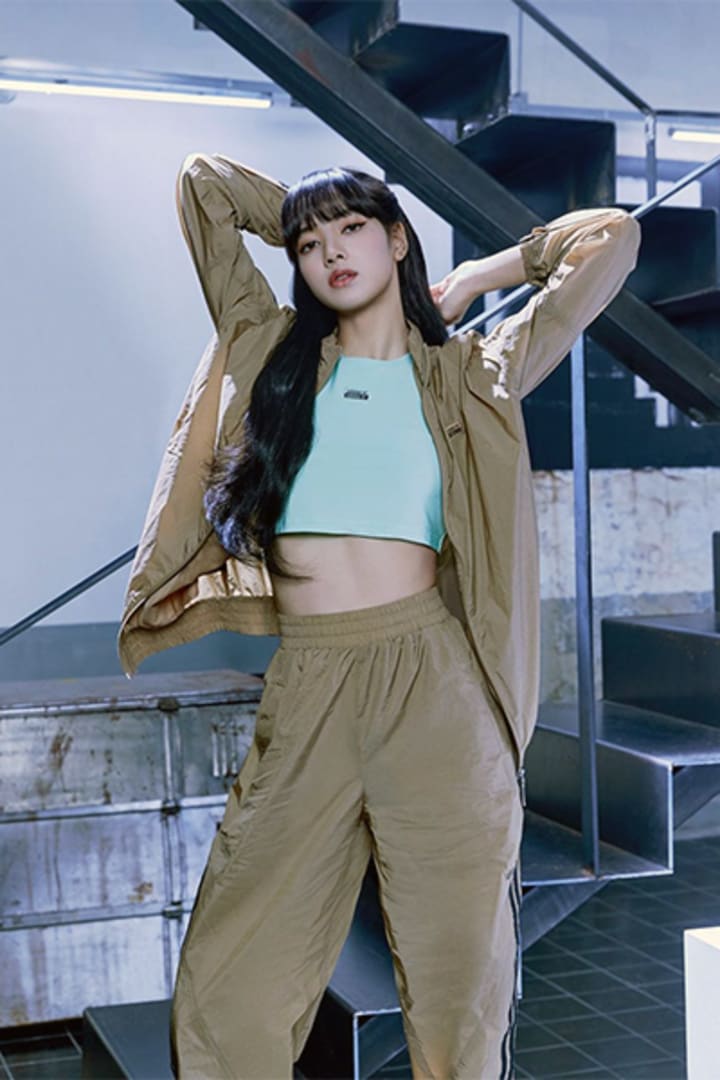 Who in this world doesn't know Lisa? The member of BLACKPINK is indeed quite famous throughout the world. As the main dancer, she is also quite attractive with her cool fashion style.
You can try to imitate the style of Lisa Blackpink by using a dark sport suit combined with a plain crop top. This minimalist style is perfect for those of you who are active and like to go to the gym.
10. Boyish style with cargo pants like Jeongyeon (Twice)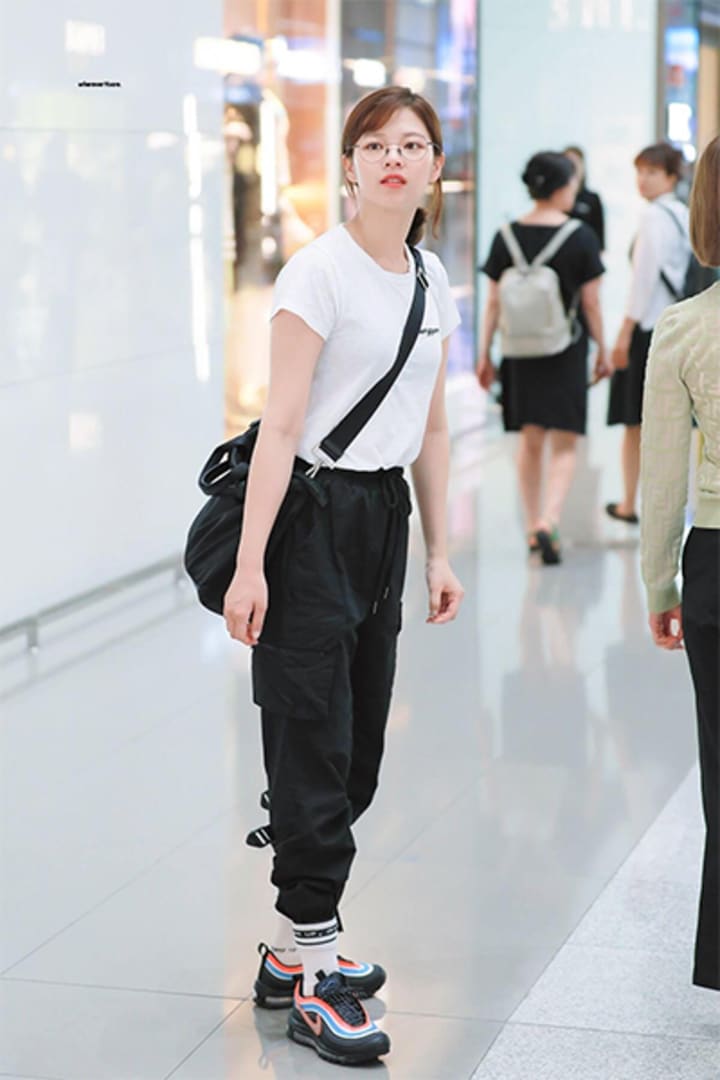 Athleisure style does not always have to use tight leggings. If you're one of those people who don't like the feminine style, Twice's Jungyeon has set an example for you.
Jungyeon on this occasion used a sporty style by using cargo pants combined with an O-Neck collar t-shirt. This style is quite masculine if you are a fan of the sporty tomboy style.
To complete this style you can use sports shoes with socks and an additional crossbody bag.
Do's and Don'ts of Wearing Athleisure
For a balanced look, mix sports items into your regular fashion wardrobe.
Be creative, especially when it comes to mixing and layering pieces.
Follow the seasonal activewear trends.
Mix fashion fabrics such as denim and leather with high-performance sports fabrics.
Make sure that all athleisure pieces are clean and in good condition.
Do not throw on old things to wear to the gym.
Don't overlook the addition of accessories and jewelry.
Remember and reinterpret the style and look of your signature.
Do not go overboard with bright colors or prints.
How to Wear Athleisure
Layer sports items under regular fashion items, such as a sports bra under a leather jacket or leggings under a chic coat.
Use sneakers or slides as footwear.
Combine leggings with longer tops or wrap a shirt around your waist to make them more streetwear-friendly.
Swap a blazer for a bomber jacket, or combine a sporty t-shirt with a tailored piece to work with athleisure wear.
Combine a crop top with high-waisted pants for a stylish, athleisure look.
Athleisure Trends in 2022
Athleisure is becoming more popular in many situations, and some employers embrace this trend in the workplace. In particular, people are beginning to incorporate some of the athleisure wear into their fashion-oriented outfits rather than lounges.
Forbes magazine predicts that sneakers will overtake dress shoes as the largest footwear category by 2021, as more and more brands move from performance and fashion footwear to athleisure styles that combine the best elements of streetwear and athletic wear. By 2021, sneakers are expected to overtake dress shoes as the largest footwear category.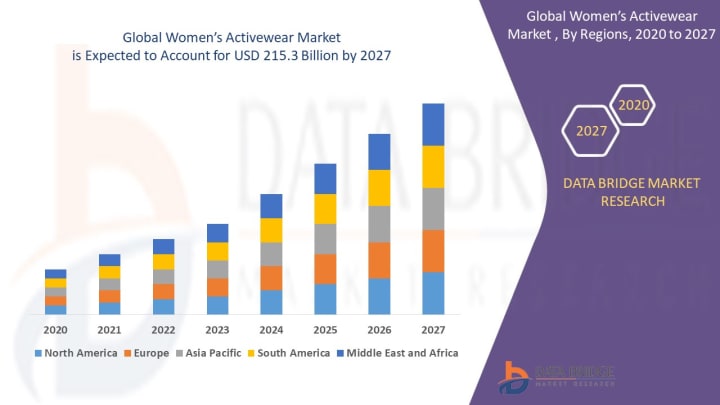 The global activewear apparel market is expected to grow to nearly $547 billion by 2024, according to Allied Market Research. This represents an average annual growth rate of 6.5 percent between 2018 and 2024, compared to just 4 percent for the fashion industry as a whole and 4.5 percent for luxury fashion in particular.
Brands that have not previously manufactured activewear are also noticing the popularity of this trending style and are beginning to create their own athleisure lines. There is no doubt that the athleisure trend is here to stay.
Conclusion
Athleisure has been a continuing trend for nearly half a decade, and it has completely changed the fashion industry. It seems that athleisure may have finally run its course—but not without leaving its transformation to fashion in tow.
It seems that in the next few years, activewear, especially for the women's market, will become a continuous trend.
Article Source: ozzakonveksi.com | Image Source: Pinterest
Reader insights
Be the first to share your insights about this piece.
Add your insights