What are the 5 Best Trending Styles with Cotton Kurtis?
Best trending styles with cotton kurtis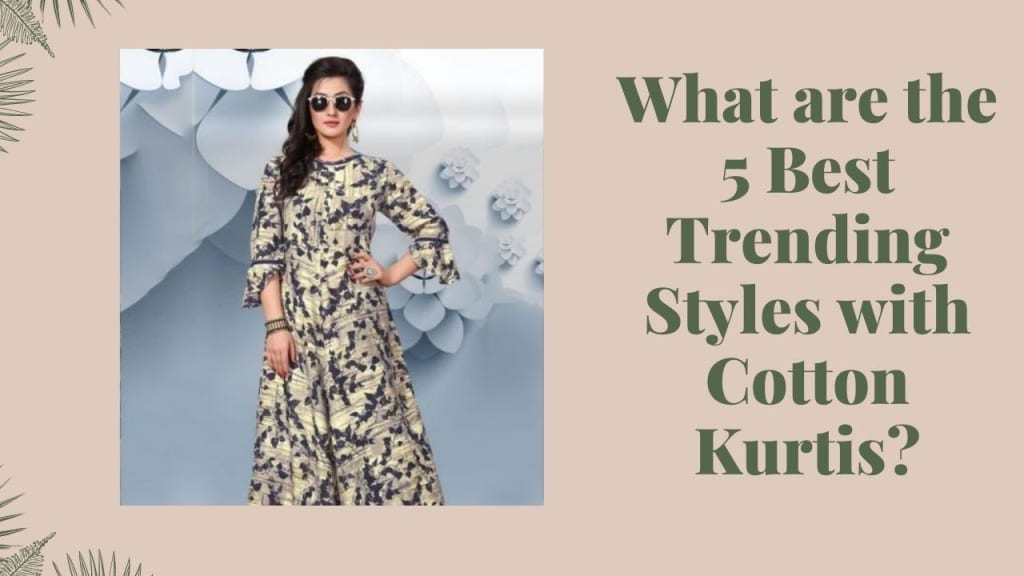 Styling yourself in cotton gives you a pretty and playful look. As the fabric is highly comfortable it can be worn anytime. Cotton is favorable for every climate, but most importantly it is the best one for summers due to it's moisture free and sweat controlling ability. The fabric is obtained from cotton plants and is mainly found in four major species all around the globe. It is also combined with other materials to give that fabric and soft and comfortable feel.
A variety of dresses are made from this fabric that are worn on a daily basis as well as occasionally. The outfits are usually found in bright colors and beautiful prints that gives the wearer an attractive and interesting look. Girls widely wear printed cotton kurtis in different patterns and designs along with pants or denim jeans for a chic look.
Cotton is one of the oldest fabrics in the world that is in use since the prehistoric times. It is the largely consumed and produced fabric around the globe. At the time of Mughal era cotton industries were the main reason for international trade.
Every type of dress whether traditional or western is found in this fabric. Try some unique and fancy cotton kurtis that are best trending nowadays to get a fashionista look. Wearing a kurti provides you a voguish and elegant look. Pairing it with different types of pants or salwar makes a perfect combination that is the effective one to give you a stunning look.
Here are some of the trending styles of cotton kurtis that you can flaunt on festivals or other occasions and provide some exemplary fashion statements.
1. Long Slit Cotton Kurtis
One of the most trending and fashionable one nowadays is a slit kurti. It may have a middle slit or a side slit with fancy tie-ups and tassels that makes it an attractive piece of attire. A beautifully printed cotton slit kurti having block prints, florals or paisleys paired with funky denim jeans will give the wearer an outstanding and exclusive look.
Simple neck and sleeves pattern makes it a sober outfit. Buttons at the front and tie-up at the waist makes an ideal slit kurti. Open hair, neutral makeup and a pair of shoes completes the overall look of the wearer. Wearing a desi and colorful mojari or jutti with the outfit will make it look more dignified.
2. Indo-western Cotton Kurtis
An indo-western kurti gives the wearer a quintessential look. They have different layers that differ in patterns. This one with three to four layers and some beautiful intricate prints will give you a drastic look. Bock prints, floral prints and so many different types of prints with ravishing color combinations is making it a perfect party wear outfit.
Wearing it at any wedding function or special events will make you look like a diva at the occasion. Pairing it with skin fitted legging or a churidar salwar will make a perfect match. Some traditional jewelry and preferable hairstyle will make you the limelight of the party and as it is made from cotton, it will be highly comfortable for any occasion.
3. Angrakha style Cotton Kurti
The angrakha style kurti is a perfect pick for festivals and auspicious occasions. Detailed with block and ikkat prints gives it an elegant look. The color combination of black and orange is up to the mark that suits every skin tone. It is a unique and stylish kurti that has an overlapping pattern from front making a v-neck.
Tie-up in the front that is detailed with tassels and other hangings is the main part of this kurti. Quarter sleeves and floor length pattern is making it look more glamorous. It was one of the most admired patterns in olden days. It is available in different lengths and can be worn along different pants.
4. Anarkali Cotton Kurtis
The most favorite of each and every lady is a long, flared anarkali kurti. This one is available in different lengths that can be knee-length, long and floor-length. They can be paired with different pants.
The long ones are usually paired with narrow pants or legging and the short ones are nowadays paired with palazzo pants and other straight pants. Flare of the kurti depends on the meter of cloth that is used to make the attire.
The outfit is also found in double layers that may be of different fabrics. The one made from cotton is detailed with beautiful prints and borders that makes it an adoring outfit.
5. Multi-layer Cotton Kurti
Choosing a multi-layer kurti will give you a fashionable and modern look. Detailed with different colors and multiple prints, this one will make you the limelight of the party.
Dark and pastel colors combined with each other gives it a ravishing look. A stitched jacket and tie-up in the front of the attire makes it look more ravishing.
The simple and classical neckline and sleeveless pattern gives this long kurti a pretty look. Flowers, leaves, paisleys and other motifs with a lace at the bottom is making it an occasional wear outfit. Some pretty accessories and a pair of shoes will give a final touch to your ethnic look.
Wearing a kurti gives you a pretty and astonishing look. You will find a range of kurtis catalog at online stores and in markets that gives you an option to choose the most desired one for yourself and your loved ones. The outfit is available in many different fabrics that are light in weight and thick too.
Choose them according to the type of occasion that you are going to attend. For those who wear it on a daily basis cotton, linen, georgette and other light fabrics are more preferable. The outfits that are made from fabrics such as silk, jacquard, chiffon and decorated with beautiful handwork, sequins or zardosi work are chosen for special functions and events. So choose your favorite one and flaunt your diva look wherever you go.