Top Religious Jewelry Trends in 2021
Pendants and Necklaces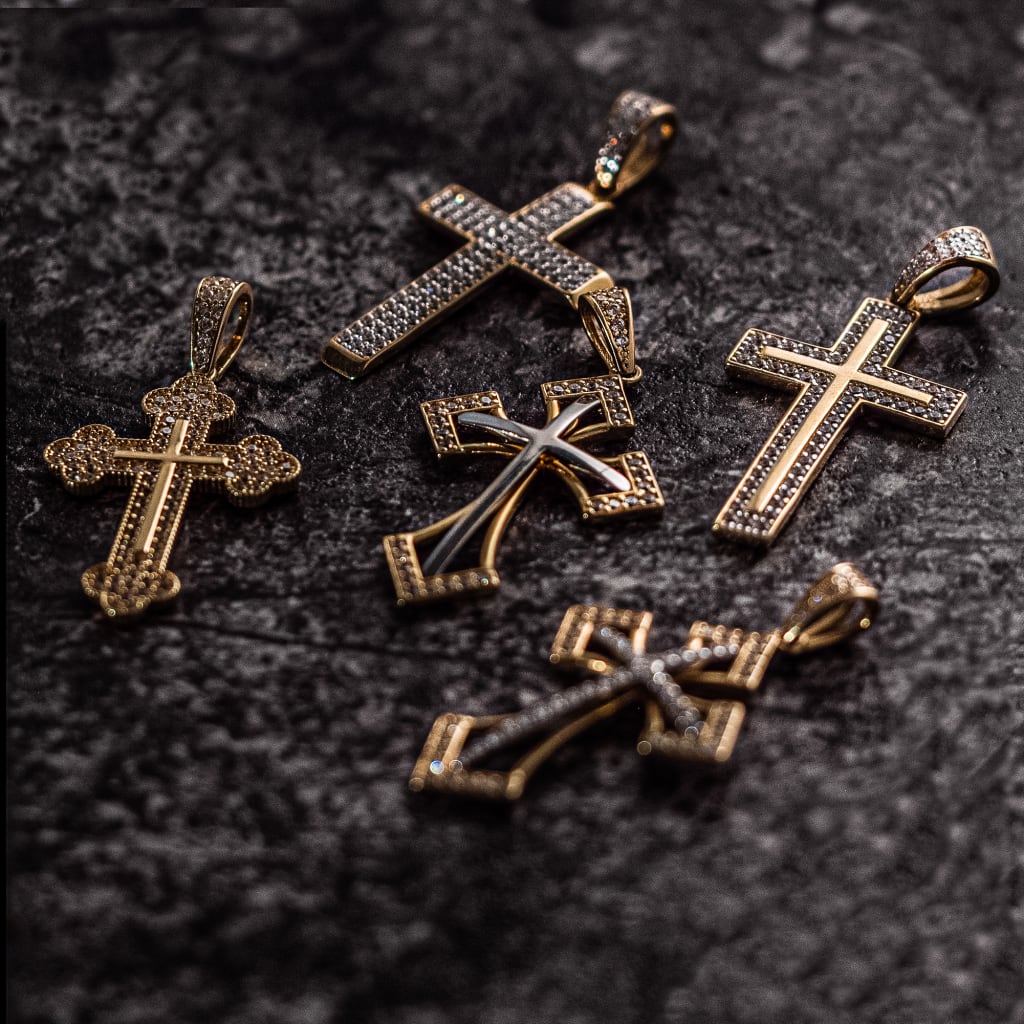 Top Religious Jewelry Trends in 2021
2020- The year full of stress and ups and down. Thanks to the pandemic also, we were all stuck at home for a long time. But there is always something positive in all the negativities and this was also not an exception. This year taught us how to be happy in difficult situations. It made us believe that "This too shall pass." We had a chance to spend adequate time with ourselves and discover our skills.
But we didn't stop to be happy. In tough times also we all celebrated life, love and humanity because as we all know that "Time and tide wait for nothing." But while celebrating at our homes with families or maybe virtual with friends, we didn't get a chance to set any kind of special style statements. It was a serious problem especially for the fashion-addicts and also for the party lovers.
But now things are settling down a bit and also the year-ending season is knocking on the doors. The end week of December brings our favorite Santa in town and he comes with a bag full of joy and happiness. And also winter season comes with hopping New Year Party. So to welcome 2021, your New Year party jewelry should contain something that can dissolve all the negativities and bring positivity and hope in life.
In this case, solid gold religious jewelry could be a good option to pull off any conventional or experimental outfits. Gold jewelry had always carried dignity and majesty no matter whatever trend grabs the market. Gold religious jewelry is not just a materialistic thing; it also speaks the wearer's sentiment. This New Year will surely come with new hopes and new beginnings, but besides that, it's time for all of you to pull up your socks and resume your fashion game.
Even if you are a noob in choosing jewelry, this year you should give it a try. In 2021 the fashion trends would concentrate more on comfort zones and less on extravagance. Today's world is all about lightweight jewelry to wear with formal wear. And that is why Jewelry America is here with its assorted range of gold religious jewelry. By 2020 say goodbye to following trends, and in 2021 welcome the idea of being a trendsetter.
Thus new year just keep it old school and traditional. This 14k gold tree of life pendant is a symbol for the significant aspects in life, as an example: keeping touch with your roots, ups, and downs of life, etc. The color contrast always works for most of the attire. This classic pendant features the portrayal of a tree, which is made with yellow and white gold. The branch of the tree contains shiny yellow gold, where the leaves of the tree have a shade of white gold.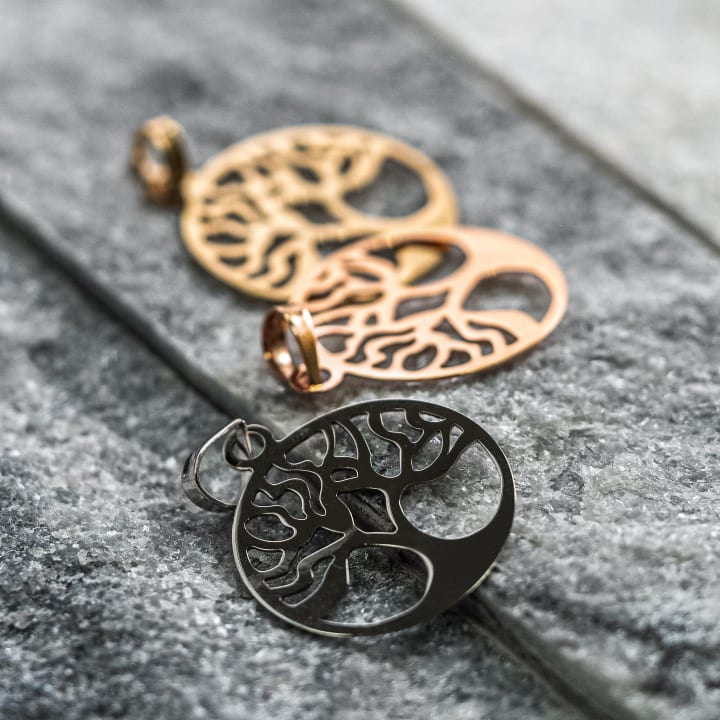 Two-tone elephant pendant necklace
Wearing your favorite spirit animal is also a cool and unique idea to showcase your personality. As an example: if your characters exemplify power, strength, focus, and determination then this double-tone elephant pendant is a must-try for you. This pendant features the portrayal of an elephant along with a dainty gold chain. Also, the USP of this pendant is the ear of the elephant made with stunning white gold, adding a subtleness and class in the design.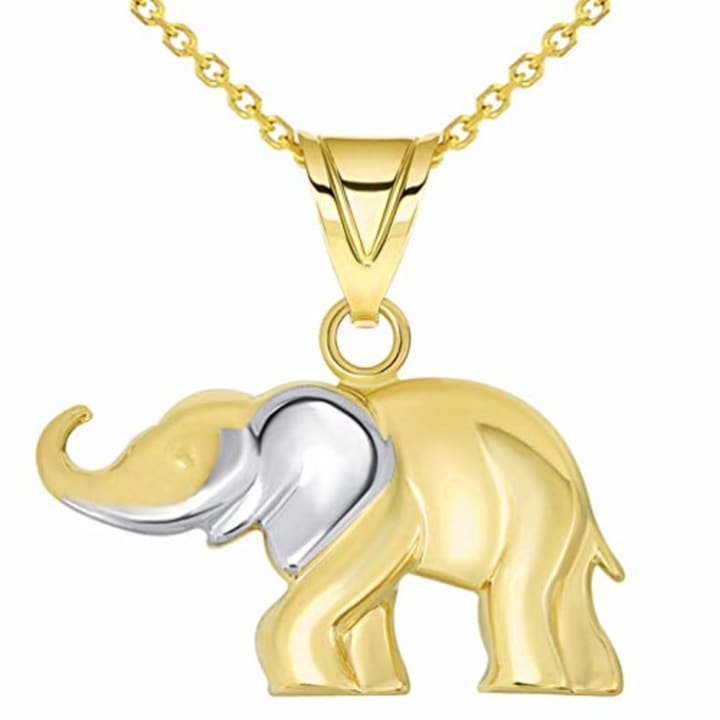 Aramean-Syriac Flag Symbol Pendant
The winged sun symbol of the Aramean-Syriac flag is the portrayal of a winged sun. It was designed to represent the holy spirit of Christianity. This handcrafted 14k gold pendant features the flames of the Sun combining with the wings of the eagle. The detailed artwork and the Satin finish on the texture makes the pendant more drool-worthy. In 2021 this jewelry piece could be an example of what minimalistic elegance means.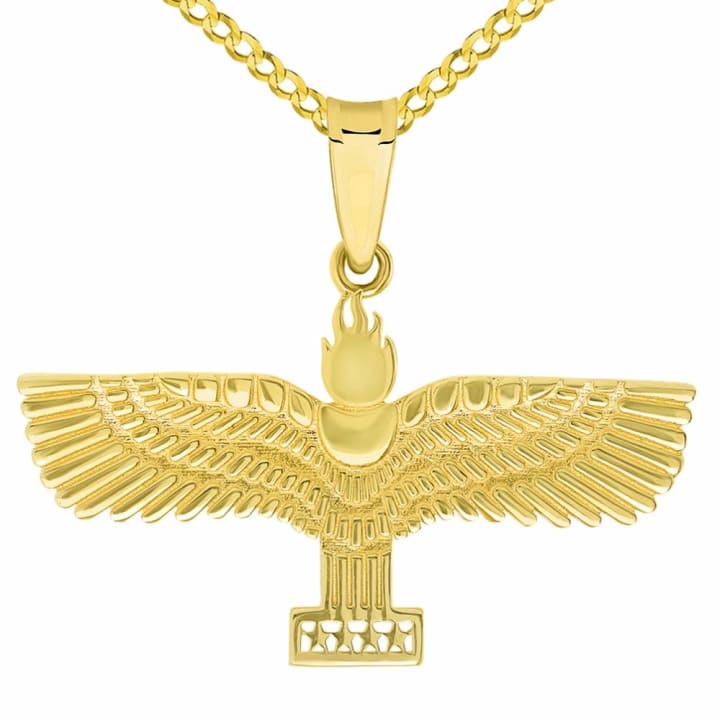 14K Gold Eastern Orthodox Cubic Zirconia Cross Crucifix Charm Pendant
Crucifixes represent the traditional value of Christianity. A traditional crucifix reminds us of the great sacrifice of Lord Jesus for the sake of humanity. The 14k gold pendant features a crucifix charm pendant, with a sharp-edged peak at four sides. The body of the crucifix is engraved with numerable flamboyant cubic zirconias which are elevating the dignity of this orthodox Christian jewelry.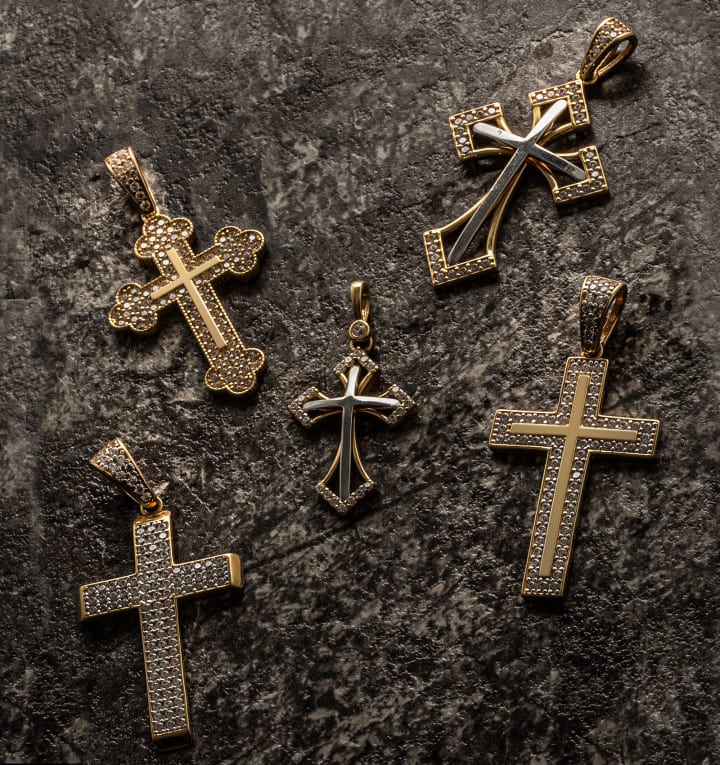 14K Yellow Gold Simple Heart with Mom Pendant Necklace
Customization will always be in the front seat of the car. It not only elevates your fashion sense but also adds a personal touch to the jewelry. This 14k gold simple heart pendant, scripted with "MOM" is an ideal gift to impress your mother on her birthday, anniversary, Mothers' Day or just to appreciate her dedication to your life and success. The noticeable thing in the pendant is the style of the text, and how they have emerged "O" with the symbol of the heart.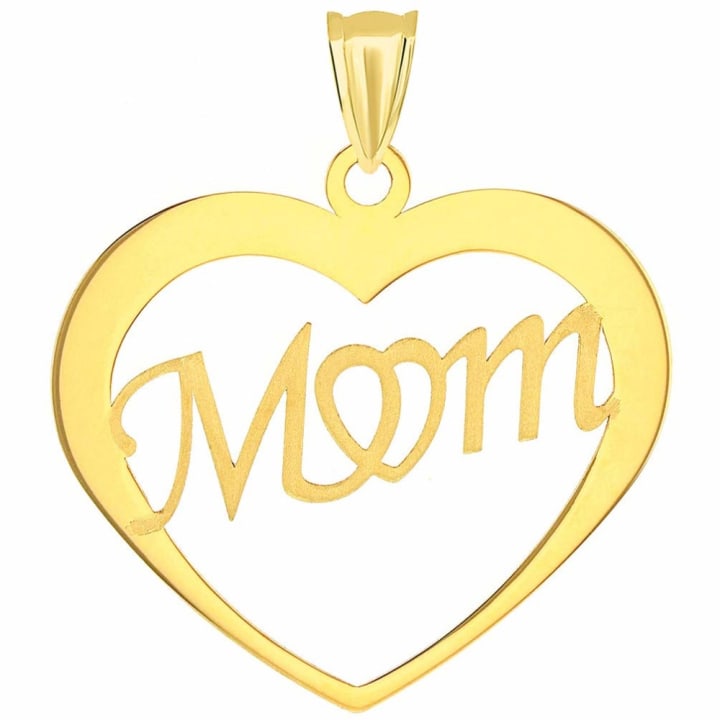 Gold Virgin Mary pendant necklace
What could be your "go-to" look for a new year party? A formal shirt, black pants, and a watch. But what about the jewelry? Don't you think pairing up your attire with some simple religious jewelry will give your look a little spark? Then this Virgin Mary pendant could be the best pick for you. This solid gold handcrafted jewelry is simplistic and wearable with any party outfit. It portrays Mother Mary and is engraved with a note which says "O MARY CONCEIVED WITHOUT SIN PRAY FOR US WHO HAVE RECOURSE TO THEE".