Top 5 Things to Know About Silver Toe Rings in India
Silver toe rings are culturally one of the most loved accessories in India, worn by married women mostly but unmarried girls...
One of the most popular jewellery accessory: a toe ring, is worn by Indian women for numerous reasons. These are commonly known as 'Bicchiya' and are worn mostly by married Hindu women on their second toe. This symbolizes that the woman is married. These are also recommended to keep worn throughout their lifetime.
The silver toe rings have many other benefits as well, which makes them a perfect accessory for a new bride. Bicchiya is also believed to be a symbol of Suhaag, which is associated with the beliefs in Hinduism.
Toe rings also symbolize a woman's dual status as a wife and sister. The husband and brother are always protective of their wife and sister, respectively. When a woman wears two sets of toe rings on both feet, it symbolizes protection, and if brother or husband dies, one set is removed from the foot.
Health Benefits of Silver Toe Rings
As per Ayurveda studies, the nerve of the second toe of feet is connected to a woman's uterus, so a little pressure due to the ring on the toe is found to help regulate the menstrual cycle. Being made of silver, it also has certain antimicrobial benefits, and helps prevent cold and internal heat regulation.
Astrological Benefits
When a married woman goes through the process of "Solah Shringaar" (the adornment of the whole body with jewellery), the toe ring is the last item to be worn. Each of the 16 items has its own astrological significance, and toe rings are believed to retain the effect of the Moon. It calms the heart and mind, which is important for a new bride since she's usually going through lots of stress during the first few days in a new home.
Wearing Gold Toe Rings
Elders in India have highly spoken against wearing a gold toe ring. Gold is a pure metal and is considered the metal of gods. Wearing this metal below one's waistline is inauspicious and disrespectful to gods. That's why you can only wear silver toe rings or anklets, thus receive blessings from God as well as your elders.
Toe Rings for Men
In early Indian traditions and culture, men constantly used to wear toe rings. As women used to cover their faces with Ghoonghat and look at men was slightly frowned upon, toe rings were used to recognize men among the public. Now, in modern times, men have started to wear toe rings for just fashion purposes, although it is not so common.
Toe Rings for Single/Unmarried Women
Girls have started to wear toe rings as a fashion statement as well. It is believed that wearing a toe ring on the third toe helps to ease the pain during their periods. However, it is highly discouraged for a single woman to wear a toe ring by elders.
Indian Significance of Jewellery in 2021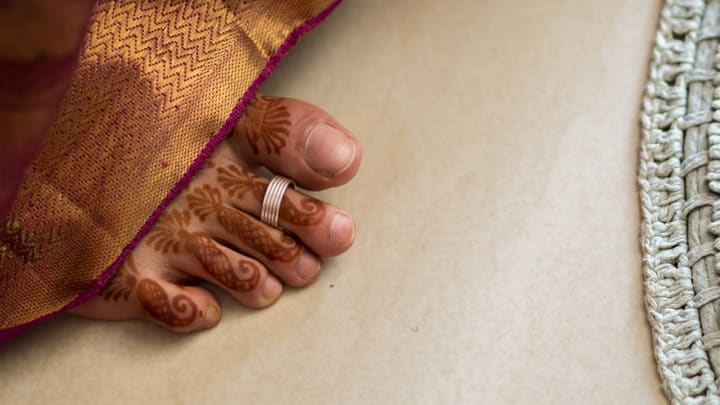 In India, women's jewellery has been given extreme importance, and you'll rarely see a woman with 'no' jewellery at all. Rings, bangles, kadas, earrings are the most popular and loved by almost everyone, whether married or unmarried. Unmarried girls tend to go for lightweight kadas, necklaces, and rings to enhance their beauty and look good.
Men also wear jewellery, but their reasons are varied from person to person. Some men wear jewellery as a fashion statement, some as a symbol of strength, while others wear as a religious symbol like a Punjabi Kada. Whatever the reason, jewellery is a very significant part of Indian culture, for daily wear as well as any occasion.