Top 5 Gold Choker Designs You Must Know
One of the most magnificent jewellery items, a gold choker is a symbol of elegance and class.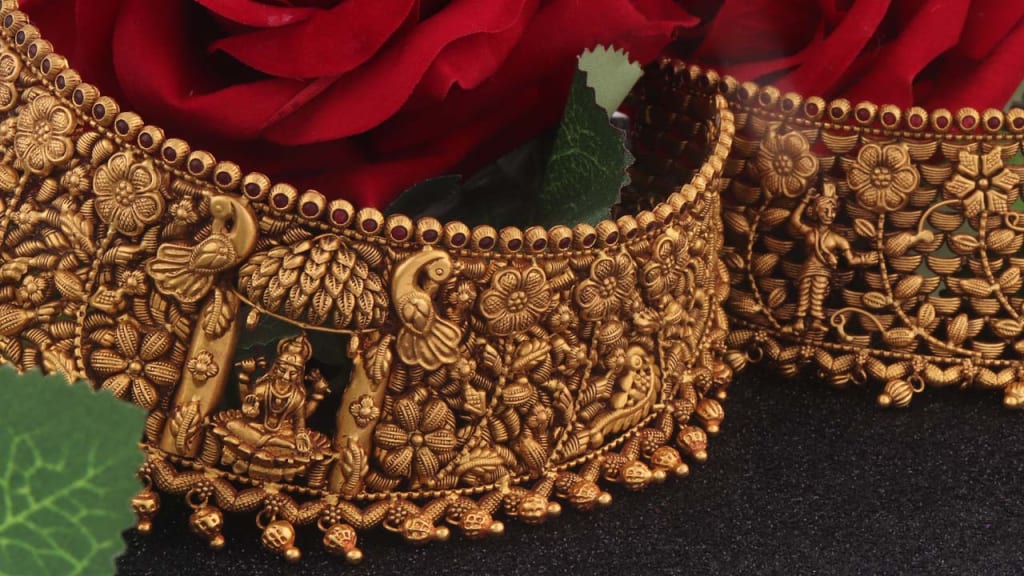 Gold Choker
The close neck jewellery are the most loved jewellery items all over the world. Whether you're planning to embellish yourself with a traditional saree, or the modern dress, you can never go wrong with this. Most of the gold choker designs you can find today in the market give you the flexibility to match them with any jewellery items like earrings, bangles, or bracelets.
For every woman in India, there's always some collection of jewellery at their home which they can wear to any function. The choker is one of those items which they must have in that collection, along with a complementing dress and earrings. With so many designs of these magnificent jewellery items, you should be aware of a few of the most popular styles, which you can style yourself properly, to show your best self.
Pearl Choker Necklace
The elegance of the pearl gold choker necklaces is something to brag about. An ideal choice to go with any dress style, this can be a perfect choice for a lavish wedding to a simple cocktail party. These necklaces can be paired with colourful dresses.
Diamond Choker Necklace
Diamonds are women's best friend. If the woman can't find anything suitable to wear around the neck with their dress, a gold diamond choker is definitely a piece to go with. These are a perfect trend in 2021, and these can be ideally paired with any party gown for classy functions. Lightly coloured dresses are perfect to go with the diamond chokers.
Gold Bow Choker Necklace Design
The bow chokers are thick and wide bands-like necklaces that have a decorated bow at the front. These are perfect for depicting your cuteness, quirkiness and your courageous personality who likes to try new things and doesn't shy away from dressing uniquely. You can wear these at parties, college functions, and other semi-formal occasions.
Gold Dainty Choker Necklace Design
The dainty chokers are perfect to look pretty. These are ideal for people who are motivated, feisty, and strong. These are small in size, like a thin chain closed around a necklace. They may also have a small ornament like a pendant at the front—a symbol of class and style, superb to add to your modern set of jewellery collection.
Bib Gold Choker Designs
The latest choker designs in gold have a round or triangular shape with length dropping below the collarbone, called a bib choker. It's a piece of statement jewellery made by a thick gold chain embedded with large gemstones, beads, pearls, and other precious metals in a cascading style. Most jewellers try to use the lightest metals because they can get very heavy with so many embellishments on them. It's a unique and attention-grabbing necklace and a perfect piece for your dress.
Conclusion
In India, choker necklace designs have vast types of designs and are sometimes specially crafted for a specific person. The chokers are based on cultural patterns and designs. Every culture has its own significance based on past histories, like rulers, which describe the architecture and even food.
Like the Rajasthani gold choker designs may have meenakari patterns over them to signify their importance as Rajputi jewellery. Similarly, other states have something of their own. The common styles you can find are the modern and trendy fashion which come from the west.
With the rise of digitisation in every industry, jewellery has also been taking a huge part in India. The safety and security provided by all genuine jewellery stores online is creating a brand trust and loyal customers from all across India.