Top 5 Best Casio Watches of All-Time
Casio Center Pakistan – Buy Original Casio Watches | For Men & Women | Online Store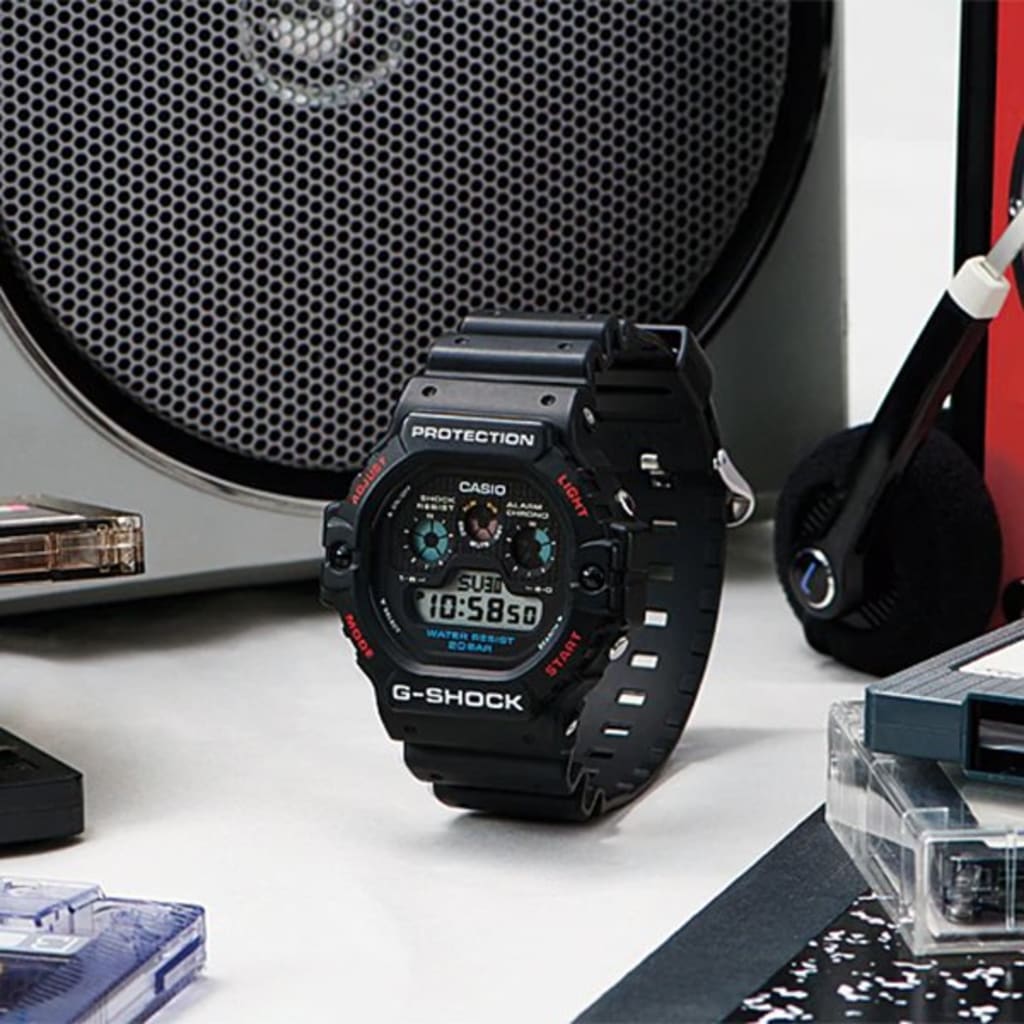 Casio GShock Watches
Casio has an unparalleled reputation when it comes to watches. The best affordable Casio watches are not hard to find because Casio takes care of its fans on so many levels worldwide.
It has established itself as a reputable, reliable and technology leader company in the watch industry which is completely owed to its continued research and improvement in technology. It has been producing hundreds of watches in every shape, color, style and material that could possibly be engineered to the best of possibilities.
Casio has a decade of history of manufacturing G Shocks and today they are still making few of the rare/ limited edition watches.The G-Shock series is Casio's tough line of watches that can stand against the test of time and different terrain. They make an ideal tool watch or those who are outdoorsy and who care about durability.
We have selected some of the best G-Shocks because Casio's line is so representative of its brand.
- Casio Men's G-Shock DW5900-1DR
Sometimes you need to wear a robust watch with good looks. In case you face difficult weather situations, wearing a luxury watch is not an option. The DW5900-1DR is a very tough and robust watch. The black hexagonal case is 47mm in diameter. This watch is exceptionally well-put in terms of design and is very comfortable to wear. It provides a variety of useful features like a stopwatch, alarms, and a full-year calendar. This watch is incredibly comfortable to wear all day due to its resin band.
The owner of this watch will not have to worry about damaging it as it has been made to last in tough conditions. This timepiece has an LCD backlight as well which comes in handy and we all know this to be true.
If you just need a G-Shock watch and on a budget, then the DW5900-1DR will satisfy all your needs and that too in PKR 15,600.
- GA-1000-1ADR
Casio GA1000-1ADR Twin Sensor is a Gravity master created for aviation enthusiasts with 200-meter water resistance. This watch from G aviation line-up is loved by any age group person.
This new model is equipped with digital compass capabilities, which is perfectly matched to the needs of the modern aviator, both in terms of function and appearance. By hitting the 9 o'clock button within any mode hits the Digital Compass Mode, and the button at 8 o'clock returns you to the previous position.
Continued direction readings can be taken at 20 seconds apart during which the secondhand points to north, an actual direction indicator is placed in the upper display, and a direction angle value is shown in the lower display.
Bearing Memory allows you to temporarily store and display a direction reading so you can use it as a reference as you take further digital readings. Other features include a temperature gauge, large indices, and big hands for easy reading. The compass works well when it is used according to the manual.
This product performs excellent and is much cheaper than the rest of its siblings. It's designed to endure harsh conditions. In terms of price, this brilliant watch has no parallel in this price range of PKR 44,000.
- Casio G-Shock DW-5600E-1VDF
The G-Shock series was the substance of dreams when we were kids. It is an oversized bezel and rugged exterior functions as well as it looks too. It's tougher than it looks.
You can thank the watch through several hard hits, and it will still work fine, thanks to the G-shock intense product development. They believe in making watches that can endure harsh conditions.
Apart from the practicalities of everyday life, including timer, stopwatch, and alarm functions, the watch is also water-resistant, shockproof, and is a worthy collection for an everyday beater.
Available at Ecasiocentre for PKR: 15,200. you can buy it from the given link G-Shock DW-5600E-1VDF
- A168WA-1WDF
The traditional rectangular design of the Casio digital watches is loved by those who prefer classics. Like any other household, no one can deny that they have never come across this beauty of the digital watch. The LCD digital display is easily readable in darkness because it has an electroluminescent backlight.
This watch measures at 32mm in diameter and 7mm at sideways. Mineral glass is used on top of the case. The watch has minimal wrist presence yet stylish, which is perfect for those who avoid big watches. The bracelet is also very thin and provides a reinforced fit, which makes it even more comfortable to wear 24/7.
There are many notable features that come with this classic timepiece, including a stopwatch, date display, alarm function. In short, it is perfect for a person who wants to get a reliable classic timepiece with a variety of functions like alarm, timer, and stopwatch.
It is available at Ecasiocentre Pakistan at PKR 4,500 only.
- F-91WS-3D
This beautiful-looking timepiece stands apart and shines bright. All the people who like their classics with some newness should take a gander at this timepiece which is all about style and class.
The greyish transparent resin bands make it more chic than your bright Hawaiian shirt from last summer's sale. You can pair it with a grey t-shirt or a black one and can never go wrong.
It offers an alarm, stopwatch, and 24-hour time format. In short, it offers everything which your dad had when he was in his late teens but with new age tweaks. You can also get it in a darker grey shade which is as we say darker the better.
This beauty is available at E casio centre at only PKR: 4500
.
.
.
#Ecasiocentre, #casiowatchpriceinpakistan, #casiowatchespriceinpakistan, #Casio, #CasioCentre, #CasioCenter, #CasioWatches, #CasioStore, #CasioLahore, #CasioPakistan, #CasioShop, #CasioShowroom, #CasioGShockWatches, #gshockwatchespriceinpakistan, #gshockwatchesprice, #CasioEdificeWatches, #CasioPrices, #CasioClassicWatches, #CasioNearme #OnlineCasioStore, #OnlineCasioShop, #Casioformale, #Casioforwomens, #BestCasioWatches, #Watches, #NewCasioWatches,
Reader insights
Be the first to share your insights about this piece.
Add your insights