Tips for Making New Outfits from Old Sarees
New Outfits from Old Sarees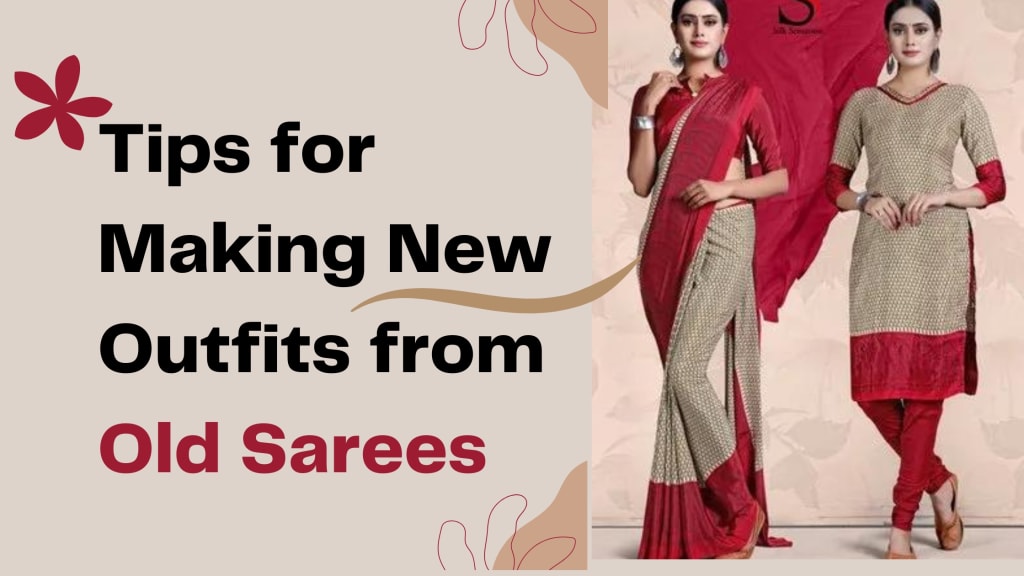 Tips for Making New Outfits from Old Sarees
Sustainable fashion has gained a lot of traction in recent years as many realize the impact the fast fashion industry has on the environment. One way to be more eco-friendly and fashion-forward at the same time is to convert old sarees into new clothes.
We will give you tips on how to turn old sarees into fashionable wear and explore some ideas for repurposing them. Additionally, We will touch on the topic of Old silk saree buyers in Chennai and how they can play a role in promoting sustainable fashion.
Why Upcycle Old Sarees?
Sarees are a traditional garment worn by women in South Asia, especially in India. They come in a variety of fabrics, designs, and styles, but they all have one thing in common: they're beautiful and versatile. However, with the changing fashion trends, many women throw away their old sarees and buy new sarees. This can create more waste as sarees are often made of high-quality materials that last longer.
Converting old sarees into new clothes is a way to reduce waste and promote sustainability. This allows you to get the most out of your sarees and create unique pieces that reflect your style. Plus, it will save you money because you won't have to buy new fabric for your projects.
Tips for making new clothes from old sarees
Choose the right sarees:
When choosing sarees for upcycling, consider fabric, color, and pattern. Certain fabrics, such as silk and cotton, can work easier than others, while certain colors and patterns may be more suitable for certain types of clothing. You should consider the condition of the saree and make sure that it is still in good condition.
Plan your plan:
Before you cut your saree, have a clear idea of what you want to do. Whether it's a dress, skirt, blouse, or scarf, draw your design and take measurements to ensure a perfect fit. You can also use patterns or templates to guide you.
Be creative with cuts and drapes:
Sarees are known for their flowing fabric and intricate draping techniques. Use these to your advantage when designing your new outfit. For example, you can create a wrap-style dress or skirt by using the pallu (the end that drapes over the shoulder) of the saree over the top or waistband. You can experiment with different cuts and lengths to create unique shapes and silhouettes.
Add Embellishments:
Embellishments can elevate a simple outfit into a statement piece. Add details to your outfit by using the saree's border or embroidery, or add glitter, sequins, beads, or other embellishments.
Be careful while sewing:
When working with delicate fabrics like sarees, it is important to use the right tools and techniques. Use a sewing machine with sharp scissors and a fine needle to avoid damaging the fabric. Take your time and be patient because haste can lead to mistakes.
Ideas for repurposing old sarees
Dresses:
Sarees are ideal for making dresses as they provide a lot of fabric to work with. You can make a maxi dress, a wrap dress, a shift dress, or any other style you like. Use the pallu as a top or make a blouse from the blouse piece of a saree.
Skirts:
The flowing fabric of a saree is perfect for making skirts of different lengths and styles. Depending on your preference, you can create a maxi skirt, pencil skirt, or circle skirt. You can also use the border or pallu of the saree as an accent to your skirt.
Tops and Blouses:
The blouse piece of the saree is perfect for making tops and blouses. You can create a simple sleeveless top or a more intricate blouse with elaborate embroidery. You can also use the border or pallu of the saree to add details to your top.
Scarves and shawls:
If you have a small saree, you can turn it into a scarf or shawl. You can use the pallu of a saree for a long scarf or the entire fabric for a shawl. These pieces can be great accessories for any outfit.
Home Decor:
Sarees can also be made into home decor items like curtains, pillow covers, and table runners. The beautiful designs and colors of the fabric can add a unique touch to any room.
Old silk saree buyers in Chennai and sustainable fashion
Chennai is known for its love of traditional textiles, especially silk sarees. However, with the rise of sustainable fashion, many shoppers are now looking for ways to reduce waste and promote eco-friendly practices. Old silk saree buyers in Chennai can play a big role in promoting sustainable fashion by upcycling their old sarees instead of throwing them away.
By turning old silk sarees into new clothes or home decor items, shoppers can help reduce waste and promote sustainable practices. Additionally, it is a way to preserve the beautiful craftsmanship and designs of traditional textiles.
Conclusion
Upcycling old sarees is a fun and creative way to promote sustainable fashion and reduce waste. By following these tips and ideas, you can transform your old sarees into new and fashionable clothes or home decor items. For buyers of old silk sarees in Chennai, upcycling is a way to promote sustainable practices while preserving the beauty and heritage of these textiles.
Reader insights
Be the first to share your insights about this piece.
Add your insights