The millennials redefining sexy
Low-key, wearable and inclusive lingerie is reflecting a shift in attitude.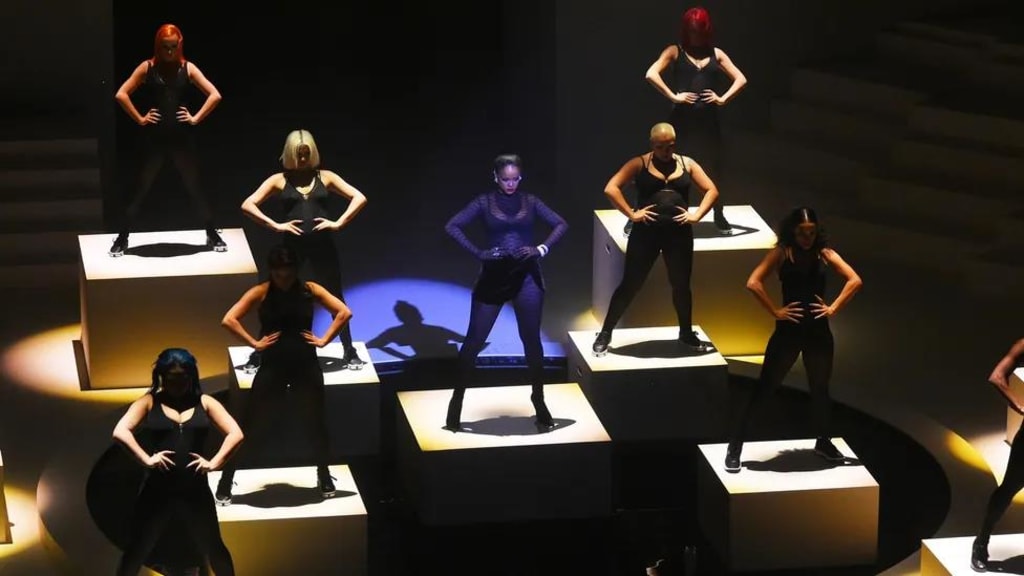 Millennials
If you want to understand just how much underwear has changed in the past couple of decades, just look at Serena Rees's journey. In the 1990s and early 2000s, Rees achieved massive international success with Agent Provocateur, which she launched with her partner Joseph Corré in 1994 and sold for a reported £100m in 2007. Where Agent Provocateur was known for creating vampy luxury lingerie and high-octane glamour for women, Rees's most recent venture, the underwear-meets-streetwear label Les Girls Les Boys, takes a different tack.
Noticing the struggles and priorities of her kids and their peers, now in their 20s, over the past decade, made her realise that the new generation needed something different from what Agent Provocateur offered. "The 1990s was a different time; back then we wanted to say that it is okay to be sexy and to express your sexuality – but things have moved on," Rees tells BBC Designed. "If anything, we've gone too far the other way, with social media creating these unrealistic body images for young women and men."
Les Girls Les Boys describes itself as a 'street-to-bed' range of underwear for everyone, that can be worn as outerwear by anyone. The aesthetic – cool and casual – offers a more low-key take on sexiness, and Rees says it is designed to cater to a new generation of young people who share everything. "This is about a group of people with a different point of view, a collective of young people, who share their emotions, they share their love, their friendships, girls or boys, or boys or girls, it doesn't matter," she says. "There is freer sexuality now, which is wonderful."
In the post-#metoo era, and thanks to increased visibility and activism from feminist groups and the LGBTQ community, as well as high-profile celebrities, attitudes to how sexuality is viewed and presented has changed, she adds.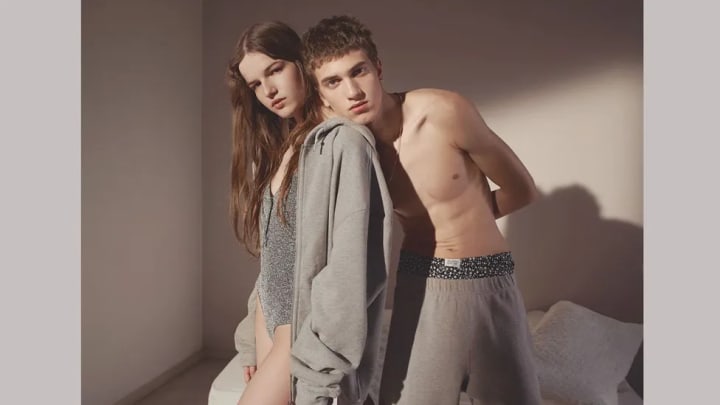 Underwear has a knack for reflecting cultural and social changes back at us, says Dr Rebecca Arnold, senior lecturer in the history of dress at the Courtauld Institute of Art. She tells BBC Designed: "I think they both reflect and are part of the construction of body ideals and contemporary notions of gender, morality and sexuality". Young women rejecting corsets in the interwar period is one such example, she says: "Instead women chose underwear that was soft and flexible – fitting their new, more active lifestyles."
The push-up bra might have dominated as the heterosexual woman's tool for sexual attraction for the past quarter of a century, but sales in push-up bras are plunging. Searches for the style are down 33% in the past 12 months, and the trend is predicted to continue, according to fashion search engine Lyst. Instead there is a surge in demand for unpadded styles like the bralet.
One high-profile brand that has misjudged the shift in mood is Victoria's Secret. The once unstoppable lingerie giant cancelled its famous fashion show last year. Models from the show have since spoken out against the brand; Bella Hadid said she "never felt powerful" as a VS model. And Karlie Kloss said she "didn't feel it was an image that was truly reflective of who I am and the kind of message I want to send to young women around the world about what it means to be beautiful".
Ed Razek, its former chief marketing officer, told Vogue.com in 2018 that he had no interest in transgender models or including a wider range of sizes and shapes in the TV catwalk show. In February 2020 it was announced that the company is to be sold to a private equity firm following months of store closures and falling sales.
According to Edited, the lingerie market is set to grow, but established brands are going to lose out unless they can catch up with the shift in attitudes. "Over the past few years, social and cultural movements such as body positivity, inclusivity, sustainability and diversity have had a big impact on the lingerie market – and looking sexy is no longer the priority," says Lyst's Morgane Le Caer.
An increasing number of lingerie brands use diverse models of varied body types and un-retouched photography
"Women are turning away from legacy brands in favour of digitally-savvy labels that have built strong communities around a shared set of values. Women are looking for lingerie that makes them feel good, while also offering comfort and functionality." The new lingerie movement is all about body confidence and comfort, she adds. An increasing number of lingerie brands use diverse models of varied body types and un-retouched photography.
'Redefining sexy'
'Nude' shades must no longer represent one skin tone and greater emphasis is placed on catering to all body types, agrees Libby Page, fashion market editor at Net-A-Porter. "We have seen a strong growth in brands offering a wider selection of shades and size ranges, to cater to women of all shapes, skin tones and sizes, and celebrate the female body in all its forms," says Page. Digital native brands have been driving change with a new kind of messaging, and Page says that these brands are "redefining the idea of 'sexy' within the lingerie market". She references up-and-coming brands Araks and Lonely, as well as Rees's brand. New Zealand-based Lonely, which uses beautiful un-retouched images of models of every size, describes itself "for women who wear lingerie as a love letter to themselves".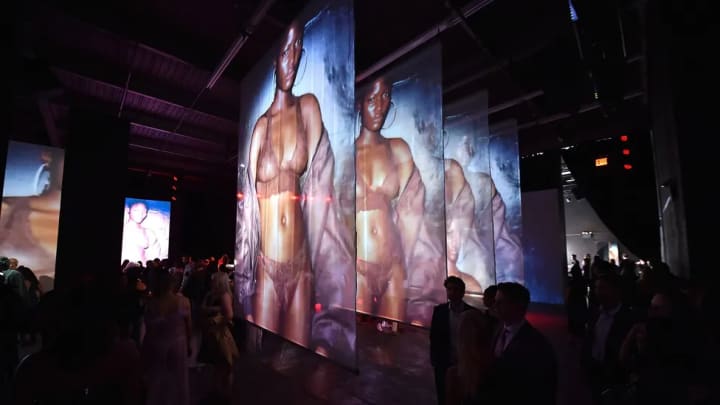 Rihanna's underwear brand Savage X Fenty has included plus-size models and an abundance of nude shades since its inception in 2018, allowing the label to gain market share from Victoria's Secret and other high street brands.
In September 2019 Savage X Fenty staged its first live show in New York, streamed on Amazon Prime. Bella and Gigi Hadid may have walked in it, but this was no Victoria's Secret: it embraced models of all shapes, sizes and ethnicities. "Every woman deserves to feel sexy. We are sexy, we are multi-faceted and I want women to embrace that to the fullest," says Rihanna in the show introduction.
But Arnold suggests that while the rules of underwear have changed, the appetite to alter the appearance of the body has not. "It's interesting how the purpose of underwear can be multiple – even during one period", she says. "While the trend is towards softer, more comfortable underwear, the rise in shapewear, going to the gym and plastic surgery show that the desire to alter your body – from within or without – persists and will not disappear, just change in relation to contemporary ideals and technology."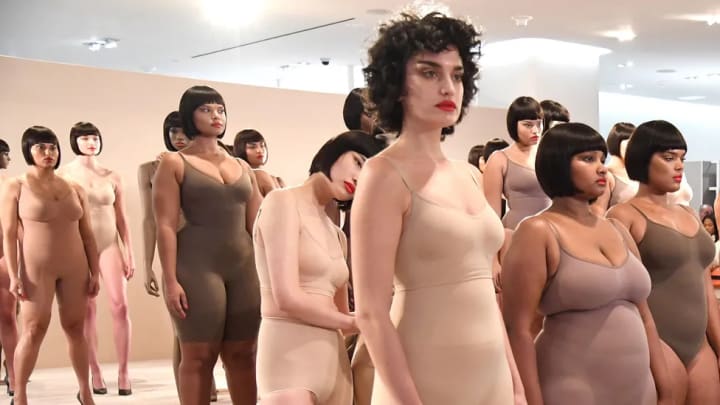 Lyst named shapewear as one of its big trends to watch in 2020, adding that searches for corsets by Vivienne Westwood have more than quadrupled year-on-year since they have been spotted on the likes of Bella Hadid, FKA Twigs and Miley Cyrus. The global shapewear market is growing fast. Skims, the much-hyped shapewear line launched by Kim Kardashian West, was said to sell out within minutes of its September 2019 launch. But like Les Girls Les Boys and Savage X Fenty, Kardashian West's line presents itself as a brand for 'every body', with brand imagery that features an inclusive and diverse array of models, including her mum and a former prison inmate, Alice Marie Johnson.
Sexiness now is about being confident and comfortable being yourself – Serena Rees
The real shift in the underwear market is making the wearer looking good in their own eyes, not the eyes of someone else says Mazie Fisher, who founded the lingerie brand Beija.London with her sister Abbie Miranda. The brand's aesthetic is pared-back, cool and inclusive. Last year the Beija.London unveiled a campaign featuring 27 women in 27 different sizes, to illustrate just how inclusive lingerie can be.
"It was important to us to create a lingerie brand where women feel welcome, celebrated, and can feel excited. Something for them, disregarding the male gaze or what is perceived as typically commercially attractive. We want to contribute in making lingerie a healthy shopping environment for future generations," explains Fisher.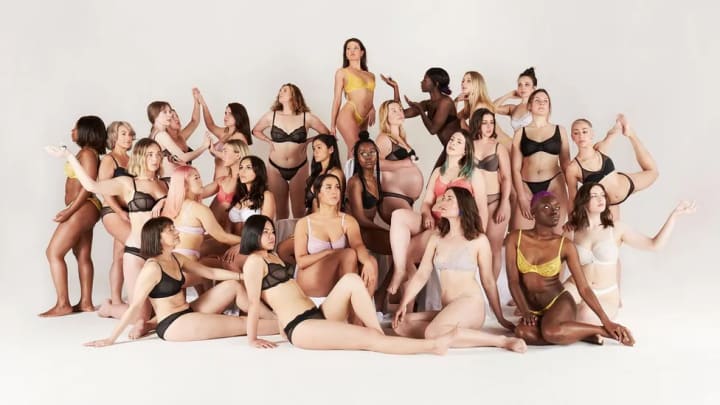 "As nearly-nude models sell the product, of course lingerie brands reflect the zeitgeist", agrees the brand's co-founder Miranda. "What's good nowadays is the increasing variety of identities that women can see reflected back to them and the ability to find a lingerie brand that matches their own social attitudes; some women still love a push-up bra, and that is completely acceptable and not to be judged."
Sex still sells, but it needs to be presented as something empowering for the wearer, not for the gratification of the gaze, it seems. Or as Serena Rees puts it: "It is about understanding that the only person who can validate you is you, that's what's changed; sexiness now is about being confident and comfortable being yourself".
Reader insights
Be the first to share your insights about this piece.
Add your insights