The Emergence of Maximalism
A Design Trend that Mirrors the Chaos of 2021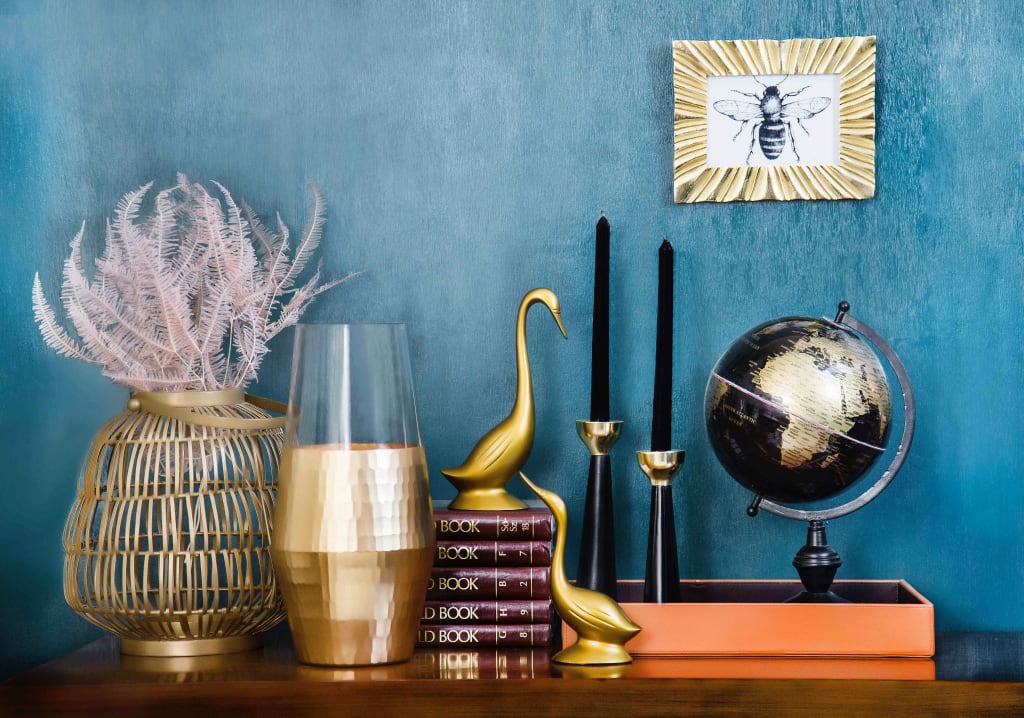 Design trends are constantly changing. From the days of popcorn ceilings to the cultural obsession with nautical motifs around the home, there are some design choices that are better left in the past. But, just as middle parts, mom jeans, and corsets made a comeback in the fashion world, styles of the past can influence modern interior design trends.
Maximalism is the buzzword for home decorating in 2021. This style takes notes from minimalism-- which grew to fame around 2016-- and does the exact opposite. Minimalism says: neutral colors. Maximalism says: bold palette. Minimalism dictates clean lines and light decorations, whereas maximalism thrives on sculptural furniture and walls full of art prints. The stark contrast between these two styles is clear in their names alone, but even more so when you look at the styles side-by-side: it's simplicity vs. chaos. And, in 2021, chaos wins out.
A key aspect of maximalism is the vintage hints that the style incorporates into its strategically-placed collage of 'things'. Velvet, for example, is back and bigger than ever. This material was popular in the 1970s and has experienced a full resurgence in modern times. Velvet futons, pillow covers, and even bedding are essential components of a successful maximalist decorating style.
Velvet's iconic comeback is even evident in social media. Facebook marketplace is swarming with people buying and selling luxurious velvet pieces, and #Velvet was the second-most posted interior design trend on Instagram, falling short only to the pandemic-induced appeal for a beautiful #HomeOffice.
Though velvet definitely helps to add texture and variety to the fabrics in a room, it alone is not enough to make maximalism 'work'. The maximalist appearance of a space is strengthened with the addition of wallpaper: another vintage interior design trend that's come full circle. Empty walls are the enemy of maximalism, and wallpaper helps to avoid it all together.
For maximalists that opt out of using wallpaper, gallery walls are often the substitute of choice. Gallery walls utilize photos and artwork in frames of different shapes and sizes to create an aesthetically pleasing collage. Choosing how exactly to layout the frames in a gallery wall can be a daunting task, but luckily, many templates and guides can be found on sites like Pinterest. The biggest key is to maintain a balance between the variety of frames by offsetting larger pieces with multiple smaller frames. This helps to keep the collage-like appearance of a gallery wall, while also maintaining the visual of clean clutter. For this reason, gallery walls are a staple piece of numerous design styles and, like velvet, are highly Instagrammable.
Maximalism follows a 'more-is-more' mindset. So, what better way to contribute more to a space than with statement pieces? Unique floor lamps, sculptures, and even treasure-filled bookshelves are notable descriptors of a maximalist home. For this reason, stepping into a maximalist home can be compared to stepping into that person's mind. The memories that line the walls, keepsakes from vacations proudly on display and gorgeous art with deep, heartfelt meanings are akin to a capsule of that person's life. The layers of patterns within the room are a representation of those that occupy the space. Simply put, maximalism is a display of personality.
While the minimalist movement is centered around getting rid of excess objects, it's important to note that maximalism is not about obtaining more 'things'. Maximalism, instead, looks at a space as a work of art. There is a heavy emphasis on shapes, textures, tones, colors-- all of which are necessary when creating an artistic masterpiece.
So, go ahead and mix your plaid-patterned blanket with that floral wallpaper you've had your eye on. Add bold artwork to your walls. Don't worry about mismatching styles. With maximalism, you can be a boho-eclectic-chic-modern decorator, and have it all come together to create a gorgeous space brimming with personality.