The DIYA Fall Dress Edit
This fall you must shop statement silhouettes like salwar kameez, bias cuts, modest dresses or saree in these BOSS PRINTS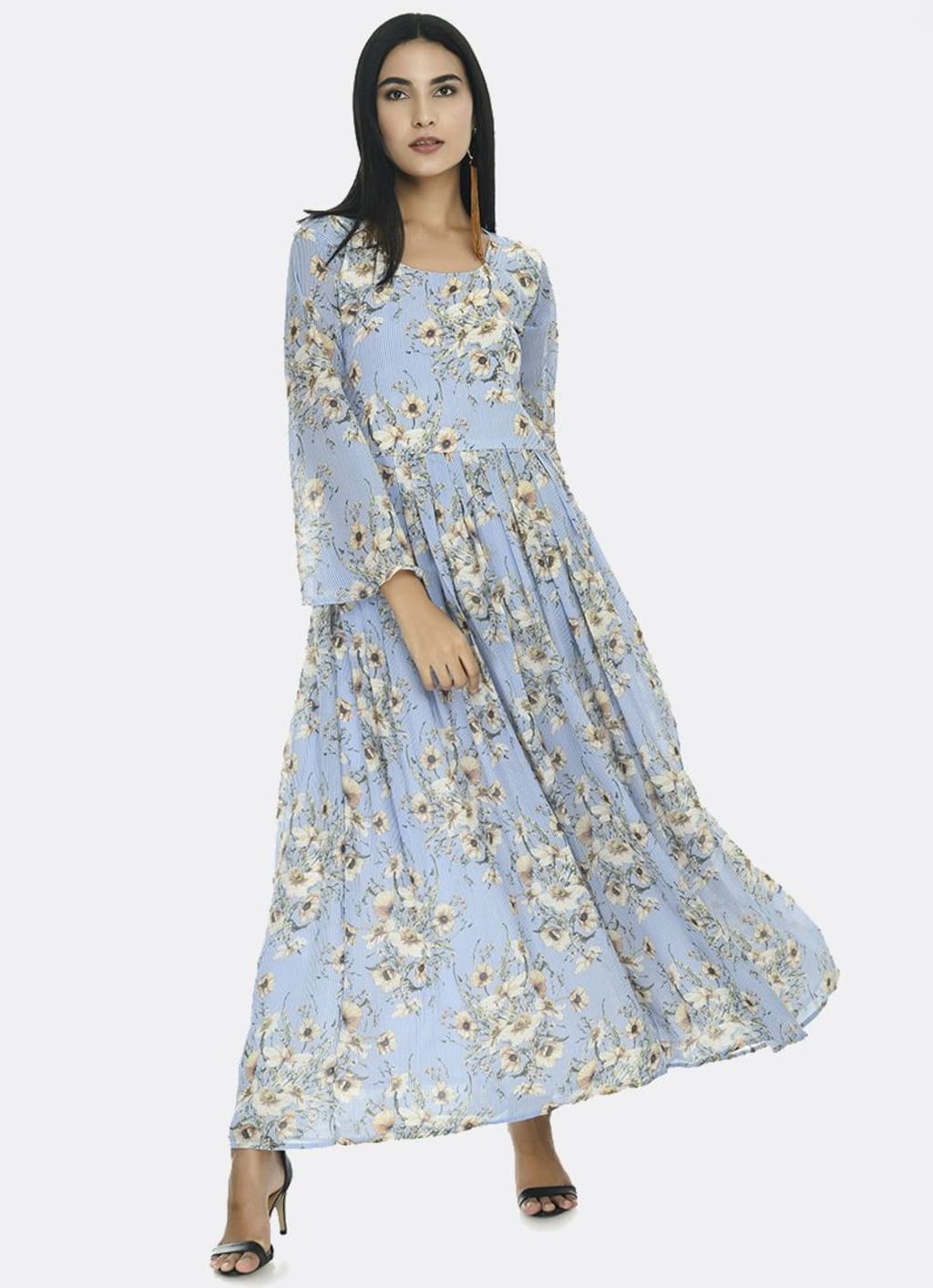 This fall we at DIYA Online bring you a beautiful floral edit of our best dresses to be adorned while you're out and about in this beautiful weather. One can never have enough of prints, can they? They amp up the look in a jiffy and can make any outfit look less boring. Why settle on boring suits when you can bag on the trendy salwar kameez online sitting at the comfort of your home from UK's leading Asian wear brand- Diya Online. This fall you must shop statement silhouettes like salwar kameez, bias cuts, modest dresses or saree in these BOSS PRINTS.
Collection 1
DR-423 A blue georgette long dress comes in a beautifully floral printed georgette fabric, this fit and flare dress is the summer vibe that we are looking for. Accessorize it with a dazzling necklace and a quirky sling bag, for footwear one can pair it with gladiators or wedges as well for a complete look. It represents a fresh look which one can carry off creatively if styled well according to the occasion. It's definitely a head turner so add this to your shopping list ASAP!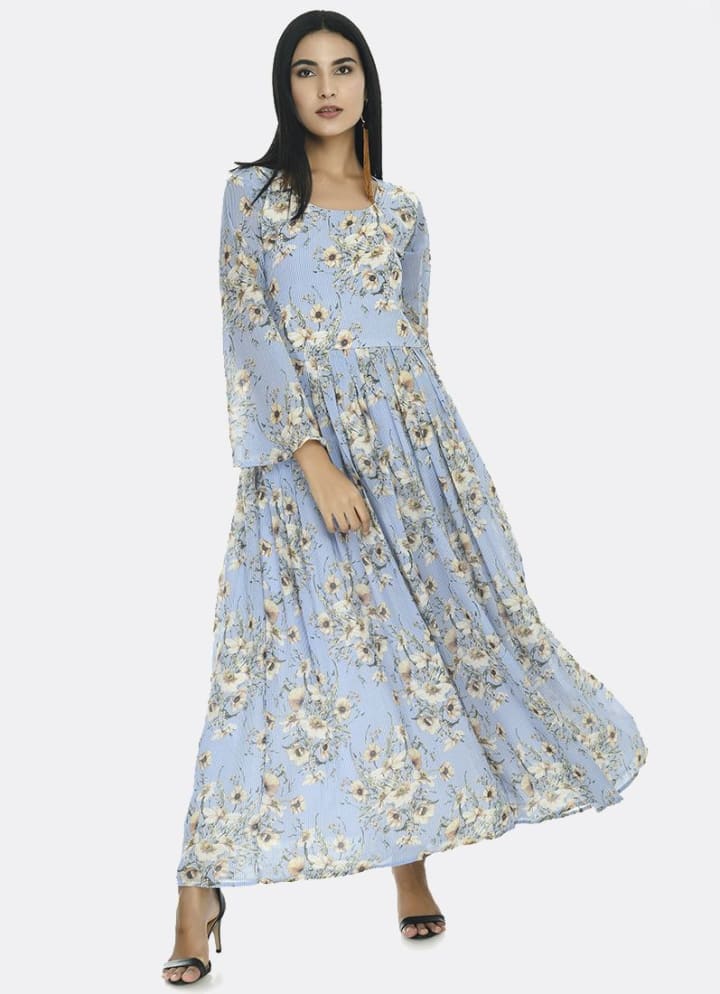 Collection 2
The Mustard Print Tiered Dress cut dress DR-406 priced at a meagre rate of £14.99, embodies chic and elegance, this outfit is a must have for this season! This floral printed crepe outfit includes fit and flared silhouette with bell sleeves and frill at the bottom.. This dress is something you cannot miss out on, first is the exemplary color which somewhat defines summer and then the leafy print which makes it extraordinary. Spread the floral magic with this pretty wrap-style maxi dress. Your wardrobe is definitely incomplete without this one. It looks elegant and perfect for a casual outing be it shopping day out or luncheon. Missing out on one of these floral dresses is definitely a crime so get your game on and shop for the same.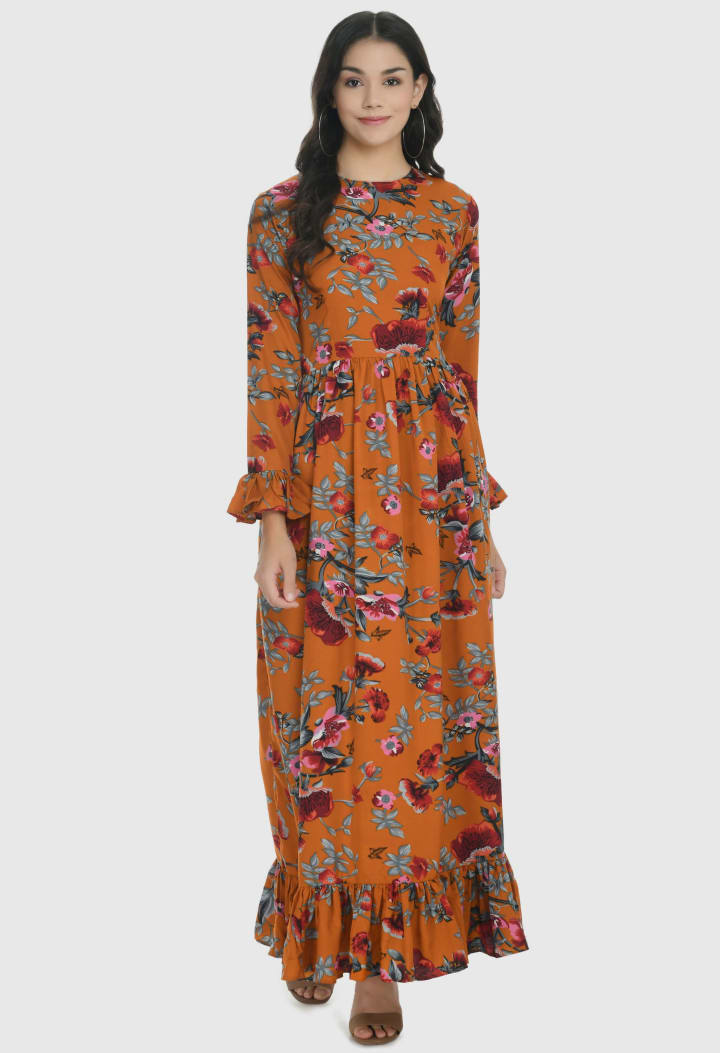 Collection 3
The Navy georgette printed tiered dress is priced at £15.99. You're definitely going to make heads turn with this one as it's perfect for a fall dress. This georgette floral dress is trending huge this season. You must have spotted several fashion bloggers slaying the same one all over your Instagram feed. It's all about confidence and experimenting with every outfit in your wardrobe to know what suits you the best. If you won't experiment, you will never get to know what goes best with your body type. Figure Out Now! Fashion is all about experimenting. It's important to experiment with different colors to know what suits you the best as summers are not limited to vibrant colors. You're open to experimenting with all colors possible to know which look is made for you. Pair it up with low-rise black leather boots and a short leather jacket, and statement earrings and you're good to go.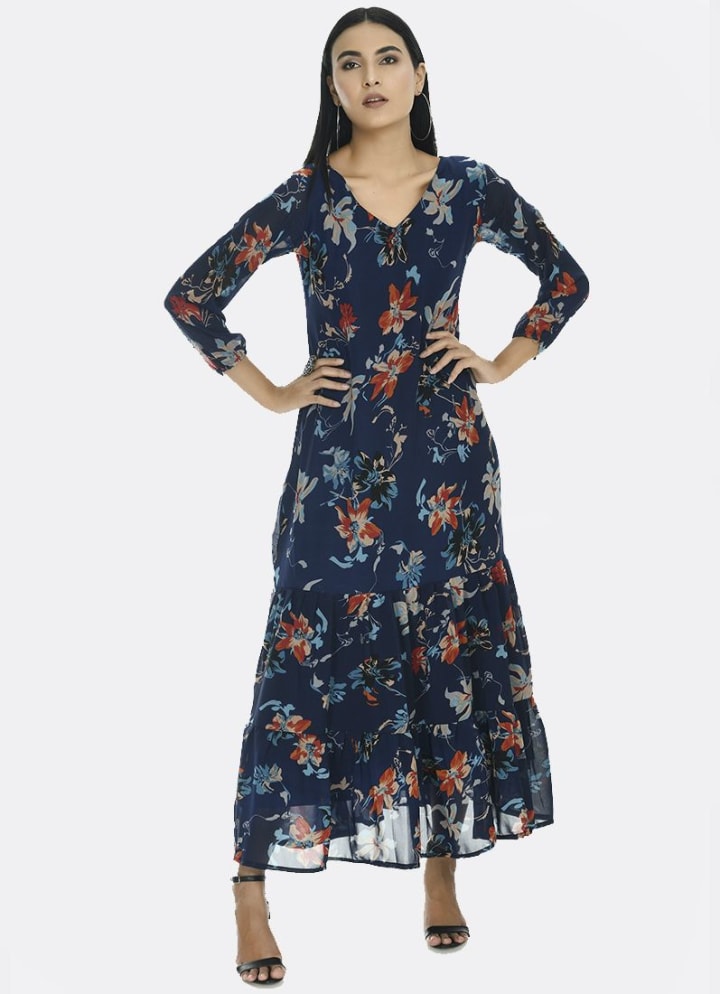 Collection 4
Crepe Ivory Floral Printed dress for £14.99 is made up of moss crepe printed fabric with potli detailing on center front. The color obviously makes it subtle but the alluring white flowers make it a complete package to turn heads this summer with a sizzling yet casual and subtle look. This dress is extremely comfortable to wear for any outing - it's totally on you how you want to style it as everybody has different ideas on their mind. It's perfect for a minimal yet classy look - get one for yourself now. As they say, whatever goes around comes around is something applied to the trending fashion trends among us because the trends that were being followed in the 90's have made their way back again and are being liked by the people a lot more than they were liked in the 90's. This floral dress with a V neckline is definitely a stunning one and it's just what you need to upgrade your wardrobe for a complete change. It's a dress with unique design - a must have this summer, it is comfortable as well as pretty looking and simple to wear.