The Cut-Up
These Boots Were Made for Walking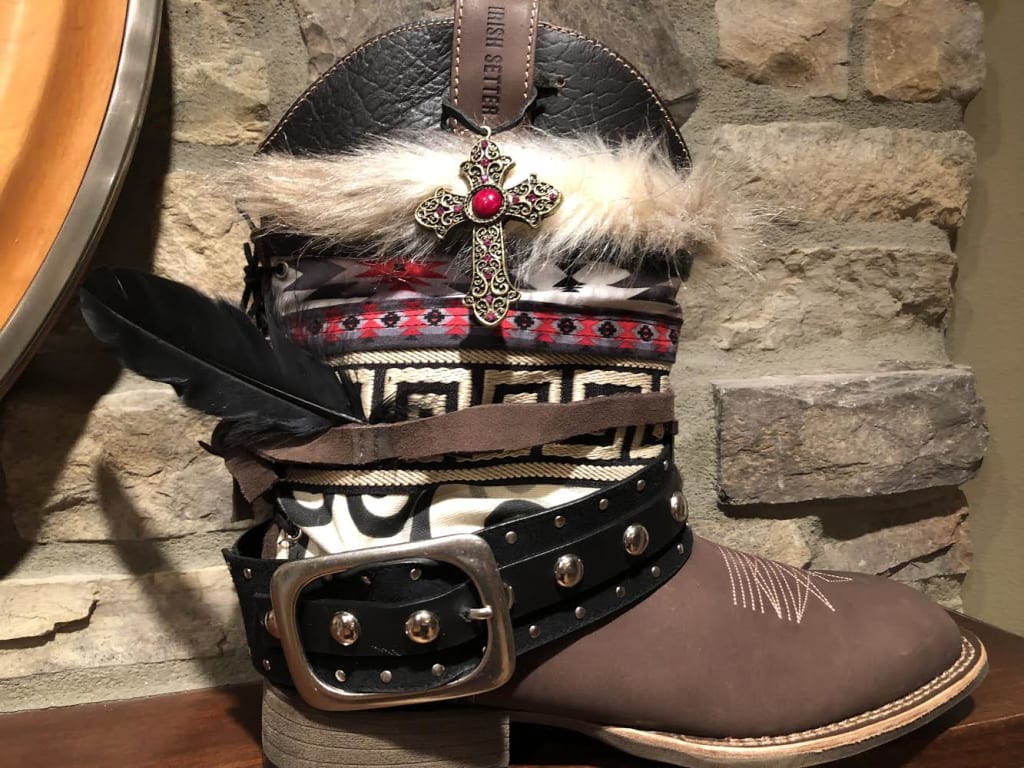 I never expected it. I was floored. When I gifted my bestie with a pair of my handmade boots, she scooped me up in an enormous bear hug repeating "Oh My God, I love them!"
Now true, I was not the shoemaker's midnight elf. I did not sew the boots myself. I scoped out thrift stores, Ebay, and any and all venues for genuine leather boots that would allow me to add my own creative touch.
But the joy I received when my girlfriend opened that box, and saw those colorful boots, it didn't matter whether I had sewn every stitch of the footwear or not. I had achieved the unexpected. I had created something that was as good a gift as if purchased from a fancy store.
Let me explain why this was such a big deal. I get in over my head all the time. I see something beautiful, creative, and unique, and I think "I can do that!". Well, I can't. I do try, but the end result is not something you actually give to someone. (Especially someone you want to keep as a friend!) I have actually had my mother suggest that she is NOT interested when I get excited about working on a new handmade project. So for me to find something that people actually want is an over-the-top totally cool experience for me.
Plus boots! That people love! I am a complete nerd when it comes to boots. I love them. All kinds. I wear them year-round whether or not it's practical. As a side note, I storm chase with my husband who is a meteorologist. While everyone else is sprinting from tornadoes in their sneakers, I am clomping down the road in my cowboy boots. So when I saw my first pair of up scaled boots, I was sold. They were so cool. The price, not so much. So I decided to find a way to make it happen.
I began my labor of love by finding an inexpensive pair of boots. I purchased fabric that made me smile, baubles that fought for originality, and leather belts with gorgeous buckles. I really looked for the unexpected. At an antique store, I found small old-fashioned keys that I looped with lengths of leather to create fun accessories. Second hand stores offered all sorts of options with recycling necklaces for chains to create a "cool biker" vibe. Plus earrings could be dismantled for their feathers, pendants, and beads to accentuate the boots. In a burst of crazed creativity, I even unraveled a woven leather belt to use the strips for making fringe to wrap around the boots under the fabric. This really put the "western" in the cowboy boot, but for the right kind of person it hit the bullseye.
I had never operated a sewing machine before, but my 14-year-old daughter gave me a lesson and I went after it. I cut and stitched brightly colored fabric together, and added finishing touches with jewelry remnants, buckles, and leather. I ransacked my closet for old scarves, bluejeans, and belts. Anything that could be "up cycled" to help me create a total original for each pair of boots. The first pair just begged for a second. So I complied. Before I knew it, I had quite an assortment.
Then the pandemic hit. Life became a very small space. It felt like the walls were closing in so instead of climbing them to protect my sanity, I began making more boots. It felt good to lose myself in creating beautiful things. It also helped me connect with my friends in a way that made me feel valued and them. Because I boxed them up and mailed them out for surprise gifts.
Each pair individualized to their unique interest. My girlfriend who loves boating on the river received a mariner's pair. My girlfriend who loves crazy jewelry and flowing outfits received a "hobo" pair that mixed prints and designs.
Only having one pair of feet, I have slowed on my boot-making affair. But frankly there are like potato chips. One, okay two, okay three just isn't enough. And seeing the delight on the faces of those who receive them is simply the cherry on