The controversial garment that never goes out of fashion
From Bridgerton to Gen Z, this sexy undergarment is once again popular.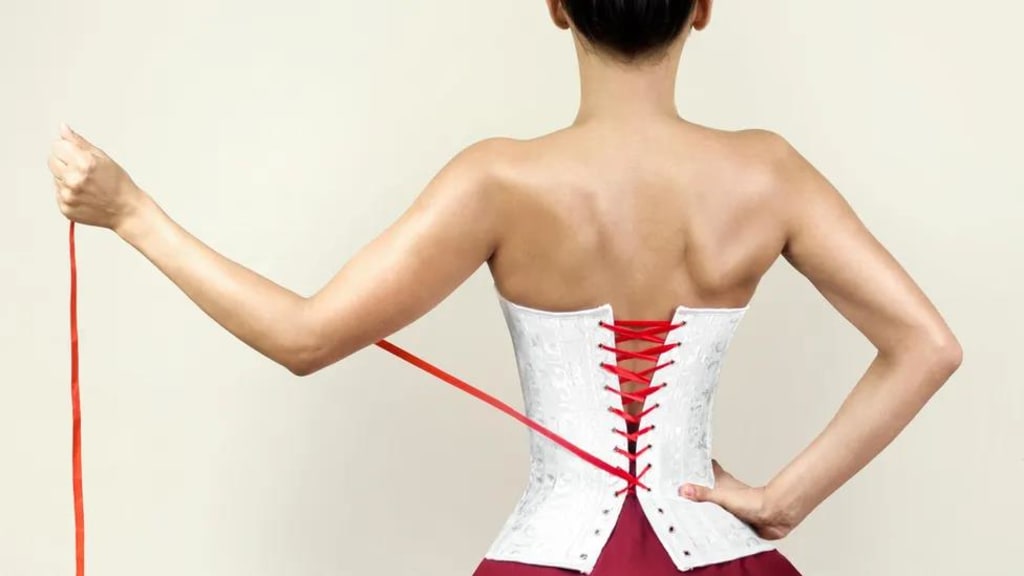 Corset
Breathe in… the corset – a garment that is never far from a revival in fashion circles – has been attracting a far wider audience recently. Online searches for the body-sculpting garment have soared, along with demand for four-poster beds and wisteria, an interest in all things Regency sparked by the period romance TV series Bridgerton.
Set in high-society England of 1813, the bodice-ripping show has attracted record audiences for Netflix – 82 million households streamed it in its first month on air – making it the network's biggest series debut. Bridgerton has even spawned its own buzzword, "Regencycore": think sumptuous dresses, satin elbow-length gloves, pearl-encrusted headbands and, of course, corsets – vital to the eye-catching decolletages that feature prominently in the show.
Corsets are in focus from the first episode of the series. In one comical scene, Prudence, the eldest daughter of social-climbing Lady Featherington, is being "tight-laced" into a corset by a maid to be slimmer for her presentation to Queen Charlotte. The laces are yanked until she can barely breathe, as her unsympathetic mother looks on, saying that when she was Prudence's age, her waist had been "the size of an orange and a half".
Fashion experts have since pointed out that liberties may have been taken with historical facts – that being whippet thin wasn't in vogue at the time, and the empire-line dresses of the day flowed freely below the bust. "A corset of the Bridgerton era would typically have been high-waisted not waist-pinching," Valerie Steele, director of the museum at New York's Fashion Institute of Technology, tells BBC Culture. But she concedes that tight-lacing does "look good on film".
The corset scene does drive home a truth – that women such as the unmarried Bridgertons and Featheringtons did what they had to (or were told to), when "climbing socially and marrying well" was their best chance of improving their lot. "A blossoming of the bosom," was the effect costume designer, Ellen Mirojnick, sought to create for the Bridgerton's female cast, from the young lead, Daphne, to the more mature Lady Danbury.
"That was the emphasis of the woman's body at the time, your eye went directly to the top of her décolletage," says Mirojnick. In creating the "1813 silhouette", the corsets were key. For the job, they hired Mr Pearl, whose name is sacrosanct in corsetry. On hearing she had him on her team of more than 200 artisans, Mirojnick says she "almost fainted. It was a gift from the gods. [Mr Pearl] is the foremost corset maker in the world today".
Mr Pearl (born Mark Erskine-Pullin) has worked with UK performance artist Leigh Bowery at London's Royal Opera House, and with fashion designer Thierry Mugler. He also made Kylie Minogue's dazzling corset costume from a John Galliano design for her 2006 Showgirl tour.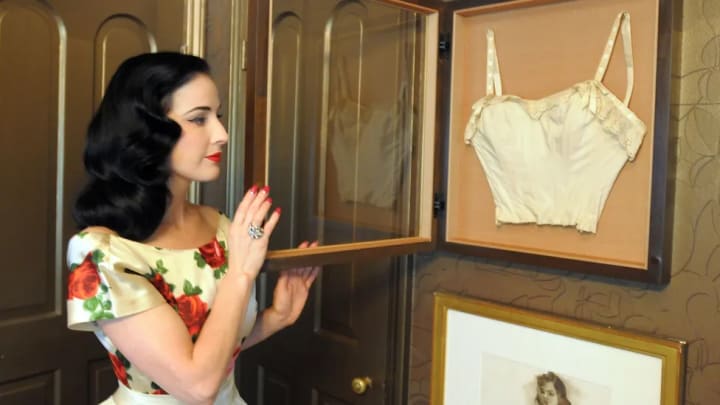 One of his high-profile clients is burlesque performer Dita von Teese, who wore a Mr Pearl corset under her Vivienne Westwood gown when she got married in 2005. A corset connoisseur of 30 years' standing, Von Teese has her own lingerie line and works with Dark Garden, founded in 1989 by Autumn Adamme; the company, based in San Francisco, produce the Dita, a 10-panelled corset named after her.
I've had clients say putting on a bespoke corset feels like having a wonderful hug – Karolina Laskowska
Von Teese has conceded the garment is not for everyone, saying it is a bit like high-heel wearing – "it's not necessarily easy". However, a bespoke model will nearly always be more comfortable than one bought off the rack as" our bodies are all shaped differently and the places where we want to be compressed can change". In recent years the notion of waist-training, the practice of using a corset or elasticated belt with the aim of modifying the body shape, has gained popularity. But Von Teese says in her experience it is not possible to permanently alter your shape in this way.
Straight-laced
While there is evidence of corset-like garments being used in the Minoan culture and Bronze Age ancient Crete, the first corset is said to have originated in the 16th Century, initially in Italy, then in France, introduced by Catherine de Medici. In Elizabethan times, the corset moulded the torso into a cylindrical shape rather than the hourglass shape that was sought after by Victorians. Early corsets stiffened with metal, ivory or whalebone no doubt contributed to an enduring belief that the garment is health-threatening, or even an instrument of torture.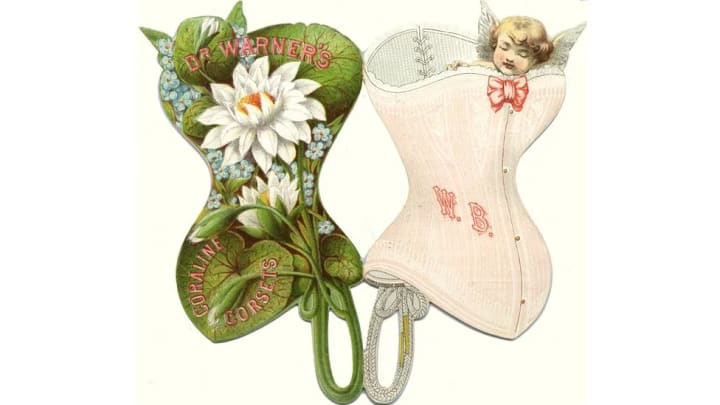 Karolina Laskowska is a British lingerie designer who has been creating hand-made corsets since 2012. Her bespoke pieces cost from £1,000 – but they do involve more than 100 hours' work each. She dismisses the idea of the corset as a torture instrument as "a lazy trope – one that harks back to men deciding what women should and shouldn't wear". She refers to Dr Warner who "decided corsets were bad for women, and invented his own 'health corset' [1873], to give women the 'perfect' shape – and made him a fortune by doing so." In her opinion, a well-fitting corset can "take the strain off the shoulders and ribcage, thus being more comfortable than a bra. In fact I've had clients say putting on a bespoke corset feels like having a wonderful hug."
While researching her book The Corset: A Cultural History, Valerie Steele worked with a doctor "to try to figure out to what extent the corset could have caused disease. But [we concluded] it didn't cause curvature of the spine, in fact it has often helped to correct it. Perhaps a few women fainted, or felt the fabric chafed their skin, but the corset didn't cause your liver to be split in two or the many things it's been blamed for".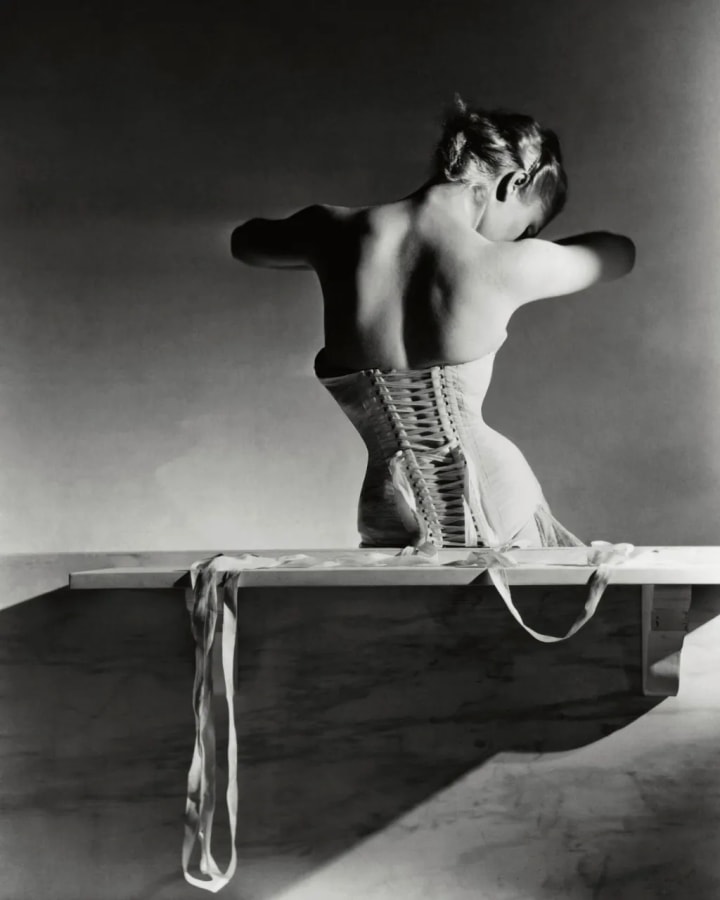 Among the most memorable corset "moments" of the past 100 years are Horst P Horst's famous photograph Mainbocher Corset, Paris in 1939; Sophia Loren's black satin hourglass number in The Millionaire, 1960 and the more recent Wonder Woman 1984, with its moulded metal corset-armour. All have attracted criticism as well as appreciation. Decades after the release of Gone with the Wind, US feminist writer Gloria Steinem described Scarlett O'Hara being laced into a corset to achieve a 17-in waist in order to seduce Ashley as a "perfect illustration of female bondage, Southern style".
For four centuries, to wear one was to be respectable and conformist – to be 'straight-laced' was literally to be upstanding – Valerie Steele
Steele has heard the disempowering argument many times but says "It's a mistake to patronise women, to suggest they were all stupid victims for, say 400 years," she says. Laskowska agrees: "A corset can be a beautiful thing you wear just for yourself, not for any man. I do that, and I feel empowered by it."
While the corset can today be seen as "a sexy, kind of cheeky garment," adds Steele, "for four centuries to wear one was to be respectable and conformist – to be 'straight-laced' was literally to be upstanding". The turning point came in the 1970s and punk fashion led by Vivienne Westwood, "when corsets came back, initially as a fetish-style garment, one that was rebellious and highly sexualised," says Steele. It carried through with Madonna in conical-breasted corsets by Jean-Paul Gaultier on her 1990 Blonde Ambition tour, "when she seemed to say 'I'm not oppressed, I'm a sexually liberated woman'".
Westwood's corset designs may be "one of her most important contributions to 20th-Century fashion" according to Steele. They are indeed highly prized collectors' items: her corset design printed with a detail from the 1743 François Boucher painting Daphnis and Chloe resides in the V&A. Fans of her Boucher corsets include the model Bella Hadid, and pop stars Miley Cyrus and FKA Twigs. Twigs modelled some of her extensive vintage Westwood collection for her digital zine Avantgarden.
As a second series of Bridgerton prepares to start filming in the spring, Mirojnick reflects on the role the show is playing for an ever-growing audience: "It allows our imagination to flourish – and transports you into a place that's fun to watch, especially given the bleak times we're living in." Corsets and all.
Reader insights
Be the first to share your insights about this piece.
Add your insights