The Complete Beginner's Guide to Fashion
Basic Styling Knowledge for Beginners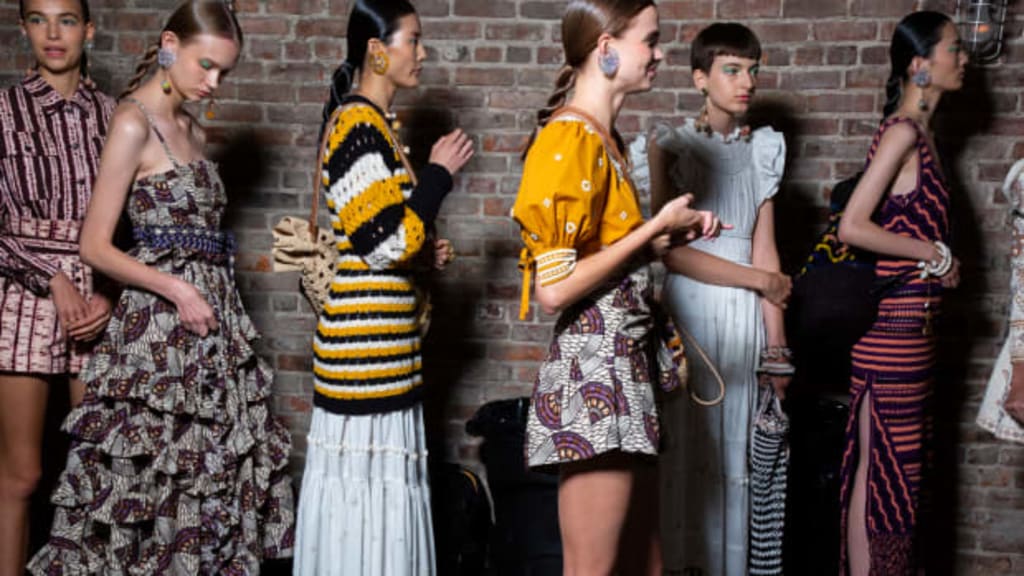 Being in style doesn't necessarily require having the perfect body. It doesn't even matter whatever the shape of your body is, there are ways that you can use fashion knowledge to your advantage by learning how to select clothing that flatters the parts you want to show off!
Your body is fashion's ultimate accessory and you are your canvas. When we struggle to understand how to dress our shapes, it can hinder creativity and/or highlight our insecurities, which in turn makes us feel frustrated and with limited options.
Understanding your body shape is not:
- About making it wrong.
- Finding fault in order to look better.
- Working yourself to look like someone else's ideal or trying to fit in to the current trends.
Understanding your body shape is:
- Learning your proportions correctly
- Understanding how your figure translates to clothing design.
- An integral step in making smarter purchases to end frustrating shopping experiences.
Your body is the way that it is and will continuously change as you get older. Learning to work with and love what you've got is one of your greatest resources. Women who know what works for their body understand how to flatter it.
If You're...
Apple-shaped (shoulders wider than hips):
Wear V-necks; they draw attention away from your waist . Show off your great legs by wearing skirts and dresses Wear jackets that hit below the waist
Pear-shaped (waist wider than shoulders):
Make sure your bottom is darker than your top. Don't wear pants and skirts with pleats and side pockets . Show off your fabulous shoulders by wearing off the shoulder tops.
Short-waisted:
Avoid dresses with a waistband . Wear a longer tunic type top . Wear low-waisted jeans .
Long-waisted:
Wear different colors on the top and bottom . Avoid stomach-baring tops and hip huggers . Opt for short jackets
Plus-sized:
Wear small prints or solid colors rather than large prints . Wear fab earrings or a great necklace as attention grabbers . Wear flared pants or jeans to provide better overall proportion .
Petite:
Wear clothes with vertical lines to look taller . Avoid cutting yourself in half with wide belts or sashes. Go for a monochromatic look to appear taller .
Now how do you find out whether you're apple or pear-shaped or long or short waisted?
You need know which parts of your body to measure and how to measure each part individually because one size doesn't always fit all!
Key Body Measurements to Ensure the Right Clothing Fit for Women
Chest:
Start at the fullest part of your bust with the tape and circle under your armpits, around your shoulder blades, and back to the front.
Waist:
Without sucking in your stomach, circle your waist with the tape at your natural waist line. (If you bend to the side, the crease that forms is your natural waist line.)
Hips:
Measure around the largest part of your buttocks (use a mirror to make sure you have the tape measure in the right place).
Inseam:
Have a friend stretch a tape measure from your crotch (while you're wearing pants) to the bottom of your ankle. Or, if you have a pair of pants that fit you perfectly, you can measure the inseam yourself: Just stretch the tape from crotch to hem. Remember that the proper inseam depends on the height of the heel you wear with the pants.
Thigh:
Take your thigh measurement around the fullest part of your thigh.
Upper arm:
Measure around at the widest part of your arm.
Sleeve length:
Place your hand at your waist, bending your elbow 90 degrees. Have a friend measure from the middle of the back of your neck to your shoulder, down your arm to the elbow, and then on to the wrist.
To get the most accurate measurements, use a cloth tape measure, not a metal one, and measure yourself on your bare skin, not over clothes (except for your inseam). Also, make sure that when you circle your chest, waist. or hips the tape is level and not too tight or too loose.
Now that you know how to measure yourself and apply the measurements to what you want to flatter (or hide), now you're ready to establish your own style!
How to Create Your Own Style
1. Become an expert observer
The number one thing you can do to improve your sense of style and train your eye is to look at how other people are doing it. Keep an eye out for what types of pieces are they wearing, what colors they mix, what shoes they pair with their outfits, how they accessorize and so on.
To practice this, make use of your everyday surroundings! An example could include sitting in a cafe and watching people pass by, paying close attention to your co-workers' and friends' outfits and checking out what your fellow commuters are wearing on your train ride to work. You can also use Pinterest and fashion blogs to supplement your real-life studies and expose yourself to a broader range of styles.
The key throughout this whole process is to be as precise as possible. If you see an outfit that you like, figure out what exactly makes it so great. Is it the overall vibe of the look (e.g. preppy, bohemian or minimalist), the color scheme or a specific piece?
Over time, you will get more and more of a feel for what kinds of clothes you like and how you like them to fit, and can then use that information to upgrade your wardrobe, either by wearing your existing clothes in a new way or by adding some new pieces.
2. Imitate, imitate, imitate
How do students in art school learn their craft? By studying and copying the styles of other artists of course!
Imitate! Pick one outfit and copy it. Then assess what you like/don't like about it, rinse and repeat.
Find an outfit on Pinterest or on a fashion blog that you could imagine wearing for one of your regular day-to-day activities, for example to work or on the weekends. Then, use your own clothes to replicate that outfit as closely as possible, or go into a store and try stuff on.
The next time you admire a person's personal image ask yourself "why do I like her look?" Is it the streetwear sportiness of it? How glam she looks? Is it her overall cool-girl factor? Is it how comfortable-yet-perfectly-pulled-together she looks? Does her powerful presence catch your eye?
Replicate the personal style you love by examining rather than judging to borrow styles from another person's image.
This builds on the complexity of putting entire looks together because rather than simply appreciating one thing or detail, you're capturing the feeling of an overall aesthetic.
3. Get out of your comfort zone
How are you supposed to know whether you prefer bright colors vs. neutrals or feel best in flow-y bohemian pieces vs. tailored separates? Here's how: You try it out.
The only way to ever get to a place where you can confidently say, yes this is my style is by exposing yourself to a ton of different aesthetics and experimenting, to find out what you like, as well as all the things you don't like.
Everyone you see who has a great sense of style right now has gone through this experimentation phase at some point in their lives and could likely tell you millions os stories about all the 'terrible' outfits they wore before they finally settled on a style.
The best way to make it through this experimentation period is to make it fun, but effective. Actively seek out new styles, colors and silhouettes that are outside of your typical comfort zone, all for the sake of research. Set the stakes super low to avoid overwhelm: Go into stores just to try on a bunch of stuff, take mental or actual notes of what you like/dislike and leave again without buying anything.
A helpful way to push yourself out of your comfort zone is to set yourself little challenges. For example: go into a store you have never bought anything from and challenge yourself to find a complete outfit that you like and would wear. Another way could be to try on that one piece that you love on other people but think you can't pull off yourself, and see if you can build an outfit around it.
4. Use your most-worn pieces as the starting point
Even if you aren't all too happy with the current state of your wardrobe, chances are you own at least a couple of individual pieces that you do like. An easy, fail-proof way to start upgrading your wardrobe and how you dress is to use those pieces as the starting point.
As a first step, figure out what separates your favorites from the rest of your clothes. Think colors, fabric, fit/silhouette, overall style and details, what makes these pieces your main go-to?
Instead of settling at 'I like that pair of pants because it's comfortable and has a nice fit', find out what exact feature of the piece makes it so comfortable and well-fitting. The all-natural material, the high waist, the thicker fabric?
Once you have defined what you like about your favorite pieces, you'll be left with a detailed list of things that are all your style and that you can use a guide while out shopping. Since you have been wearing all of those things for a while already, there is a much lower risk that you'll buy something that will sit at the back of your closet.
Another thing you can do is to do a little online research to see how other people are styling your most-worn pieces. Let's say one of your wardrobe favorites is a simple striped top. Type in "Striped top" on Pinterest or Google Images you're left with a whole set of new outfit ideas to experiment with.
Wearing every piece of clothing gives you one of two things: a new vigor for it or a clear feeling that the item needs to go.
If you are torn about whether to toss something, then wear it again. You'll have clarity by the day's end whether or not it's worth to keep.
5. Know Why You Like Something, To Wear What You Want
People that have incredible style are attuned to their tastes and effortlessly build a wardrobe out of them. They build a wardrobe out what feels right. By refining your understanding of why you like an item you'll have more success choosing the pieces that make you feel pulled together.
The next time you like or don't like an item of clothing (your own, a colleagues, in a store, etc) take note of why.
When we are attracted to or repelled by an item, there are details that make you go yay or nay. Regardless if it is the color, the pleats, the fabric, or the way it moves, it's your job to understand why you love it or hate it.
As you start paying attention to why you like something you'll notice patterns in your style preferences. These patterns are valuable information to dressing yourself smarter. Our awareness of why we are attracted to something is a tool in creating more of that in our lives.
With your preference(s) noted, go to a store and scan it until you find pieces that reflect your favorite detail(s). Try them on and commit to that final choice. Every day wear something you've yet to wear in that day's outfit. Do this, in constant rotation, until you have worn everything at least once.
6. Arm Yourself With A Core Learning Outlet
This ties into what I mentioned earlier with imitating your inspirations. Like when learning to cook, personal style develops best when creativity meets competency. One has to learn knife yielding before they can advance into culinary arts. Sometimes this can come naturally, but most often it's a culmination of effort and self expression over the years.
Follow masters that share their expertise.
Educate yourself on the science of fashion and apply the teachings.
You'll feel more confident you're making sophisticated choices once you develop a stronger sense of skill.
With time you'll feel more at ease to explore your creativity and expand your horizons.
7. Do Your Hair More
When grooming becomes an afterthought, it diminishes the self-image we seek.
Think of when a well-dressed man doesn't groom his facial hair or brush his teeth before a date or imagine a celebrity with post-workout hair on the red carpet. They are still their fabulous self, but an off-centered, false representation of that version.
This isn't to say you need to be a coiffed model every day, but as the British royals can attest, a ponytail can either be "I just woke up mess" or "sleek and chic".
The only difference is the extra effort we make in creating one or the other.
Figure out a few lifestyle changes that regularly supports having a polished head of hair and do it more often than not. You are sure to find another go-to that says "I pulled it together" and less "I ran out of time"
8. Add A New Neutral
For most, neutrals mean black or white, gray or navy. If brighter colors intimidate you and/or you're bored with your style, consider incorporating alternative neutrals.
There are are browns, burgundy, greens, creams, blushes and camels that can be worn as neutrals too.
The next time you consider buying something in your regular go-to neutral, try one you normally aren't drawn too. Like leopard!
9. Add A Third Piece To Your Look
This piece is an additional item that incorporates a new element into your outfit. It helps you rotate your wardrobe in a way that keeps you wearing only what you love, while trying all the things you rarely wear.
Imagine your look is full of clothes (fav shirt, fav jeans, or fav shoes, etc.) that you're confident in, but you're on the fence about that one item (those other shoes, a headband, new bra, whatever), invite it into your outfit and try it for the night/day.
Wear any piece of clothing you're not sure about in an otherwise safe outfit. You'll either learn you love it or you'll be eager to get rid of it. Win-win.
10. Wear Bright Colors In Your Accessories
Incorporating color is often a challenge for anyone who has stuck to wearing neutrals.
Experimenting with brights in your accessories is a simple way to wear more color and find what you love. You can do this with just about anything: a bright bag, shoe, or earrings. It could be a scarf or a hair clip. It works because almost all bright colors pair back to a neutral effortlessly, removing any skepticism of how to match.
All neutral outfits + bold bright accessories = colorful style.