The Art of Thrifting
by a broke new girl in town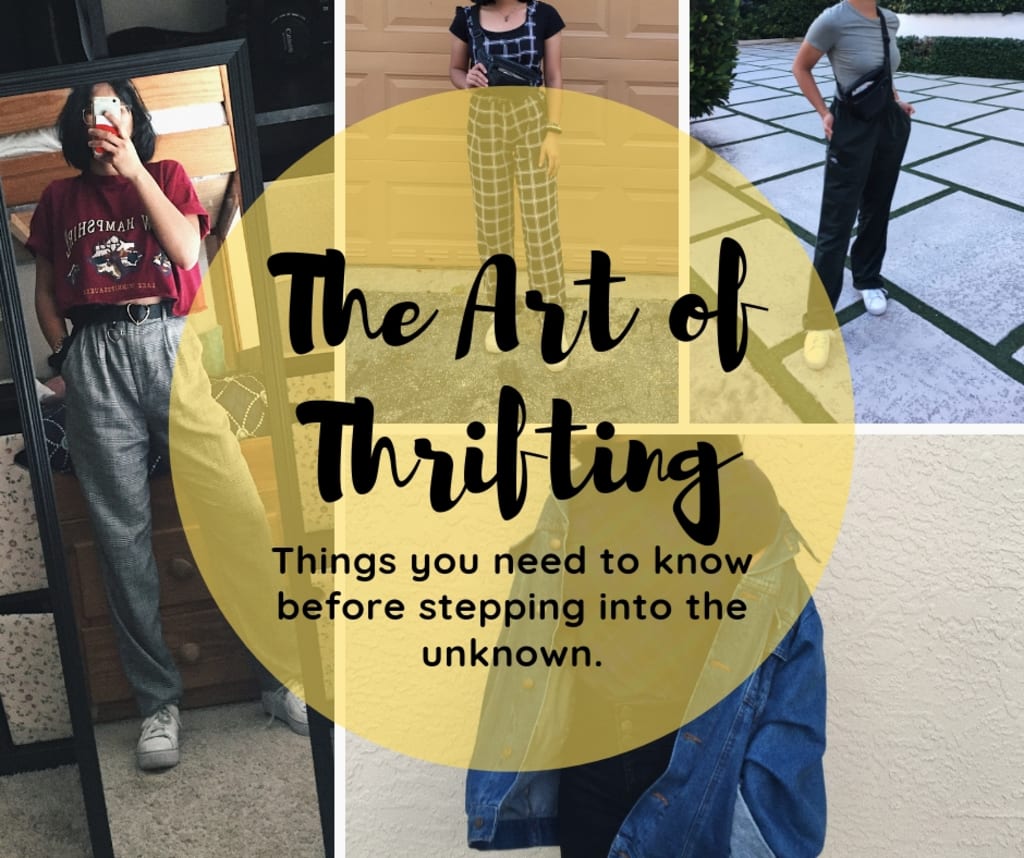 All picture's are of me and aside from the shoe's and fanny pack, the rest of clothing are thrift store bought—be that one stylish person on a budget.
"Ugh, Senior year."
That's what the me a year ago said to herself at the thought of having to see people again, especially people around her age. c̶a̶n̶'̶t̶ ̶b̶l̶a̶m̶e̶ ̶h̶e̶r̶ ̶t̶h̶o̶u̶g̶h̶,̶ ̶n̶o̶t̶ ̶e̶v̶e̶r̶y̶o̶n̶e̶'̶s̶ ̶u̶p̶ ̶f̶o̶r̶ ̶t̶h̶e̶ ̶e̶m̶o̶t̶i̶o̶n̶a̶l̶ ̶m̶i̶n̶e̶f̶i̶e̶l̶d̶ ̶o̶f̶ ̶t̶e̶e̶n̶a̶g̶e̶ ̶s̶e̶n̶i̶o̶r̶ ̶a̶n̶g̶s̶t̶.̶ l̶i̶k̶e̶ ̶a̶ ̶'̶i̶t̶'̶s̶ ̶n̶o̶t̶ ̶y̶o̶u̶,̶ ̶i̶t̶'̶s̶ ̶m̶e̶'̶ ̶m̶o̶m̶e̶n̶t̶.̶'̶ ̶b̶u̶t̶ ̶f̶o̶r̶ ̶r̶e̶a̶l̶ ̶t̶h̶i̶s̶ ̶t̶i̶m̶e̶ ̶-̶ ̶h̶a̶v̶e̶ ̶y̶o̶u̶ ̶s̶e̶e̶n̶ ̶t̶e̶e̶n̶a̶g̶e̶ ̶k̶i̶d̶s̶?̶!̶
Anyways, summer before class started, it dawned to me that at an American public school—or at least, at the school where I went to, doesn't mandate students to wear uniforms w̶h̶i̶c̶h̶ ̶I̶ ̶l̶a̶t̶e̶r̶ ̶o̶n̶ ̶f̶o̶u̶n̶d̶ ̶o̶u̶t̶ ̶t̶h̶a̶t̶ ̶t̶h̶e̶y̶ ̶d̶i̶d̶ ̶a̶ ̶y̶e̶a̶r̶ ̶b̶e̶f̶o̶r̶e̶ ̶I̶ ̶e̶n̶r̶o̶l̶l̶e̶d̶ ̶m̶y̶s̶e̶l̶f̶,̶ ̶w̶h̶i̶c̶h̶ ̶i̶s̶ ̶n̶o̶t̶ ̶t̶h̶e̶ ̶p̶o̶i̶n̶t̶,̶ ̶b̶u̶t̶,̶ ̶o̶k̶a̶y̶ ̶-̶ ̶I̶ ̶t̶h̶a̶n̶k̶ ̶G̶o̶d̶ ̶a̶n̶y̶w̶a̶y̶s̶.̶
An u̶n̶s̶o̶l̶i̶c̶i̶t̶e̶d̶ fun fact about me is that from where I came from, every kind of school had uniforms, and that thrift stores weren't a thing. Which left me with too little of imagination and aspiration. But as always, the only constant thing in the world called change had come knocking on my door in a form of migration to US.
The following tips are tips that I really intended for myself to think about and act upon, in order to survive; i̶n̶ ̶c̶a̶s̶e̶ ̶y̶o̶u̶ ̶s̶t̶i̶l̶l̶ ̶h̶a̶v̶e̶n̶'̶t̶ ̶n̶o̶t̶i̶c̶e̶d̶,̶ ̶I̶'̶m̶ ̶p̶r̶e̶t̶t̶y̶ ̶d̶r̶a̶m̶a̶t̶i̶c̶.̶ ̶a̶n̶d̶ ̶I̶ ̶l̶i̶k̶e̶ ̶i̶t̶ ̶t̶h̶a̶t̶ ̶w̶a̶y̶.̶
First of all, I identified my financial standing—which is B R O K E.
My family and I were new in town, I was young, and didn't have a job. Basically, the money in my pocket was not mine, which again implies, that me, myself, is broke. Therefore, with that in mind, I of course look at the cheaper bargain; and when I say cheap, I mean less than $5 kind of cheap l̶i̶k̶e̶ ̶g̶i̶r̶l̶,̶ ̶o̶r̶ ̶b̶o̶y̶,̶ ̶i̶t̶'̶s̶ ̶a̶ ̶t̶h̶r̶i̶f̶t̶ ̶s̶t̶o̶r̶e̶,̶ ̶d̶o̶n̶'̶t̶ ̶g̶o̶ ̶s̶p̶e̶n̶d̶i̶n̶g̶ ̶$̶$̶$̶$̶ ̶o̶n̶ ̶p̶r̶e̶-̶o̶w̶n̶e̶d̶.̶
Second of all, I built patience—nobody's going to push the hangers back for you.
My local thrift store didn't color-code it, or size-code it, and the discount or price was depending on the color of the tag—some days, tags that were green are 50% off, some days tags with blue are 70%.
Speaking of tags, my third point is that most thrift stores offer a much discounted price on certain items based on the color of its tag, which department it's from, and what day of week it is!
When I first started going to the thrift store, there was a specific Saturday where I found a designer jean jacket that had a green $15 price tag on, so alas, as hard as it was, I had to let go—later on, the woman in front of me at the cashier bought it and with a big smile on the cashier's face, she said, "You got a good deal right here! All green tags today are for only $3." Needless to say, I came home with a broken heart.
Fourth point is know your body type and colors that flatter your skin!!
Are you a pear, a rectangle, a triangle, or an hourglass? No, you don't need to go all anatomy or fitness/health major just so you could get goodies from the thrift store. But it never hurts to know, and I believe with knowledge, what comes next is liberty.
"You're one of the lucky ones, you look great with whatever you wear, whether it may be thrifted or not."
Although it flattered me to hear that, I couldn't help but list 10 things that can shut down that statement. I for one, am rectangle-d shaped; meaning, I have broad shoulders and not much curves. Growing up, I never thought about my shape and forced myself to go along with what society at that time taught girls.
I wore things that were expensive, and that weren't flattering my body type, which made me lose my self-esteem—which then strengthens my passion to share that being aware of your body type, whatever it is, is a tool. It's not something that should be ashamed of.
Me knowing I'm a rectangle, I go look for clothes that accentuate my waist line, like high waisted pants, but instead of skinny's, I know I should go with wide leg. That way, it creates a focus on my waist creating that illusion. If looking for a dress, or skirt, it should be flowy like an A skirt, not fitting. And if looking for a top, tied up shirts or large shirts from the men's section can do the job; that way, I get to minimize the focus on my broad shoulders but the tie up brings that focus on the waist line again.
Also, because I'm from Southeast Ssia, my skin tone is tan-brown; a skin color that goes well with autumn colors, or warmer tones like red, orange, yellow, rust brown. But they also go with navy blue, forest green, royal purple.
I say all that to bring back my main point of tip #4; after knowledge, comes liberty.
You become free to experiment different styles, looking good while on the budget. And, more importantly, you don't know who you'd see or meet each day! Maybe your new thrift store bought outfit that's not of the norm may encourage them to also go out there and represent style on a budget!
Y'all I know this had been long, but last but not the least!! ACCESSORIZE, CROP IT, FOLD IT UP, AND WHITE SHOES.
One of the major difficulties in thrift shopping is that you never seem to find your size. But then again, not every brand's medium is the same medium as the next ones. Also, don't be so afraid of getting one size bigger, especially if it's a Calvin Klein or Tommy Hill for $5.
If you know how to sew, good for you—I don't.
So what I do is I accessorize. If you're a rectangle shape like me, belts are our best friends to downsize the waistline or get a fanny pack from Walmart.
Big shirts can be cropped or tied up into a knot, just always remember if its something loose, pair it with something tight, and vice versa.
And if you need to cut denim skirts, or denim jeans because it's a tad bit too long, but can't hem it back cause you're like me—can't sew for life—then do a tiny fringe or fray it!
P.S: White shoe's is a must have, in whatever style—I can't say how to get one from the thrift store, but for me, they make every thrifted outfit pop!