That 70's Wardrobe
Getting that groove into your clothes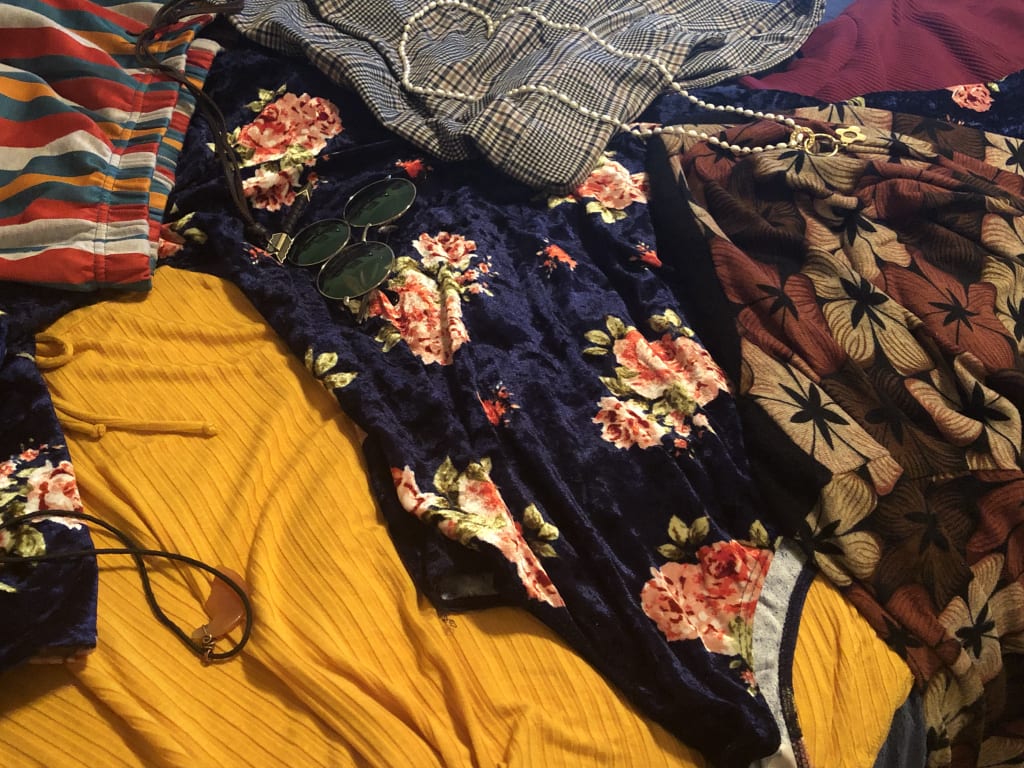 The 70s, a decade that still inspires fashion styles even 50 years later. It was all about the pretty patterns of plaid, stripes, flowers, funky shapes, and the colors of all shades with endless possibilities. People walked down the streets as a work of art that came to life.
My fashion history was in the dark ages, literally and metaphorically. I lived in black pants, anime shirts, and a black sweat jacket. I didn't want color in my closet because it felt uncomfortable to me from my lack of this thing called self-esteem. That wouldn't happen until my twenties.
I don't think the twelve year old me in black would ever think there would every color in my closet. The twelve year old me didn't think that there would ever be a spontaneity of a style switch, and now I'm having the most fun I've ever had with fashion. It really does give an appreciation to looking at fashion as an art, the way it has always been. Not a chic competition to look cuter or look better, it's about looking good for oneself and enjoying the piece of clothing. To have endless possibilities to bend the brain to figure out all the ways to style clothes, it's not hard to do, just to have fun and not think of what others think.
The spark of sporting the seventies into my style choices came from a dress I got as a gift from a woman I consider a second mother that always finds the most interesting style of dresses. She found this gem for me that started it all.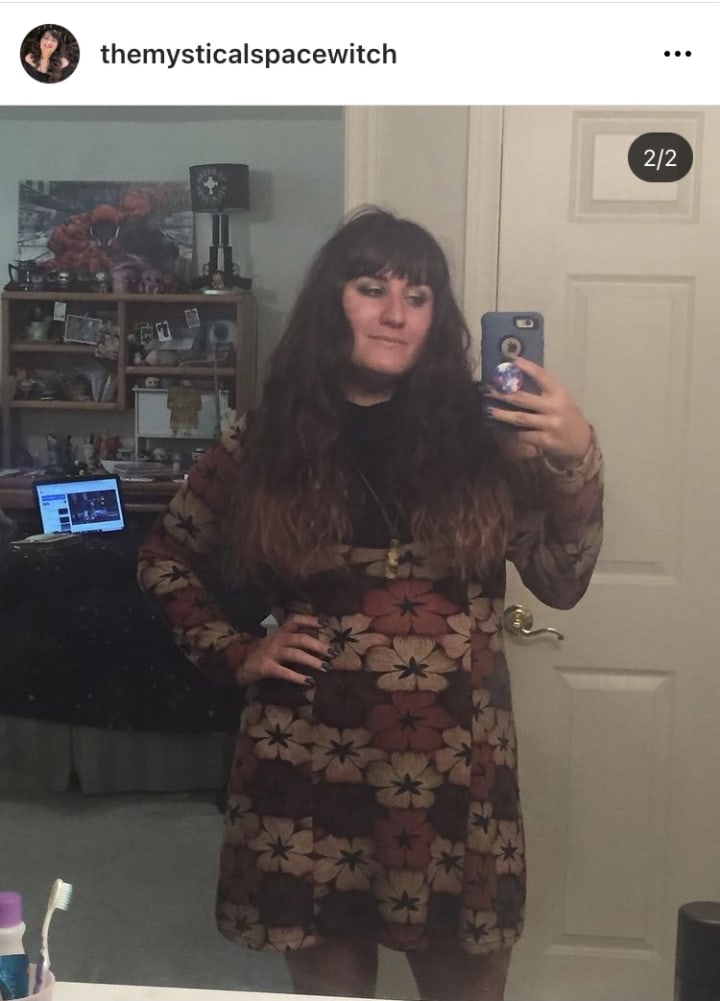 I've never worn warm colors like this with tans, browns, blacks, and hints of auburn red. It's a mix of casual and sophisticated. It does have a lot of key factor fashions of the 7o's which made it inadvertently, the perfect outfit to start with my 70's wardrobe. The pattern had me hooked to have a floral pattern apart of my wardrobe in the new transition for fashion.
There are a lot of factors to this fun fashion style, I'm not a fashion expert per-say, I'm just someone who puts fashion together and it works. Here is my mishmash of what I've found to make my 70's wardrobe.
Influence
Go to Google and type in any name, Stevie Nicks, Bianca Jaggar, Farrah Fawcett, Jane Birkin, Twiggy, etc.
I'm just gonna drop a name really quick, this is the name that you're going to need in your search for this style. Bridget Bardot.
Now if anyone is aware of who this French actress is, thank you I'm glad you know who she is but if you don't know who she is, I'm going to give you a little explanation, she was a big style icon of the 1950s and you're probably wondering what does a woman in the 50s have to do with styling in the 70s? Because her look carries over into the 60s and the 70s. If you look at a lot of women of those two decades, They had big pompadour half updos, and they were off shoulder shirts. So if you want to do an example of a style based off of a person, Bridget Bardot would be your basis of example and then go from there. There is no set-in-stone icon on the 70s. You could use a style icon to create your blueprint for fashion or see what you can create with taking pieces and parts from other styles. There are endless possibilities with no wrong way to wear it. It all depends on how you wear it.
IF you do want to go off of an icon, mix it up. I do a variation of Twiggy, Stevie Nicks, and Bridget Bardot.
Light colors and dark colors
The 70s was a bit of a mixed bag, it's still incorporated but looks from the 60s. The soft pink shades, the sky blue colors, and purples and any other color that you could have a few shades lighter. But then the 70s came along and did a mix of dark colors with lighter colors and combining everything together. Which is honestly the greatest thing about dressing in the decade of the 70s is that you get to have every single color work.
Isn't it wonderful? That all colors are possibilities and all that matters is finding how that color works on a pattern. It's very effortless.
What you have to find
The moment you've been waiting for, the shopping list to attain this wardrobe? After everything I mentioned from influences, colors, patterns, it's not going to be hard right? That's why I said it in every section.
I'm gonna go ahead and give you your shopping list
Turtlenecks or Mock Turtlenecks
Halter tops
Vests
Handkerchief dresses or handkerchief skirts
Boots
Suede fringe shoes
Bellbottom or wide pant Jeans
Tan blazers
HUGE coats
Pleather or leather jackets
Corduroy skirts or pants
Designs : Flowers, plaid, stripes
You have probably seen a lot of these clothes already that has been modernized. But if you mix and match these clothes, you'll be a walking wonder wardrobe from the past.
DIY
You can make your own modern mark of this style by making your own. How? I'll show you.
It's easy to do this yourself when you know the material of the clothes as well as knowing how people lived in the seventies. Bellbottom jeans had scuff marks from walking, thread coming off of jackets, the lived in, unkempt, not-neat look.
So knowing that, all you have to do is just cut and leave it be, if it frays-PERFECT.
This skirt here is an example & my favorite piece of 70s fashion.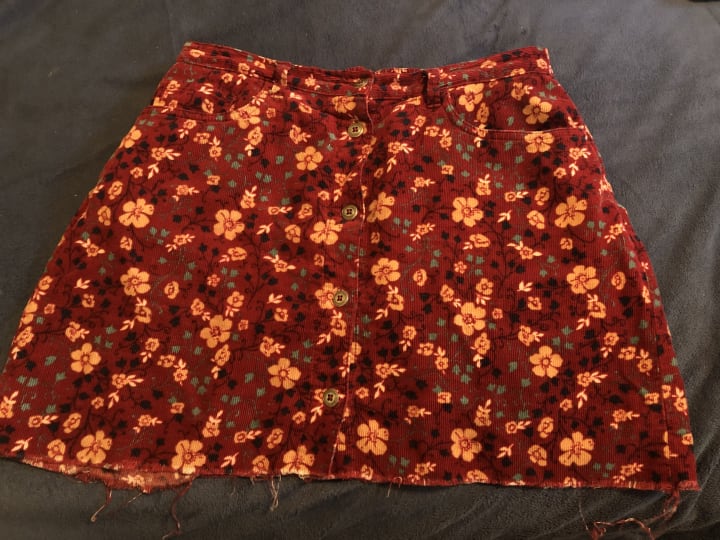 It has corduroy material, easy to fray, easy to cut. I cut the line without focusing on making a perfect straight line, if it was a little crooked, no big deal daddio. I left it exactly as it is, I let the threats come apart from the fabric to be worn and torn for a casual and cool look. You dig?
It gives it a rustic look and a rebellious look. The color of the skirt being deep dark red really accentuate the flowers so if you're able to find a piece of clothing like pants or skirts or shorts that have a dark background but with bright patterns, then you have a staple piece of clothing that you can easily make into a 70s look. This will be universal for any look that you want to do. I've worn the skirt with a black Bardot top, a white shirt, a red turtleneck shirt,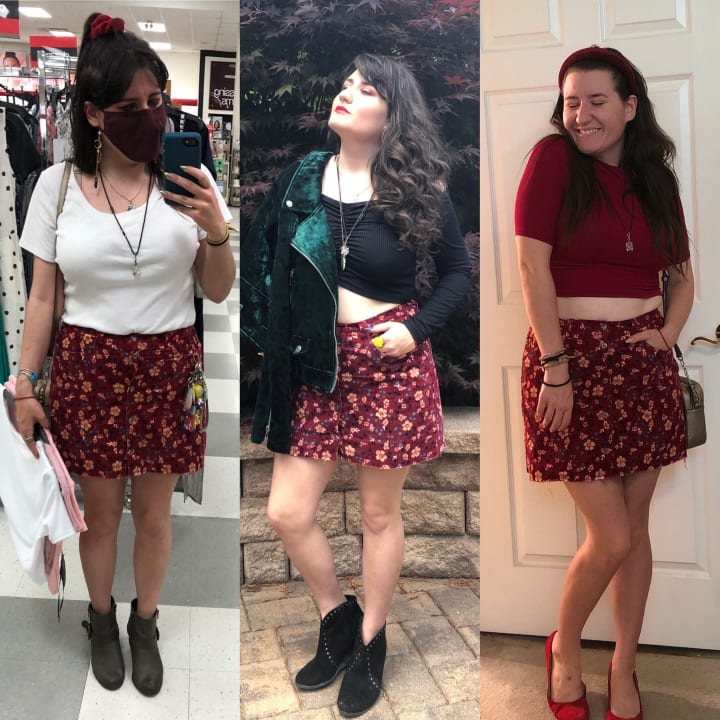 The best part about that skirt is that it unintentionally became a 70s piece
It has the dark and bright colors ✅
It has the pencil skirt style ✅
It has perfectly versatility to be dressed up or dressed down ✅
With all my tips and tricks, go out there and get your groove on with some fashion. Please don't forget to accessorize and take a picture of your far out outfit!~
shopping
I'm here to teach you something new or expand your mind in a neutral aspect.
Instagram: parrishpassages
tiktok: themysticalspacewitch
Oh and I wrote a book called, Inglorious Ink, now available on Amazon
Receive stories by Samantha Parrish in

your feed