Survey Finds Most Americans Are Emotional Shoppers
62% of Americans blame overspending on emotion.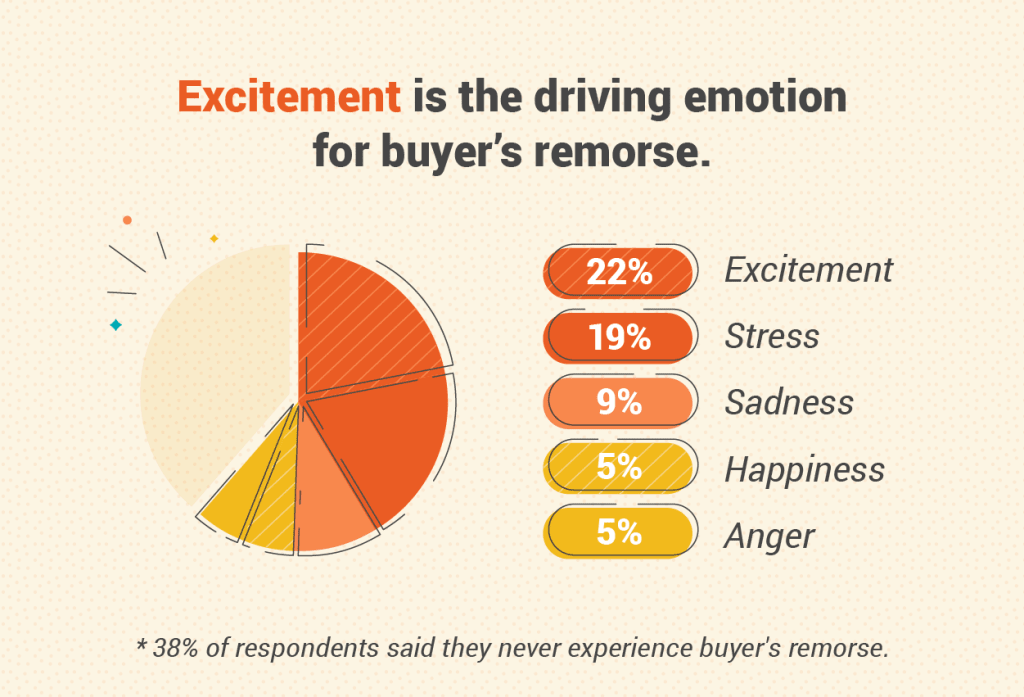 Have you ever experienced buyer's remorse? It's the phenomena that occurs when we make a purchase, then later come to regret it for one reason or another. Typically, buyer's remorse stems from the realization that the money we spent on a product could have been put towards something more important, like a savings account or retirement fund.
Coupon Chief conducted an original survey of 3,000 respondents to determine how Americans feel about their spending in 2019, focusing on how people wish they had spent their money differently. The survey concludes that most Americans experience buyer's remorse in some way and have significant regrets when it comes to the way they spent their money.
Specifically, the survey found that:
Excitement causes the most overspending.
1 in 4 wishes they had spent less on themselves in 2019.
Women are more likely to overspend due to stress.
Americans regret buying subscriptions more than any other purchase.
Excited Shoppers Tend to Overspend
Research indicates that consumers are heavily influenced by emotion when shopping, even when those emotions aren't related to the purchase. While some studies suggest that nearly half of Americans overspend, our study implies it could be even more.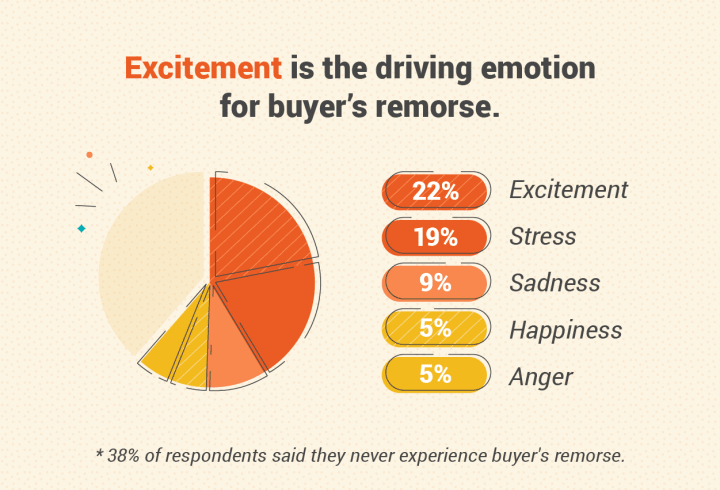 According to our respondents, excitement is the leading cause of overspending and making purchases shoppers later regret. More than 22 percent of Americans named this emotion as their top influencer. Overall, 62 percent of respondents blamed some emotion as being responsible for purchases they later regret.
When examining the demographic breakdown of these results, it's found that women are slightly more likely to name stress as the leading emotion, rather than excitement. Interestingly, only 17 percent of men named stress as their leading emotion when making purchases they come to regret later.
People Regret Spending Money on Themselves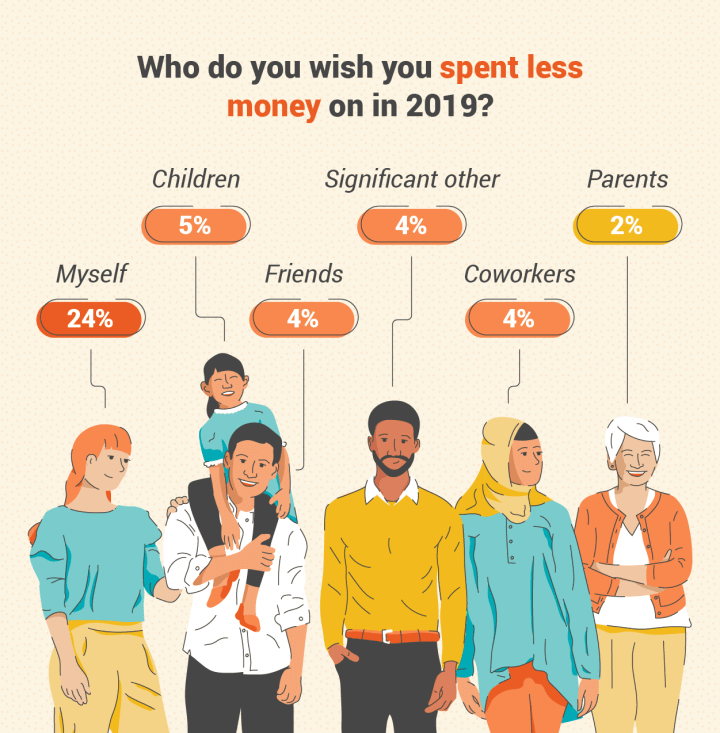 Americans tend to feel okay about gifting others, but when it comes to treating themselves, guilt takes over. Nearly one in four respondents said they wish they had spent less money on themselves in 2019, suggesting that these people are now experiencing buyer's remorse around self-giving and splurging during the past year when they could have been saving money instead.
For the 51% of Americans who say they buy Christmas presents for themselves, buyer's remorse could be knocking at the door, especially when considering that Americans spend over $1,000 each on Christmas gifting, food, and travel.
Subscriptions are the #1 Regretted Purchase of 2019
The term "subscription fatigue" has begun floating around in the last several months and is apparently relevant to this survey. In fact, respondents said they most regret spending money on subscription services in 2019, even when presented with other options like eating out at restaurants, shopping for clothing, buying tech gadgets, and spending money on vacation and travel.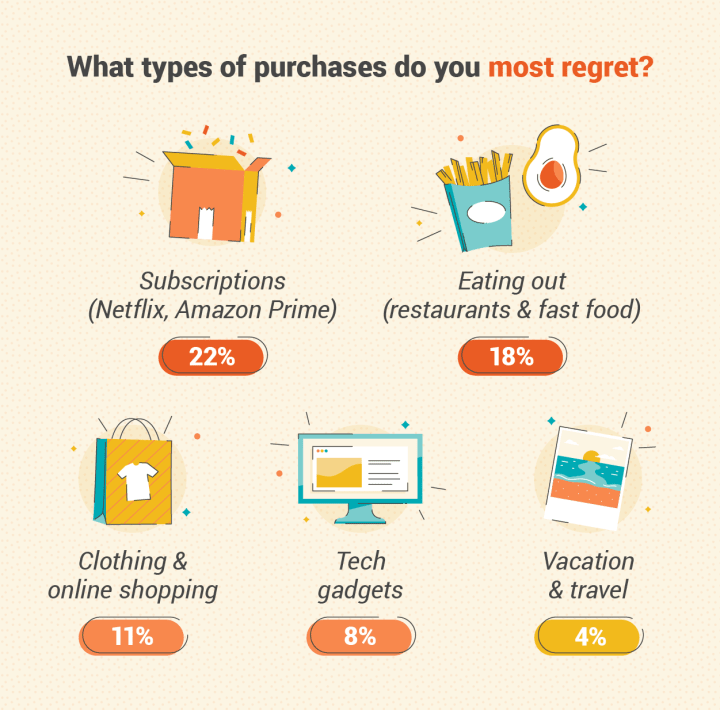 Not surprisingly, younger adults are far less likely to regret spending their money on subscriptions. Only 15 percent of respondents ages 18 to 34 said they wish they had spent less money on subscription services in 2019, compared to 27 percent of respondents ages 45 and up.
Methodology
This survey consisted of three questions posed by Coupon Chief through Google Surveys. The sample consisted of no less than 1,000 completed responses per question, or 3,000 respondents total. Post-stratification weighting was applied to procure an accurate representation of the total population. The survey questions ran in January 2020.
This survey finds that most Americans experience buyer's remorse after making certain purchases and that they are more likely to overspend when excited or stressed. Additionally, the most-regretted purchase was subscription services and boxes.