Sneaker Review
By Malik Townes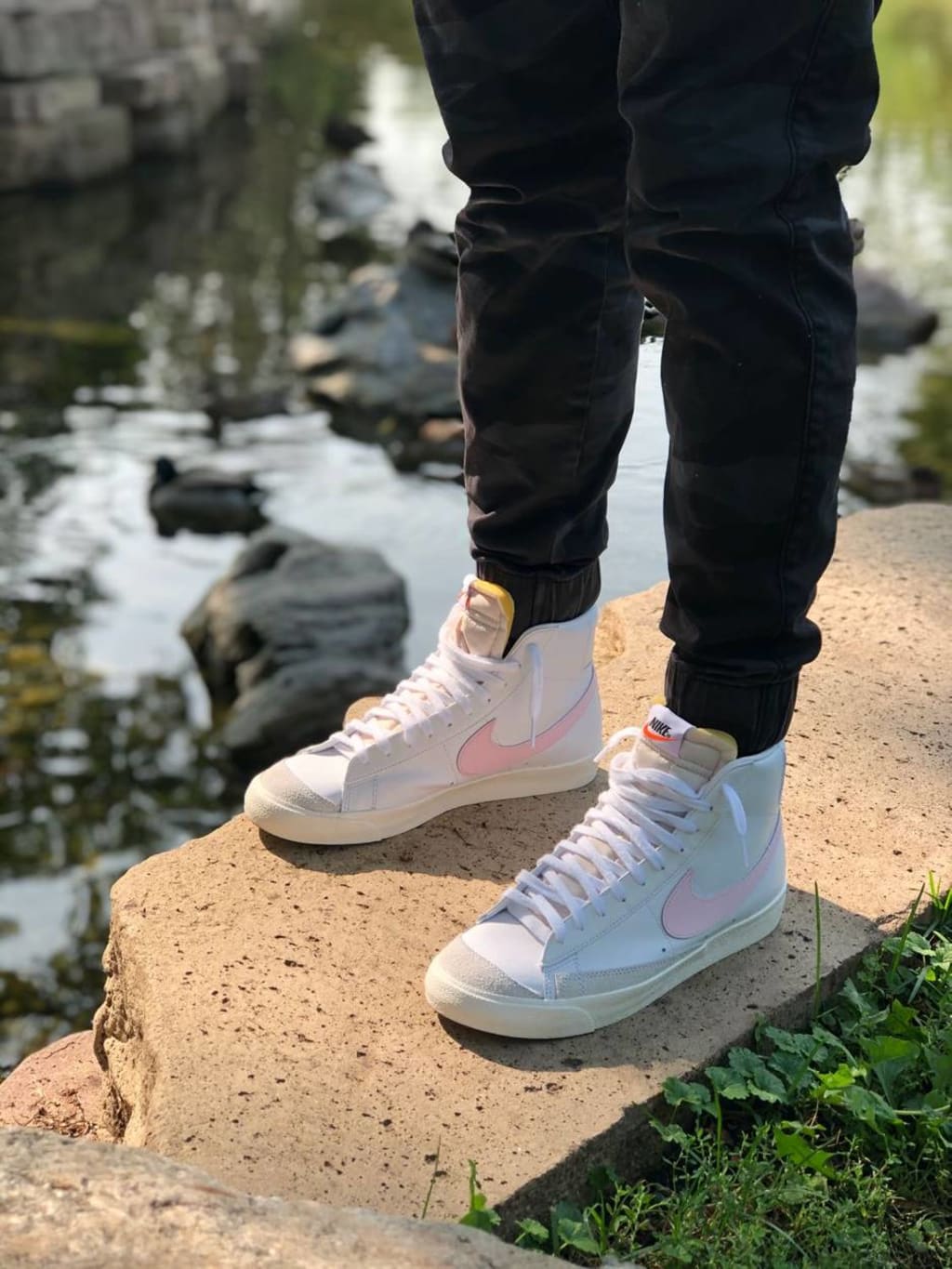 Nike Blazer Mids 77 Pink
What better place to start than such an iconic silhouette in the Blazer Mid 77's. As Nike took the scene in the 70's, they tested many different styles and the Blazers proved to stick around in the minds of customers. Retailing at only $100 for men's and women's pairs today, many color ways have released with a slick look and diverse style.
I personally am a cargo pants and hoodie type of guy when wearing these, but nothing beats a good pair of jeans right over the collar of these sneakers. Speaking of the collar, it can be a bit difficult to find the middle ground of lacing them up to fit and being able to slide your foot in with such a high collar, but that's the cost of a really nice shoe like the Blazers. Keeping them clean is no problem with the quality leather and variety in color, and the aging is perfect as a nice worn pair with a bit of yellowing in the white only adds to the timeless look of the shoe.
I personally am always a fan of it and it's sleek design and as planning to grab them the moment I find my size, but I know it's not as popular of a style amongst younger audiences. It's easily accesible though for its price, being found at spots such as Footlocker and Footlocker extensions, Finishline, GOAT, STOCKX, and many other online platforms. Understanding how easy it is to wear, and how easy it can be found, but the difficulty of keeping a light pair clean. I have to give this a sold 8.3/10 in terms of rating them without a bias. It's something I feel everyone should have in their closet and will make it a better wearing experience at the end of the day as you go on your sneaker journey. Some nice alternatives are the AF1 highs, the converse classic highs, and the Vans SK8 high classics, all ranging from the same $100 price, down to as low as $30 when on sale. They provide that same experience with a bit more of an affordable price while giving you some diversity.
The pink swoosh pair is my favorite color of the entire line, but you can find many different color ways in retail stores and on Nike's website. I hope you guys can find yourself a nice style with these and send me some shoes you guys like @itsyadudeleek on Instagram. You can also find me in TikTok @yadudeleek . I review sneakers on their too, and I talk about sports, health, and art along with sneakers. I would love to continue supplying work for you guys as it helps me do what I love and get my words to a community of people who love the same things as I do.
As always, stay safe, stay healthy and I love your faces. Bye!