Sewing, Stilts and too many pairs of Scissors
A story by Emily Buttle of EMPRESS Stiltdance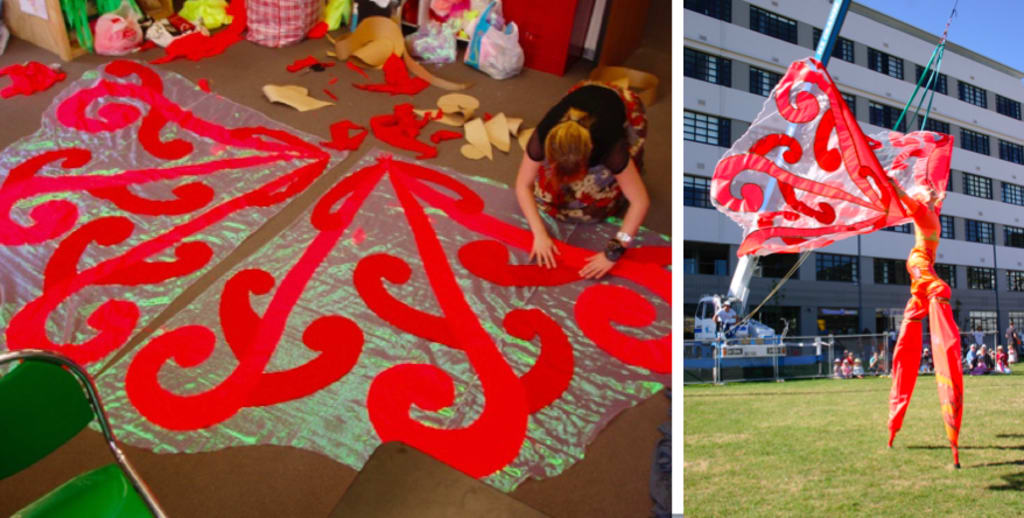 As I grew up I didn't want many toys. This was very lucky. Instead my Dad built my sister and I, a making bench. One day he came in and put a sewing machine down on the bench. He said, "Here you go Em. This little lever goes up and down, and you put the fabric in here. Then put your foot on the pedal, don't go too fast and don't, whatever you do, get your fingers caught" I may have been about ten years old. For the last 40 years I have been so busy with sewing that I haven't even had time to do a proper sewing course. From the start, this was my tool.
Fast forward to 2021. I now have an international stilt dance company that has spanned three continents and run for the last 25 years. My unique costume creations have been made lovingly, and individually, on a growing collection of sewing machines, in a variety of odd-ball, wacky and mostly cold studios all round the world. I have sewed in attics, anti-squats, warehouses, garages, balconies, gypsy wagons and even on a cruise ship. Everywhere I go I bring with me a trail of sewing machines, cutting tables, heavy weight shelving, boxes, fabrics, aluminium tubing, fiberglass, rubber, tools, masks, paper mache' as well as an entire office with computer, admin, paper files and old VHS tapes. In later years I brought in my own flooring, some fairly excessive golden drapes, vases, sculpture, and a few paintings. In short, I am not an easy person to move. There has been effort. There has been lugging. There has been sweat, box labelling, shipping and trucks involved. I have gone through many pairs of scissors.
The result is, that, these unique stilt dancing costumes have performed at thousands of amazing events and featured in newspapers, magazines, blogs, websites and increasingly in more streaming media, than I can keep up with, all over the world. I have made hundreds of bright, colourful costumes that have given millions of people uplifting moments of joy. Almost all of my costumes have been on that extra huge stilt-dancer scale. I tried once, a normal human sized costume for a person on foot. The result was a disaster. It seems I am fated to build, sew, imagine and interact with the world on a scale of 1.2. ie around and about, twice human life-size.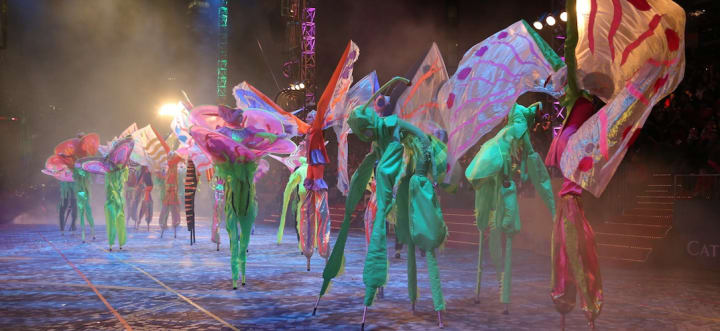 Lets start at the beginning. Age 25, I was like a young Lion, roaring for release from the captivity of home (NZ) into the world (everywhere else). I left for Europe on a one-way ticket with $500, a pair of stilts my Dad (legend) had engineered for me in the garage and my first stilt costume. No I didn't go overseas with a sewing machine. Are you crazy! those things are heavy! Although, in the way of things, machines found me. Like cats sidle up to their humans, sewing machines sidled up to me. All over Europe in those first years of constant gigging, sofa surfing, hallway squatting and pre-mobile telephone shifting around… I sewed.
Living in Italy with my generous sister and her family, I made giant costumes out of weird raincoat fabric and made the very first butterfly costume which I performed in a tiny nightclub, where there was no room to stilt walk, let alone spread the psychedelic, organza and satin layer aplique' wings. Nevertheless, in this claustrophobic and slippery-dance-floored environment, the butterfly was born. I also made a living busking in my (NZ born) Silver Suit from the money deposited in a tall, stilt-sized, 'hat'.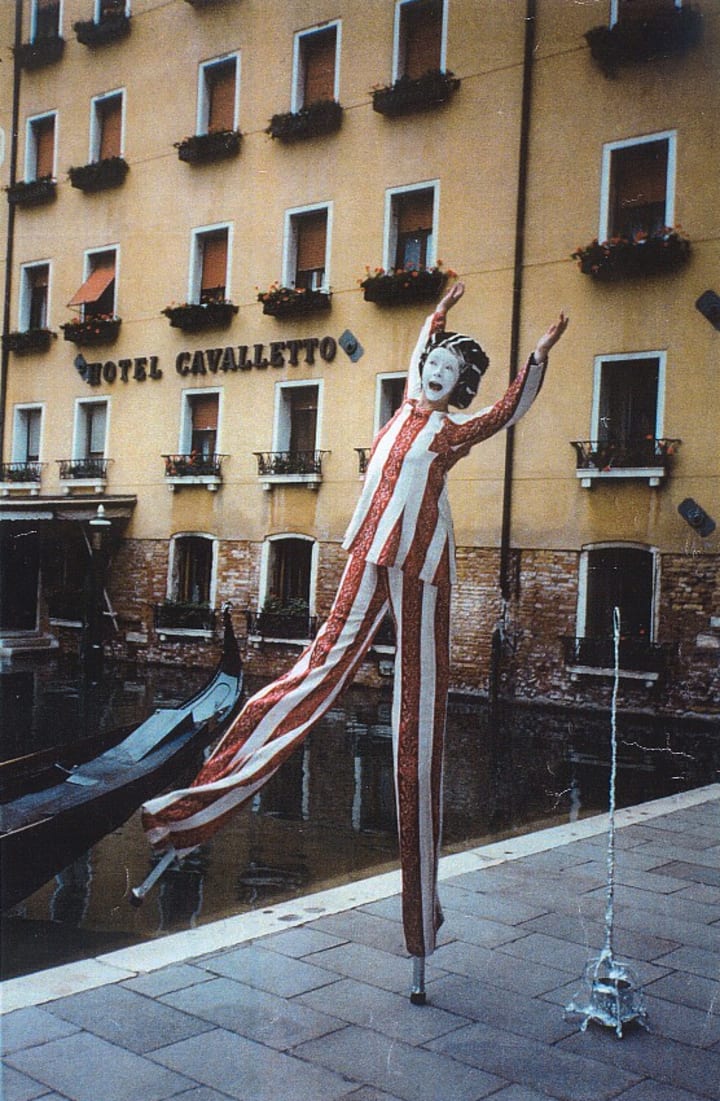 Over those (oh so gorgeous) Swiss Alps and up to Amsterdam. The next few years were spent living in the tiny attic of a Turkish theatre directors' apartment churning out, many more giant costumes. Shi Ali said, in his broken English, "You artist! You welcome here". My obsessive sewing frenzy was a kind of artists passport to my 2 x 2m2 attic room in the heart of Amsterdam. Those years saw the birth of The Flowers. The Dragons. More Butterflies. The Space Ballerinas and the Silver Suits, a Remake. A portable, semi-industrial Phaff sewing machine had sidled permanently into my life, by then. I had a large, and light filled, studio in an about-to-be-demolished building on the edge of town, full of international rave hipsters, living the dream. It was free. It was freeing cold. It was filled with mice.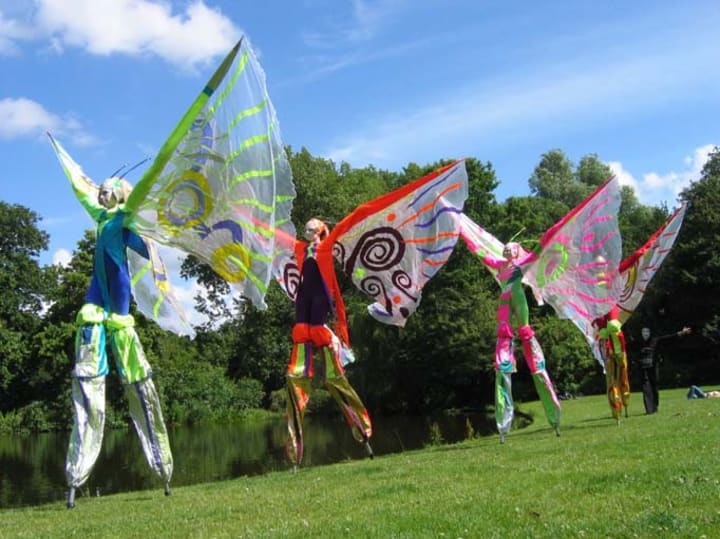 We made stilt shows, costumes, acts, choreographies. I trained stilt dancers, built stilts, sewed like a maniac and went out to meet thousands of people at events all over Holland, Germany and Belgium every weekend. Eventually I bought a car. What a relief! Before then I was like a determined, long-billed bird, riding my rattly bike, bringing back to the sewing nest precious scraps to be fed into the jaws of the Phaff. It spun gold. We made money. Lots, and lots of it.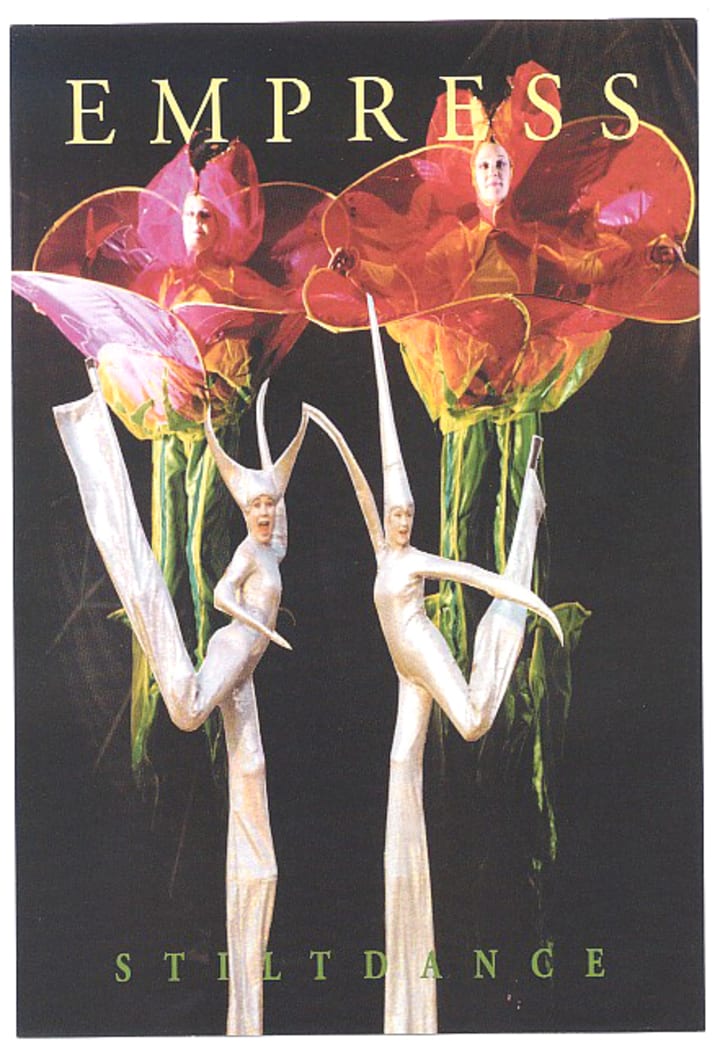 And then there was England. As Kate Bush so wonderfully warbled, "Oh England, My Lion Heart". Lion Heart indeed. The Dutch station wagon car, Phaff, me, and ALL THAT STUFF drove over to Calais, across on the ferry, and into to England. My heart was yearning for solace. When will this ever end, I have been sewing non-stop for ten years now. I'm tired. Small rest in John & Kate's lovely cottage homestead, on the romantic shores of the Solent. I looked out to the Isle of Wight, played tennis and pretended to be normal. Then I made the giant Fuschia Flowers. Then I made the Snow Queen. I remade the Tulip Flowers. Recruited some English dancers. Got out to a mild amount of UK punters in various crowded party situations around the UK. Avoided London and drinking. Watched BBC.
And then there was New Zealand. The Lion is back. She has done some roaring, but still, there is more. Phaff arrived back in a box and I bought her a brand, new Elena sister. Four times as expensive, four times as slow, yet a very even zig-zag stitch, it must be said. A humble plastic overlocker joins the family, but I don't think much of it. In bedrooms, hallways and tiny offices, the long-billed kiwi bird remakes her studio nest in Wellington. Life arranges itself. I start getting out and about.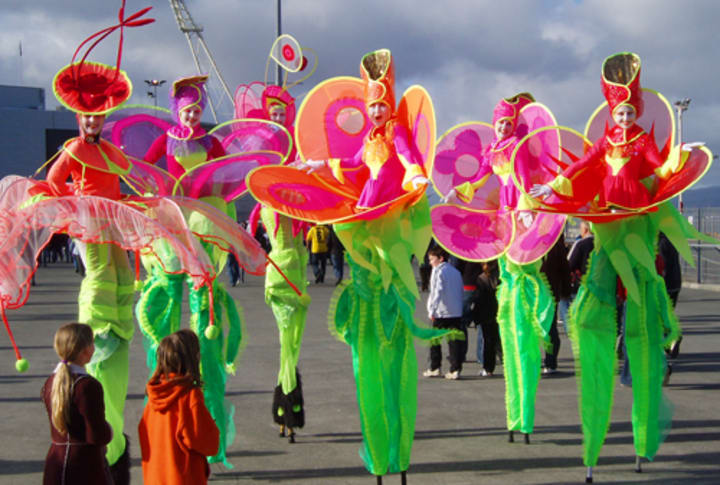 Performing the Fuschia Flowers at the Cuba St Carnival kicks things off and, in no time at all, we have another company of bright, shining, smiling and gorgeous dancers and even more costumes. A giant string of Suns are born. We take them to Hong Kong. Space Ballerinas twirl the King Kong - Red carpet opening. Butterflies dance for WOW. We join the Rugby 7's on the Westpac Staduim. I make faint hearted Lions for the Zoo. Auckland calls and we make too many neon Flowers and costumes for the Casino, and play around in them for a whole month. The Mantis is born in a hurry, under deadline. Definitely induced. Then even more Butterflies. Caterpillars, Bugs and Bumble Bees now also crowd the nest. We make a show hanging stilt performers off a crane and fly a few human butterflies around in the air. So high up! Outrageous. Before you know it we have toured the whole country, coast to coast, top to bottom. I feel the familiar rumblings of a deep, throaty roar that cannot be ignored. Just before we left Wellington a kind film-maker neighbor popped his head in and says, "Do you want me to take photos of your studio before you leave?" "Very kind of you", I said, checking out the feathered nest, tangled deeply with shiny, fluro, stuffed, puffed, ruffled and sequined creations with not a spare inch left behind.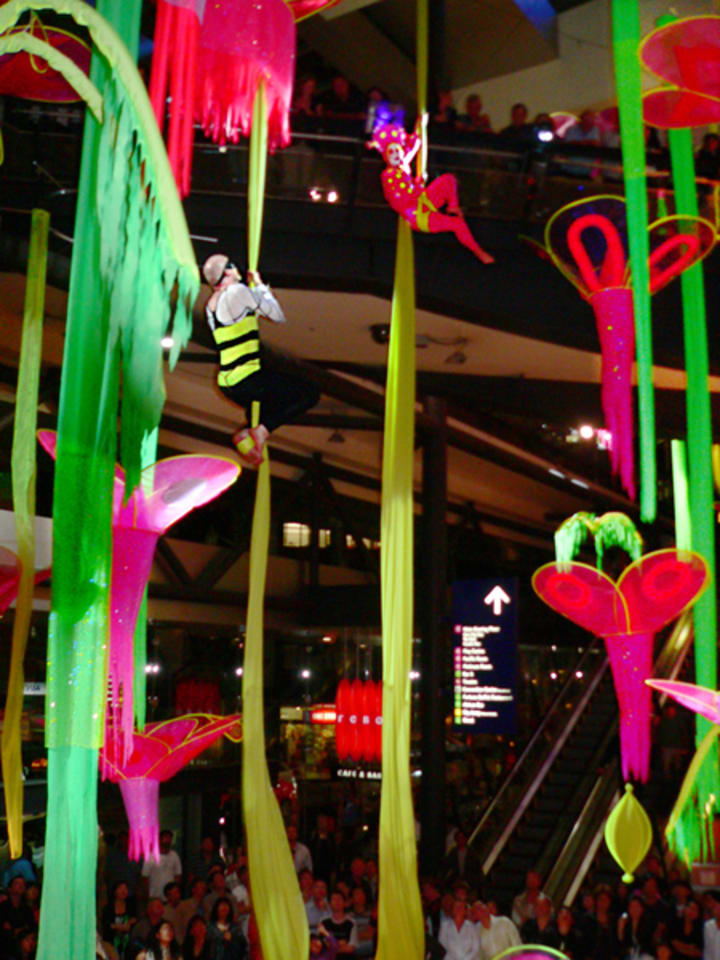 Somewhere in there I got married. Matthew and I bought a house in Wellington, and settled down. But by then the Lion in me had come out again, and we dragged our paddy-paws over to Australia.
Sydney and Melbourne were like destinies waiting to happen. Born at different times, like separate cell non-identical twins, as once again, everything goes back into boxes, including the art works, papier mache' masks, vital stores of my favourite neon lycra, and a few, non-essential house hold items. Can you believe Phaff is still with me. Phaff, Elna the forgettable plastic overlocker, and ALL THAT STUFF cross in sea freight, over to Australia. We set up in Sydney.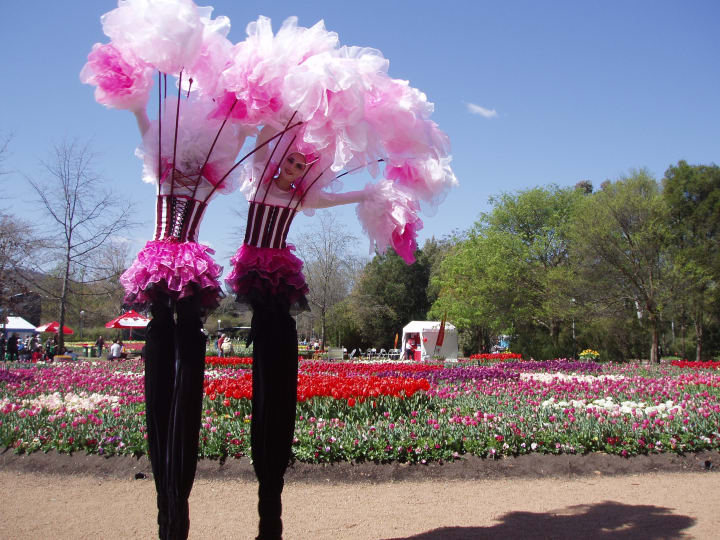 It is warm here. I feel relaxed, Mathew feels relaxed. For a whole year we don't know many people, and live in a contemporary apartment with an infinity edge swimming pool and a giant balcony. I put my cutting table out on the oh-so-warm balcony. We have zero furniture. We have instead multiple pairs of stilts, training stilts, flowers, butterflies, masks, caterpillars, aerial equipment, snow queens, fuschias, suns, mantis, silver suits, red dragons, waves and space ballerinas. Making do, we sit on the floor and Matthew looks for work.
Having had just enough time relaxing in the pool, it seems like time to make Blossoms. Months of ruffling and edging organza with the forgettable plastic overlocker. A few brief trials and the Blossoms, that most frilly of moods, are out. We make new friends. I get out to a few events. An entirely new, beautiful, talented, and highly skilled company of performers come out to play. We move closer to town and rent a breathtakingly expensive, vast warehouse. Mathew sets up a desk and his computer in the corner and I take over the rest of the space. Did our marriage last? Sadly not.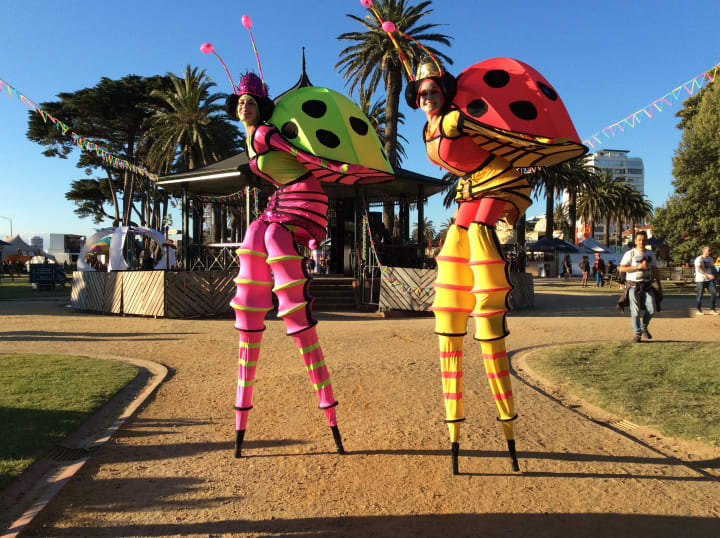 As well as my marriage puffing out, Phaff also took her last breath and I was on my own for the first time in more than a decade. One hired ute trip later and I welcomed Bernina, Industrial Straight + Zig-Zag into my life. Having loved Phaff for so long, I was, nevertheless, excited to be finally able to sew so fast, on Bernina. All of us (Stuff + Me) got over paying too much rent and took up residence in a very tall, but ominously dark triple garage below a shop. In that strange and unlikely space Solar Bugs and the Lady Bugs were born. They took off and started dancing around, before I even had time to clip off any stray hanging threads. They, in their sensitive lycra fluro, went and got worn out in the great Australian sunshine. I made more, and the Lady Bug years were upon us.
Meanwhile, twin sister, Melbourne, flying along in a parallel universe, legacy of Jodie the Unbeatable, gathered momentum, performers, events, clients and started wearing out costumes, that then cried out to me, for repairs. Somewhere, tucked into those years that looked as complicated and feisty as a galloping double-hemmed ruffle, we all of us, popped off on trips overseas. A lot.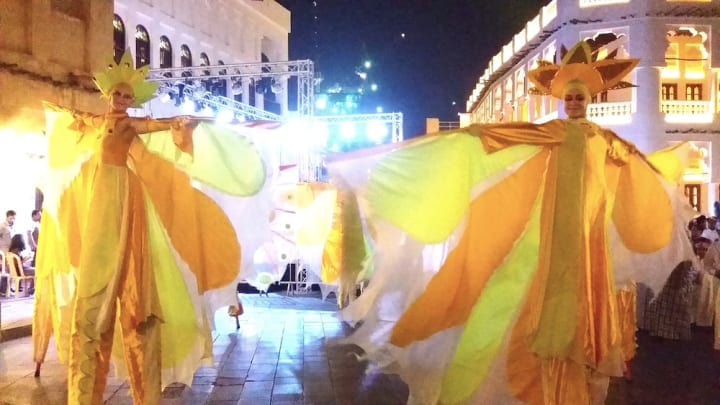 In those glorious pre-covid days, we (the kiwi and ozzi girl tribe of flower & butterfly stilt-dancers) saw the inside of a great many airports, dressing rooms and hotels. We danced nimbly, tip-toed and twirled through all kinds of crowds. On and off streets. On and off stages, in parades, festivals, openings, awards ceremonies. Hong Kong. Jararta. Bangkok. Singapore. Shanghai. Qatar. Fiji. Japan. Saudi Arabi. I have not enough breath to tell you of those totally loopy, trips into the heart and soul of those crowds. Into the flailing, dancing, waving arms of those amazing people, that we met, danced and smiled with. We did fun things. Days off we rode camels, scooted up skyscrapers, found rooftop bars, soaked in hot tubs, took tuk tuks, gazed at shrines, sweated down sultry streetscapes and stared with awe at the incredible, dauntless, scramble of humanity living in those crazy hot and humid places. During our days on - we danced, and danced, and danced.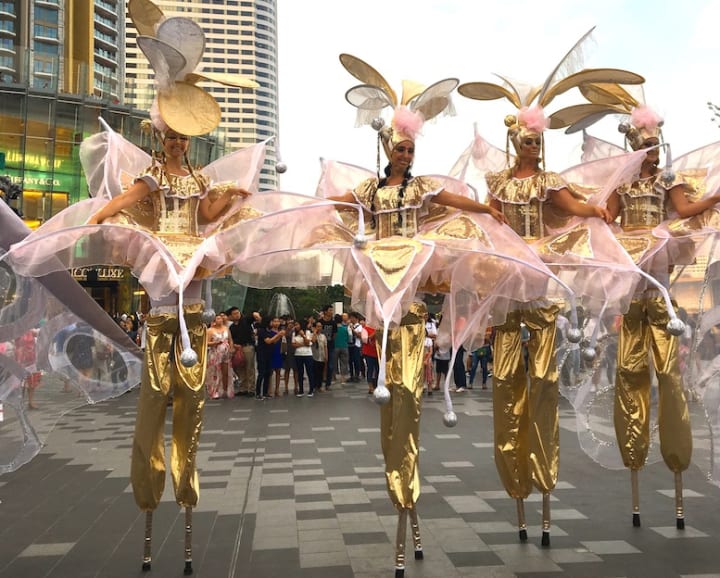 Tired yet? I was. Somehow another decade of sewing, stilts and too many pairs of scissors, had flown by. By then, a brand new dynamic was only just appearing in my life. I had started to sidle up to industrial overlockers. The I-never-knew-its-name plastic thing, got given away, and I found fascinating workrooms with fleets of these magic machines to sidle up to. Well, you know, as well as I do, the private anguish of learning to thread someone else's industrial overlocker. It is an intelligence test of the most brutal kind. You are set to fail. As I poked my nose, adjusted my glasses and shone my iPhone torch into the deep, greasy, mechanical innards of those things I found a new challenge that excited me. I delighted in that purring sound when all those complex threads twisted together in an intelligent design, as the machine blasted along, with lightening speed. After almost four decades, how could I missed this greatest and most satisfying experience. I was in love.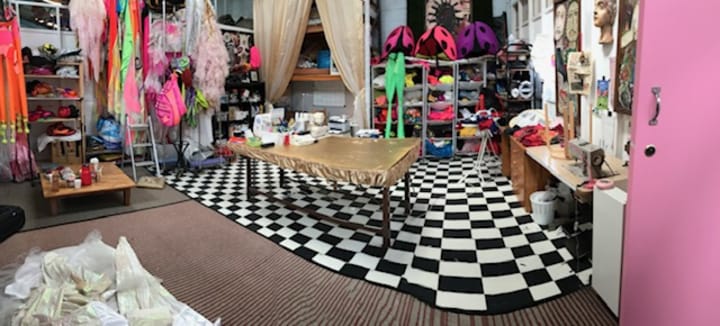 Around that time of instinctive workroom sidling, I took a contract on a cruise ship altering costumes for the dancers on board. It looked like a Fun Thing to Do. During our March 2020 cruise (whilst sitting in a dressing room filled with 200 swaying costumes hunched over a tough little domestic machine, as we scooted around a choppy tropical cyclone) the announcement came. Covid 19 has broken out. The borders are closing. We are going back to Australia.
I think of Covid -19 as a terrestrial epoch of radical change. Of stops and starts, limitless and evolving. Brutally honest, tragic and totally uncompromising. For a moment the whole world stopped together, and then the whole world stopped - apart. Moving both in and out of time with each other. Trapped into loneliness, fear and a unique conservatism that now marks this new world order. On that day dance became dangerous. Cruise ships became synonymous with tragedy. Crowds, dangerous. Festivals, pointless. People meeting, laughter, touch, travel, singing, all became potentially life threatening. That day, I, along with every other performer, artist/ entertainer lost our entire year of work. By the time I arrived back in Australia I was unemployed and broke. Luckily my ship was 'clean'. I mooched onshore to begin my first Quarantine and started packing. Again.
A whole year has passed since that dramatic day. I have moved on from my wonderfully smooth 3-thread industrial overlocker and simply HAD to get a four-thread, which got lugged, and yes sweated, up the four flights of stairs into my 'rent free' but tiny, regional NSW apartment studio. This place is a sanctuary, as I have moved on from my expensive warehouse obsession, for the moment. Into this small, ordinary sized bedroom I have crammed a fleet of industrial machines that I can thread, and re-thread in my own time, to my own endless delight and wonder. After the epic, and, lets face it, well timed, 'Entertainment Industry Gap Year', I now have a host of new costumes churning around on the inside begging to be born, roaring at me.
On my oh-so well organized, Mari Kondo style shelves, I have a brand new, very professional, gleaming pair of scissors… ready to go.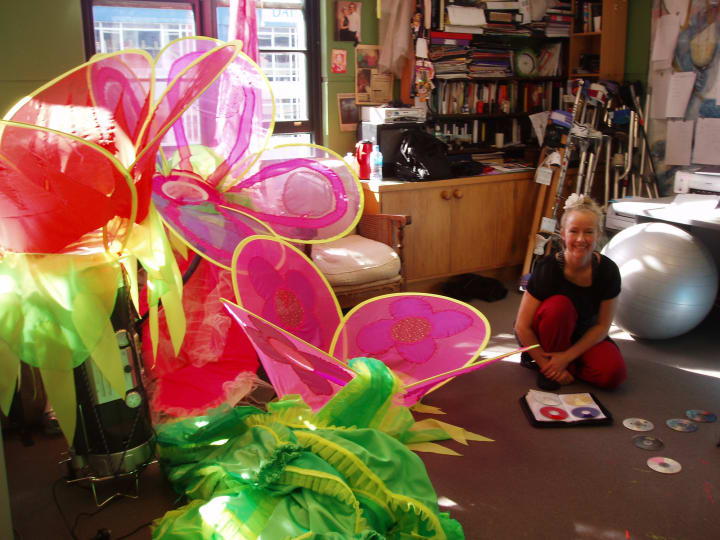 entertainment
About the author
EMPRESS Stiltdance is an international stilt performance company founded and directed by, NZ born, Emily Buttle.
Reader insights
Be the first to share your insights about this piece.
Add your insights