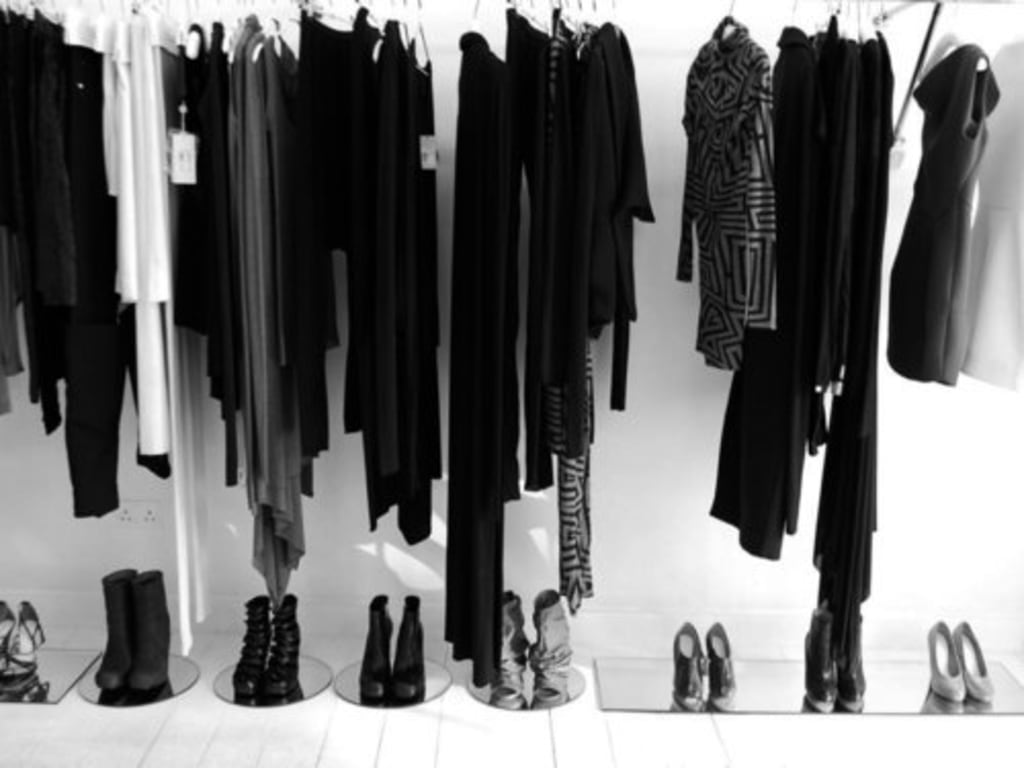 There are so many fashion trends out in the world—they're even bringing back the old 90s outfits, which I'm not mad about. There are lot of people out in the world that stick with what they like, they don't want to go beyond the horizon and find something new, which is totally okay because I'm one of those people. I feel most comfortable wearing black. Anything that is black, I love. This color to me is embracing and bad ass. The color black can work with any color as well, it is so easy to find clothes to wear when you have black. Black is one of my favorite colors, I have a lot of black clothing. Black clothing can be trendy too, you just have to know how to wear it and how to rock it. It's what looks good on me and makes me feel confident. Everyone has their own fashion trend, if they like what their wearing and feel good then who are you to judge. One of my favorite "going out" outfits is wearing leather. Leather leggings and leather crop top, following with a small leather jacket hanging off one shoulder. Also wearing open toed black heals. Now that's a look! Black is very appealing, t's suppose to be sexy. Black clothing is everywhere, it is not hard to find black clothes. I know some colors are hard to find, like that really mustard yellow color. Black is easy, it can be paired with anything. You will always have a hot new look when you got black. When you have the right top, shoes, and right attitude, it pulls the whole black look together and makes you one attractive human being. So if you are looking for a change with your black clothing, I have some outfit ideas that could help you look even more fabulous.
Black Skinny Jeans, Black Suspenders, White T-Shirt and Black Boots
Four things is all you need to achieve a classic look. Also. a leather jacket can be added to complete the look. This is one of the most classic looks, its not too bold but can be an attention getter outfit, more so an everyday outfit.
Black Tights, Black Shorts, Black Band Tee (Guns N Roses) Black Boots and a Dark Denim Jacket
This look is more so if your going out somewhere like to a concert. The tights can be adjusted to any type they just have to be black, Also the band tee can be a black crop top. Also you don't need the jacket, its optional. I would wear this outfit, if I was going on a date to a concert or carnival, its not too warm of a outfit. This would be more popular during spring and towards end of summer where its not as hot.
Black Skinny Jeans, Black Crop Sweater, and Black Boots
This look is another everyday look, whether your sitting at home or going shopping or just because your lazy and don't want to get to trendy with the rest of your black clothing. It's also easy, three things and its an outfit for whatever you're doing that day or night.
Black Leather Pants (Skinny) Leather Crop Top, Short Leather Jacket, and Black Boots
This outfit, I had mentioned, it's a go to "going out" outfit. Going to a concert, or a normal club to party with your friends and possibly to give yourself a chance to get laid. I mean you never know. This is a classic look, its attractive you will be noticed. A lot of guys like leather and black, because its simple.
Black Tights, Short Black Dress with Sparkles, Open Toed Black Heels
Four things is all you need to achieve a classic look, also a leather jacket can be added to complete the look. This is one of the most classic looks, its not too bold but can be an attention getter outfit, more so an everyday outfit.
Black Sweat Pants, Black Sweater or Tank Top, Black Fuzzy Socks
This black clothing look is for laziness only! Snuggled up in you're room texting your crush kind of lazy. Its also most comfortable and you can still go out to the gas station or McDonalds to get yourself some fries because you earned that shit. If you have a day off from work, sick of wearing the company clothes, this outfit calms you and makes you feel like "you" again wearing your own clothes. Even a movie night and your boyfriends or friends house, perfect lazy black outfit for all the lazy occasions.
I hope some of you who have read this, try these outfits out and see if you like it. I know I do! With these looks you can put your own twist on it and add whatever you like even a pop of color, be unique in your own way! Of course there are more black clothing looks you can do, I just suggested not even half the looks you can do with black clothing, but just enough to possibly wear on day to day basis. I love my black clothes and yes I do have color as well its still in the dark color realm, but none the less, I'm happy with the way black clothes make me feel. There's always variety with black clothing, that's what I like about it. Just because you wear black all the time doesn't make you sad or depressed or hate the world which some people say because its such a dark color. Even the dark finds the light of happiness.
Reader insights
Be the first to share your insights about this piece.
Add your insights