Ocean inspired jewelry
Marla's handmade jewelry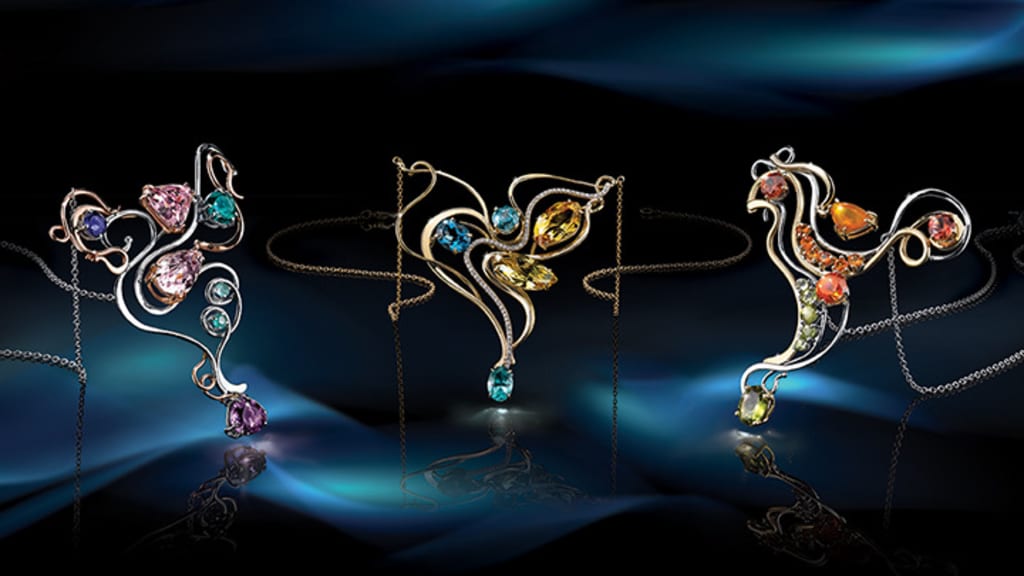 In every art-based industry, the need to keep on creating new and original designs is one of the most important aspects on which the success of any artist depends. Additionally, modern machinery and the mobility of tools allow craftsmen to quickly and easily bring life to their designs.
This means that it is the craftsman's creativity and ability that alone decides the extent and intricacy of every design he creates. Today, jewelry can contain vivid images that capture stories and emotions, as seen from the craftsman's perspective in relation to his own surroundings. Jewelry designs can be inspired by nature, love and emotions, and even real stories and pictures.
What is Ocean inspired jewelry?
Ocean-inspired jewelry is simply jewelry that reminds you of the ocean, or the beach. While the description is quite simple, the number of designs and types of ocean themed jewelry is simply astounding, ranging from necklaces and pendants shaped like octopuses, to waterfall bracelets with flowing never ending designs.
In recent times due to the coronavirus pandemic, most public places and beaches are either closed, or unsafe. Ocean jewelry is therefore all the more suitable for men and women who miss those sunny days on the beach, or the water sports and surfing, because buying an ocean-inspired piece might be the closest that you come to actually visiting the ocean, for the time being at least!
While there are an extraordinary number of designs and type of ocean themed jewelry, will look at some of the best ones, in no particular order:
1. Flight pendant:
The one product that I love to talk about is this blue zircon pendant which has a brilliant story-themed design. It features a silver gold bird soaring in the sky above the blue zircon sea with white ocean waves.
The larimar stone that it features has unique healing and calming properties and is sourced from the Caribbean. Further, the zircon used is 100 % natural and must not be confused with the synthetic element cubic zirconia or CZ.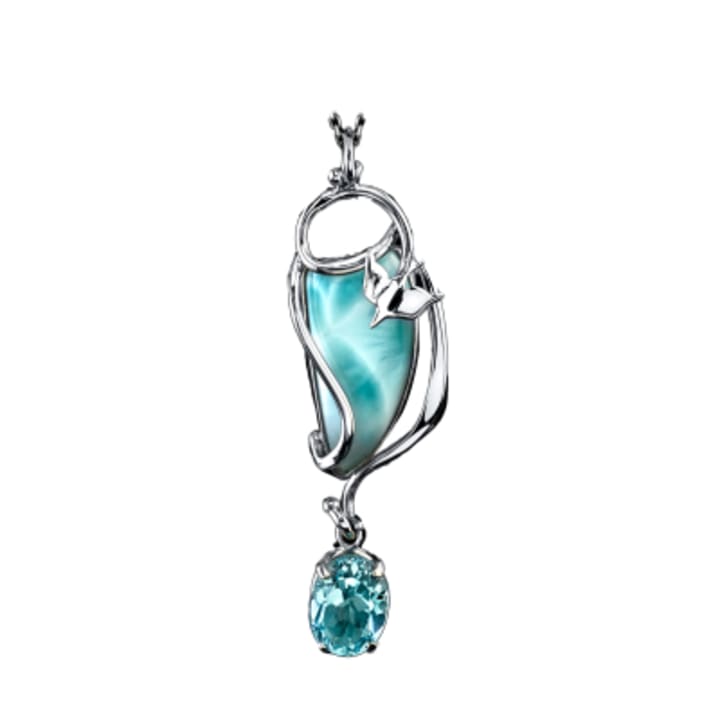 All my products are handmade and use only 100% natural stones. Zircon in particular, is a beautiful stone with a color tone that can vary between aqua and dark blue, although this particular shade is the most beautiful one in which it comes, in my opinion!
2. Pink and Green waterfall bracelet:
This two-tone diamond bracelet has a free flowing multicolored design that doesn't have a beginning or an end, and is an overall visual treat to look at!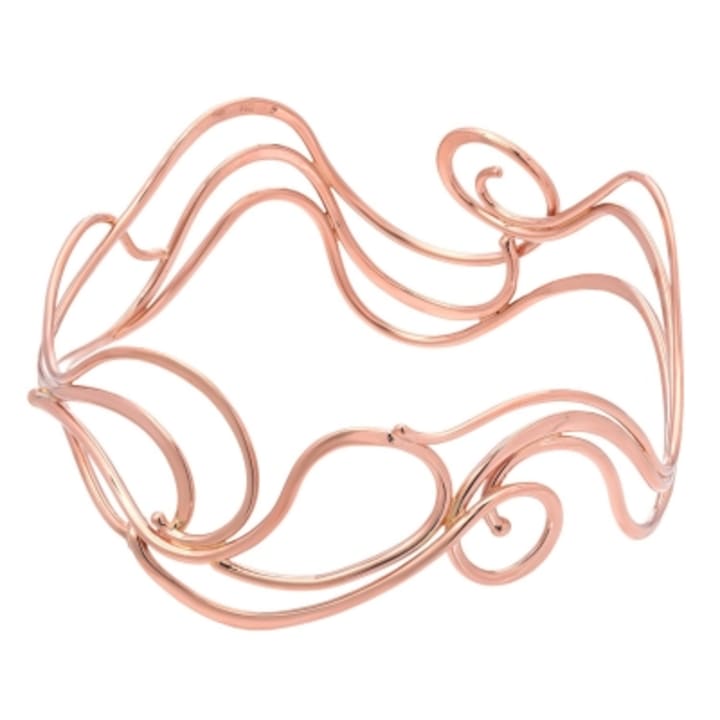 As each piece is handcrafted by me, every piece is completely unique and has various design intricacies that are truly special to the one which you will buy. This is a whimsical design created to symbolize the ocean waves, or a rushing fierce waterfall in front of a green mountain. This bracelet is perfect for women who prefer jewelry which is subtle and easy on the eye!
3. Wave Wedding ring set:
As far as ocean wave jewelry is concerned, you will be lucky to find a ring set which compares with this ocean engagement ring. The solitaire in the center is available in different shapes and sizes, the entire structure is such that diamond engraved metal lines and white gold metal lines work in tandem to fully engorge and surround the stone in the middle.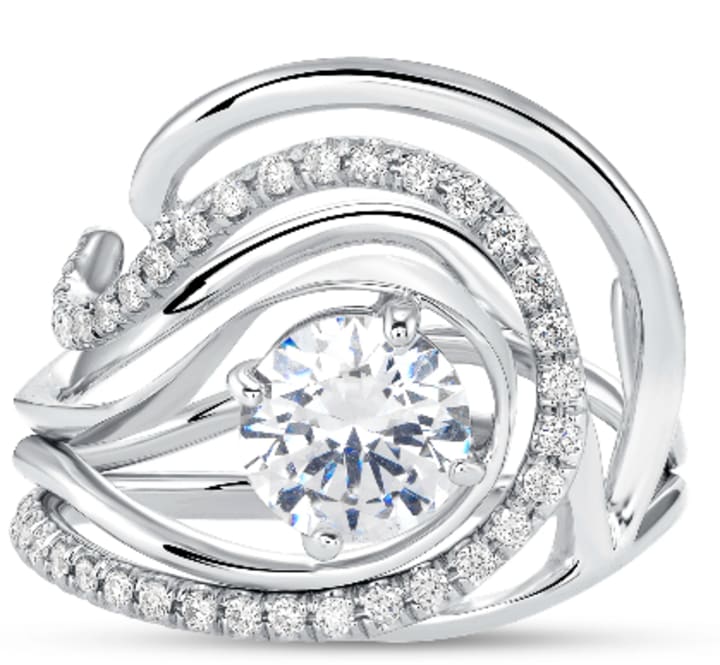 While the solitaire over here represents the proverbial eye of the sea, the diamond engraved metal and metal lines surrounding it represent the oceans' waves. Further, in spite of its rather elaborate design, the wave wedding ring set is made to perfectly complement another engagement or wedding band that you might wear.
The ring is quite the perfect wedding ring set with a beautiful, glowing design which is sure to attract attention and stand out!
4. Opal Pod necklace:
Moving on, I have a rather versatile necklace that takes inspiration from the sea, and is yet fit to be worn with all kinds of attires and looks. The Opal pod necklace is an Ethiopian Opal necklace that has an overall warm look.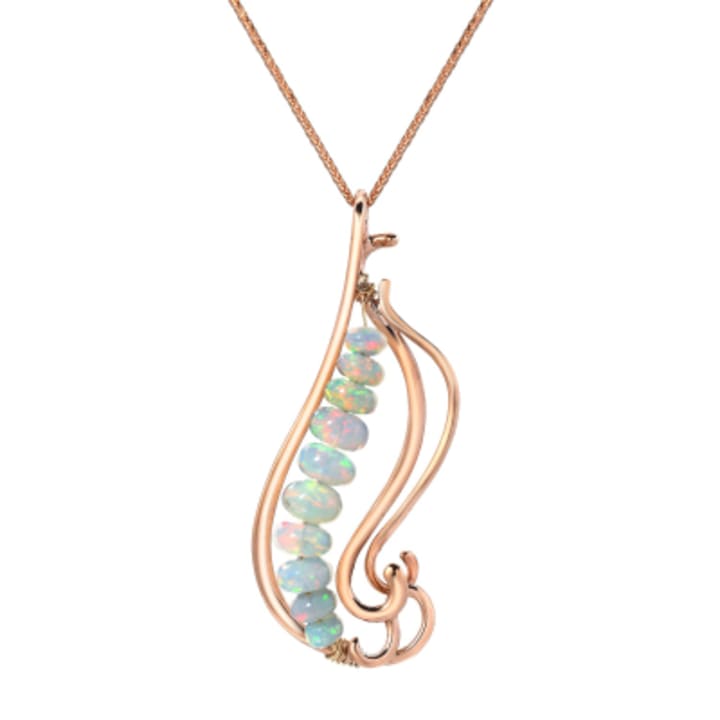 The necklace comes in the rose gold color option, which adds to the tenderness of the white pearls that it features in the center. Pearls are lined to hang in the center like peas in a pod. Further, Opals in many cultures are seen as carriers of calm and warm energy. One look at this piece and you will know what I mean!
5. Seahorse pendant:
Well, until now the designs that I showed you were either inspired by the sea, or ocean waves. This particular piece is inspired by the magnificent creature Seahorse. The Seahorse is a symbol of feminism, in the sense that it is the male of their species that carry the offspring. Further, the design has been created keeping in mind the balance between masculine and feminine energies.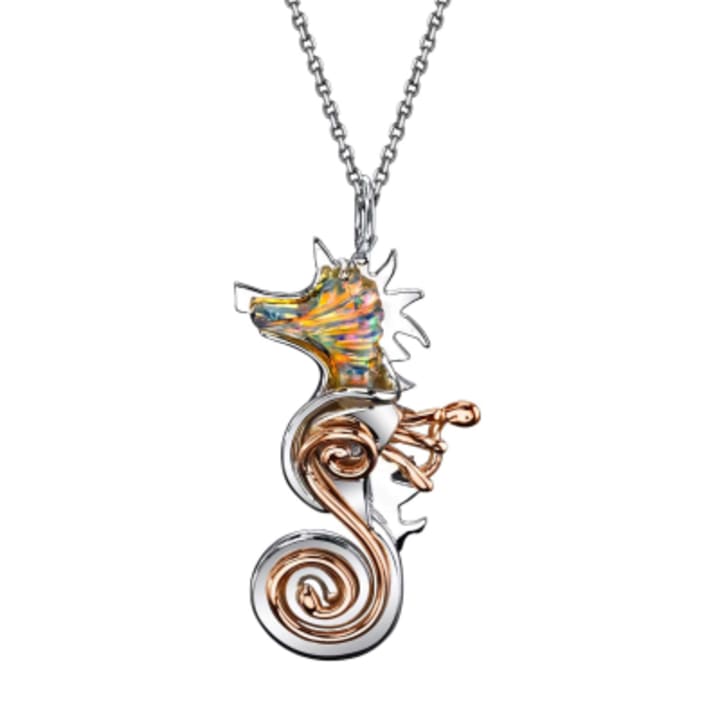 The Seahorse pendant is a whimsical and unique Ethiopian style necklace which is sure to bring considerable clarity and positivity in your life. It is also the only jewelry piece mentioned in this article which is perfect for both the genders!
Conclusion
All I have to say is that Ocean themed jewelry is one of the most beautiful types of jewelry available in the market, and finding a design and style that perfectly suits you and resonates with the kind of message you want to convey is quite easy, considering the wide variety of whimsical, truly unique designs available in the market.
Finally, all my pieces are handcrafted by me, are made in America, and use the best and 100% natural stones only!
Reader insights
Be the first to share your insights about this piece.
Add your insights