Supported by Charles & Colvard
Moissanite vs. Lab Grown Diamonds: An Honest Review!
Charles & Colvard is a brand I can feel good about that delivers an accessible price and absolutely stunning jewelry to elevate and compliment any style.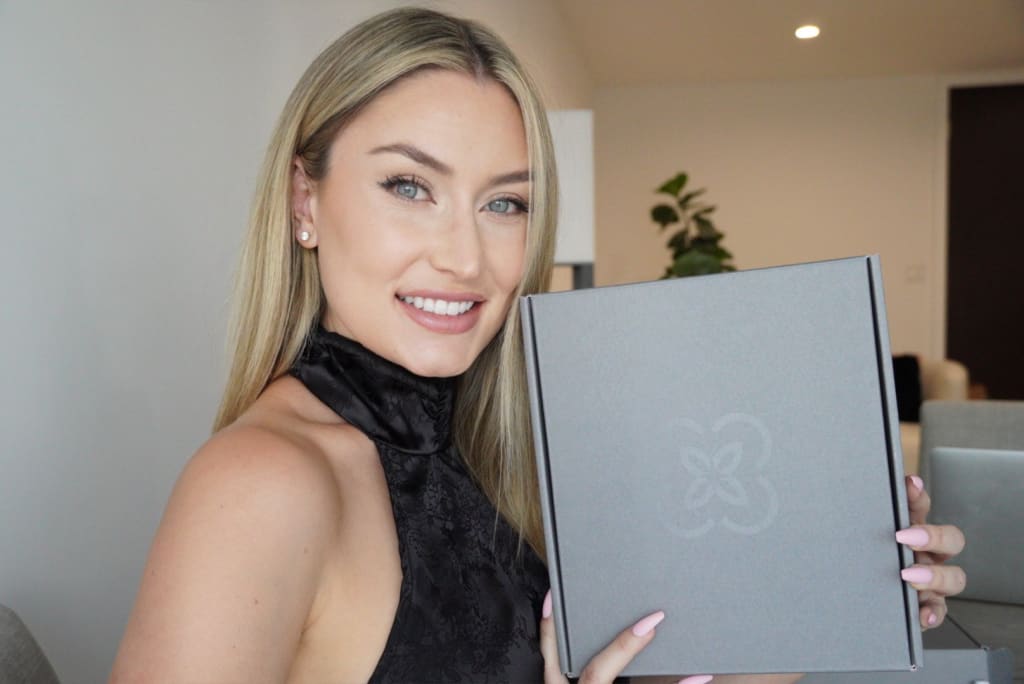 If you're in the market for a shiny new rock, but aren't sure which option to go with, I'm here to give you my honest review of Moissanite vs. Lab Grown Diamonds. I decided to do some research before I tried the iconic Charles & Colvard Forever One Moissanite and their Caydia Lab Grown Diamonds.
What Is Moissanite?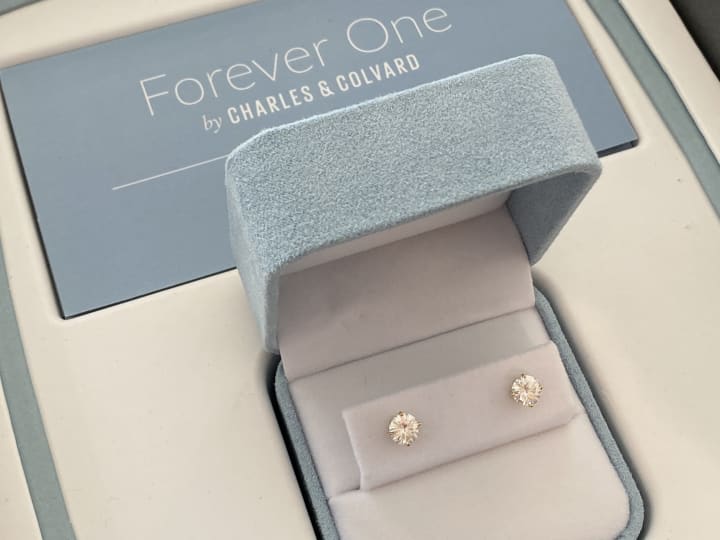 Moissanite is a naturally occurring mineral, silicon carbide, that's found in limited quantities on earth. Because it is so scarcely found, it must be lab-created in order to produce pieces large enough to cut into gemstones. Charles & Colvard's 'Forever One' is the most premium moissanite on the market today.
What Is A Lab Grown Diamond?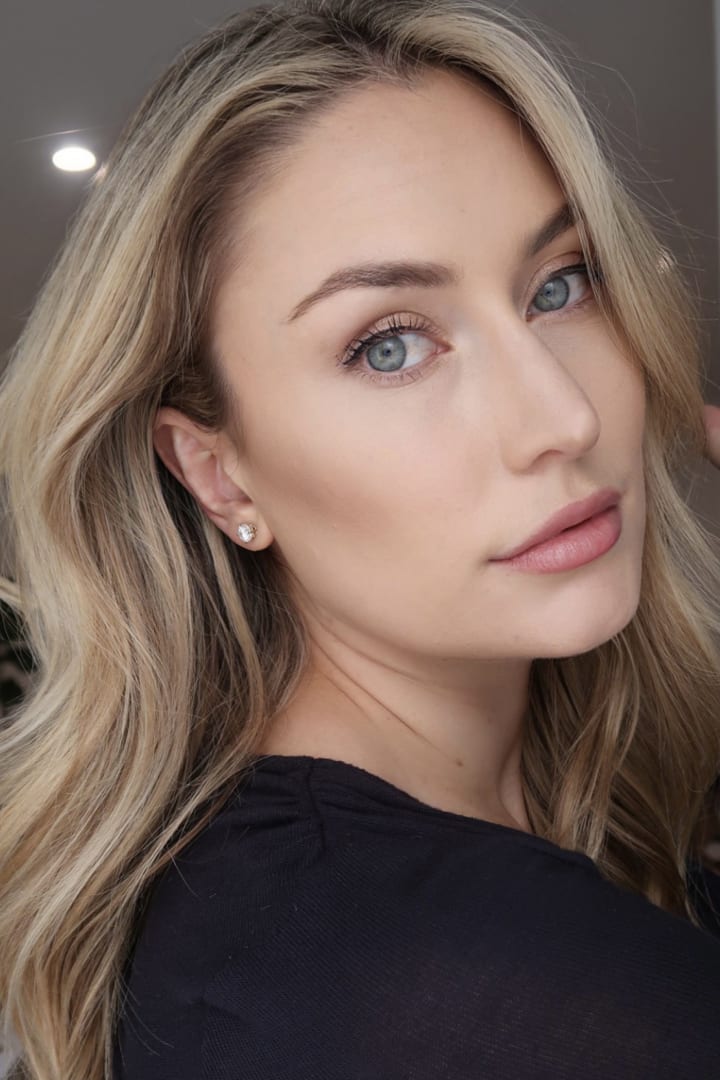 A lab-grown diamond is created in a controlled environment. It begins as a carbon seed and as heat and pressure are applied with cutting edge technology, the seed grows to produce pieces of carbon that are then cut and polished into gems. They are identical to diamonds mined from the earth and have identical physical and chemical properties. Charles & Colvard's 'Caydia' lab grown diamonds are a specially curated assortment of the optimal carat weights and color grades.
Thanks to science, both of these options are an ethical and more attainable way to purchase fine jewelry. My opinion on these alternatives as a whole is that when it comes to purchasing fine jewelry, what's most important to me is purchasing something that I feel good about purchasing. The factors that I take into consideration when deciding if something will make me feel good about buying are: price, style, and the business that I'm purchasing from.
Let's get into price first.
I wanted to try out both Moissanite and Lab Grown Diamonds, so I decided to try the 1 ½ CTW Caydia® Lab Grown Diamond Four Prong Solitaire Stud Earrings and the 2 CTW Forever One™ Moissanite Four Prong Solitaire Stud Earrings. With Moissanite, you can go a bit bigger in terms of carat without sacrificing value and look. Here's how the two stack up:
2 CTW Forever One Moissanite Studs

Price: $1,199

Setting: 14K Yellow Gold

Color Grade Options: DEF, GHI
1 ½ Caydia Lab Grown Diamond Studs

Price: $2,999

Setting: 14K Yellow Gold

Color Grade Options: E, F, G
When I first received my Charles & Colvard package in the mail, I was ecstatic to open it up. The sleek, grey boxes I was about to open up were holding two sets of beautiful, bright stud earrings. Inside the first baby pink box contained the 1 ½ CTW Caydia® Lab Grown Diamond Four Prong Solitaire Stud Earrings and the second, in the baby blue box contained the 2 CTW Forever One™ Moissanite Four Prong Solitaire Stud Earrings.
The radiance of each earring stood out against any other pair of stud earrings I had ever tried before — even the backs of the earrings are extremely high-quality and durable. Set in 14K yellow gold, everything about these studs are showstoppers. Comparing the two sets side-by-side, the Caydia set stood out to me in terms of gemstone clarity — this lab-created diamond truly looks exactly identical to an Earth-mined diamond.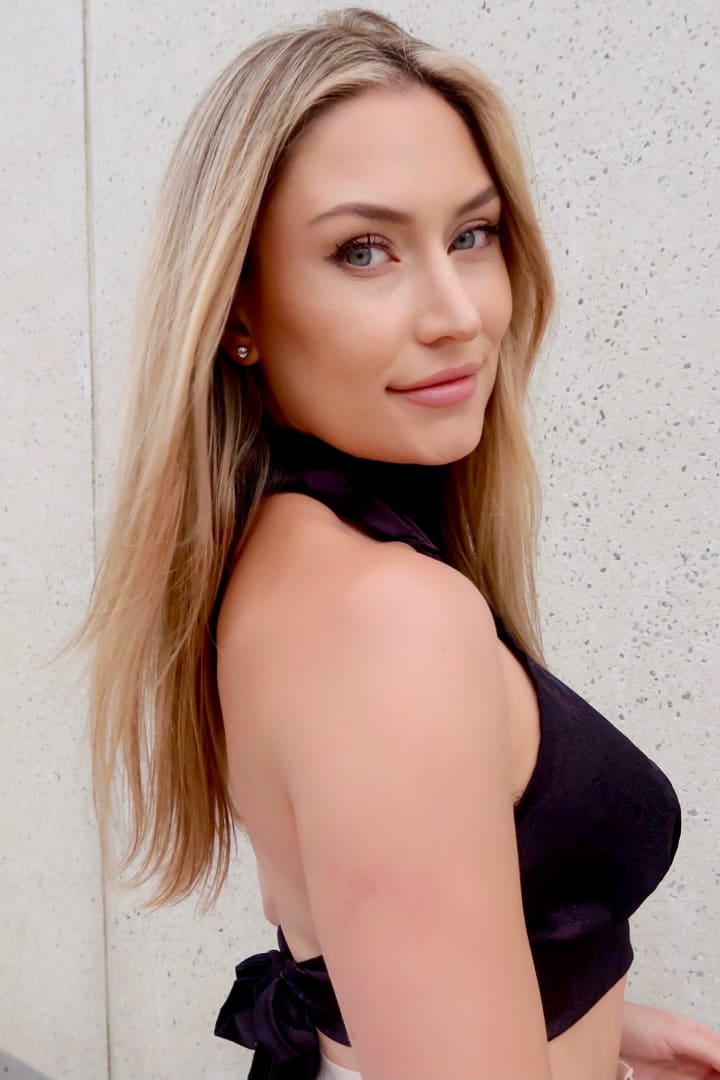 The 1 ½ CTW Caydia® Lab Grown Diamond Four Prong Solitaire Stud Earrings are Triple X lab grown diamonds, which is a trade term used to describe diamonds that have excellent cut, polish, and symmetry. Wearing this set, I felt elegant and beautiful. The classic shape of these earrings is perfect for practically every occasion — they're bright and stunning without being too flashy or over the top.
The 2 CTW Forever One™ Moissanite Four Prong Solitaire Stud Earrings are stunning and certainly eye-catching. The half carat makes all the difference in making this pair stand out even more for a bolder occasion. I loved wearing the moissanite pair and found that the brilliance of this stone is top notch because Charles & Colvard is actually the original creator of Moissanite. They introduced this gemstone over 25 years ago as a way to provide ethically sourced, extremely brilliant white gemstones that are both beautifully stunning and affordable. Today, they offer hundreds of styles of the Forever One Moissanite that they've created using their patented process.
Lastly, I want to make sure I feel good about the business I'm purchasing from, and I can certainly do this with Charles & Colvard! They are the Original Creators of Moissanite and introduced it to the market over 25 years ago. As I was reading through their story, I felt good knowing that they are a company who values expertise, quality, and ethically created fine jewelry. It's the perfect company to purchase from for the conscious consumer.
As I was browsing their website, I also noticed that they've designed a piece of fine jewelry to shop for for any occasion: Engagement, Birthday, Anniversary, Graduation, Promotion, Milestones, or when you simply decide that it's time to treat yourself with something that will be everlasting. Having a few pieces of fine jewelry is a staple to stepping up your everyday style! Especially when it's something so timeless and elegant like a classic stud earring.
The first night that I wore my Charles & Colvard Caydia earrings out, I knew I wanted to really show them off, so I decided to go for a sleek, straight hairstyle where I could easily tuck my hair behind my ears. I pair it with a high-neck, sleeveless top and loose silk pants. Immediately, the radiance of the earrings illuminate your face and elevate your entire look. I received so many compliments from my friends that they loved my earrings! I knew this pair stood out from the rest.
Ultimately, I personally prefer the Caydia Lab Grown Diamond over the Moissanite. Even though the Moissanite pair is an entire half carat larger, I did find that the true brilliance of the Caydia set stands out more as a delicate yet eye-catching addition to any outfit. There's just something about a diamond that doesn't go unnoticed!