Mary Quant: queen of the mini-skirt.
Mary Quant is a pivotal fashion designer who rose to popularity, specifically in the 1960s with her iconic designs such as the miniskirt and go-go boots.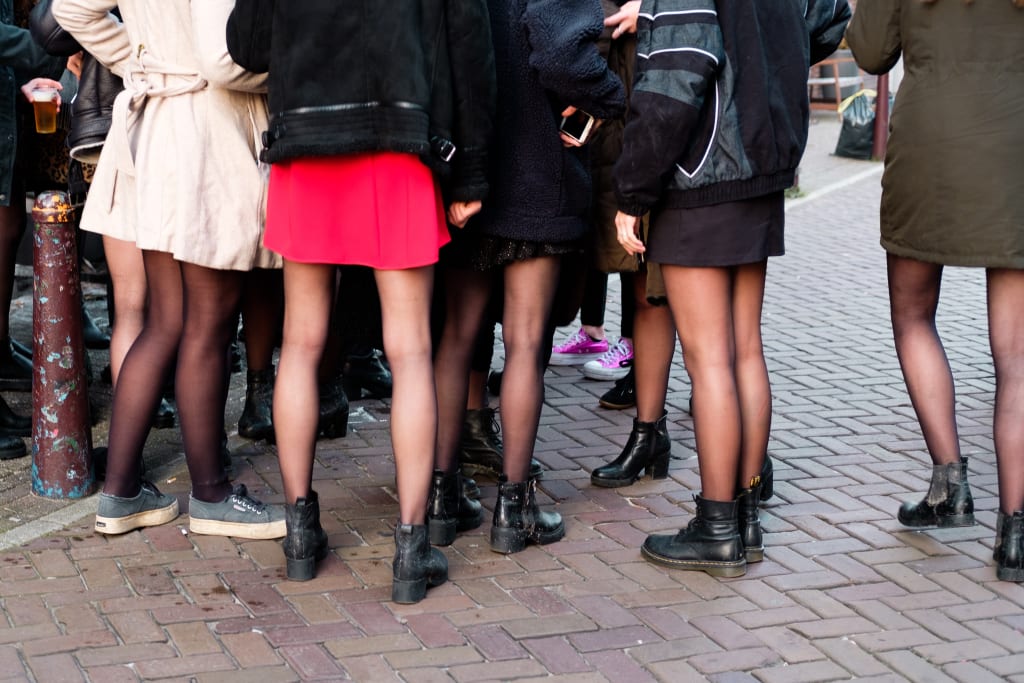 Tamas Munkacsi
Yes, we should all thank Mary Quant because she is one of two designers who has been recognized from putting miniskirts on the map in the fashion world. Still, to this day, there is a bitter dispute on whether or not Mary Quant or Andre Courreges "invented" the first initial miniskirt.
Marit Allen, a contemporary fashion journalist and editor of the influential "Young Ideas" pages for UK Vogue, firmly stated that another British fashion designer, John Bates, rather than Quant or André Courrèges, was the original creator of the miniskirt. Others credit Courrèges with the invention of the style.
Quant was a trailblazer who like Coco Chanel revolutionised the way women dressed – and made affordable fashion available to all. The V&A's new retrospective is bold, energetic and bags of brilliant fun.
Opening the boutique Bazaar on the King's Road in 1955, she initially sold other labels but frustrated by their frumpiness soon created her own collection. Quant was a prolific designer, who built an innovative fashion empire with her husband and business partner Alexander Plunkett-Greene (the pair met at Goldsmith's); she certainly understood the power of the brand, successfully launching makeup, paper patterns and more, all emblazoned with the iconic daisy logo. For the designer's full story, a hardback version of the autobiography Quant by Quant has been published by V&A Fashion Perspectives.
Her miniskirt gained world fame especially on the long, slender legs of model Twiggy, through which the look became the icon of a whole decade.
She might now be officially known as "Dame Lesley Lawson," after being appointed in the New Year Honours - but to millions she will always be simply Twiggy.
Reportedly, when Prince Charles invested the fashion legend with her title in March, he said: "About time you got this."
The award was given for Twiggy's services to fashion, the arts and charity, and is recognition for how she has inspired generations, becoming beloved by the nation - and holding a special place in the hearts of many in East Anglia.
Although she started out as an icon of Swinging London, Dame Twiggy is one of the many celebrities to have fallen in love with our region.
She became an instrumental figure in the 1960s London-based Mod and youth fashion movements. She was one of the designers who took credit for the miniskirt and hotpants, and by promoting these and other fun fashions she encouraged young people to dress to please themselves and to treat fashion as a game.
In recent fashion, there are three: Chanel, and Mary Quant."
This has often, and mistakenly been characterised as mannish. Affronted champions of the New Look such as Coco Chanel, not exactly a drooping petal herself, attacked the A-line and later the mini for abolishing feminine beauty. Hartnell called Quant's dresses "cute but not beautiful". But this turn from curviness to angularity was not, in fact, mannish; womanish rather, but the kind of femininity that had some basis in physical reality rather than the predictable obsessions of male excitement.
Mary Quant always wanted to create a total fashion look-her own geometric hairstyle, cut by Vidal Sassoon, was widely copied. As an art student, she had used Caran d'Ache crayons and a box of watercolours for her own makeup. In 1966 she startled the cosmetics industry by offering makeup in a staggering choice of wild colours as well as a more natural palette. The range was advertised using top model Penelope Tree and photographed by Richard Avedon. Her book Colour by Quant was published in 1984, followed by Quant on Make-Up in 1986, and the Classic Make-Up and Beauty Book in 1996.
Mary Quant was born in London on 11 February 1934. A self-taught designer, she cut up bedspreads to make clothes when she was only six; as a teenager, she restyled and shortened her gingham school dresses.
Quant, who turned 80 in February, famously named the miniskirt after her favourite car, the Mini Cooper. "The mini car went exactly with the miniskirt; it did everything one wanted, it looked great, it was optimistic, exuberant, young, flirty, it was exactly right," said Quant in the documentary Mary Quant, Mini Cooper, Miniskirt.
"The miniskirt was an extraordinary phenomenon and had a big impact because it was part of the emerging youth culture of the 1960s and it was very much an expression of that youth culture and also of the beginnings of the sexual liberation movement due to the invention of the birth control pill. So it was kind of a historic moment," says Valerie Steele, director and chief curator of The Museum at FIT.
In 1963 Quant was the first winner of the Dress of the Year award. In 1966 she was appointed Officer of the Order of the British Empire (OBE) for her outstanding contribution to the fashion industry. She arrived at Buckingham Palace to accept the award in a cream wool jersey minidress with blue facings. In 1967 she won the Annual Design Medal of the Royal Society of Arts. In 1990 she won the Hall of Fame Award of the British Fashion Council. She was appointed Dame Commander of the Order of the British Empire (DBE) in the 2015 New Year Honours for services to British fashion.
Quant's sporty styles for 1975 included brightly coloured and striped jumpsuits, many with drawstring waists and ankle ties, and sailor-inspired slit-sided tunic dresses worn over pants. In 1978 she introduced her own range of children wear. She has also designed furnishings and bed linens since the 1980s and won numerous awards for her carpet designs.
Quant later said: "It was the girls on the King's Road [during the "Swinging London" scene] who invented the mini. I was making easy, youthful, simple clothes, in which you could move, in which you could run and jump and we would make them the length the customer wanted. I wore them very short and the customers would say, 'Shorter, shorter.'" She gave the miniskirt its name, after her favourite makes of car, the Mini, and said of its wearers: "they are curiously feminine, but their femininity lies in their attitude rather than in their appearance ... She enjoys being noticed, but wittily. She is lively—positive—opinionated.
According to a recent study by the British department store Debenhams, women today are happy to wear miniskirts up to the age of 40, whereas figures from 1980 showed that on average women stopped buying minis when they reached 33 years old.
Though the miniskirt's popularity was soon overshadowed by the new hippie silhouette of long bell-bottoms and flowing skirts, the garment – today a wardrobe staple – has clung on, resurfacing with gusto during the 1980s (think rah-rah skirts and short-skirted power suits).