Love Your Hair! Bring Back Scrunchies
A blast from the past! Five reasons to bring back this 90s trend, starting with saving our hair.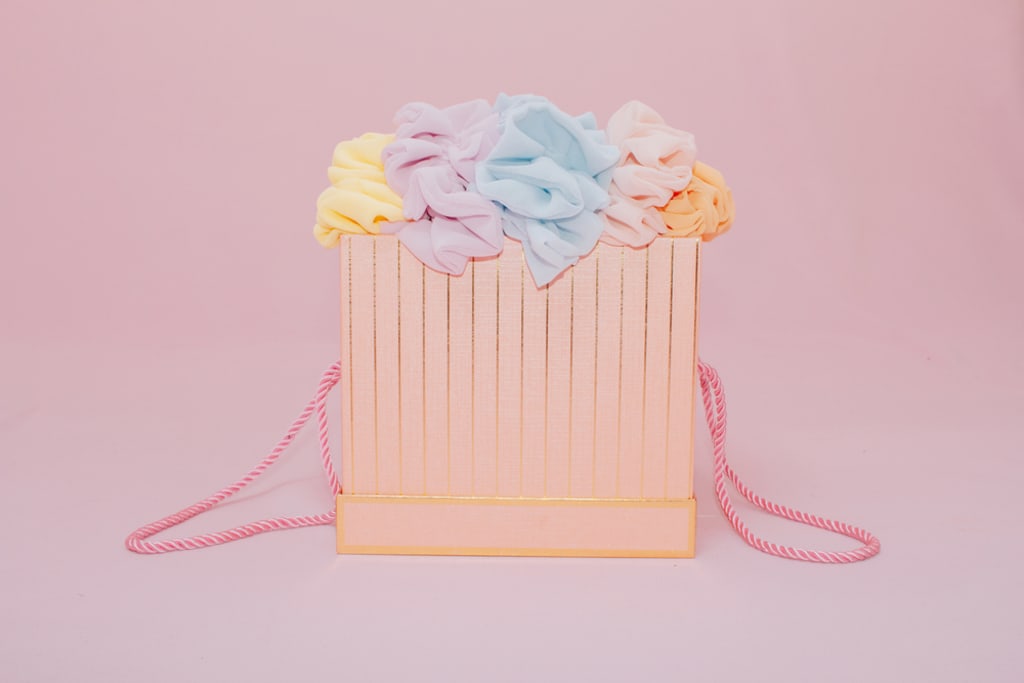 Oh, the colorful scrunchies! (Photo by Camila Miranda on Shutterstock)
I've never been much of a fashonista or a huge trend-follower. To be honest, I'm clueless when it comes to fashion. I'm okay with that! But, if there's one trend I would love to see come back in full force, it's this unbeatable 80s and 90s hair accessory: THE SCRUNCHIE!
Interesting fact: "Scrunchie" is an evolution of "Scünci", the original name of the product, inspired by the creator's pet you poodle (which is now a hairstyling brand name).
Understated and overlooked, our always-reliable scrunchies need to make a comeback! Why? Here are a few good reasons:
1. They Will Save Our Hair!
How many times have you pulled out healthy hair when trying to take out an elastic hair tie?
I don't know about you, but for a long time I was into tight ponytails (sometimes I still am), and classic rubber bands are usually the obvious choice to keep them slick and steady. The problem with those is that they create friction or get tangled, often causing me to pull harder to get them out. The result: my hair comes out, along with the rubber band.
Say, "Ouch!", if you've been there!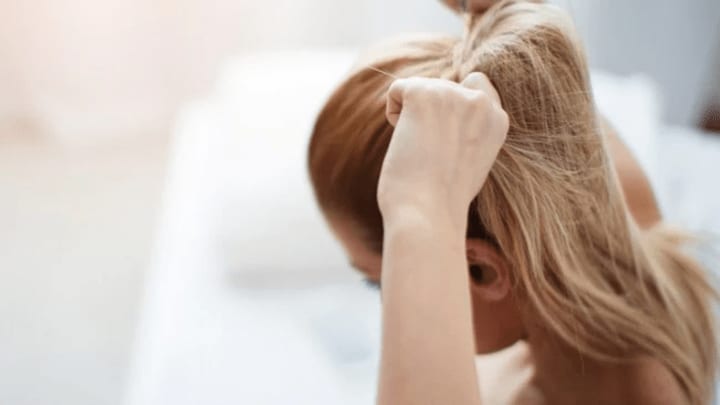 Did you know... Celebrities like Ariana Grande and Jojo Siwa have brought some attention to how tight ponytails and other hairstyles (like tight braiding, cornrows, tight top buns and hair extensions) can permanently damage your scalp and cause a receding hairline.
This is called traction alopecia and, according to dermatologists, it consists of gradual hair loss caused by pulling repeatedly when styling your hair or continuous tension created by tight hairstyles and accessories. Hair follicles become irritated and weak, making your hair fall and leaving patches in your scalp.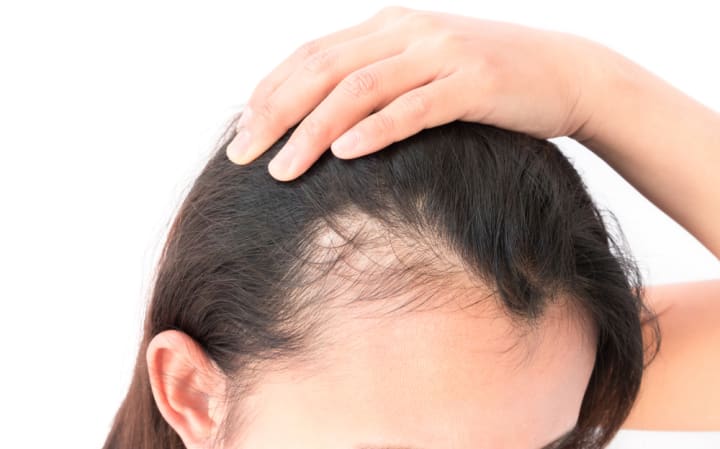 Although there are other options like coiled hair ties and clips, scrunchies are an amazing option to prevent pulling your hair and your scalp. They avoid the extra strong grip of elastic bands, which put pressure on your head during the day (probably giving you a killer headache!) and cause severe hair breakage.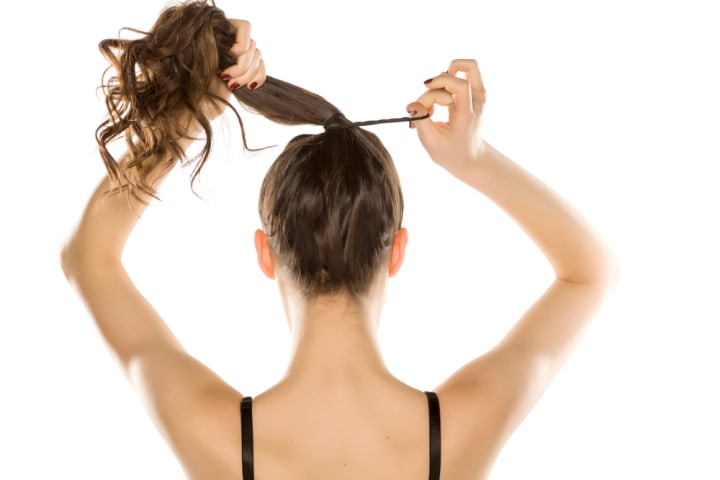 Bonus: They're pretty much fool-proof and easy to use! Plus, they won't strangle your arm and leave marks if you're wearing them on your wrist.
To make it better, there are a few other benefits of wearing scrunchies:
2. They Remind Us of The Good (NOT Old) Times!
If you haven't guessed it, I'm a 90s kid. So, I remember pretty much everything about that time being amazing. Blockbuster nights, Tamagotchis, Discmans, plush backpacks, lots of denim and so much more (sorry, maybe I'm feeling a bit nostalgic)!
Scrunchies were among my favorite accessories, along with headbands (and those cute tiny butterfly clips). While I still love the preppy girl look, I got over headbands around the 2000s. Maybe the Gossip Girl phenomenon had a little bit to do with it (Blair Waldorf, I'm looking at you!).
Mostly, I realized they can be quite uncomfortable when they're constantly pressing on your head (if you've worn them, you've probably experienced this). Luckily, our forever-reliable scrunchies were (and hopefully always will be) at the reach of our hands!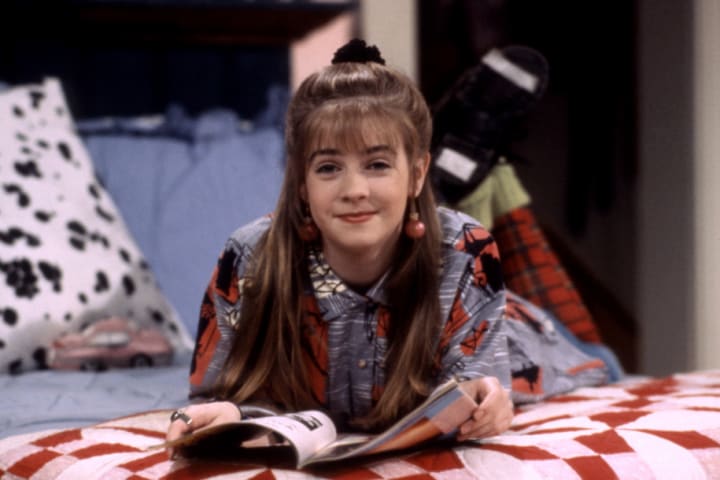 In the 90s, scrunchies we more than simple hair ties. They were a practical accessory, a teenage fashion statement and even a token to give to a special someone. Do you remember that? Wearing a scrunchie on our wrist was not only extremely convenient. It could be a romantic gesture for (or from) our SO.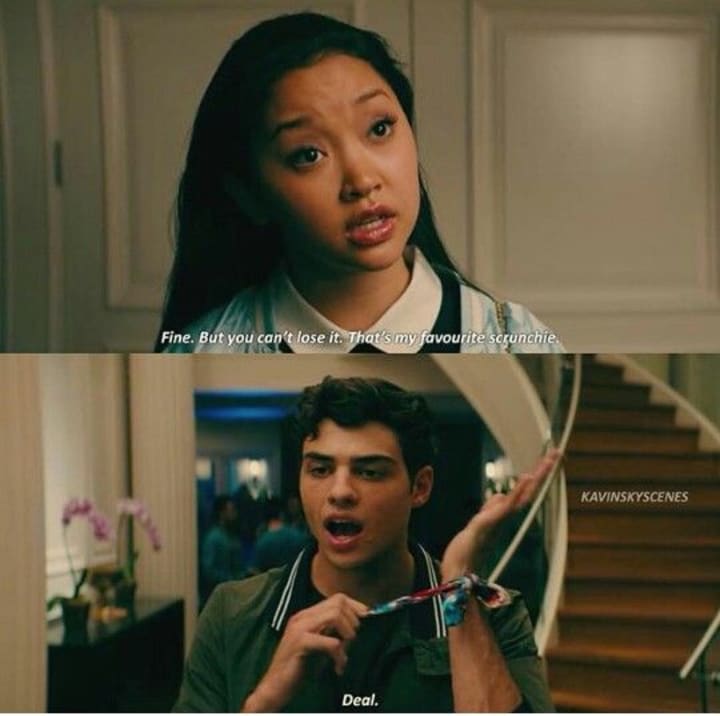 Or we could exchange scrunchies with our best friends as a sign of complicity! Who knows? If we can bring scrunchies back, maybe we can revive wearing them as a token of modern courtship or everlasting friendship.
3. They Bring Comfort To Fashion
"Comfy comes first". Always! I mean, how much do our bodies need to take from trends and fashion? These days, we put so much in our hair, our nails, our face. Sometimes for the better, and many times for the worse.
But fashion and comfort don't need to compete. Fashion trends can be about keeping ourselves healthy, confident and comfortable. Sure, it's not always been necessarily about that. But, it should be! Especially in this world where we're facing so many other challenges, our clothes and accessories shouldn't be one of them.
Fashion is a statement, right?. Well, being comfortable in our own skin (or hair) is a powerful enough statement. And scrunchies are a good way to bring fashion and comfort back together!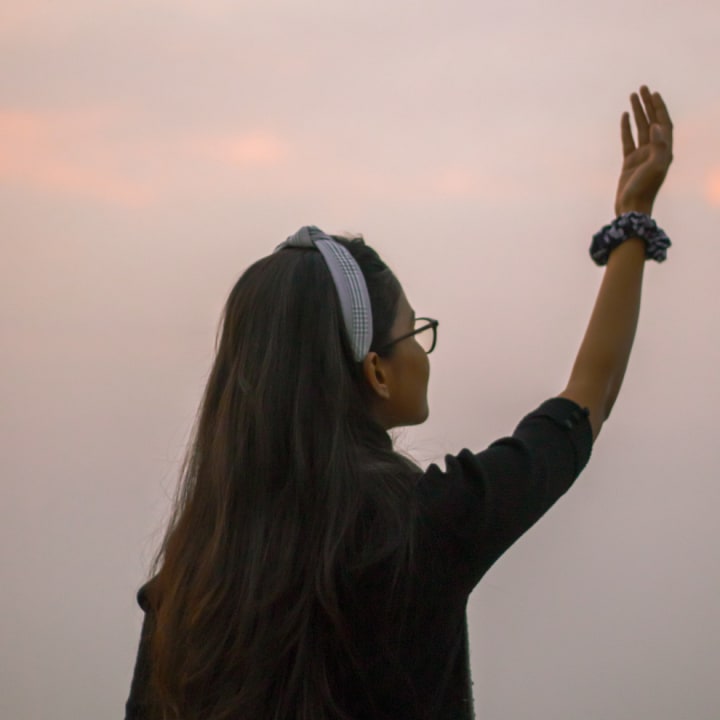 4. They Can Help The Planet (At Least A Little)
I'm guilty of always losing my hair ties. Although that can happen to anyone, I do believe that we often treat them as disposable (when we really shouldn't).
What happens when millions of people periodically lose a bunch of elastic ties?
They are not recyclable, so they usually end up as litter in landfill, adding to plastic pollution. On top of that, both pets and wild animals can get seriously hurt if they eat them or get caught in them.
Interesting fact: It takes a plastic hair tie about 500 years to decompose.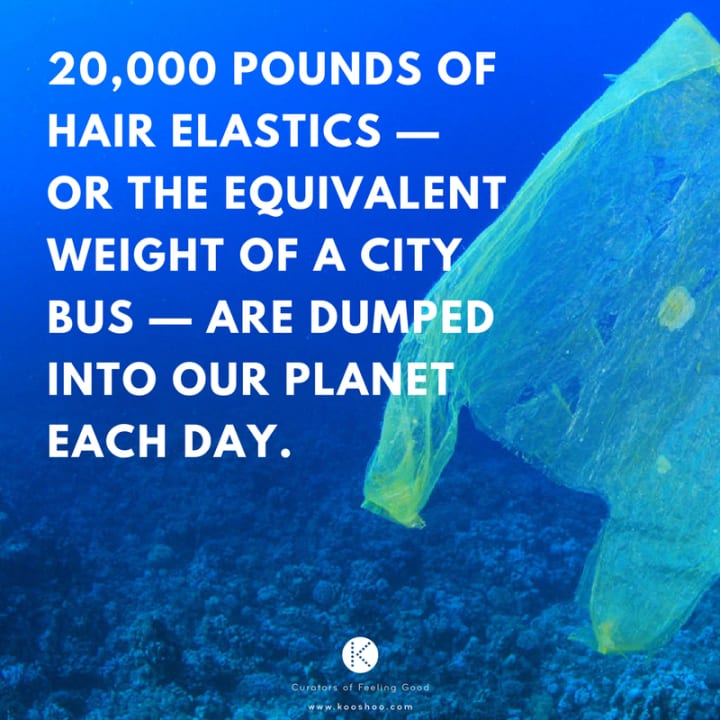 On top of being kind to your hair, scrunchies can be a cute, cost-effective, potentially low-waste, and eco-responsible alternative! Although they're still partially elastic (on the inside), unlike other hair accessories, they're mostly made out of more organic and reusable materials like fabric (silk, cotton, linen, etc). And they last much longer.
The best news is: Most of us (at least 90s kids) may already have a few scrunchies at home ready to reuse!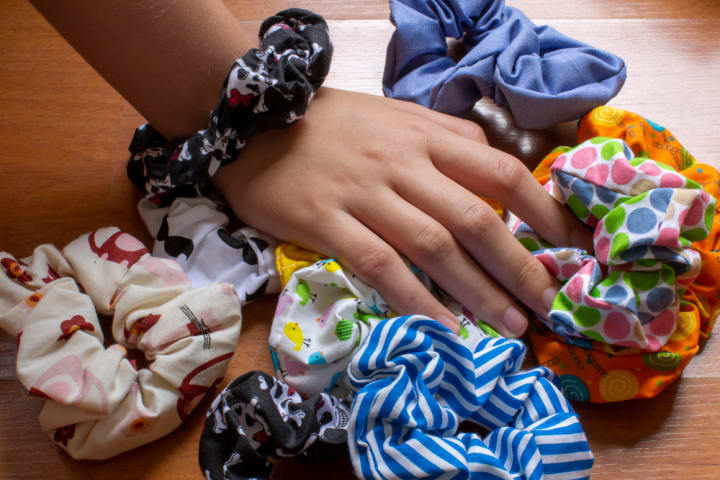 If you don't have old scrunchies, it's possible to re-purpose leftovers and make your own. There are different DIY tutorials to craft scrunchies out of old t-shirts or scrap fabric (bonus points if you use naturally dyed, biodegradable or recycled materials!).
5. They Are For EVERYONE!
If comfort, eco-friendliness, nostalgia and protecting your hair is not enough, scrunchies can make any type of hair look good! Straight, curly, frizzy, long, short, lush, fine, slick or wild. There are multiple hairstyles that anyone can pull off and look great.
Here are a few examples: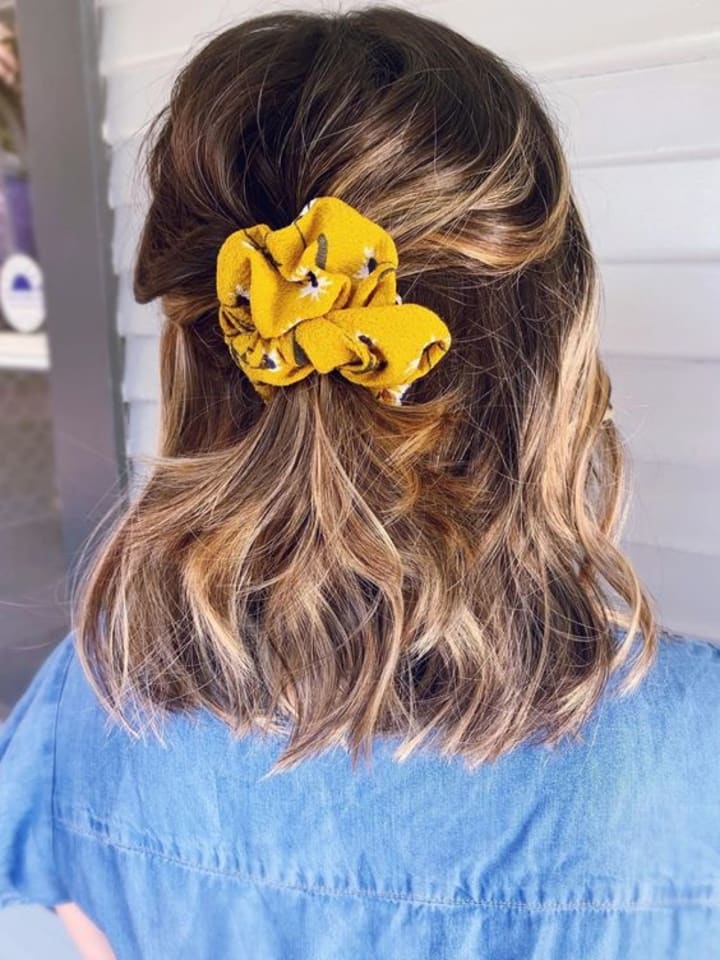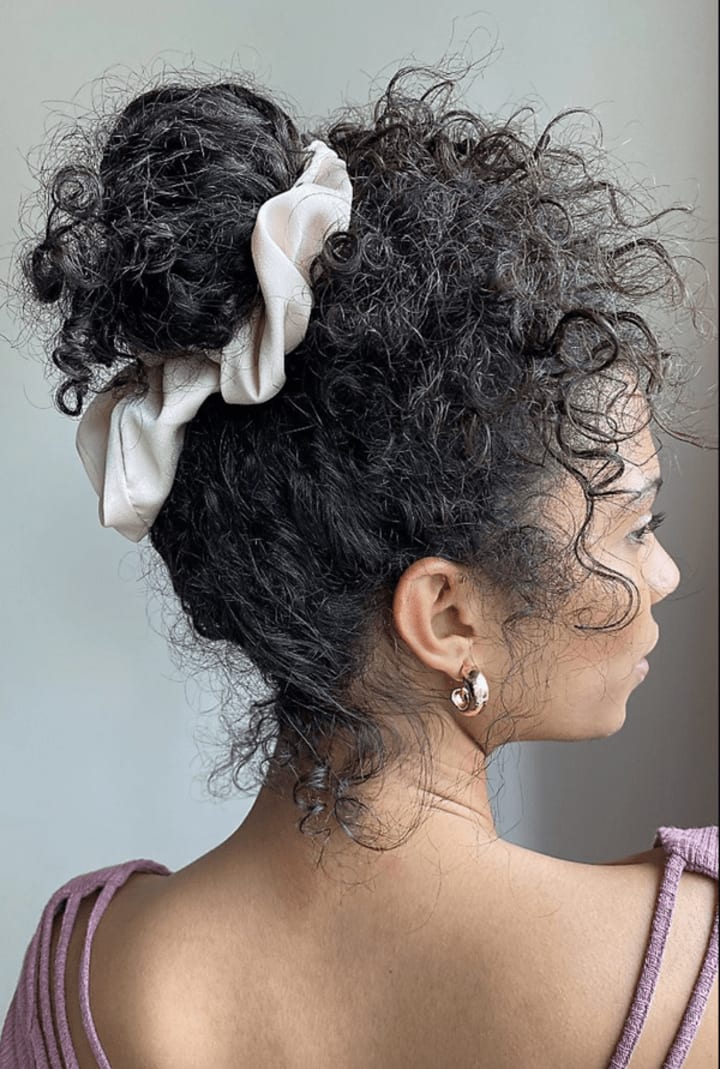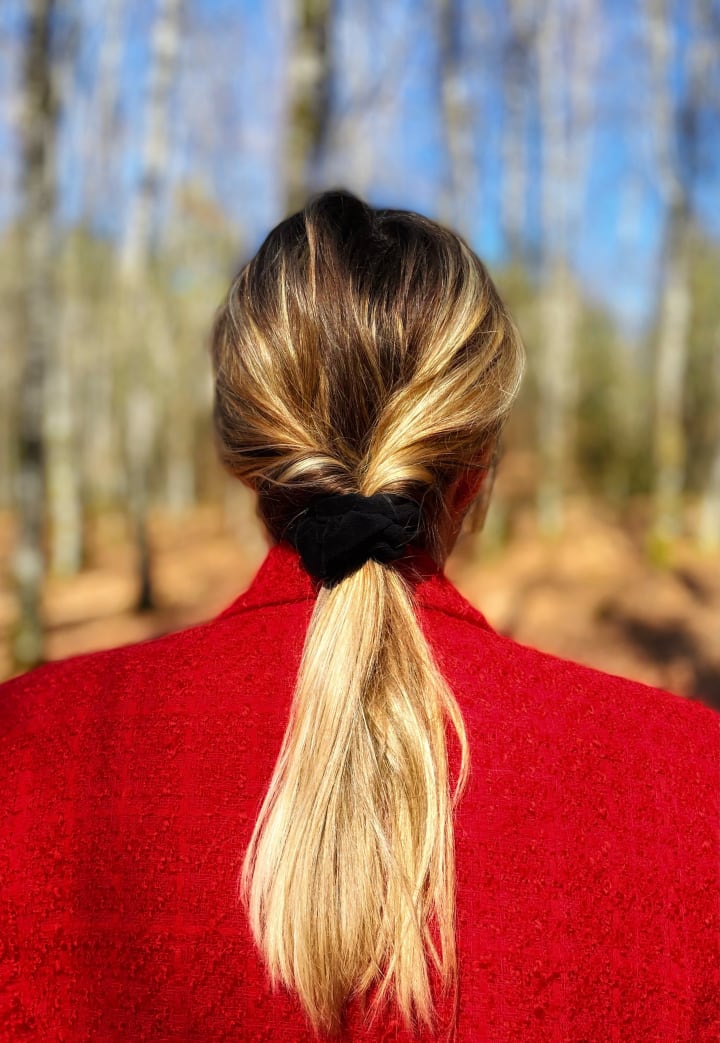 The possibilities are endless! Scrunchies can be multiple sizes, prints and textures depending on your style. Tiny, medium or jumbo. Velvet or silk, cotton or knitted. Here are some ways to wear them: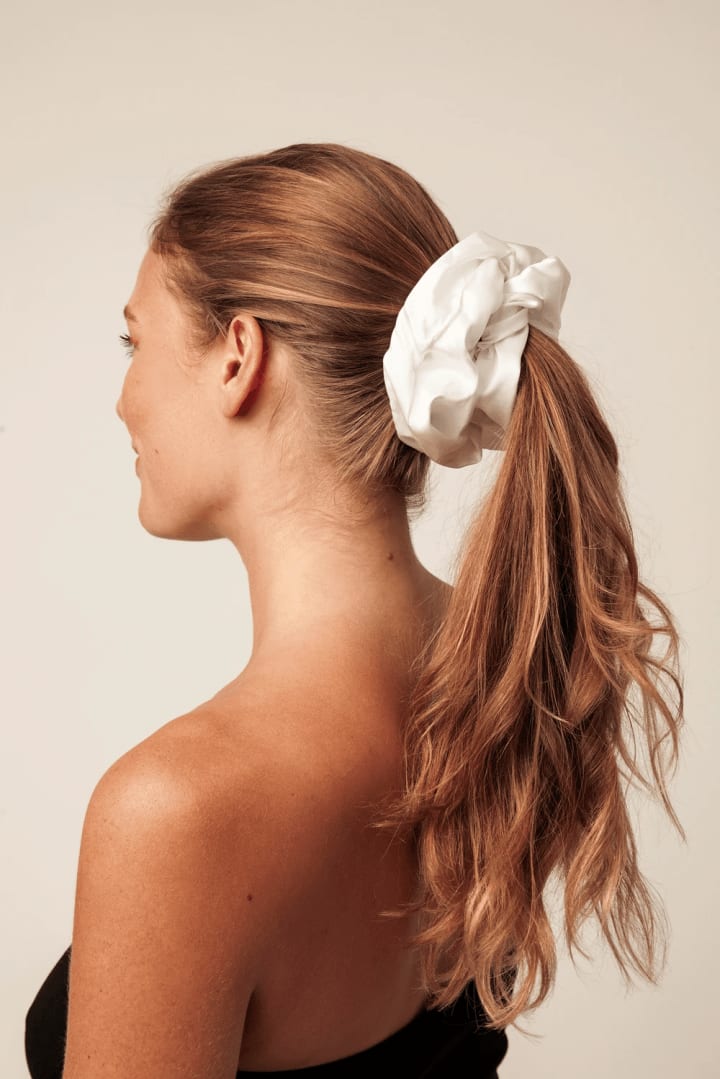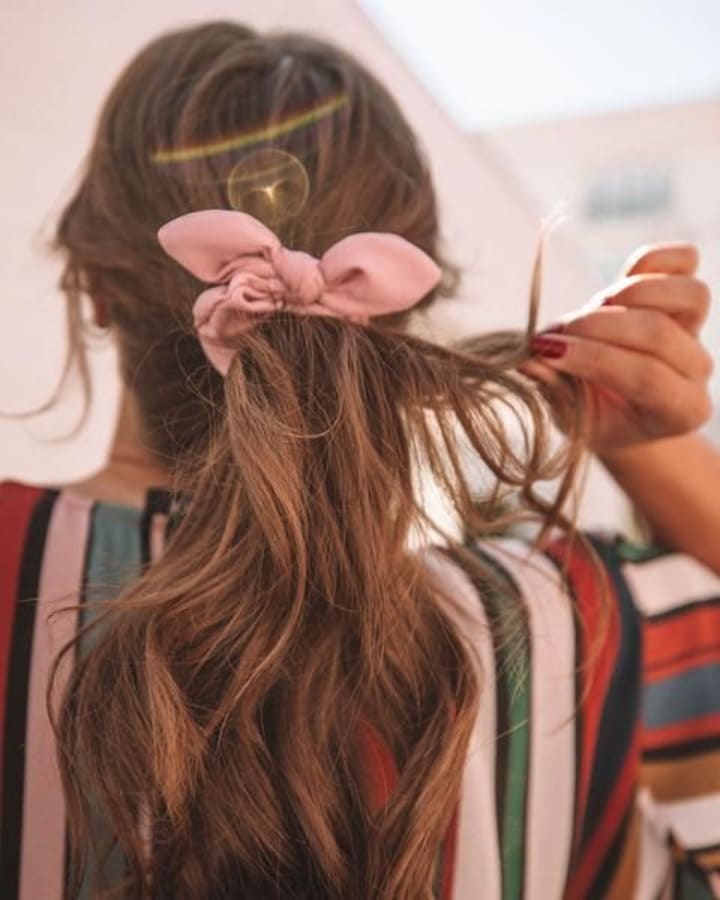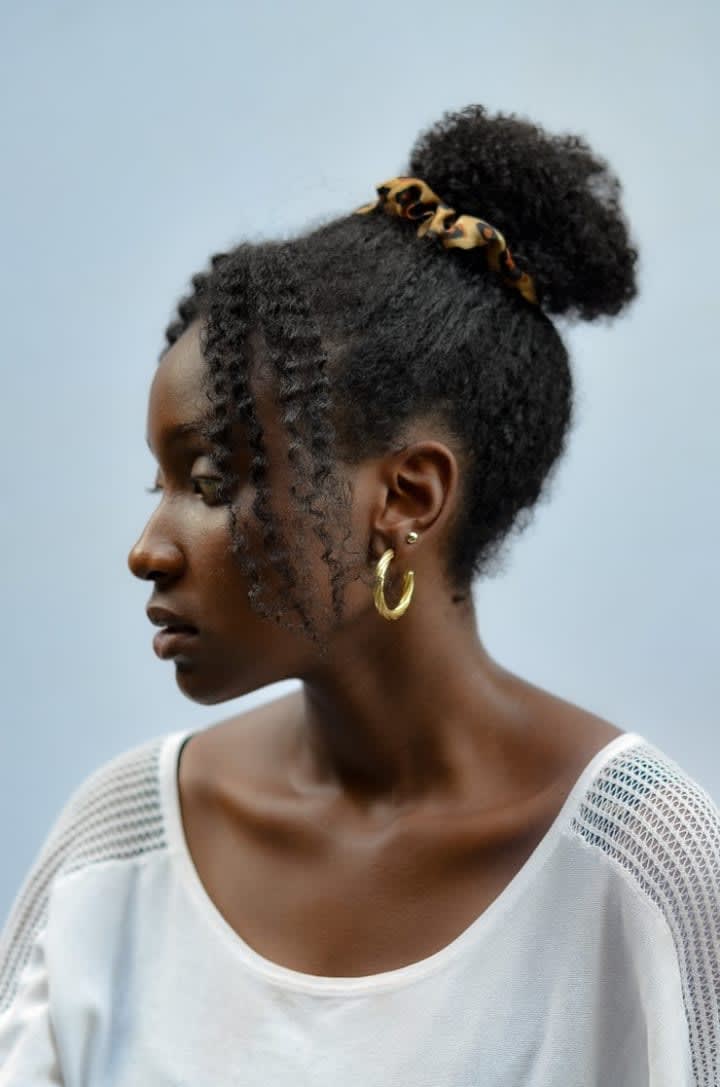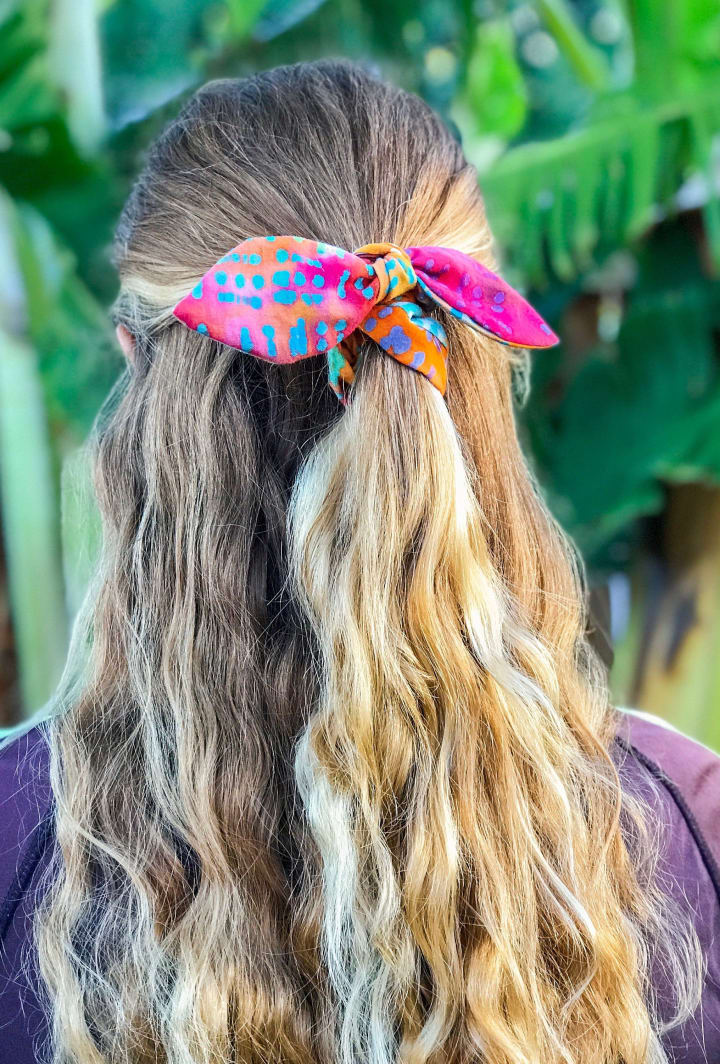 Among many other looks!
Finally, opposite to common belief, scrunchies are not only for little girls and women. Men can totally pull them off too! If man buns are a thing then so are "scrunchie-tied" man buns. After all, everyone deserves to have healthy hair and a comfy head, right?
If you don't believe me, here's Jason Momoa kindly proving the point at the red carpet (please, see photo #2):
Bring Them Back, Please!
Today, scrunchies have not completely disappeared. However, they're not as popular and valued as they were in their golden age. They were iconic! And they deserve to be again, especially when they have so many benefits. There's still so much we can do with them!
So, let's bring our scrunchies back to their old glory... and keep our hair beautiful and strong in the process (among other things)!
This happy doggo approves this message:
-
Thank you for reading! If you liked this fun, little article, please give it a like or share it on social media. Tips of all sizes are also greatly appreciated as a sign that you like my work. Every bit of support means a lot to me as a writer.
You can find more of my articles and stories here. I hope you enjoy them!
Love, Marina
trends
About the author
I'm a work in progress! On top of working in communications, I love writing for fun (mainly short stories, informative bits and heartfelt pieces to make people happy).
This is my personal writing page.
Find me:
TW: @marina_writing
Reader insights
Be the first to share your insights about this piece.
Add your insights