Jump into a 70s [Corduroy] Jumpsuit
The cosy good-looking sleek one-piece number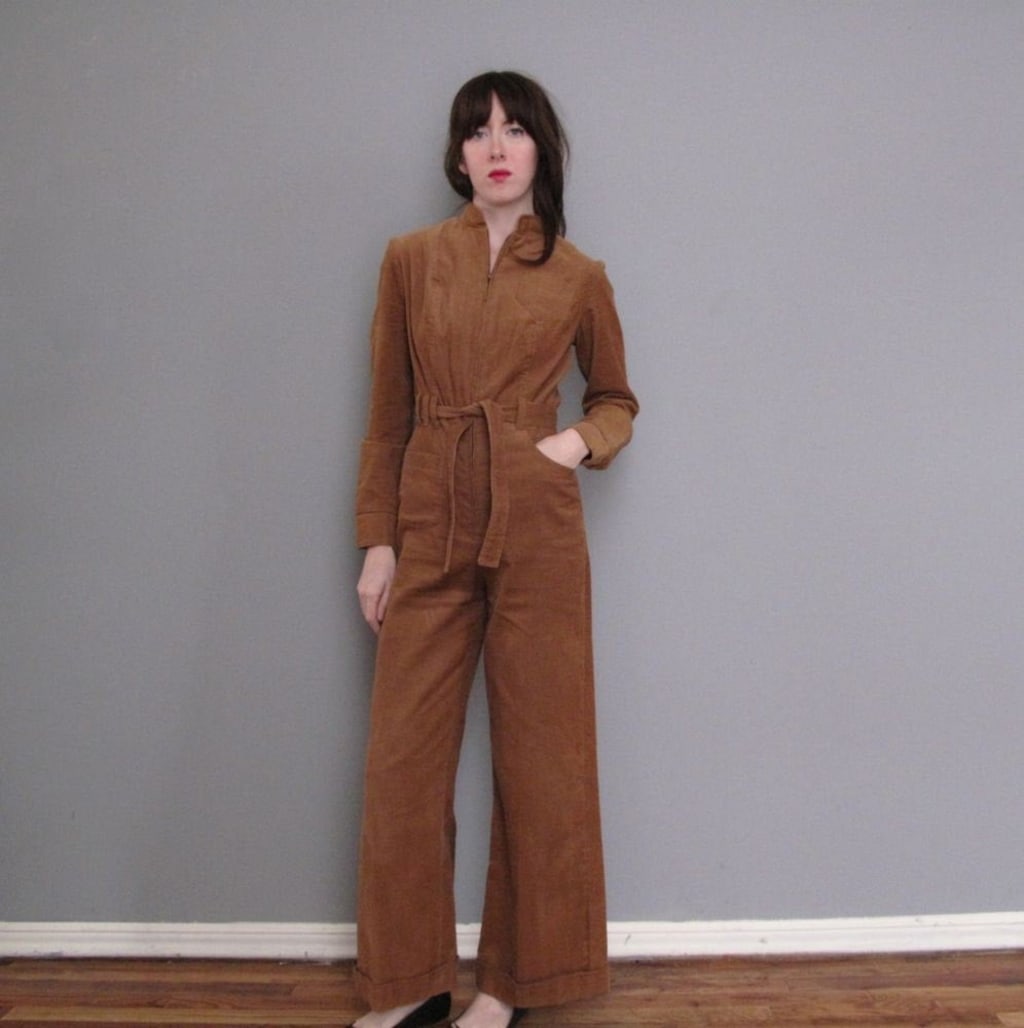 "Those were the days my friend", as Mary Hopkins sang in 1968.
The 70s, all fired up by Abba discotheque fashion, were about slapping on something cosy and comfortable, yet exciting and stylish. Who could forget the groovy frilled white jumpsuits of the Dancing Queen, Agnetha, or the shiny jumpsuits that Agnetha, Anna-frid and Bjorn all wore?
Everything about jump-suits shouted one's personality.
In the second part of the good old 1970s I was a teenager. The late 1960s and 1970s were prime years for the jumpsuit. There were sportswear styles for day, and leather one-pieces or embellished designs for evening.
For me specifically, green flares gave way to a delightful tan-coloured jumpsuit. Yes, crafted from corduroy, they felt smug and beautiful, and conformed to my shape, and kept my body warm. I loved my suit.
According to Vogue:
A jumpsuit is a slim-fitting, one-piece garment that covers the arms and legs. It was originally created in 1919 as a functional garment for parachuters to, yes, jump from planes in.
The boiler suit/overall/coverall is looser fitting and more utilitarian. Worn by men who maintained coal-fire burners, the male boiler suit was first adopted by female munitions workers during the Second World War, when a more form-fitting suit with bloomer-like legs was designed to better fit women's bodies.
In the 1930s, fashion designer Elsa Schiaparelli began creating jumpsuits for elegant women. It took another decade for the fashion to truly become popular for day and evening wear.
Here is the Business Case for the return of the jumpsuit.
1. No scrambling around searching for a top and a bottom that match.
2. zzzzzzzz---Zip it up! What could be easier than zipping up or down the front?? No tiny pearly buttons that slip through your fingers or ball-type buttons on strings that are nigh impossible to feed through the cord loops. Do away with those awful press-studs which don't line up to snap into place, or which go missing or are too small.
3. Washing and drying - can these be more simple? Just wash your one-suit, then peg it and let it dry without wondering where the heck the bottom or the top of your two-piece got to.
4. Along with culottes, turtle neck sweaters, sweater dresses, and track suits, the jumpsuit made the 1970s fun and expressive. If fun and expressive are you, get into a jumpsuit in the 2020s!
5. You can wear a jumpsuit out to the shop or out to a party. They are all terrain.
------------------------
It is said that the late 70s were "very early 80s", and during these time periods women were wearing pants in every walk of life. Female executives were wearing business suits with pants, and women at home were wearing jeans.
Women could finally wear what they wanted to wear. The 1970s jumpsuit was unisex, beloved by slim-hipped men and women.
Princess Diana was even snapped in Spain in 1987, wearing a cool pale yellow button-up jumpsuit.
Imagine Catherine Middleton or Richard Gere in a jumpsuit.
Sure, you have to drop down the whole thing to go to the loo, but that is a small price to pay for ease and comfort of wear and style.
Vote JUMPSUIT, the onesie with the mostie! The most comfort, the most colours, and the most fabrics and designs and uses. The One that the slim and modest sized can wear.
One size may not fit all, but the fabulous jumpsuit or pitsuit reeks classy comfort, as Catherine models below!

Sally H
I love reading, writing, researching, and supporting others. I run several WordPress blogs and have an academic background in the Biological Sciences and in Social Research. I also review non-fiction books.
See all posts by Sally H →