It Wasn't Just a Shirt
It was a state of being.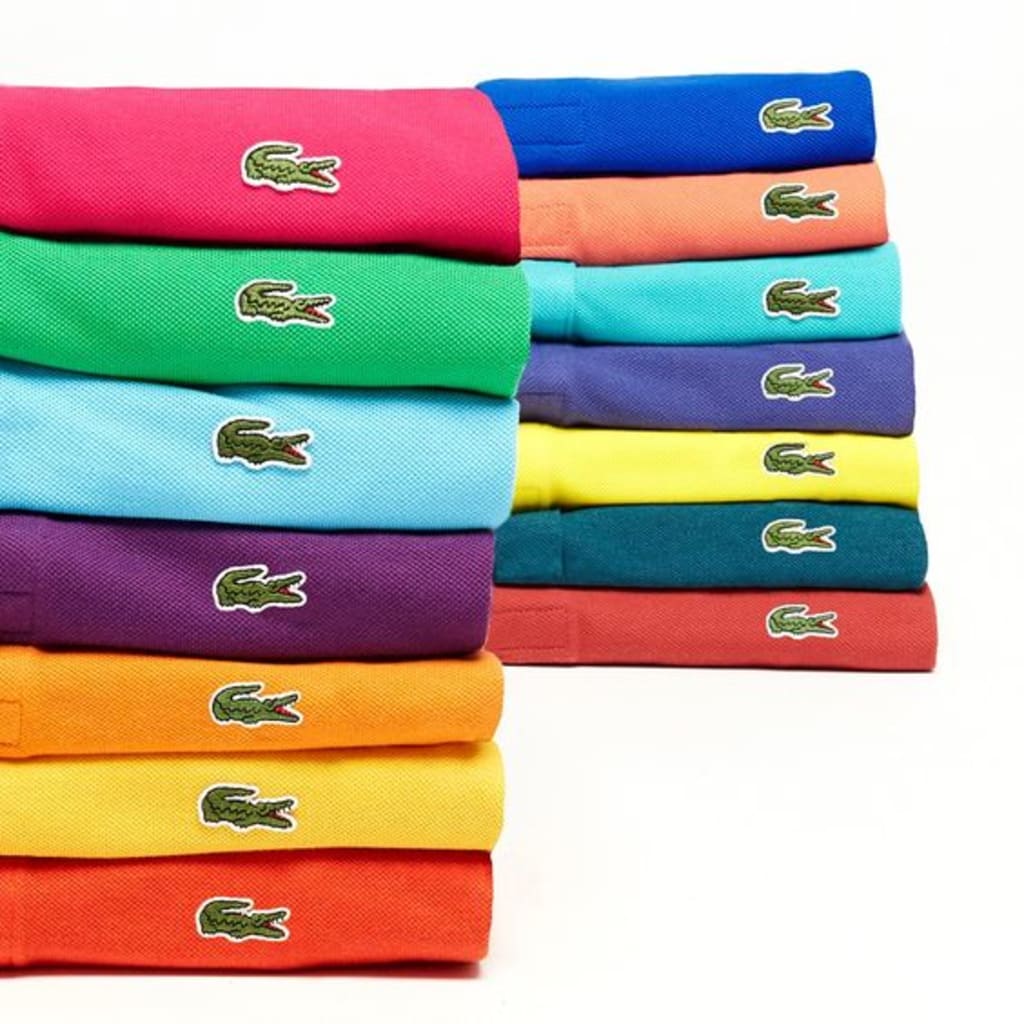 Photo by fi.pinterest.com
The Object of My Affection
She lived at the top of my street and I idolized her. She was the star and I, the groupie. A fan club of one. 1983.
Just a few years older, Laura was everything I wasn't. In my eyes, she had it all. And "all" included Izod Lacoste pique cotton polo shirts, complete with the iconic alligator.
Beautiful and outgoing, she was a popular student at the local high school, both winning Homecoming Queen her senior year and singing her heart out as the lead in the school's musical production of whatever was popular at the time.
She had long brown hair with full curls that supported tall, fluffy bangs and perfect feathers along her face; aqua-netted hair pushed out over her ears.
I, on the other hand, was decidedly rooted in the awkward stages of late adolescence; readying myself for the precarious journey into the teen world. I was growing out my Dorothy Hamill haircut, which had been a desperate attempt at getting my curly hair to shape-shift into the glorious feathers Laura had, not knowing how to smooth my frizz any other way.
Laura was an expert. And I, like an apprentice taking notes from the master, studied her, learning the ways of 1980s teendom.
I memorized her walk and smile and how she constantly maintained her coif with a ubiquitous brush in her back pocket. On one rare occasion, she took me shopping and I watched as she reapplied lipstick before leaving the dressing room, double-checking that her feathers were flying just so.
Sometimes I was invited into the inner sanctum, sitting on her bedroom floor, watching her get ready for some exciting evening out. The words alone, "evening out," elicited wonderment. Other times I helped her with household chores, just wanting to be in her orbit.
It was all so thrilling.
But nothing took my breath away more than the popped collars of her vibrant Izod Lacoste pique cotton polo shirts. Alligator present and accounted for.
The Other Object of My Affection
The Izod Lacoste polos didn't just complete her perfect look. They were the statement pieces that said, "I have arrived." They declared, "This is the best time of my life and I am going to mark this moment in full color." My mouth still waters as I envision the vast rainbow of Izod shirts hanging in her closet; various hues of pinks and greens and yellows, like rows of sherbet ice cream at Baskin Robbins.
It was my glimpse at this pot of gold that slowly opened me up to the world of fashion, a world I was very, very far away from; a world I have still never fully entered into but one I would covetously study at a distance.
Not quite in middle school, I was still running around the neighborhood in practical clothes designed to weather tree climbs and bike rides. But I was becoming more aware of certain things I would like to add to my wardrobe. Izod Lacoste alligator polo shirts were at the top of my list.
My parents, in their mid-30s, were tending to us three kids while working and finishing degrees. Fashion was not a concern. Time was limited and we were more Kmart shoppers and less, well, less of wherever Izod Lacoste polo shirts were sold. My parents were not interested in my need to keep up with Joneses, or in this case, the Lauras.
Some of this was economics. Even when my mom and I did go shopping at the mall, the coffers simply weren't full enough to allow for my burgeoning fashion needs. When Jordache jeans made their way into my 6th-grade classroom, I knew enough to not ask. I eventually saved up money to purchase my first, and only, pair of Guess jeans when they surpassed Jordache as the pinnacle of jean success.
But the most prized fashion statement of the mid-'80s eluded me. Izod Lacoste polo shirts remained out of reach.
Then, one day, Laura said I could borrow a piece of the gold. A bright pink one. The dark green alligator even more vivid in contrast. The pink one was my favorite and for all the variety she owned, I imagined she wouldn't miss this one. I was desperate to be given, not loaned, this prized possession.
However, it remained decidedly a loan, and wearing it for one day was like dipping into a bag of perfectly salted potato chips. One day, like one chip, is simply insufficient. I tried to cherish that one day anyway.
Wearing the Pink Izod Lacoste polo shirt with the alligator, my shoulders stayed back throughout the day, my chin extended with pride. My no-style curly hair was in the shadows of the radiating color on my body. I luxuriated in the pique cotton feel and relished the sensation of the collar just below my ears.
And then, I had to give the shirt back.
After Laura's senior year, she packed up a car and went off to college. A few years later my family moved to California. Our paths never crossed again.
The Sweetness of Nostalgia
Now in my 40s, it seems every few years a friend (or me) throws an 80's party and sometimes I have even worn an Izod Lacoste shirt found on eBay. For a fleeting moment, I am transported back to the days where I was the gangly 11, 12, 13-year-old trying to find my footing. I am reminded of the kindness of an older girl who took me under her wing.
But, like the 80s parties themselves, the nostalgia fades, the feelings dissipate. The shirts don't hold the same luster. They are lacking one key element.
While these shirts are still available at Macy's and on eBay as vintage wear, I long for their paradoxical 1980s existence where they were both everywhere and exclusive at the same time.
I want the Izod Lacoste alligator polo shirt to be the statement piece of decades ago with the same just-out-of-reach allure. I also want to once again feel the visceral caterpillar-like transformation that happened when I donned that precious item; to experience the confidence evoked by the vibrant, colorful display. I want to feel the moment in time when I was on the cusp of a new chapter and it held such promise.
And yes, I believe a shirt can do all that.
trends
About the author
Woman in middle age. Professor. Mom to one surfer and one kid with Down Syndrome. Fireman's wife. Writing about all of it.
Reader insights
Be the first to share your insights about this piece.
Add your insights