How to Perfectly Style Your Outfit with a Concho Belt?
Elevate your Western style with trendy concho belts. From skirts to denim jumpsuits, blazers to bodysuits, Western boho boutiques have a belt for every style.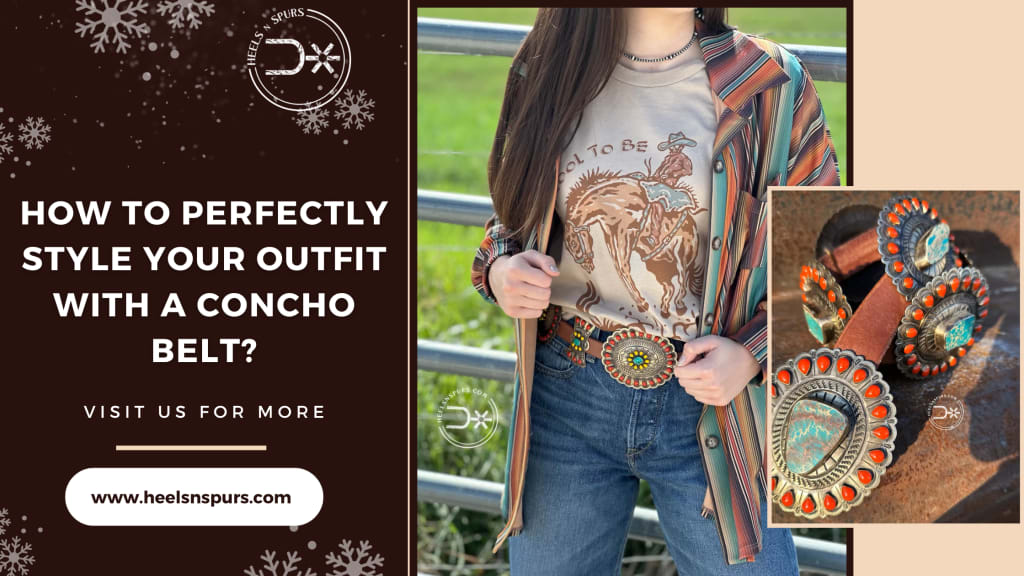 Ready to unleash your inner cowgirl with a touch of Southwestern charm? We all know the must-haves for a Western boho boutique: the iconic cowboy hat, the envy-inducing boots, and perhaps even your own signature squash blossom. But amidst the fashion frenzy, there's one dazzling piece that often hides in plain sight yet has the power to transform your entire outfit - the concho belt.
This unsung hero of a cowgirl's closet is the missing link that effortlessly combines style and tradition. With its intricate designs and rustic allure, the concho belt is the ultimate accessory to perfect your Southwestern look. Now is the right time to give this overlooked gem the attention it deserves and learn how to flawlessly style your outfit with a concho belt.
Stand Out with the Smoked Skirt and Concho Belt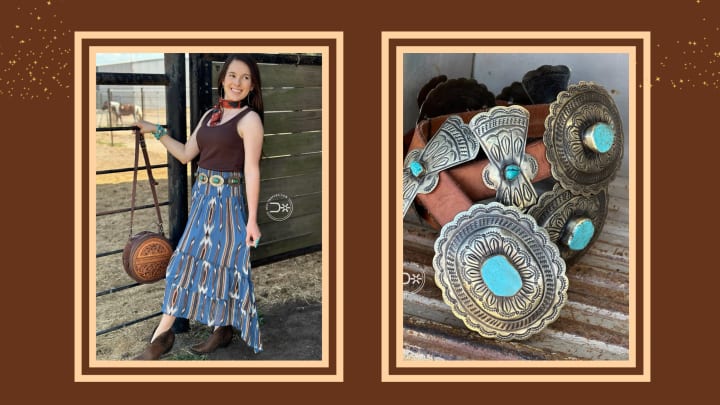 Make a bold fashion statement with the mesmerizing smoked skirt adorned with a smocked waist, a stunning high-low tiered design, and a vibrant Aztec print. This skirt offers eye-catching style and a comfortable fit - thanks to its stretchy fabric that stays true to size. To complete your look, pair the skirt with a chic brown tank top and don't forget to add a scarf around your neck for an extra touch of elegance.
Enhance your overall outfit by wearing hoop earrings and stacking bracelets that perfectly match your concho belt and skirt ensemble. Discover the authentic German silver and turquoise concho belt, stamped with a maker's mark, which can be adjusted to fit your unique style by simply punching holes and cutting down the leather as needed.
Denim Jumpsuit and Square Concho Belt Combo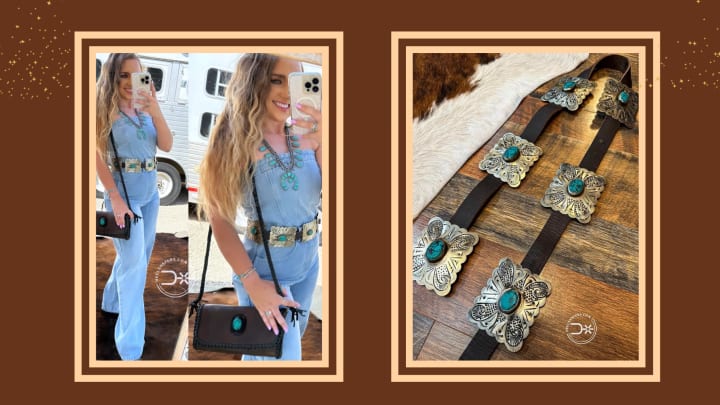 Elevate your style to new heights with the trendy off-the-shoulder denim jumpsuit that offers minimal stretch through the waist and legs. This jumpsuit features a convenient side zipper, belt loops, and elastic on the back of the top for a comfortable and flattering fit.
To accentuate your ensemble, accessorize with a long necklace and grab a crossbody bag with a concho embellishment on the front, adding a touch of sophistication. Complete your impeccable look with a square concho belt boasting unique stamped designs in silver and turquoise. This versatile belt allows easy adjustments, as you can punch holes to customize the fit according to your preferences.
Rock a Bright Pink Blazer and Chained Concho Belt!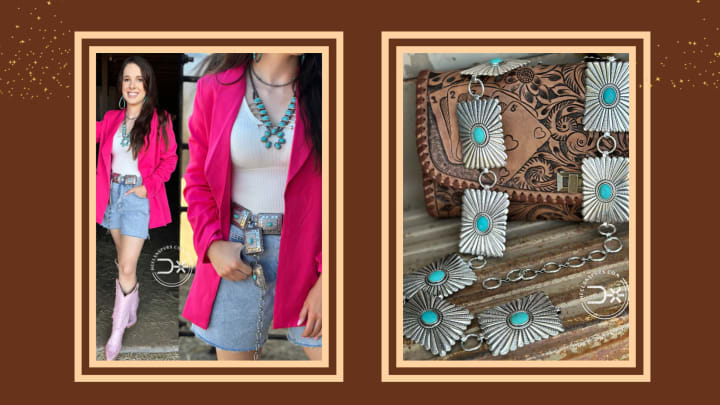 Heighten your fashion game with a bold and vibrant statement by trying on a super bright pink colored blazer. Pair it with a padded tank top and shorts for a chic and trendy look. To complete the ensemble, add a stunning chained concho belt that features belted buckles and small concho embellishments.
This adjustable accessory adds a touch of glamour and accentuates your waistline. To enhance the overall look, don't forget to layer on necklaces, slip into your favorite high-heeled boots for girls, and adorn yourself with eye-catching earrings. Get ready to turn heads and make a lasting impression with this gorgeous outfit.
Sage Bodysuit and Chained Belt Duo for Everyday Glam!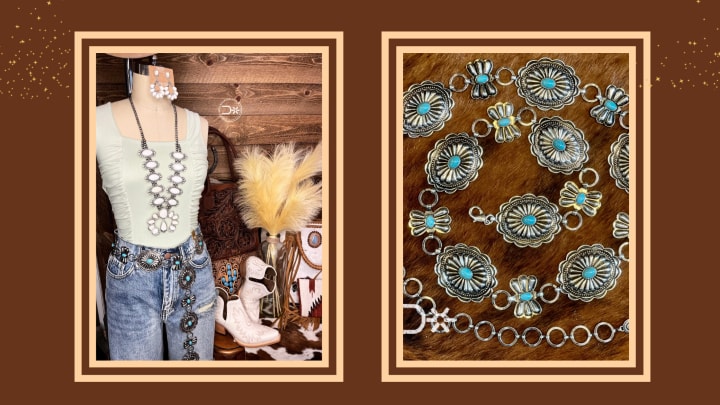 Embrace effortless elegance with a sage-colored bodysuit that exudes sophistication. Pair your ensemble with straight-leg jeans for a timeless and versatile look. To add a touch of uniqueness and elevate your style, top it off with a stylish chained concho belt. This accessory cinches your waist and adds a trendy and fashionable flair to your outfit. Consider adding a white squash necklace to the mix for an extra dash of charm.
Slip into white boots and grab your favorite handbag or purse. With this chic and polished combination, you'll be ready to conquer the day in style. Remember to check the adorable option: a chained belt with two different styles of buckles placed one after another, adorned with a small concho design. It's the perfect accessory to add a cute and playful touch to your look.
Western Charm in a Rodeo Tee with a Stunning Circular Conchos Belt!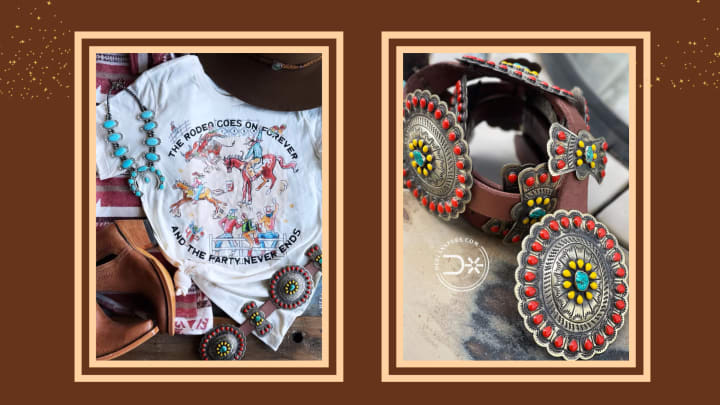 Level up your Western-inspired style with a rodeo tee that exudes charm and authenticity. Pair it up with shacket jeans for a trendy and effortless look. Complete your outfit with a circular conchos belt reflecting timeless Western charm. This belt features gorgeous silver engraving and comprises six circular conchos and six bow-tie conchos.
The conchos tend to fit any size and can even be moved to another leather belt if desired. This belt is a true showstopper, crafted from German silver and adorned with natural turquoise stones. Add a pair of western boots to complete your outfit and embrace the captivating allure of the Wild West.
Floral Delight in Oversized Floral Tops with a Statement Chained Belt!
Embrace the beauty of oversized floral tops and shorts for a fresh and feminine look. Take your outfit to the next level by pairing it with a huge oval-shaped chained belt adorned with dazzling embellished stones, including striking oval turquoise stones.
The belt adds an element of glamour and fascination to your ensemble, making a bold statement. Welcome the floral delight and turn heads wherever you go with this perfect combination of oversized floral tops and a statement-chained belt.
Multi-Colored Button-Up Top and Authentic Fall Concho Belt!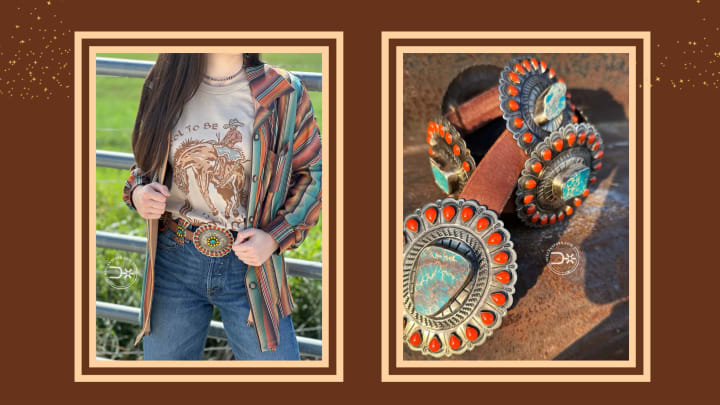 Channel your inner boho vibes with a button-up top that boasts intricate stripped details on the sleeves. This slightly oversized top pairs effortlessly with straight-leg jeans, creating a relaxed yet stylish look. Complete your ensemble with an authentic fall concho belt crafted from authentic German silver and turquoise.
Each belt consists of six circular conchos that can be adjusted to fit any size. Stamped with a maker's mark, it symbolizes authenticity and craftsmanship. Add western studded boots, a necklace, and a chic shoulder bag to complete your boho-inspired look. Take on the boho chic style and express your unique sense of fashion with this stunning outfit combination.
Shop the Latest Concho Belt Trends and Elevate Your Western Style!
Yeehaw - it's time to kick your Western style up a notch with the latest collection of concho belts. Say goodbye to ordinary and hello to extraordinary, as these must-have accessories work their magic on your outfit.
Whether you're strutting your stuff in a smoked skirt, rocking a denim jumpsuit, slaying in a bright pink blazer, or feeling fierce in a sage bodysuit, Western chic boutiques have got the perfect concho belt to take your look from drab to fab.
With their intricate designs and rugged charm, these belts bring a touch of Southwestern enchantment to any ensemble. Grab these one-of-a-kind accessories, make a fearless fashion statement, and let your inner cowgirl shine!
Reader insights
Be the first to share your insights about this piece.
Add your insights