How to Op Shop
Op Shopping/Thrifting Tips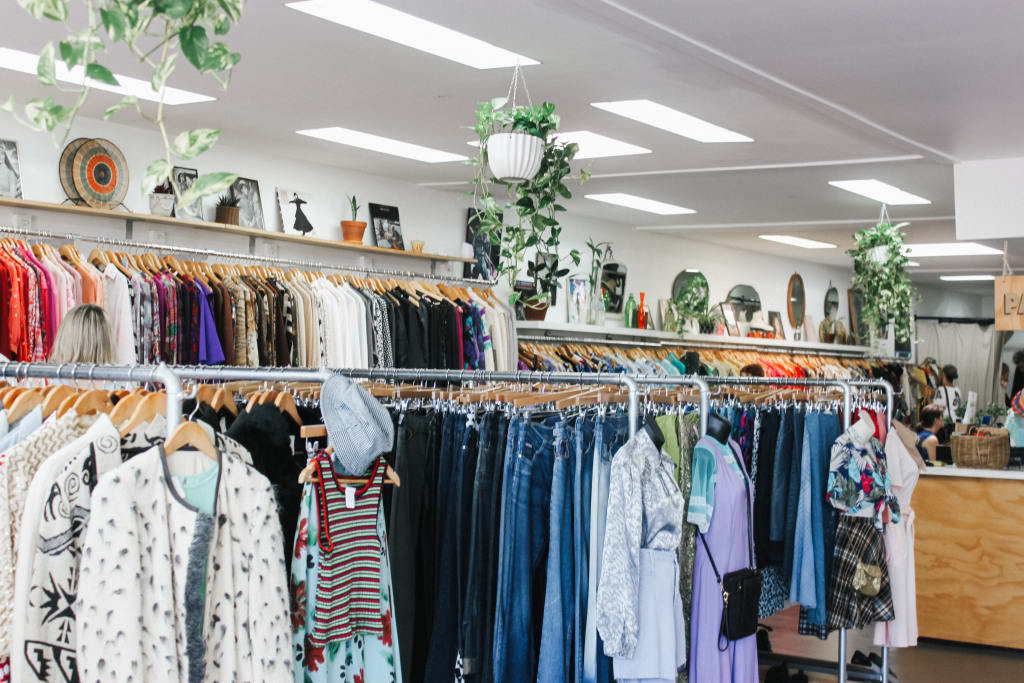 Op shopping is a wonderful way to find new, unique clothes on a budget. It's also great for the environment, as it extends the life of garments that might otherwise end up in the bin. Most are run by charities, where the profits go to a good cause. But while some people seem to find wonderful pieces with little effort, it doesn't come naturally to everyone. Here's how I go about it:
1. Donate. Before you spend a day op shopping, it's a good idea to go through your wardrobe and see if you have anything you'd like to get rid of. Good quality pieces are great for donations and the profits from their sales go to charity, with the added bonus of keeping more clothes out of landfill.
2. Make a day of it. If you have time, you can increase your chances of success by making a day of checking out several different op shops in one go. You could pick a spot where there is a cluster of shops, or make a road trip of several stops (and maybe a sneaky snack break here and there!) For a great guide for op shops in Melbourne, check out www.shehuntsopshops.com .
3. Dress easy. You'll probably be trying on quite a few items, so it's a good idea to wear slip on shoes and clothes that are easy to take on and off quickly, or you may tire yourself out a bit too quickly!
Here's a couple of my favourite op shop finds.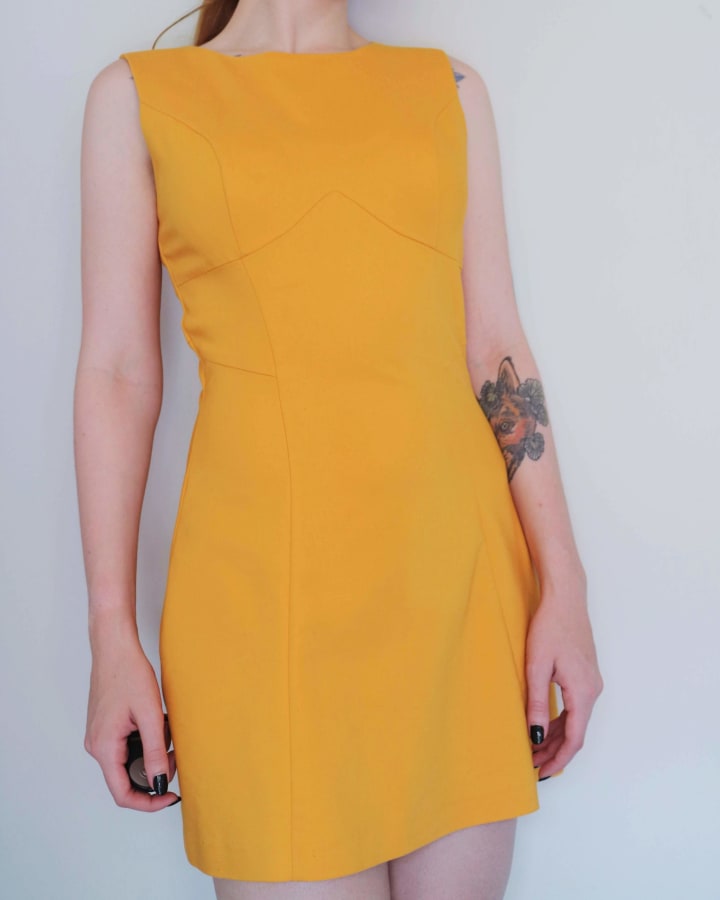 I found this one in an op shop in Mordialloc. I absolutely love the colour and the seam detail, but it was a size too big. Luckily the construction was quite simple, and the shoulders and neckline fit quite well, plus it had a bit of stretch to it. All I did was a straight stitch down each side seam to bring the waist in. The result is a super cute and very layer-able dress.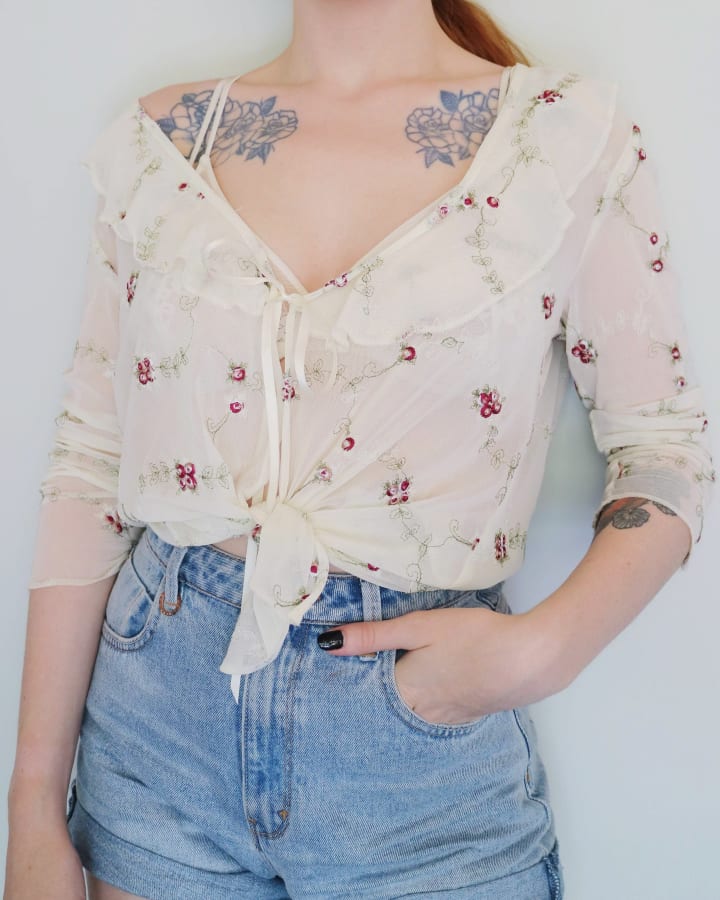 I believe I found this one on a Phillip Island holiday a few years ago. It's a stretchy mesh embroidered cardigan type blouse which has a lot of versatility for styling. I prefer to wear it over just a nude or white bralette and gathering the length of the top into a knot at my waist. Perfect for a breezy summery top.
I actually bought this one at a warehouse sale and didn't try it on (I wouldn't recommend buying without trying on, BUT luckily it fit and the belt helped to cinch it perfectly). At the time I was very into 50s and vintage styles, but circle skirts are a wonderful addition to many different styled wardrobes. They're also super flattering on many body types.
4. Stay open minded. Try not to have too clear of a goal in mind. It's a good idea to leave the house with an idea of what is already in your wardrobe and what you might want to add to make it more versatile, but if you're after a perfect alternative for something you saw in a store recently, you'll most likely leave empty handed. A few general ideas are fine, especially if you're visiting a few stores or you like to op shop fairly often, because you might chance upon something you've been looking for. Otherwise, keep an open mind.
5. There are other ways to hunt. If you're after something specific, try online stores like Depop. You can certainly visit op shops every few weeks to keep looking for that specific item, but it will come down to luck more than anything. I'm still on the lookout for a perfectly oversized denim jacket…
6. Search everything! I definitely recommend searching through every rack of clothes, because you never know where a gem might be hiding. However, it can be tiring to look through each item, so…
7. Scan the racks. To prevent burnout when searching, I tend to quickly scan each item by just looking at the fabric. If there's colours you prefer, or certain types of fabrics you prefer to wear, keep an eye out for those. That way, it's easy to filter out items you won't wear without having to look at each piece individually.
And here's a couple of pieces I bought to alter or upcycle.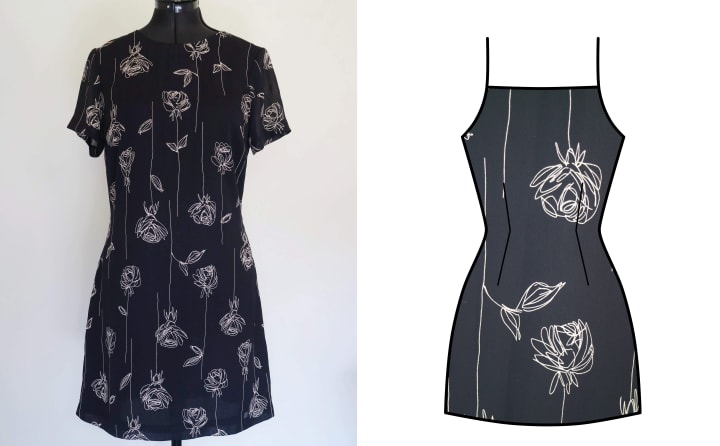 I found this dress on Depop and absolutely fell in love with the graphic rose pattern. The size marked was too large for me, so I decided to buy it and turn it into something new that was more my style – a 90s inspired spaghetti strap mini dress that I can wear on its own or layered over a black or white tshirt for a more casual look. Super excited to wear this!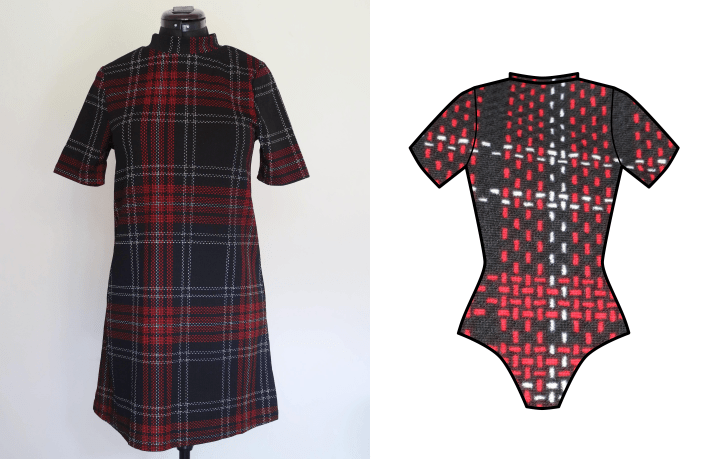 I believe I picked this dress up from an op shop. It's a bit too big for me, but I really like the pattern, and the stretch will lend itself well to a bodysuit.
Again, bought this one because I fell in love with the fabric. It's too big for me, but I'd really like to bring the waist in and add a side split up to the thigh for a bit more fun.
8. Look for fabrics. If you can sew, or are learning, I recommend keeping an eye out for cheaper fabrics. Tablecloths, bed sheets, and curtains can all be repurposed, even if you just want something cheaper to use for a mock-up before using your nice fabric store fabric. Some op shops do sell fabric, but you can also grab a long dress, skirt or any piece with quite a bit of fabric to upcycle into a new piece made just for you.
10. Check for functionality. It's also a good idea to check that zippers work and that all buttons are attached before buying. Of course, these can be replaced – buttons being something even a complete beginner can sew. However, you will likely have to replace all the buttons if you can't find a good match. Zippers are a bit trickier, especially if you are new to sewing, but it is possible! Fixing a missing button or broken zip are good skills to have, not only for op shop finds but your own clothes as well, but I do understand it can sometimes send a perfectly good piece into an 'I'll fix it eventually' box for weeks, months or years, so it's good to check first.
Hopefully your next op shopping trip is more successful than your last with these tips!
On a serious note, considering the recent bush fires in Australia, the Australian Red Cross has been doing its part to care for survivors of this devastating event. You can help by shopping at Red Cross op shops and donating your own clothes to be sold for the charity as well.
Here's some other ways you can help: https://www.news.com.au/technology/environment/bushfire-relief-how-you-can-help-those-in-need/news-story/a0476ac3538b8c373f281ea6be204421