How to Make Your Outfit Go From Day to Night
Usually, dressing to make your outfit go from day to night doesn't need to be a total outfit change. If you have these essential wardrobe pieces and accessories, you can easily turn your casual day look into a head-turning night one.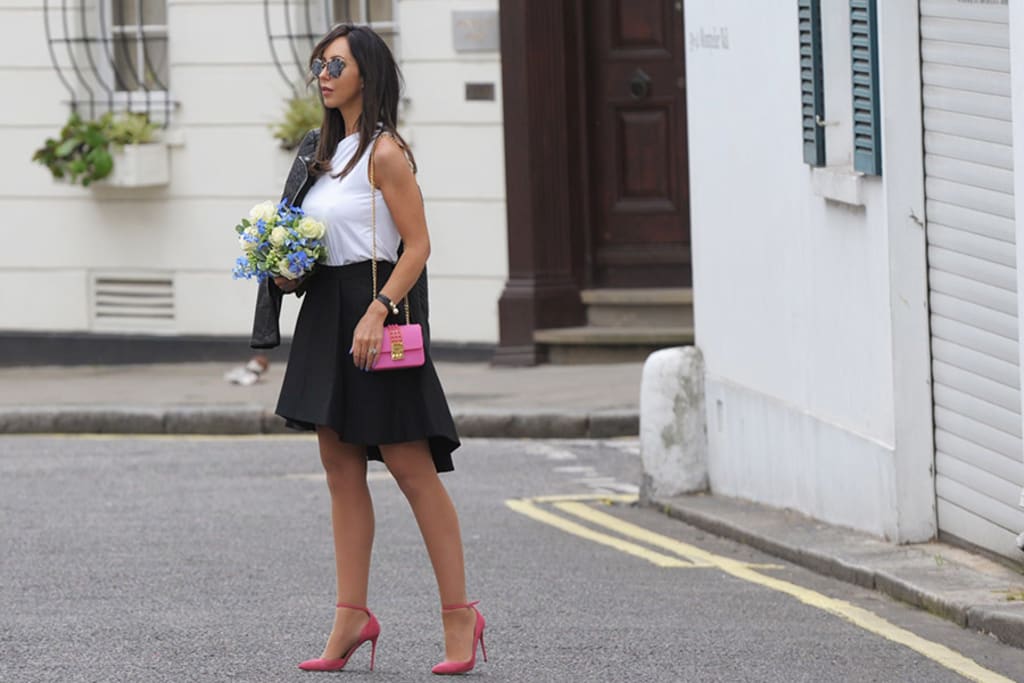 Photo courtesy of Sophie Shohet
Getting dressed is no easy feat for any woman. What's appropriate? What's comfortable? What's in style? These are all thoughts had before throwing together a day's ensemble. Now, what is a girl to do when that one outfit (which already took 30-minutes to assemble) has to also work for an event later that evening? Perhaps a dinner after work? A girls night? Is it possible to really wear the same thing all day, but change the look from professional to flirty and fun with just a few alterations? Yes, it most certainly is! No joking aside, by owning some key wardrobe pieces, easy outfits anyone can pull off, and accessories (including high heels and handbags), you too can go from sunrise to sunset without a complete wardrobe change and potential meltdown.
Here are a few simple ways how to make your outfit go from day to night.
Always have a blazer.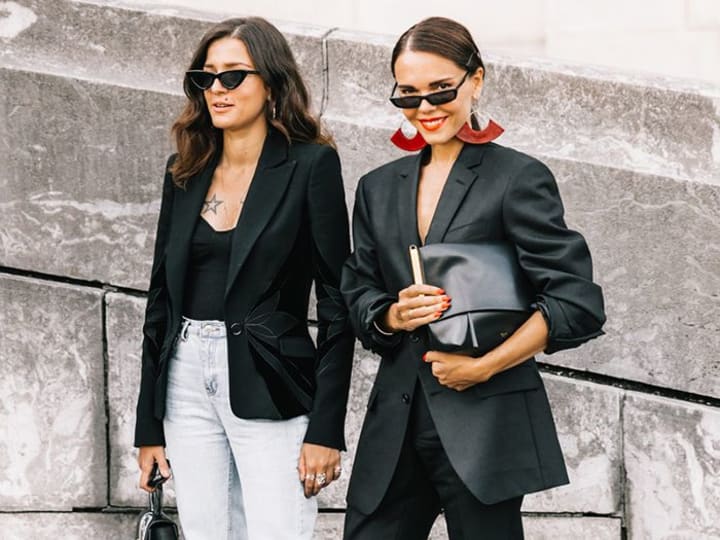 This can go either way, depending on weather and what kind of look you're going for. Either way though, a blazer can be the perfect solution for creating a day to night look. First, if you would like to start your day with a blazer, layer it over a top that would suit your plans for later. It can be a nice tee, camisole, or dressy blouse. Even if the shirt underneath isn't appropriate for the workplace (say it has an open back), no one will know because you will have your blazer covering it up. Once the work day is over and it's time to go out, all you have to do is remove the blazer, and you are ready to go with a brand new look.
Now, for the opposite scenario, you can start your day off with a blouse that is fit for the workplace, and then add on a cute, little blazer for your after-work look. If any of you are questioning the coolness of a blazer or have yet to consider a girl's journey in men's fashion, then you need to get with the program. Blazers: fitted ones, short ones, and, yes, even loose-fitting ones are totally on trend, and can be rocked everywhere from a bar to an upscale restaurant. They also work with all weather situations! You can purchase a wool one for winter or a cotton or rayon one for warmer months.
Add Jewels.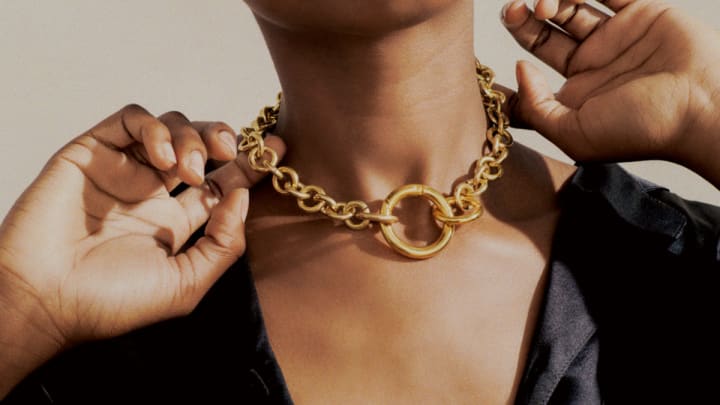 If I could choose one thing from this entire list, accessorizing your night outfits with jewelry would be it. Oh wait, maybe shoes. No, no, definitely jewelry. This is why. You can be in a pair of skinny jeans and a fitted tee and look totally casual, but now, add in a funky necklace or chunky earrings along with some stacked bangles and rings? Your entire look has just changed dramatically. By adding pieces that are bold, you will give your night-to-day outfit change a more grand effect; but remember, don't overdue it. You should never wear more than one statement piece at a time. The last thing you want to do is look like you just robbed Mr. T. Use your evening plans to determine which route you should go; whether it be colorful bohemian, classic with bling, or silver and gold rocker chic, the options are endless. Not to mention, easy as heck to travel with!
Swap out your shoes and handbag.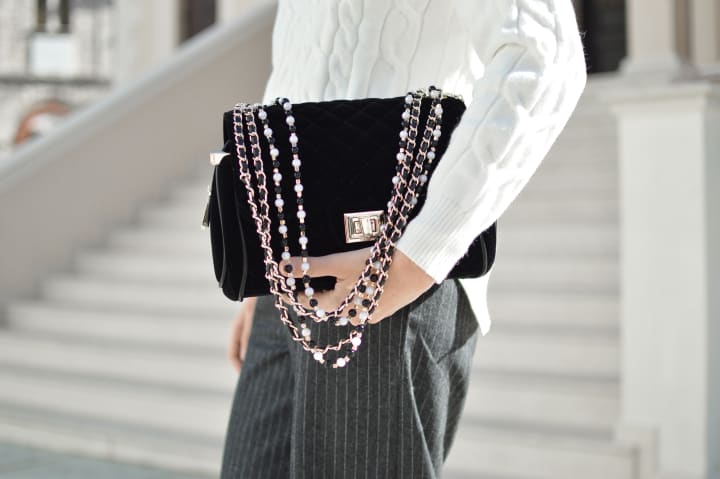 As I mentioned before, the impact of adding jewelry to your ensemble can be huge, and so can swapping out shoes and handbags. Obviously, going from a flat to heel is going to make a huge difference, but you shouldn't stop there. Use your shoe and bag change to be loud and noticeable. It could be patent leather high heels and an electric blue clutch bag, or red wedges and a large woven bag. Have fun here, and once again, use your destination for inspiration.
Dress up with makeup.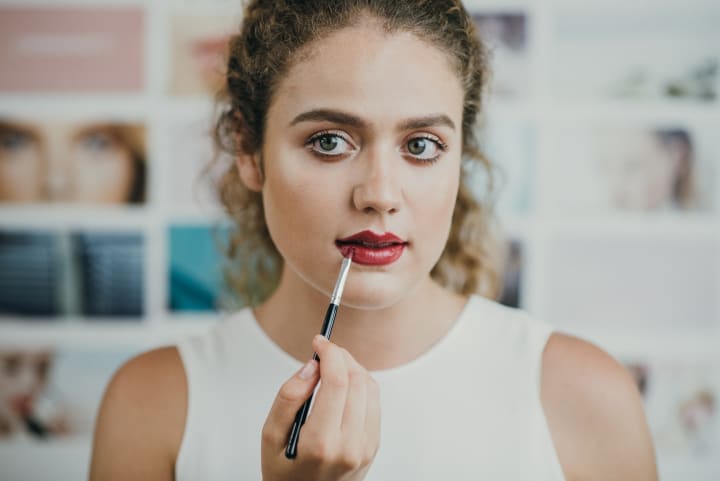 This is a no brainer, but sometimes we need a reminder of the no brainers, especially when we are being pulled in all directions. I see so many women forget to complete their look by wearing no makeup, the wrong makeup, or they just ruin a totally killer outfit by making their face look like a killer clown. Not sexy girl, not sexy. Even for those who prefer the au natural look, you can easily accomplish a change while still keeping your fresh face by adding just a slight pop of color. So, let me give an example. Cindy, our make-believe working girl, has spent the day at her office wearing skinny jeans, wedges, and a casual blouse. Cindy also wears minimal makeup, 1) because she doesn't like it, and 2) because she has no idea how to do makeup. Cindy is meeting her boyfriend after work for drinks on a rooftop. How can Cindy dazzle up that gorgeous face with just a bit of makeup? She can add eyeliner (and so can you)! Eyeliner should be a staple, even for the girl who hates makeup. Start with just a faint white line under your eye to make them whiter and brighter, and a stroke of brown or black on the upper lids. You can choose to go thin or you can really funk it up with a dramatic wing. To make your eyes stand out even more, use an eyelash curler to revive your lashes and then add some mascara. Mascara can make even the most tired eyes look alive. You can also skip the liner, add a touch of mascara, and use your lips as the pop. Any color on your lip, compared to no color, will drastically change your appearance. You can finish off this super easy look with a touch of blush or shimmer highlighter. Just a sweep across your cheeks, above your top lip, and down your neck and chest will add a glow that even the plainest Jane will love. If you're still unsure though, there are plenty of makeup for beginners out there for you to try until you find the go-to look you love.
An LBD should be a wardrobe staple.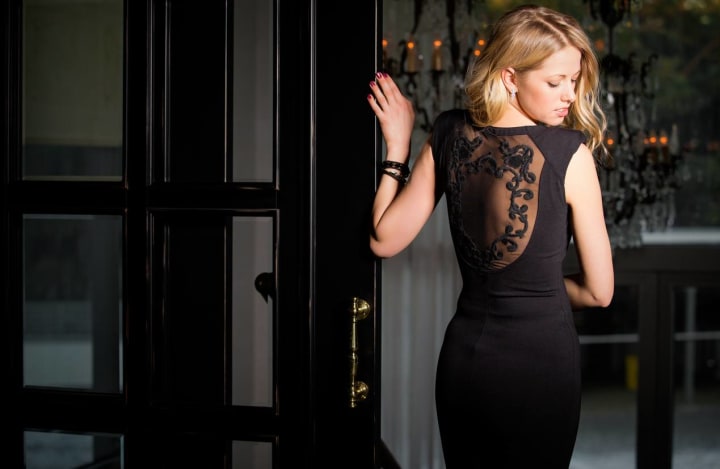 The LBD, also known as the Little Black Dress, is an absolute essential that every woman must have in her wardrobe. Now, personally, I believe a woman must own two LBDs, one more dressy to throw on for a last minute dinner party or important meeting, and another more casual one for a day of shopping with the girls or a night at the bar. There are so many things you can do with this dress to make your outfit go from day to night. Add that blazer I spoke about, change out your office shoes for a pair of heels, accessorize with jewelry, layer some makeup, or add a belt or scarf. I can keep going, but I assume you are getting the point. So, do me a favor, follow the well known LBD rule by owning at least one, but I recommend doubling down for both potential scenarios. I promise you, you will thank me.