How to Explore Hua Hin After Dinner
Revel in the Nocturnal Charm of Hua Hin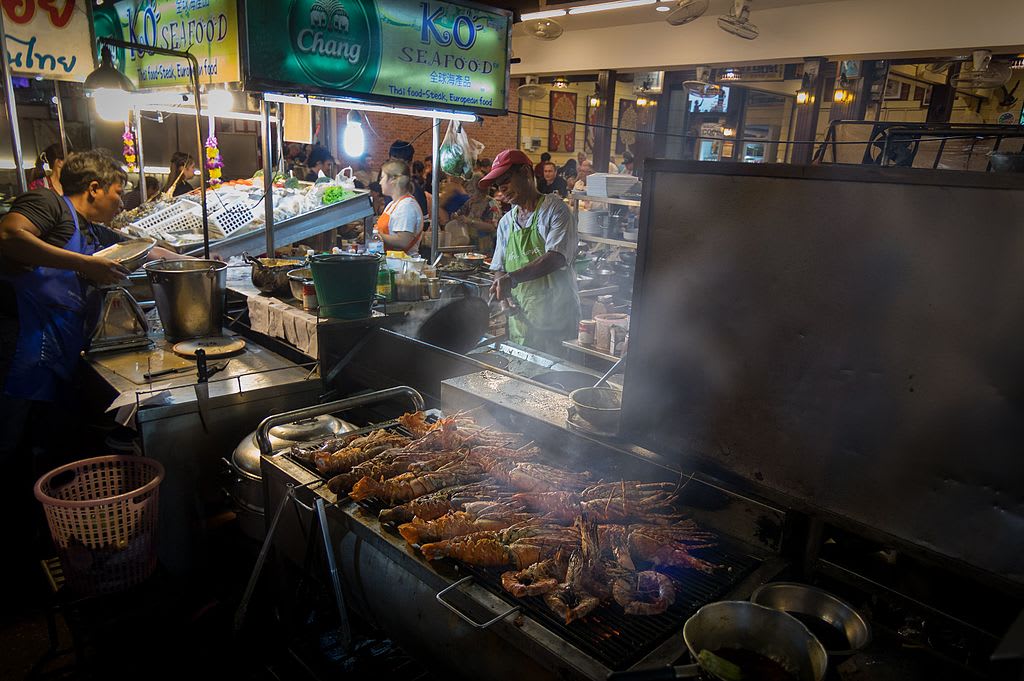 Bjørn Erik Pedersen, Lobster street vendor in Hua Hin night market, CC BY-SA 4.0
Hua Hin, a royal beachside town located on the Gulf of Thailand, boasts more than just daytime attractions. When the sun sets, this serene town comes alive with an array of night-time activities that showcase its unique blend of tradition and modernity. Whether you are into shopping, food or entertainment, Hua Hin's post-dinner experiences will keep you happy and entertained.
Hua Hin Night Market
Located in the heart of the city, just 13 minutes from Avani+ Hua Hin Resort, Hua Hin Night Market is a vibrant combination of sights, sounds, and smells. As night falls, the streets are lined with stalls offering a plethora of items from handmade crafts to trendy clothing. However, it's the tantalising array of street food that truly stands out. From fresh seafood grilled right before your eyes to local Thai delicacies, there's something to satiate every palate. Don't miss out on trying new dishes and make sure to haggle – it's all part of the experience.
Bars, Clubs, Resorts
This town definitely knows how to have a good time. Whether you are into upscale rooftop bars with stunning views of the Gulf of Thailand, relaxing at a resort in Hua Hin, or energetic underground clubs with top DJs, Hua Hin has something to match your mood. So, whatever it is you want to do, you are sure to find the perfect spot.
Soi Bintabaht
Often termed the entertainment hub of Hua Hin, Soi Bintabaht is where all the action is. As the evening progresses, the alleyways come alive with bars, pubs, and live music venues. Whether you want a quiet spot to sip on a cocktail or a bar to dance the night away, Soi Bintabaht has it all. Remember, while the atmosphere is fun and relaxed, you should always respect local customs and norms.
Cicada Night Market
Unlike the bustling Hua Hin Night Market, Cicada Night Market brings you a different kind of charm. It's a fusion of contemporary art, handicrafts, music and performance arts. Here, artists and craftsmen from all over Thailand showcase their creations. Beyond shopping, Cicada offers an open-air amphitheatre with live performances that range from traditional Thai dances to contemporary plays. There's also a diverse selection of eateries, which makes it a perfect spot for a laid-back evening.
Nightlife in Cha-am
A mere 25 kilometres north of Hua Hin lies the quieter, yet equally enchanting, beach town of Cha-am. Known for its relaxed vibe, Cha-am's nightlife is more about beachside bars and laid-back pubs than high-energy clubs. The coastline is dotted with spots where you can enjoy a cold drink with your feet in the sand, all while listening to the soothing sounds of the waves. If you are looking to venture beyond Hua Hin for the night, Cha-am offers a delightful change of pace.
Hua Hin Clock Tower
The Hua Hin Clock Tower is a symbol of the town's history, standing proudly in the skyline. At night, you'll see it shining in a golden light, becoming a central gathering spot. Its detailed designs show its historical architecture. Despite the town's modern changes, the tower reminds you of Hua Hin's deep roots. With many local places to eat and drink around, it's a perfect spot for you to relax and watch the world go by.
The Hua Hin Train Station
You'll find the Hua Hin Train Station to be Thailand's most stunning railway station, especially when lit up at night. Its royal pavilion, with its blend of creams and reds, brings you back to an older time. Built during King Rama VI's time, its mix of Western and Thai design attracts history lovers and regular visitors alike. As the night falls, Hua Hin Train Station becomes a time machine, recounting the tales of times gone by.
Reader insights
Be the first to share your insights about this piece.
Add your insights