How to Experiment with Fashion Statements
Wonder into new possibilities of wardrobe
It does take time to find what fashion style can stick to you without losing your identity. The evolution of style has varied over the years. But it's hard to find what styles is suited and what is worth taking a chance on. Various trends or ideas for a transformation might seem intimidating regarding the confidence and the finance.
The only fashion trend that stuck out to me that I did contribute to was the goth style. I loved the black arm sleeves, the different colored hair extensions, and the black long sleeve fishnet shirt that I would wear with a t-shirt. That was the only ambition I had to go with a trend that caught my eye, but it never lasted.
I started to branch out in my early 20s to try out different styles, I wanted to test out certain looks and build the change the wardrobe I wore to something I could take pride in. But pride comes as a price, fashion is not cheap, even in some thrift shops. I couldn't be able to go and get new dapper dresses or certain chic shoes or new T-shirts. I had to live in some of the same faded shaggy shirts and same stained jeans. I had to find different ways around the types of styles I wanted and work with what I had.
Over the past years I've found ways to be able to get the kinds of styles to my identity while being dimensional. I would like to share the versatile and universal styling that I have done after experimenting with various fashions.
Embrace your geek chic
It's always a fun favorite to sport a shirt of your favorite movie or TV show. It's the easiest way of a casual style to indicate to people what your interests are. The evolution of the design for media T-shirts has increased with new designs to wear.
When I was an anime fan, I always wanted a new T-shirt out of the current TV show that I was obsessed with, but some of those T-shirts can cost up to $20. As much as they are fun, they are not financially easy to try and buy every time.
Several years ago, this idea dawned on me, I have accumulated a lot of homemade buttons that I've collected over the years from various conventions.
I laid out a couple of jean jackets and I decided to have some fun with some fandom buttons to see how I wanted to decorate my jackets. I tacked on some buttons from the same series on one side or I had incorporated everything onto one jacket so people could know the many different TV shows and movies I was into.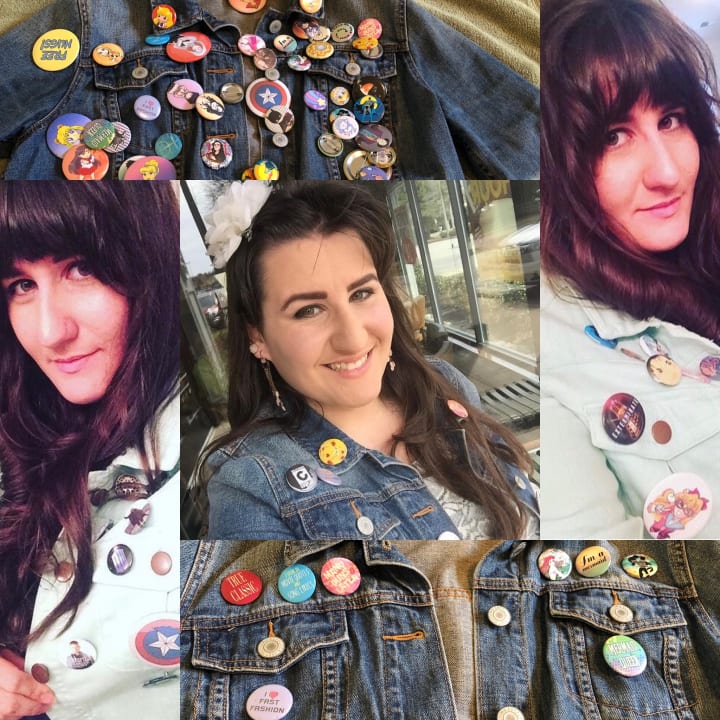 It's a creative way to make the most out of your jean jacket. By changing out the buttons or adding patches, it's a fun way to make a one-of-a-kind fashion statement every time.
The Bonus out of a Bodycon Dress
Prepare to have your mind blown for something that is going to help you out to create really cool looking outfits. All you need is use that form-fitting bodycon dress that will serve as the base.
I remember looking at my black body con dress and I wondered what the top half would look like with another bottom. I decided to try it out. I folded the bottom of my body con dress so it would be hidden underneath one of my skirts and I made myself to see how well that worked out. In the striped dress outfit, I added a belt to hide the elastic waist band of the skirt to make it look like it is a dress.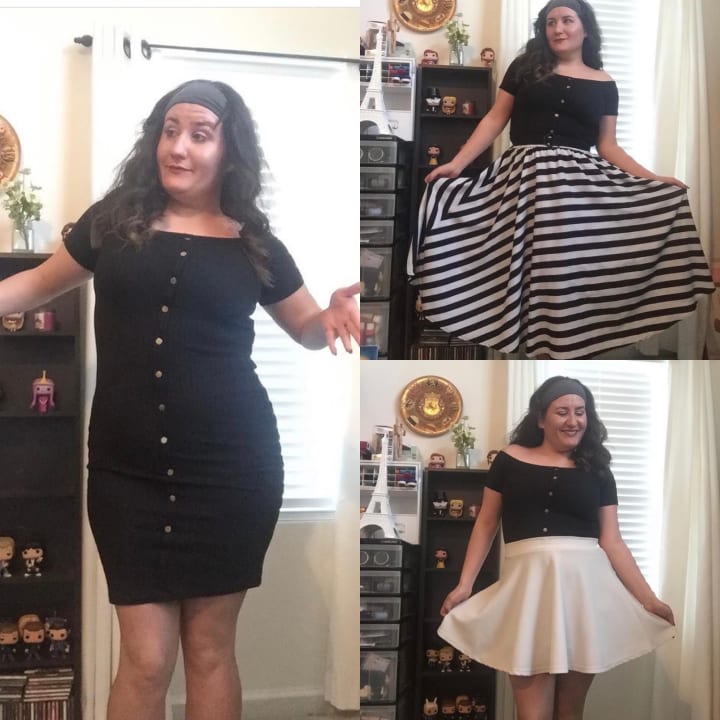 Wear One Color For A Week
I've seen this as a trend from the ladies of As/Is where they wore a certain shade of color or did monochromatic outfits for a week. I tried this out myself personally and wore green for a week. With Green, I found that darker green colors are defiantly my shade to wear. But going through the shades: mint, teal, grass green, dark green, neon green, etc.
It really does make you think about what you like to wear as a color, and think of the shades within that color that you can test out to see if there is a certain shade you would like to see more of in your closet.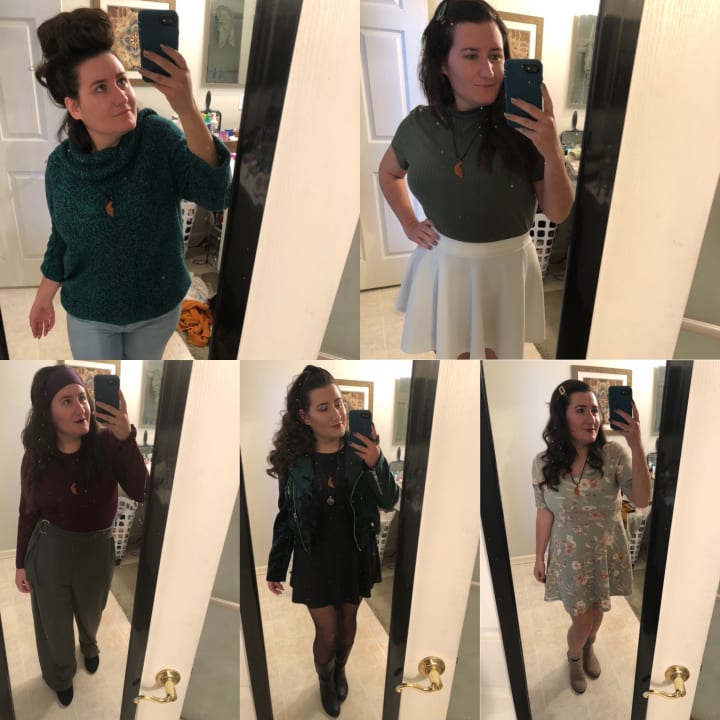 Fiction Inspiration
The best way to experiment with fashion is seeing how it looks on someone else to see a style you may have never considered before. Seeing a fictional character wear something that you never thought of, it would spark the idea for a style.
I'm a fan of the show Dead To Me, and I'm not gonna like I want everything from Judy's wardrobe. I loved modern, bohemian, casual styles she wears from her striped top with a button down skirt or A-line dress with a beige flared jacket.
A fictional character's outfit stands as it's own specific style then following a whole trend or style type. There could be one piece of the outfit that stands out that entices the idea to find something close to what the character wears. It also makes it fun for the search to find if there would be a piece of clothing that is close to what they wore.
Pick A Decade
The best way to find a style is going down the decades, most of the styles of various decades never truly go out of style. The styles of the past decades have been modified to be worn in modern day. There are lots of women wearing vintage poodle skirt dresses, 90s spaghetti strap dresses are coming back.
It's a style that has no fault to flaunt because it's following something that already worked. It's also something that you can modernize with what you want to add to the look of making that specific decade work for your own style to sport. I've worn a pair or bell-bottoms with a Bardot styled top to combine the 50s and the 70s. I've done a combination of the 60s and the 70s with a bodycon dress and knee length boots like I'm a go-go dancer (but don't ask me to actually dance).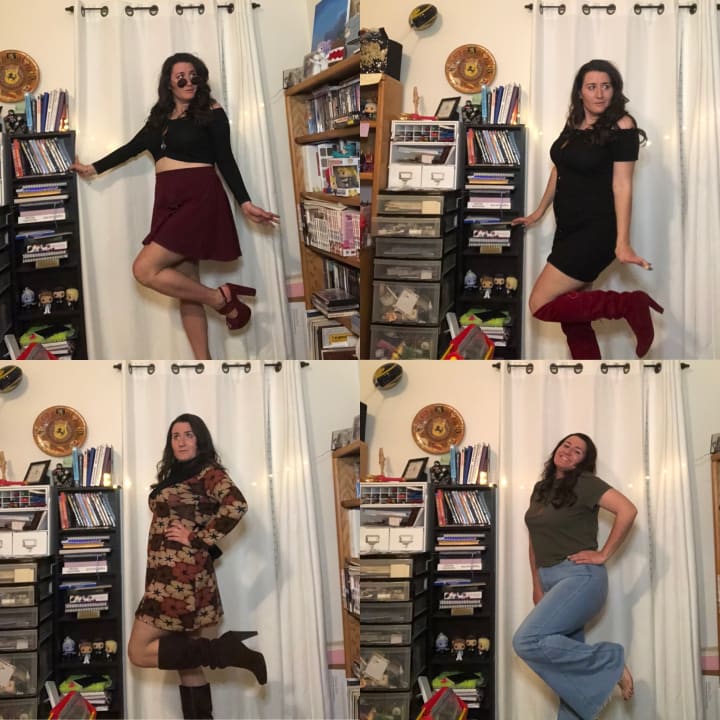 Just Try It
Bottom line it comes down to just stepping out of your comfort zone and just trying the certain style that you want to see how it goes. Fashion is best way to express oneself: to be posh, professional, playful, sleek, mystical, edgy, rustic, anything is possible.
There is no wrong way to do a fashion style, because if it didn't work out, you saw it through to see how it impacted your fashion sense. I tested out crop tops and learned that they were not my thing, I tried button up shirts look and learned that they were not my thing. It wasn't a failed experiment because I learned that it wasn't my thing as opposed to not even trying it out. As we making an evolution in our own era, our taste and style changes constantly, and it's fun to see what we wear in our evolution.
Worst case scenario if the style you tried out doesn't work, then you can always donate to Goodwill or go to a secondhand shop and sell it to them.
Additional Info
If you would like to see what fashion posts I made to flaunt and flare, check out my Instagram @themysticalspacewitch.
The section that had the 70s fashion pieces, I made a tiktok montage out of it that you can see on my tiktok account @themysticalspacewitch
For all the hard work I've done for these articles, a tip would be greatly appreciated!~
Thank you for reading & Stay fabulous
About the Creator
What's something interesting you always wanted to know?
Instagram: parrishpassages
tiktok: themysticalspacewitch
My book Inglorious Ink is now available on Amazon!
Reader insights
Be the first to share your insights about this piece.
Add your insights