Help, I'm In Love With More Than One Soul Mate
My torrid love affair with shoes (my drug of choice)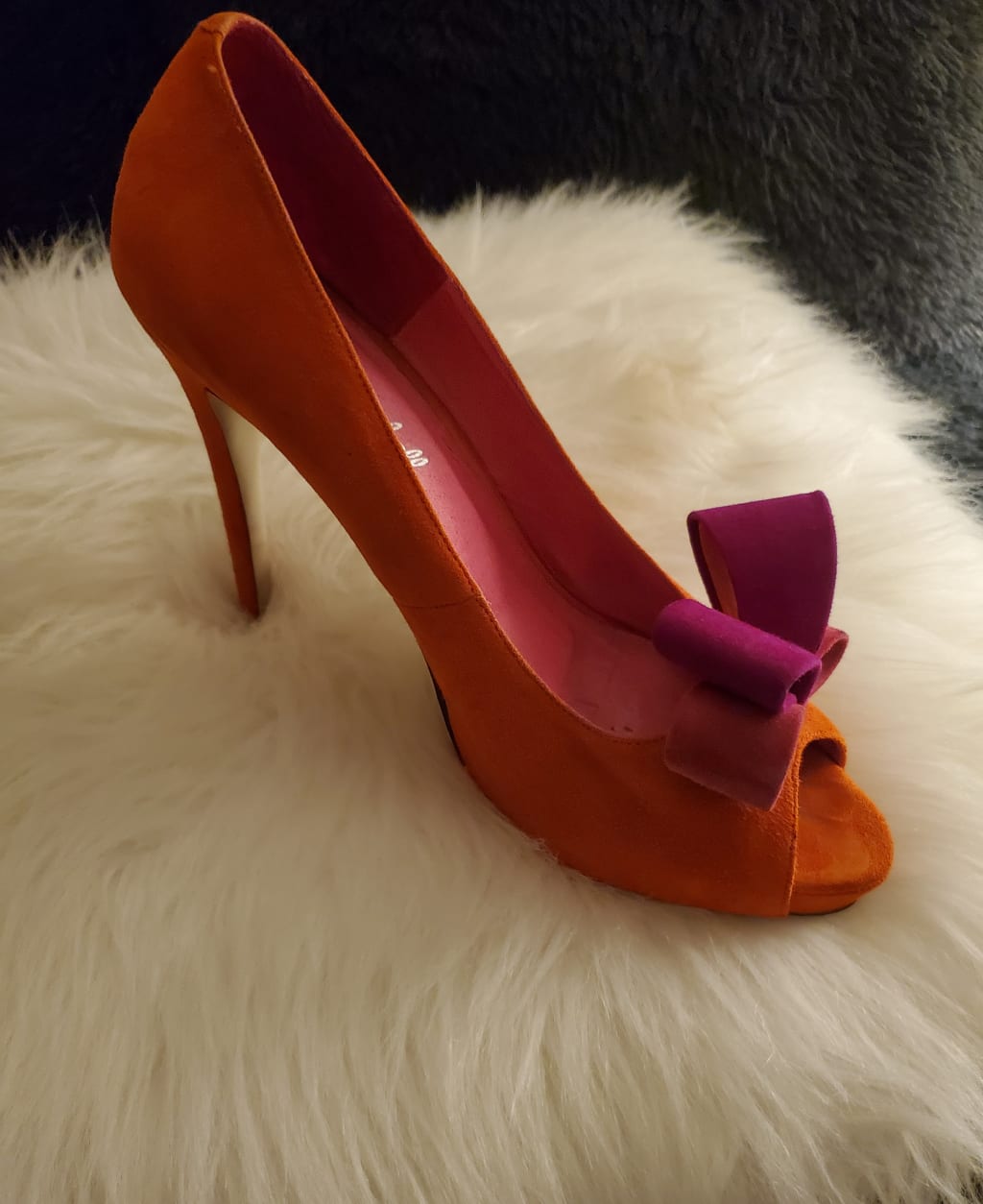 I lost my innocence at eight years old to a pair of black patent leather Mary Janes. I still remember opening the box to smell the new leather while I admired every minute detail down to the tiny white stitching on the T-strap. I placed them gently back in their tissue-lined box and tucked them safely beneath my bed – so giddy with excitement I could hardly sleep. I don't remember the Sunday best dress, but I remember those shoes. Thus began my love affair with shoes because I far back as I can recall, I always felt beautiful when I wore beautiful shoes.
Later in life, I discovered that I was not alone; many women shared my passion for shoes. Otherwise, why else would women try on countless pairs of black pumps and still be undecided about which to purchase? A black shoe is, a black shoe – spoken by every impatient man who has ever sat waiting atop a too small corner settee. But that would be tantamount to saying every woman has breasts. No two are ever alike, and shoes come in a multitude of styles and variations, even black ones. Each shoe brings its own voice to our personal identity. And when that same man might shout, but why would anyone spend upwards of $200 for a pair of shoes? For the love of adorning our feet in stunning beauty we would whisper back.
Conceivably, you could be one of the millions of women involved every day in a passionate shoe-love affair. How can you tell? Ask yourself, does your love for shoes rival a Kardashian sister? Like a lover's whisper, can you hear a shoe calling through the store window 100 ft. away? If you own 100 to 200 pairs or more, you have probably discovered the powerful addiction to designer shoes. And hear names like Manolo, Choo, or LaCroix in conversation at a party does your heart race; subconsciously do you moisten your lips as though someone spoke the name of a past lover who was incredibly good in bed? Hopeless shoe romantics sit in the higher elevations of the shoe tree. I know this because I have frequently perched precariously from one of those high branches weighing the purchase of Sergio Rossi shoes vs. paying the mortgage. I admit I've maxed out my credit card at Re Mishelle's Shoe Salon in Rome, and later passed on touring the Tower of Pisa to shop "The Outlet" outside of Florence, because Gucci shoes were 60% off.
Glamorous shoes, particularly couture shoes, make us feel sexy, powerful, creative, and even whimsical – and experiencing that "Dr. Feel Good" feeling is not predicated on our weight, our dress size, hair color, or if we had a bad day at work. No woman has ever asked if a pair of shoes makes her butt look big. It is purely about the shoe. Julia Reed said it like this, "I wear Manolo—exclusively…they endow the wearer with instant power; sex appeal, a distinct sense of possibility…I put them on, I feel as though there's not a room in the world I can't glide through…No shoes on earth make the feet look more beautiful. They make you feel like you do when you have on exquisite pieces of lingerie – except the whole world gets to see them".
The hopeless shoe romantic believes each shoe, like a soul mate, completes the story about who she is and where she is in life at a moment in time. The right or wrong shoe can make or break an ensemble or an event – because as any woman will tell you, your lover is an indirect reflection of you. Take for example, the time my black brocade Ann Klein shoe was my date for the pre-Billboard Awards party. I watched as women gave me that sweeping once over ending at the huge Swarovski crystal on the toe of the shoe. No, it's not about invoking envy, but appreciation for art, beauty, and style. I could only smile. Unique and awe-inspiring shoes often tease admirers with flirtatious ornaments, bows, buckles, or feathers; just as show-stopping heels articulate a certain style, heighten and shape a woman's leg and determine her cadence and posture. Toe cleavage or naked pedicured toes just plain reek sexuality. Frequently it is the shoe that decides the answer, "to cross or not to cross" the legs. After all, no woman races to don her trusted Sketchers or New Balances when she wants to feel sexy or to seduce. No! Ladies pull out the secret "bad boy" lover in the form of red stilettos hidden in a box at the top of her closet.
It is said that when the female baboon is aroused, she walks on her toes to signal to the male that she is ready to mate. It's no wonder men consider high heels sexy. They're responding to memories of an earlier evolutionary state. But can this might also explain the lack of passion or celebration in the everyday lives of so many women? Are we saving our enthusiasm, our sexuality, and our expression for a special occasion like our good linen or grandmother's china?
However, even if you can't afford to sacrifice the rent for a coveted pair of Christian Louboutin red bottoms, there are many inexpensive ways to embrace your passion. First, affirm your love affair and don't be ashamed to confess your addiction – it could be worse, AND illegal. Come to terms with your proclivity for expensive shoes and leverage that empowerment into a better you. "…Hi, my name is Deborah and I am addicted to designer shoes…" Then go on to discover the "soul" of your shoes – every pair, because much like the love in your life, shoes have something to say about you.
Start by educating yourself about top shoe designers. Do you know about Andre Perugia's designs? Did you know that he was inspired by Josephine Baker's trademark turban and reshaped that image into a quilted kidskin sandal? He later celebrated the machine age for shoe manufacturing, by fashioning a heel of twisted steel. He is quoted as saying, "…the way to unveil a woman's personality is to study her feet…" Are you lured by Italian shoe designer Salvatore Ferragamo's use of materials? It was the rationing of leather during the post-war recession that led Ferragamo to develop the wedge-shaped cork platform. And Hungarian artist Attalai Zita considers herself a shoe sculptor instead of a shoe designer and thinks shoes are the most important and exciting part of a woman's dress.
As a self-confessed shoe porn lover, who at one time owned over 250 pairs of shoes, I've come up a few more ideas for the truly love-sick that will help nurture your passion,
• Light candles and take your most prized souls out of the box and display them proudly around the room. Write down the time, place and noteworthy feelings, or significant events that happened the last time you wore them. Then tuck the sentiments away in the box with the shoe as a reminder.
• Spend the evening trying on all your favorites while sipping a good wine – which goes best with Chardonnay or Chenin Blanc? Again, try to embrace the emotion of how you feel when you wear them. Change clothes, mix & match colors and you might discover a whole new look wearing the same shoe.
• Keep pictures of your best "Statement" shoes as your screen-saver or framed on your dresser – who said your desktop is reserved just for kids, significant others, and dogs? Put your feet up and take selfies of you wearing a hot new designer – focus on the shoe and how great your legs/feet look!
• This one is a must! Get a pedicure or better yet, a "foot facial" regularly [note: the Four Seasons Spa in Las Vegas does an awesome foot therapy which includes a half-leg and foot massage; luxuriating foot whirlpool soak; exfoliation, foot mask, and moisturizer. Henderson's Green Valley Ranch Spa offers an incredible Peppermint Foot Therapy where your feet are wrapped in hot peppermint towels followed by a foot massage – are you kidding me? Pure heaven!]
• Create a deck of "Shoe Designer Flashcards" (the top twenty shoe designers). Use the deck as an ice breaker at your next girl's night out, bridal shower, or bachelorette party – skip the half-naked men and concentrate on the most exquisite shoes in the room!
• Need new ideas for your group's next fund-raiser? How about a ShoExchange? Everyone brings a few pairs of gently worn shoes for resale or exchange.
• Feeling a little intimidated by a new client, or anxious about an important upcoming meeting or presentation? Wear a pair of your power stilettoes along with the power suit – your shoes will back you up and give you confidence.
So whether you are a closet shoe romantic, a budget-conscious mom, or a flamboyant self-indulgent Shoe Diva, learn to choose wisely in love. Purchase from consignment stores to save money, open a money-market account for serious annual shoe shopping or buy online or off-season to satisfy that hunger. It's said that you can become anything you desire if you have enough money. I say you can be transformed into a phenomenal woman with endless possibilities – even if it's just for a moment – with the right shoe.
footwear
Author/scriptwriter Deborah Porter, has held a love & fascination for storytelling two decades. Porter writes a variety of different female-centric stories, & is also completing, 'Sweet Potato Pie,' a book of erotic short stories.
Receive stories by Deborah (aka Shula Divine) Porter in

your feed