Have Yourself an Upcycled Little Christmas
For the spirited & thrifty at heart.
Sustainable, or ethical, fashion continues to rise in popularity, garnering widespread chatter in the fashion world & popular culture. Seeing as how sustainable fashion is better for both your budget & the environment, what better year than 2020, amidst a global pandemic, to make upcycled clothing your gift of choice this holiday season.
For all my fellow creatives, thrifting is an outlet of endless possibilities. By reimagining the pieces you thrift & transforming them with your own unique flair, you open the door to completely exclusive, one-of-a kind pieces guaranteed to wow with just a few simple stitches, tears, jewels, or quirky embroidered detailing. How does one even go about this? Let's dive in.
Why sustainable fashion? Isn't that just reusing & regifting? How is that personal at all?
According to Forbes, while "fast fashion" may cater to the masses to meet the demands of the hottest and freshest trends by cranking out products in record time, it may not be the most eco-friendly option. Fast fashion is indeed "putting our future planet at risk." Global News goes on to highlight the bewildering statistics regarding typical "fast fashion" upkeep. 400-600 gallons of water to produce one t-shirt? Insane! While choosing to recycle & remodel fashion already produced, you can play a role in reducing the fashion industry's carbon imprint as a whole. I don't know about you, but that's enough for me to jump right on board the upcycled train. By completely altering these pieces to fit the interests & styles of those on your list, you're able to produce one-of-a-kind products no one can get anywhere else. That's pretty special to me.
Step One: The Thrift
The first step to sustainable fashion gifting lies within the thrift. While perhaps the most time-consuming & daunting part of the process, it is also the most important. Head on over to your local thrift store, whether it be the Goodwill, the Salvation Army, or if you prefer to shop online especially given the times, you may want to look into sites such as ThreadUp to fulfill your thrifting needs. On sites such as this, you can score major deals on major fashion brands starting at just $6. Who doesn't love a holiday bargain?!
It's important to keep in mind the person you're shopping for. What kinds of pieces do they gravitate towards? Are they adventurous & willing to take a trendy risk or do they tend to stray towards the more conservative side? Are there pieces they mentioned they'd love having that you could find thrifted mimics of? While it's hard to stop your own personal fashionista from infringing upon your purchases, I've found it best to try to eliminate as much of your own personal bias in the actual thrifting portion. This is what makes a gift truly special & catered to each and every person on your list.
Once you've selected the pieces you're going to modify, it's time to consider the ways in which you can completely transform these pieces to reflect the unique quirks, styles, & preferences of those you're gifting to.
Step Two: The Modification
Let the true fun commence! For this part, this is where you can truly lend your creativity & personal skills. For me personally, I opt for the fabric painted, distressed, embroidery path. The key here is tuning into the interests & styles of those on your list, while tapping into your own creative & specialized skills. Make sure to have fun with it!
A go-to for me is an embroidered patch work denim jacket. Denim jackets are a staple in any wardrobe but how unique to have one exclusive to you & you alone!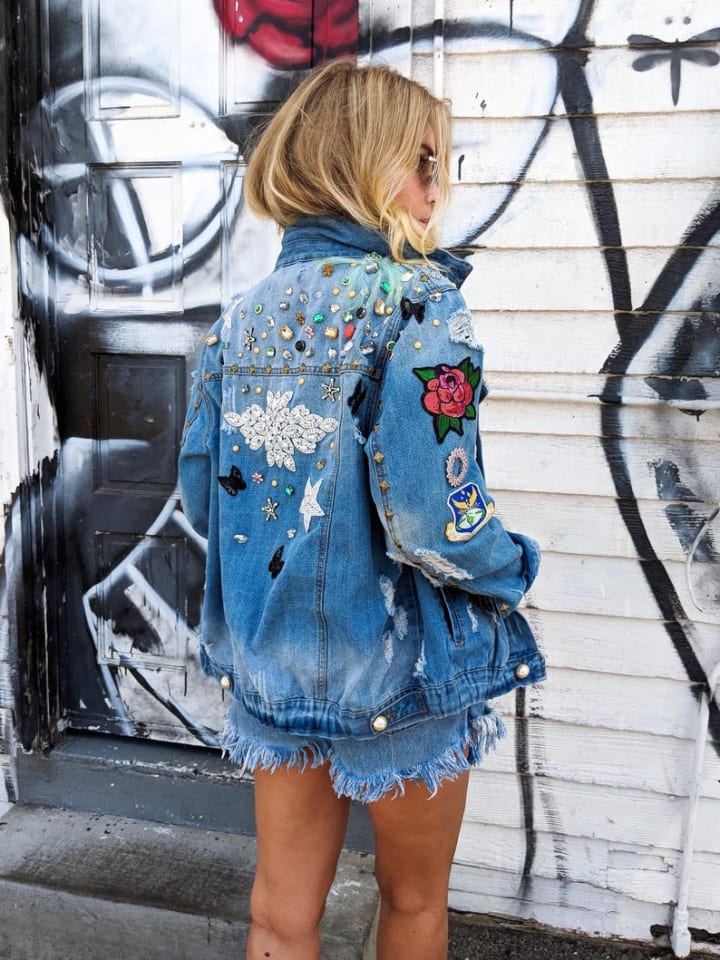 Step Three: The Wrap
Perhaps my own personal favorite part of the entire gift giving process, the gift wrapping portion offers an opportunity to put your own creative touch on every present you wrap. Spoiler alert: you can also do this in a sustainable fashion! My personal favorites lie in reusable brown bags, newspaper, & magazine clippings. I've always held an affinity for pop culture & current events, so by utilizing newspaper & magazine clippings, not only am I doing right by the environment, but I exercise a dear part of my personality. In recent years, I have taken to reusing brown bags, in turn making my own prints via acrylic paints, swigs from pine/Christmas trees, & adorning the final product with beautiful ribbons & bows.
Now matter which creative direction your gift giving takes you, may it be a happy, fulfilling, & sustainable one. At the end of the day, it truly is the thought that counts. Happy thrifting & happiest of sustainable holidays to you & yours!