From Bullied to Boss Chick
How Kheris Rogers Made a Business out of Loving Her Dark Skin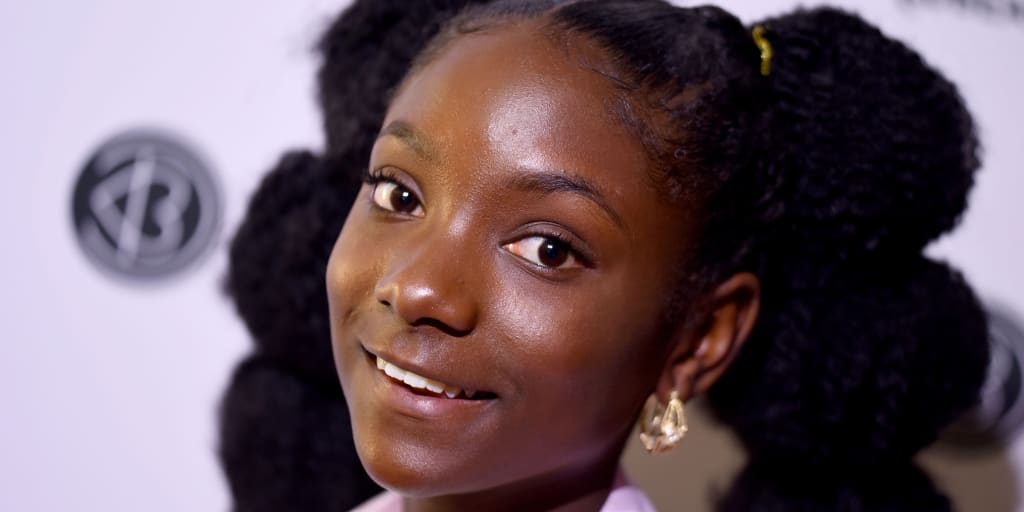 Copyright: 2019 Getty Images
There are few stories more inspiring than those about someone who, after years of being stepped on, finally gets their moment to shine.
A few years ago, Kheris Rogers was just a normal kid with some vicious bullies. Students at her school called her every terrible name they could think of simply because her skin was a few shades darker than theirs. It's an issue that many little Black girls deal with, unfortunately. But unlike most 10-year-olds, Kheris was an entrepreneur-in-the-making. Despite the many tears it caused, the experience gave her a business idea that not only changed her life but the lives of thousands of young girls like herself.
In 2017, Kheris debuted Flexin' In My Complexion, a clothing brand designed to promote confidence in people of all shades. The line was inspired by the support she received from her family whenever she was bullied. Her first designs featured t-shirts with the brand's name in huge gold letters—a bold statement to anyone who might have something negative to say about her skin tone. She cites her grandmother as an inspiration for having told her and her sister to be proud of their dark skin and how beautiful they are.
With this clothing line, Kheris was able to make a name for herself as a strong advocate against bullying, racism, and colorism. In recent years she's used her platform to reach audiences around the country and around the world on TV, as a guest speaker for events, and in multiple interviews with high-profile outlets. She now has over 285k followers between Twitter and Instagram. Across her social media accounts, she promotes positive messaging intended to lift the confidence and spirits of her followers. She says her vision for the future is "everyone being themselves and loving themselves on the inside and out."
Now, at 14, she's got an extensive list of accomplishments under her name. She's been on red carpets, appeared in major fashion campaigns and on book covers, and celebrities like Lupito Nyong'o (who she recently collaborated with) and Alicia Keys are wearing her clothing line. She's also breaking out into the acting and music scene.
You only have to look at the comments on her posts to see what an impact Kheris has had on the world. She's got plenty of fans of all ages who cite her and her clothing line as the reason they were able to overcome their own insecurities and feel confident and comfortable in their skin. As someone who had similar bullies growing up, I know how much the world needs to see her message. If her clothing line had been around when I was in middle school, I would have proudly worn it for the reassurance and self-esteem boost her designs offer.
Kheris shows that being "Black In Business" means being the kind of creative who supports others and strives to bring out the best in people.
Kheris Rogers is an inspiration to me because she embodies everything I love about being a Black girl—she's bold, creative, brave, and kind. Still incredibly young, she's got years of business experience under her belt and a bright future to walk into all because she had the optimism and the innovative thinking to turn a negative experience in her life into a unique opportunity. Now, as a model and businesswoman, she inspires other dark-skinned girls to be proud of their features and their heritage.
"Being beautiful means confidently knowing that you're enough just the way you are." - Kheris Rogers
fashion
About the author
Hey, thanks for checking me out. I can't make you any promises, but feel free to hang out and see if I write anything you like.
Reader insights
Be the first to share your insights about this piece.
Add your insights