e. motion: The Apparel Design Fashion Show
The University of Minnesota- College of Design presented e. motion, The Apparel Design Fashion Show, on February 2.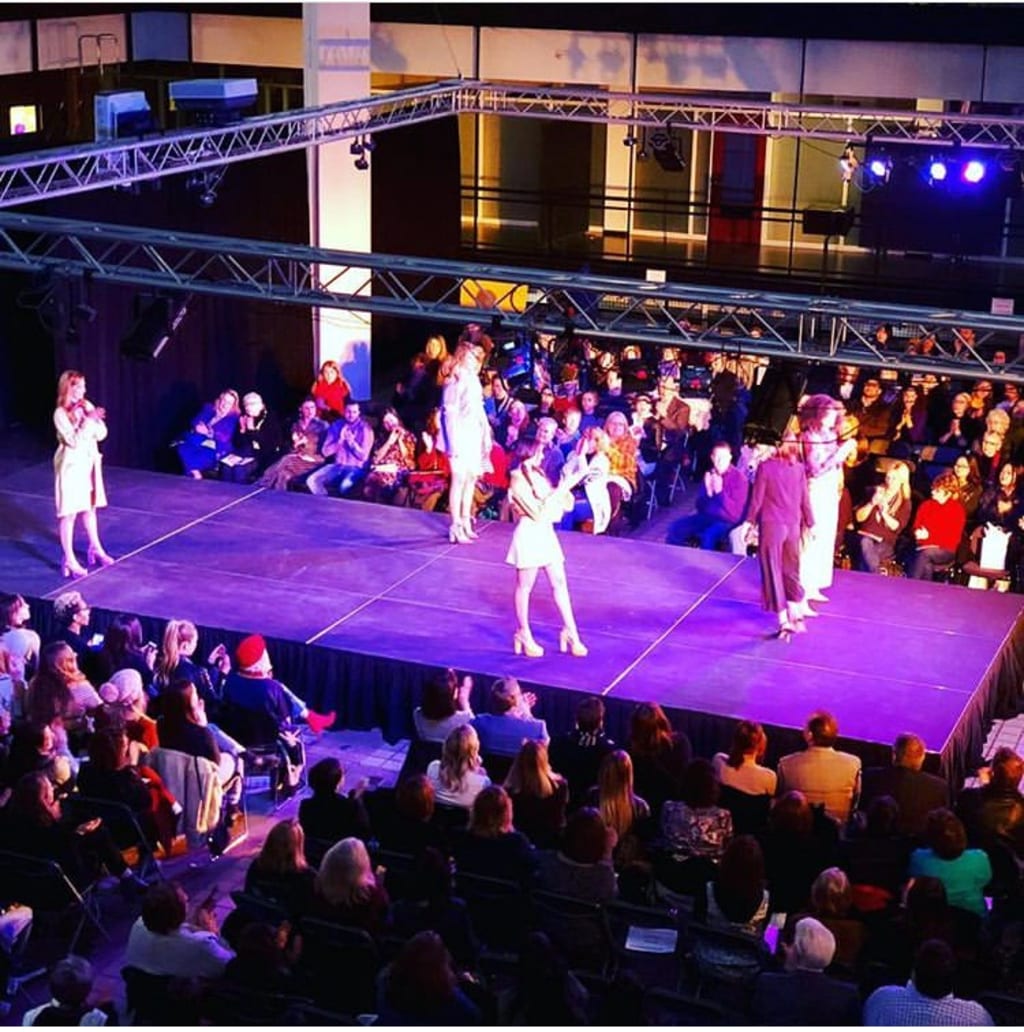 Rapson Hall grew dim and the spot lights burst on, igniting thrill in the audience and intensity in the courtyard. Twelve senior designers and their collections, that they have been working tirelessly on, are about to hit the stage for the first time. It feels almost like I'm sitting third row at New York Fashion Week. The DJ begins to play during opening and adrenaline takes the runaway.
The opening consisted of the senior class inviting sophomore and junior designs to walk the runaway. A mix of dark, bold colors and spring florals strutted down the runway, with a hint leather and leopard. Work and play seemed to be an ongoing theme in the opening. I observed everything from boho chic, workwear and playful athleisure, with metallics sneaking in at the end. Cue encore, as the stage welcomed Lindsey Strange, faculty lead, to announce the senior designers. Strange expressed that the semester brought on many emotions for the young designers and each collection provokes different feelings. I found it very intriguing before the show even began!
First up was the rogue collection by Alexis Frey. This was a vibrant take on activewear. The models portrayed a Millennium meets basketball court feel with chic, metallic crop tops and neon accents. Pastels also played a part in the form of sports bras and body suits. I could hear the chatter of excitement in the people next to me. Frey's designs were a fresh and feminine approach on modern gym wear. These pieces were not just meant for lifting, they're street style ready! An encore fills the stage as boujee takes deck.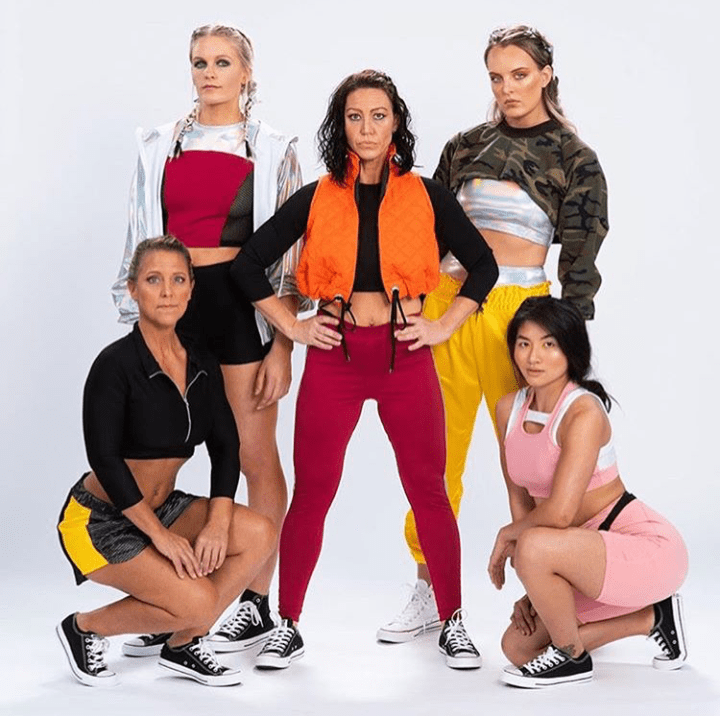 Boujee is a collection by Hailey Strobel. Strobel describes her designs as "a response to the chaos, disruption and confusion of the current state of the world." Warm and pastel colors take the stage. Parisian inspired looks meets retro is the takeaway from this set. Knee socks and high-waisted skirts and conservative tops make up this beautiful line. The line is inspired by French film "The Discreet Charm of the Bourgeoisie.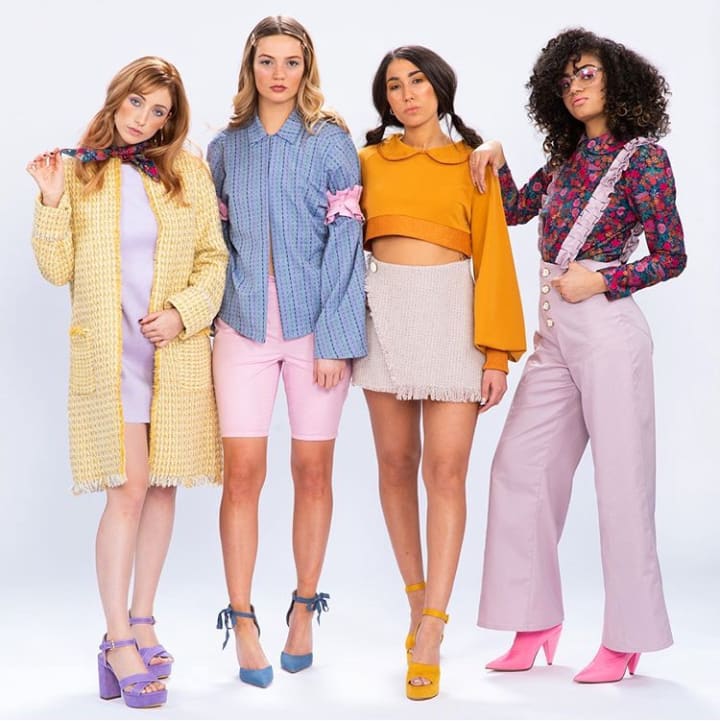 Moving on to denim and neutrals, Madison Young presented kew. Modern, yet feminine, this collection represented street style so well. Rough cut denim skirts, high waisted jeans and denim jackets were common in this collection. Throw in a mix of pattern along with the classic black and white look and you have yourself a versatile collection.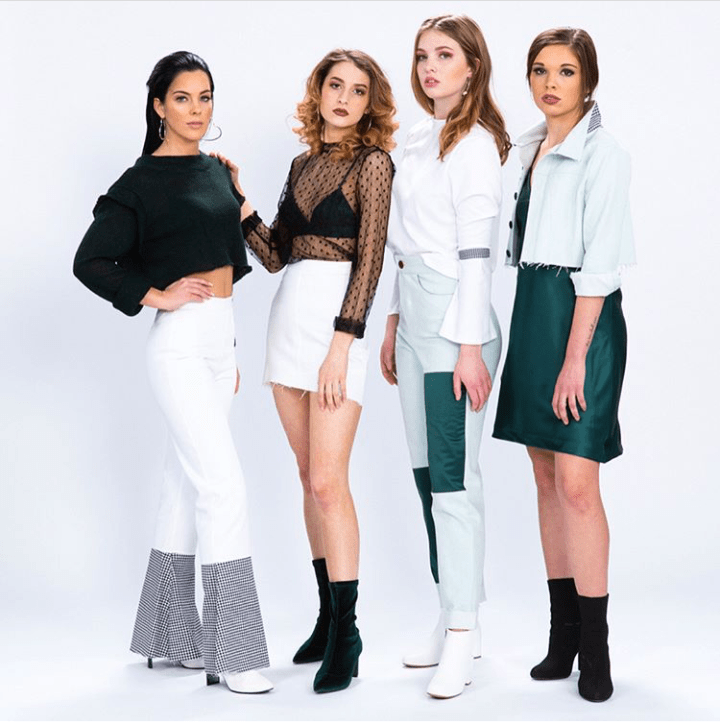 London calling! Designer Sarah Ramsay was inspired by London architecture for her the street style in her line. Bold reds and black and white checkered patterns took the runway. Ramsay's collection known as way out is a capsule collection we are here for, accommodating professional women on the go. So chic!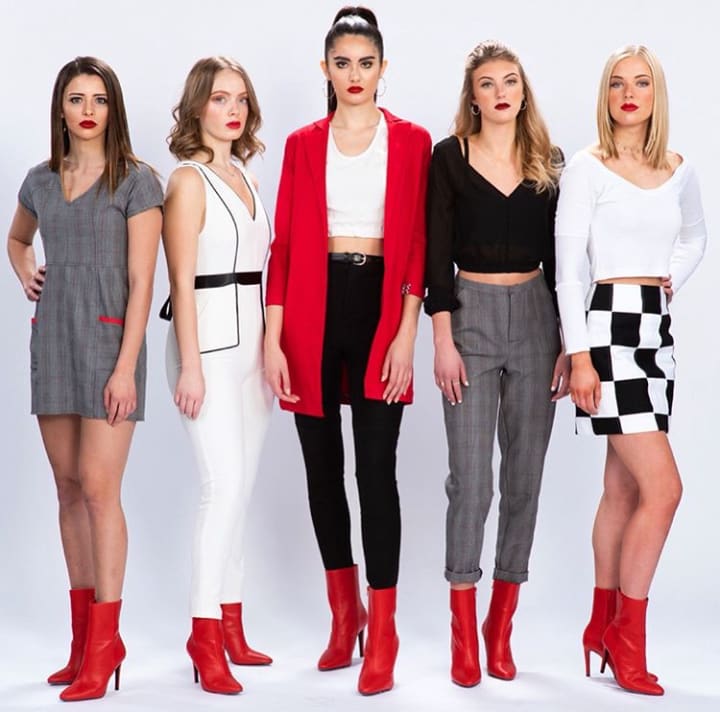 I found the next collection, forward, to be very inspirational. Designer, Caroline Albers put a personal spin on her line. Albers line is inspired by her mother. Taking dark colors and patterns and intertwining them with bold colors and patterns is something I saw a lot here. It's simple, yet inspirational. These designs are best described as "created for the many women who are imaginative, dynamic and progressive." What I found so special was that Anne Albers. Caroline's mother walked the runway in one of her pieces.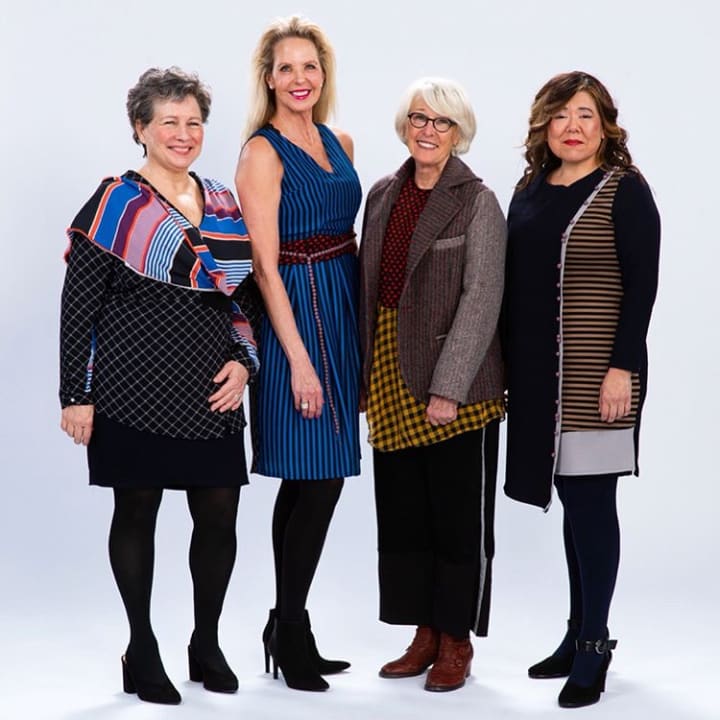 I was so intrigued by the goddess appeal from the next line. Karli Rastetter set the runway up with a feminine, meets Mother Earth, meets zodiac approach. As the models walked the runway passing a large crystal, the mystical designs kept the audience in awe. Tattered and distressed ends, trumpet sleeves and sparkle was all present in Rastetter's the divine feminine.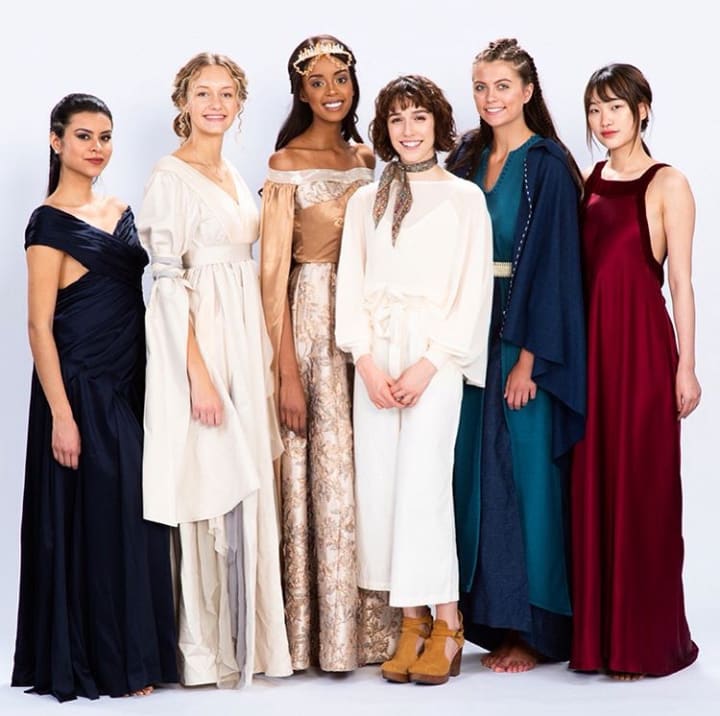 Going straight from feminine based, right into bridal was a great transition. Genevieve Romain's collection, évillier represents natural beauty. The designer surprised the audience with sending out a sweet flower girl to open the collection. The crowd was smitten! These designs featured light floral accents and pure, white tones. A hint of vintage aesthetic completes the light and airy feminine approach to these bridal gowns. Romaine's approach is inspired by the French countryside.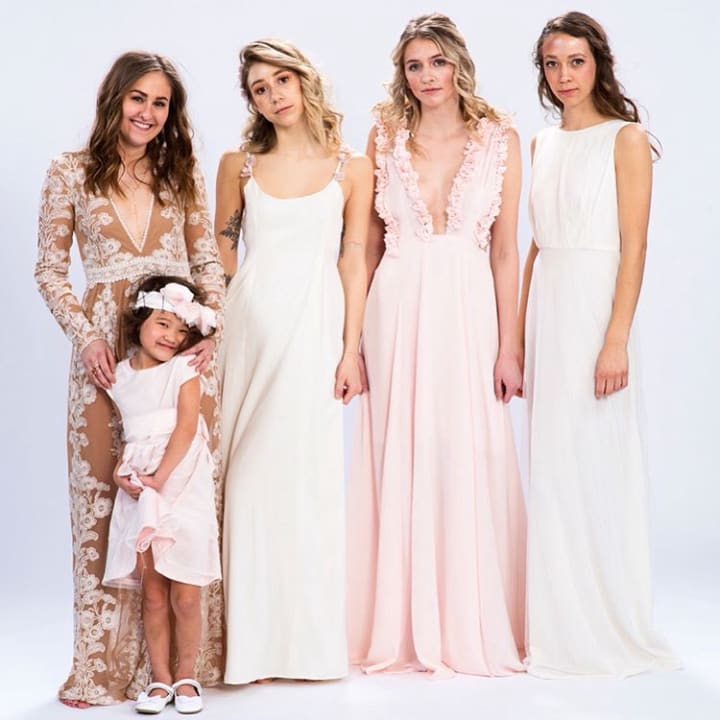 Ellen Becker set the tone for the wedding night with her line sensation. This pastel enriched lingerie line is delicate and chic. Pair lace detail bras and panties with bold and glistening jackets is a bold approach on sensual meets fairytale. Texture is the most present detail in this line. It's a glamorous and timeless approach on intimacy. Feathers and fur add a delicate and flirtacious approach.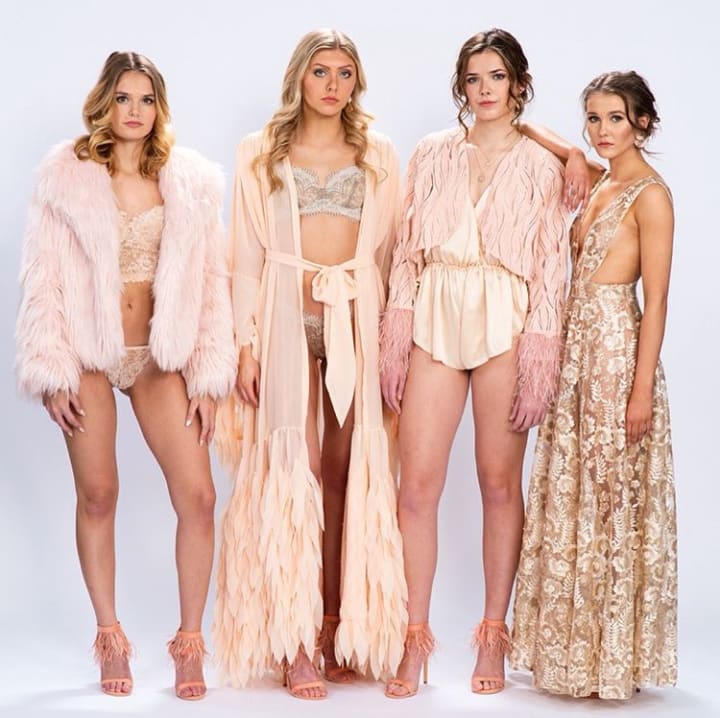 Next up, compulsion. Designer Madeline Rooney line can be described as "a play on the human desire to organize perceived chaos, as well as the urge to control our surroundings and experienced. White and transparent is the color scheme of this line, with added buckles and pockets. The pieces accommodate the modern, on-the-go everyday life, but leaves you with a futuristic aesthetic. I imagine if there was a fashion show on a spaceship, this is what we would be viewing. Paired with metallic makeup made it that much more extraterrestrial.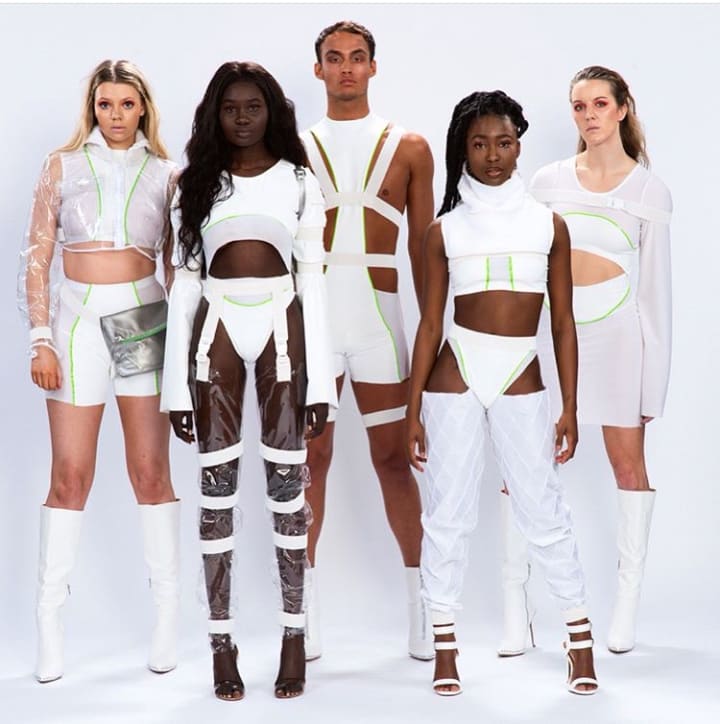 I'll be honest, it was a bit difficult for me to grasp what TPE by designer Annie Yang, represented. I was very much intrigued. After a little bit of investigation, it was brought to my intention that TPE is the acronym for the Taiwan Taoyuan International airport. It stands to represent the familiar and convoluted space of the in between. This line is to be portrayed as a cultural experience. The all black meets bold sashes of white, green and other neon colors wrapped around basic wear is a brilliant representation of culture. Very much outside the lines. I love a collection that keeps me thinking!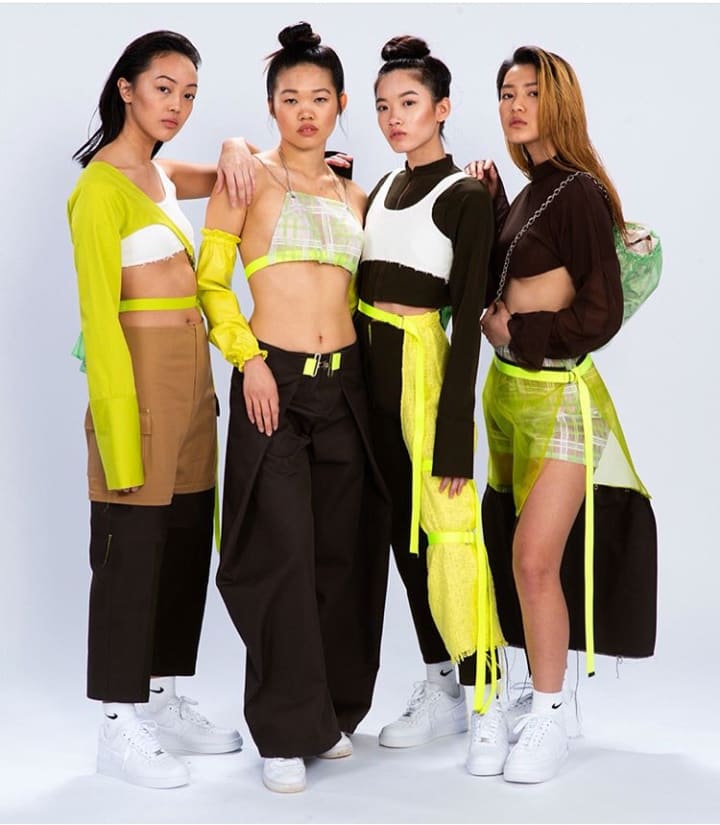 Much like compulsion, designer Ivan Gil is giving all the outer space vibes with his line, luna. Gil did not disappoint with his dark and glitter-filled portrayal of the night. What I love is the way that he described his inspiration: "the moon, the darkness of the night, A YOUNG CHER IN THE 1970s (just brilliant)! And a sexy party in space." From snakeskin metallics to glitter crop tops and a glitter medical mask, this portrayal of athleisure and party wear was a showstopper. Both young men and women modeled for this line and it was truly out of this world!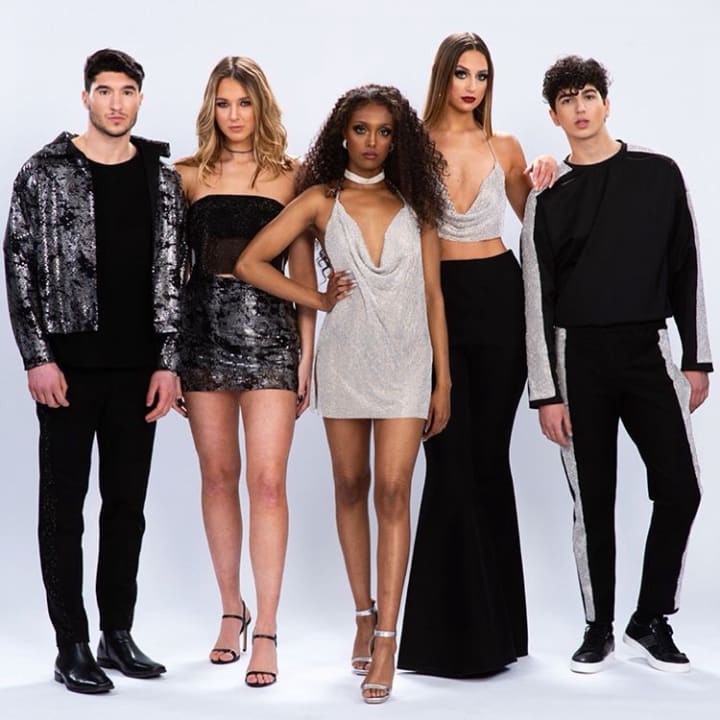 Emily Dufault finishes up the show with her collection pyro. Dufault's line is a celebration of natural beauty and power of women. "Emily wanted to use her designs to highlight the unique beauty of each model, using the destructive properties of fire and what is left behind to capture their power within." All black, with added bronze and burnt orange tones set the stage for the name. The rugged and spiderwebbed look of the collection was a great representation of the raw power portrayed.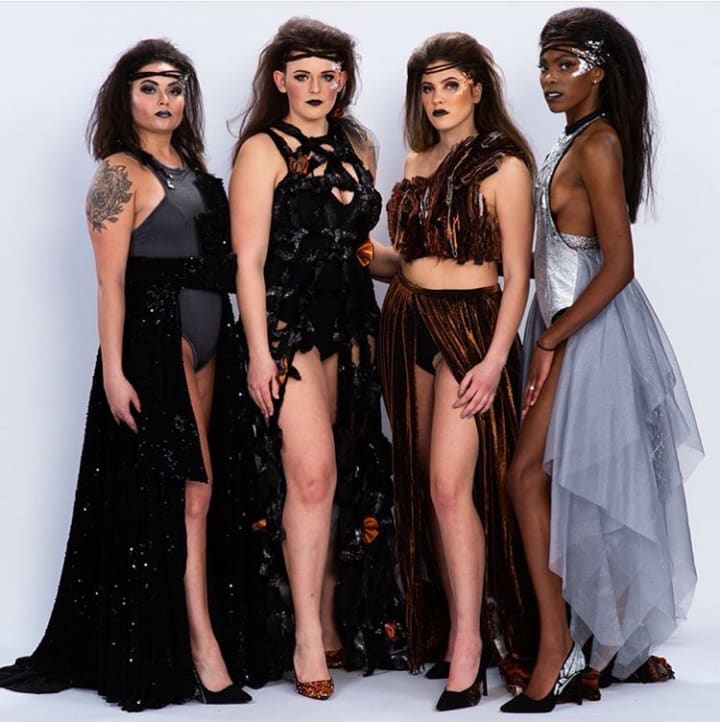 I truly applaud each designer and thank them for using many different races, genders, shapes and sizes as well as abnormal and culturally infused approaches to the show. It sets them apart from the active industry. A lot of times we do not see diversity in a field that needs it most. Congratulations to all of the designers for your hard work and creativity.
All photographs courtesy of Bryan Humphrey and the UMN College of Design.