Dressing for a Celebration of Life
What to Wear to a Celebration of Life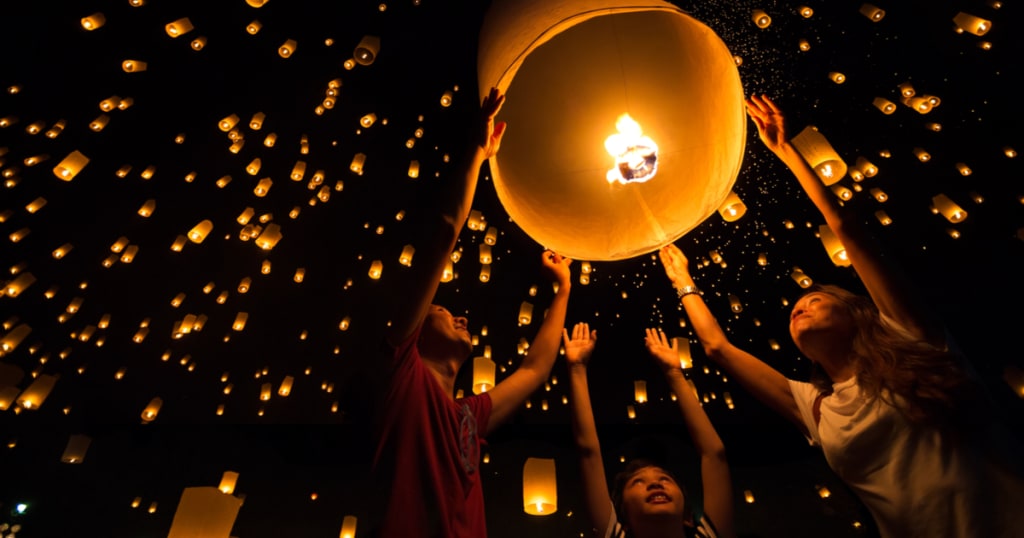 celebration of life
When someone dies, we need an opportunity to say goodbye, to honor their loves, and to celebrate the legacy they left behind. However, on many occasions, families want to hold a memorial service or a celebration of life ceremony instead of a traditional funeral. The rise of a celebration of life ceremonies is partly due to the need for family and friends to personalize their loved one's funerals.
While most of us are familiar with what to wear to a funeral service, we might have questions about what to wear to a celebration of life. Keep reading to see what our funeral home professionals recommend.
WHAT'S A CELEBRATION OF LIFE SERVICE?
A celebration of life is a simple ceremony that's held instead of a traditional funeral service. Celebrations of life are more casual and open. The idea is to celebrate the life of the deceased. At a celebration ceremony, family and friends remember the joy that the deceased brought to them and others. Music is often featured, and some families even choose to have dancing during the event. While some ceremonies will ask guests to wear formal clothing, others invite you to wear whatever you like the event is meant to create an atmosphere of peace, thankfulness, and joyful remembering, and dark, formal clothing may seem out of place. Most of the time, a celebration of life ceremony incorporates storytelling, ceremonial activities, and revolves around the life of the deceased. Some ideas of a celebration of life ceremonies could be:
Lantern release ceremony
Balloon release ceremony
Participating in a walk or a race
Taking a pottery class
Gardening party celebration
FUNERAL CEREMONY VS. CELEBRATION OF LIFE
Traditional funerals and celebration of life ceremonies have many things in common. However, there are distinctive ways to differentiate one from the other. A funeral is more rooted in tradition and often follows a similar schedule.
On the other hand, a celebration of life event is fully personalized to become an homage to the deceased's life. A celebration of life ceremonies often includes personalized items such as the deceased's favorite sports team, favorite hobby, favorite artist, and so on. Not to mention they are also set in a more casual environment.
HOW TO KNOW WHAT TO WEAR?
Choosing what to wear to a celebration of life event can be challenging. The fact that the ceremony is more casual might make it difficult to find an outfit that won't be disrespectful towards the family members. As you decide on what to wear, you want to keep in mind:
The location of the ceremony
The hour of the ceremony, as morning and night attires can change
The type of celebration of life ceremony
The activities scheduled for the ceremony
The dress code suggested by the family members
If you have questions, it is always best to ask the family members to make sure your attire stays within the proposed dress code.
PROPER CELEBRATION OF LIFE ATTIRE FOR WOMEN
Deciding what to wear to a celebration of life can be challenging for women. While this is not entirely a somber occasion, you still want to make sure your outfit is conservative enough not to be disrespectful. Most celebration of life ceremonies tends to avoid the color black. Instead, opt for lively colors, such as blues, pinks, greens, or yellows. Thanks to being more casual, you can wear jeans (as long they're not distressed jeans), day dresses, and flowing tops.
Accessories should remain simple, opt for conservative details. Depending on the type of ceremony, you want to make sure you are wearing proper shoes. For example, if you're planning a picnic or walk, make sure you have running shoes instead of flip flops.
WHAT NOT TO WEAR
Even though a celebration of life is perhaps the most casual setting to celebrate the loss of a loved one, you still want to pay your respects to the family and friends. Women should avoid wearing:
Neon colors and loud prints (unless you're wearing fitness clothes)
Mini-skirts, or outfits with low cleavage
Sparkling jewelry or noisy accessories
PROPER CELEBRATION OF LIFE ATTIRE FOR MEN
On the other hand, men can have an easier time finding what to wear to a celebration of life ceremony. For this occasion, wearing a suit is not necessary, unless the family chooses to have a black-tie or formal ceremony. Opt for a semi-formal attire instead; jeans, shorts, or even slacks are allowed. Colors can be more bright, and reds, yellows, oranges, blues, greens, white, and every other color will work for this occasion. Again, black is not at all required.
WHAT NOT TO WEAR
Even though men have more freedom to choose from, there are still some items that are not recommended to wear to a celebration of life ceremony:
Graphic t-shirts with profane messages
Swimsuits
Noisy accessories
EXCEPTIONS
As with any event, there will always be some exceptions. Celebration of life ceremonies tends to be different from wakes, funerals, or memorial services. Make sure you ask the family exactly what type of ceremony they're hosting. Many families will choose to host a themed celebration of life that may include wearing:
A uniform
Sports team t-shirts
Movie costumes
Clothes from an era
Fitness clothes
These are some ideas to keep in mind when looking at what to wear to a celebration of life invitation. If you ever have a question or are unsure about the dress code, reach out to the family, take a second look at the invitation, or ask a close friend what they are wearing to have a better idea of what you should wear. Just remember, no matter the style, your outfit should still be respectful to the family members and those attending the ceremony.
If you're attending a funeral or a celebration of life service, remember that you want to make the family of the deceased feel respected, while also making their loved one feel honored and cherished.
tips
About the author
Reader insights
Be the first to share your insights about this piece.
Add your insights