Chanel, the shopping expensive
Everyday shopping. Everyday Chanel
Today, the Internet has become the strongest tool in our daily life which provides a wide range of goods and services that can be used in our daily activities. In addition, Internet is an enormous source for people searching to increase their options of available goods to buy and the best ways to save their pockets. Online shopping has become a common shopping style ever since the internet has become so common and popular. Due to the huge benefits of online shopping, most people said that they like to choose online shopping over traditional shopping in recent years.
In addition, online shopping will be easier and more convenient specially if we take into consideration that there are crowed in the store and a long line for cashiers especially during festivals or special events. Indeed, online shopping is easy and convenient which do provide you a huge number of products from different geographical locations without any time limitation that make it the best way of shopping.
Traditional in-store shoppers are given the chance to physically examine, and even try the product out. This advantage is helpful with the purchase decision. If the choice is made to purchase, products can be taken home immediately. Traditional shopping makes refunds and exchanges easier also. Items can be taken back to the store where purchase was made for immediate refund or item exchange.
Lastly, there is no need to worry about security, like fraud and lack of privacy.
Traditional shopping in my favourite city, Venice. Chanel shop is a perfect solution.
My last shopping described here.
Chanel No. 5 Parfum Purse Spray. Classic profile but new format.
A subtly different interpretation of classic No. 5 perfume.
Refined, elegant & sophisticated. Delivers a soft & delicate sensation.Perfect for all occasions.
Though meant to fit into your handbag, this refillable flacon stocked with the iconic perfume is also easy to tote in any carry-on.
According to another, reported by Constantin Weriguine, a student of Ernest Beaux, the composition was inspired by Beaux's military station on the Kola Peninsula during the Russian Civil War 1917–19, with the intention to capture the scent of extreme freshness of the northern lakes under the midnight sun. However, Beaux himself has already used aldehydes in 1913 in the related Bouquet de Catherine, which had been inspired by Robert Bienaimé's big success Quelques Fleurs (Houbigant, 1912).
Beaux's perfumer colleagues Jean Carles and Edmond Roudnitska reported, which is that Chanel Nº 5 was in fact a remake of Beaux's Bouquet de Catherine (Buket Ekaterina) and Rallet Nº 1, respectively.
Ernest Beaux had his first big success in 1912 with the Bouquet de Napoleon, a floral accentuated eau de Cologne. A female counterpart was to follow on the occasion of the tercentenary of the rise of the Romanov dynasty: The Bouquet de Catherine, an homage to Catherine the Great.
Composed: floral citrus accord, hyacinth, iris, jasmine, pink pepper, patchouli, vetiver, amber, white musk, vanilla.citrus accord, hyacinth, iris, jasmine, pink pepper, patchouli, vetiver, amber, white musk, vanilla.
A FLOWER TRANSFORMED BY CHANEL
"Our work begins at our plant in Grasse. It is not only a production and processing unit for flowers, but also a genuine laboratory where we test, compare and take the time required to continually improve the olfactory result of each harvest. The raw essences are shaped and refined to become CHANEL essences."
— Olivier Polge, CHANEL In-House Perfumer Creator
Sources: Chanel.com
It really doesn't hurt to have your product endorsed, off-the-cuff, by not other than Marilyn Monroe herself. Ms. Monroe, who will posthumously front the latest Chanel ad campaign (due to air in early December), famously announced in an interview that she wore nothing else to bed but Chanel No5 perfume. A classy, genuinely elegant fragrance, although not one I can personally get away with, it's got a timeless appeal - Chanel No5 first launched on May the 5th - the fifth day of the fifth month in 1921, and it's most certainly a warming Winter scent.
For the holiday season this year, one of Chanel's Christmas ranges features a slew of new No5 products to match the existing perfume line. Ladies and germs, take note - if you want to add a bit of charm and sparkle to a Christmas present, you could do worse than gift someone you know who loves No5 with one of these matching products below...
Chanel No. 5: Created for Christmas, 1921, and presented as a limited edition of only 100 flacons as a gift to Chanel's best customers. It was released for public for sale in the middle part of the year in 1922. Ernest Beaux composed this exquisite perfume using the newly invented aldehydes.
N°5 has, since its creation, disrupted the codes of seduction and served the desires of women.
To complete the full perfuming ritual, CHANEL prolongs the trail of this legendary fragrance by creating a new sense-awakening moment with new bath and body products that invite you to fully immerse your senses in the world of N°5.
Wonderful for scent layering, and for complete day-long immersion in the No5 fragrance.
Regardless the cons, I love Chanel and their beauty products as they are super lush and the packaging is to die for. I also love that they don't have a massive product line so it's easier to increase your collection.
The foaming bath – bottle 200ml
A fine, generous foam, true to the fragrance, forms immediately upon contact with water for a pure moment of sensory relaxation.
Le Gel De Bain Chanel n.5 and Le Bain Moussant, Chanel n.5.
La creme corps, the body cream Chanel n.5 for body after douce.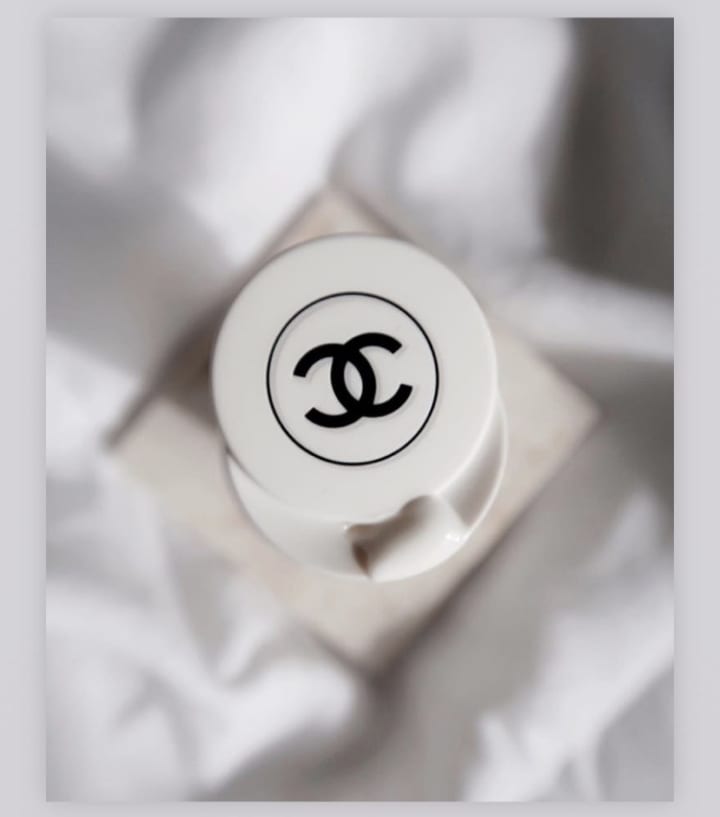 Review - The Fresh Body Cream is white in color, and rich and creamy in texture. The cream spreads easily on the skin, and it gets absorbed quickly despite its rich texture.
I repurchased this one many times, it makes me feel life is short, but we need to make myself each day that bit more luxurious.
I have little tester Chanel Blue serum eye, Hydra Beauty Overnight Mask.
Review - Why are this serum so interesting for the beauty bloggers and what does it means the ingredients are from the "blue zone" of the world?
Blue zones are region of the world, where people lives longer than average. There are five geographic areas where people lives statistically longer: Okinawa (Japan); Sardinia (Italy); Nicoya (Costa Rica); Icaria (Greece); Loma Linda (California). From this area people love longer and this is because of some key factors like less stress, plant-based diet, moderate psychical activities, moderate calories intake, engagement in family and social life.
It is created as a universal serum, to deliver a multitude of results, and you will appreciate it for that reason for it will deliver a better version of you over time.
In conclusion, I like online shopping because you have many possibilities on real clicks.
I love traditional shopping, in the central city.
Chanel has opened its second store in Venice at calle Larga XXII Marzo within a historical building. Spread over 3 floors, the new Chanel store which was designed by Peter Marino covers an area of 380 sqm. The boutique features the complete Chanel universe, including ready-to-wear, shoes, handbags, fragrances and watches.
Fashion has two purposes: comfort and love. Beauty comes when fashion succeeds.
Coco Chanel
shopping
Makeup artist, fashion/beauty blogger.
Journalist, editor and writer, and body painter of events and TV show.
Receive stories by Fluo & Pattern in

your feed