Bohemian Lookbook
Bohemian Fashion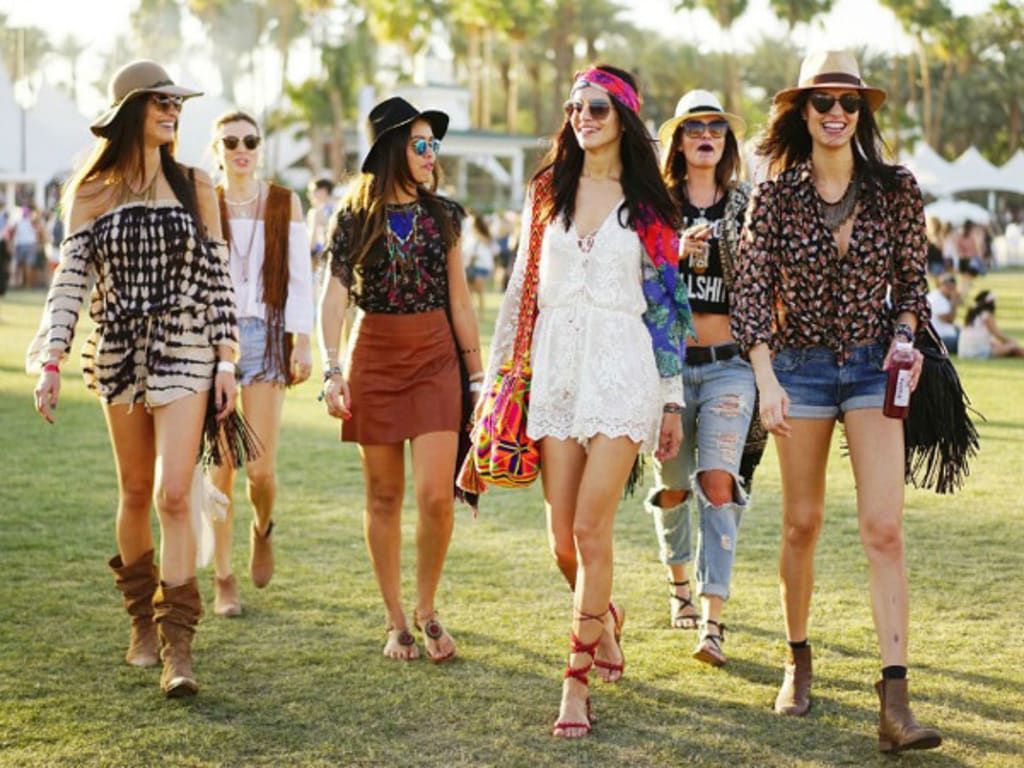 The textbook definition of Bohemian Lookbook is a sense of style that is as wide as the world itself as it is considered to be an expression of self among the immensely artistic and creative types. In the modern day and age, it is a healthy combination of a variety of silhouettes and hues. Many associate the bohemian fashion style solely with women (as it is colloquially known) is just as popular.
Bohemian fashion for women is versatile and a good mix of uniquely Indian and uniquely Western elements. A loose and flowing top paired with fitted bottoms or vice versa, is the general theme in Bohemian fashion for women. For instance, pairing of the spaghetti top or a gunjee with balloon pants or flared Jodhpuri pants are very popular among young women, especially college-going girls. Printed tunics or kurtas are also an important part of bohemian culture for women in India.
Origin Of Bohemian Fashion:
"Bohemian" was originally a term with pejorative undertones given to Roma gypsies, commonly believed by the French to have originated in Bohemia, in central Europe. By contrast, in the late 19th century and first half of the 20th, aspects of Bohemian fashion reflected the lifestyle itself.
The Early 19th Century Bohemian Fashion:
The bohemian sub-culture has been closely connected with predominantly male artists and intellectuals. The female counterparts have been closely connected with the so called Grisettes, young women who combined part-time prostitution with various other occupations. In the first quarter of the 19th century, the term Grisette also came to refer more specifically to the independent young women. These, often working as seamstresses or milliner's assistants as well frequented bohemian artistic and cultural venues in Paris. Many grisettes worked as artist's models, often providing sexual favours to the artists in addition to posing for them. During the time of King Louis-Philippe they came to dominate the bohemian modelling scene
The Early 20th Century Bohemian Fashion:
By the turn of the 20th century, an increasing number of professional women, notably in the United States, were attempting to live outside the traditional parameters of society. Paul Poiret incorporated a variety of ethnic designs in his collection, including Russian and Middle Eastern patterns and designs. Textile designer, William Morris created a variety of designs that included colours and patterns, both for interior designs and clothing line. He featured lush floral prints, paisley, and swirls, all intricate and highly ornamental.
Bohemian Fashion Tips:
One of the most important bohemian fashion tips any stylist can offer is to recognize one's own style and inject that into the wardrobe, whether it is in clothing or in accessorizing. However, there are certain things one can do in general to imbibe the boho vibe:
Cotton short kurtas for men are the easiest way to start off in the boho-chic style genre. While a majority of these kurtas are available in solid, khadi colors like off-white and light brown, prints can also be sought out.
Women can also wear printed floral tunics with their regular bottom wear garments. Knitted or crochet appliqué work on the neckline and the cuffs gives a more authentic bohemian look.
Footwear is also important to the overall look. Women can wear black strappy pumps with their outfits, while men can go for leather kohlapuri chappals. Both men and women can also explore mojaris, as one of the most viable options for styling. Embroidered mojaris with stones and gems are also very popular among women.
Beaded jewelry can be worn by both sexes. While a single string is the way to go for men, women can dress up a lot more with multiple strings of beads and chunky beads.
Maxi Dresses: Maxi dresses, no matter what era they're worn in, suggest ease of lifestyle that is quintessentially bohemian. From the one-of-a-kind finds in vintage stores to the high-end Camilla caftans, maxi dresses will always create a bohemian feel. Add an embellished belt and layered jewelry like Talitha Getty and you've got en entire boho ensemble.
Prairie Dress: Feminine, floral and fluid dresses will always evoke an effortless, boho style. Selena Gomez nails a modern take on the trend.
Embellished Ankle Boots: Perhaps a staple from the boho lovers closet, a pair of suede boots will always help you pull off the laid-back bohemian style. This trend became a go-to in recent years thanks to the Chloe studded ankle boot, which was a boho girl must-have during the 2000s revival.
Crochet: Crochet became a uniform for boho fashion and is still a major influencer in bohemian fashion. The popularity of Aussie label She made Me, has helped create a resurgence of crochet in recent years, having been worn on major stars like Kourtney Kardansian and Gigi Hadid.
Flares: Flares have become a must-have for any boho lovers wardrobe, it's easy to see why. The cut is ideal for creating the illusion of legs for days and adds an instant '70s feel.
Layered Jewellery: Australian influencer Elle Ferguson has become known for her beachy blonde waves and chic, effortless style. But, there's one thing the Elle Effect founder has mastered - with a little help from sister Baby Anything - and that's the art of layered Bohemian jewelry. Taking new and vintage pieces and pairing them together, Elle manages to create a layered look that is fluid, even among the chaos.
Capes: Championed by the likes of Vanessa Hudgens throughout her years of Coachella fashion, capes have become an easy and go-to piece for a bohemian look. Add with your denim cutoffs, crochet bralette and ankle boots.
Mixing Prints And Textures: If you've got a natural ability to pair prints, textures, fabrics and accessories, then bohemian fashion is your go-to. Bohemian style was born from the relaxing of rules and birth of free expression, which can be expertly portrayed in the relaxed, artistic boho style.