Biggest Summer Fashion Trends
Summer is the perfect time to give your wardrobe a facelift and experiment with new trends. This year there are already a lot of trends I fell in love with and I hope you can be motivated to test them out with me.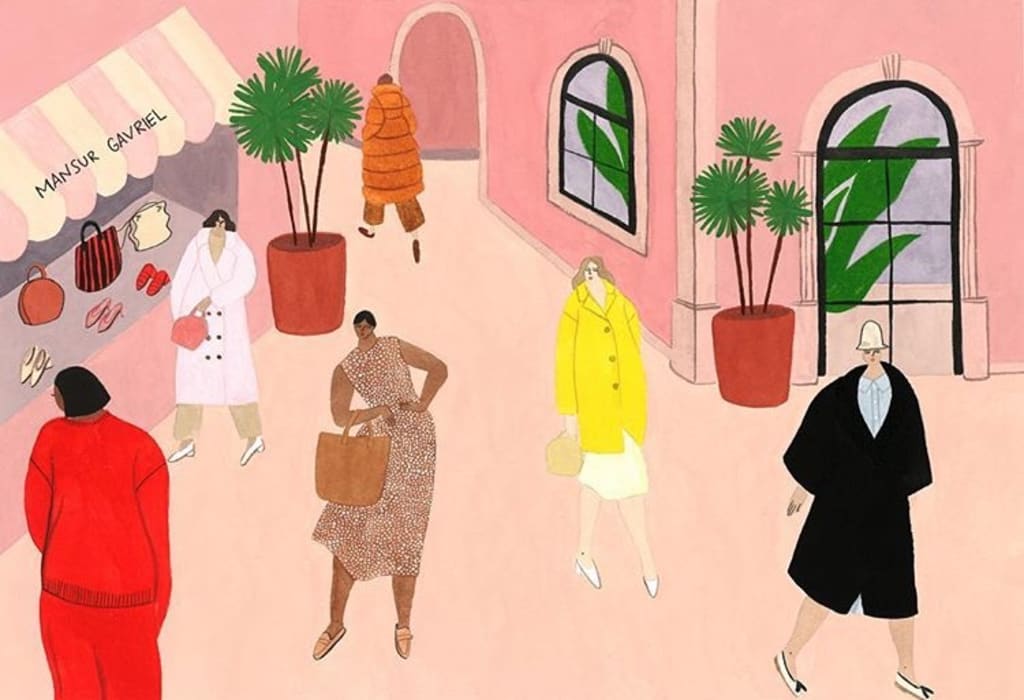 Artist: Isabelle Feliu (@isabellefeliu) She's amazing go check out her art!
I am the self-proclaimed trend expert (sorry Anna Wintour)! I pay attention to the outfits I see on Instagram, on fashion blogs, and what people are wearing when I'm out and about. This summer I'm falling in love with many adorable and feminine items I think everyone should have in their closet. I appreciate the fact that a lot of these pieces can be transitioned into fall weather too. I will be linking items that aren't outrageously expensive if you feel like treating yourself to a shopping spree!
Straw Bags
I am obsessed with this straw bag trend. They have such a summer vibe and will make you feel ready for the beach. I have been lucky enough to get my hands on some vintage straw bags but there are so many options online too. Treat yourself to a functional and chic bag!
Espadrilles
Summer in Italy anyone? Espadrilles may be my favorite shoe of all time! They are comfy and go with every single outfit I own. I love these shoes because they can even be worn in the fall. I like to call espadrilles the more fashionable version of Birkenstocks! The only downside is that these cannot be worn in the rain because the rope base will be ruined. I love mine so much I might bring disposable shower caps everywhere so I can cover my espadrilles for pop-up showers. Is that ridiculous?
Linen Everything
Linen is the perfect summer material. It is light, breezy, and will keep you cool on those humid 90-degree days. There are linen shorts, dresses, shirts, pretty much any clothing item. Linen does have one flaw, it wrinkles so easily. I will link the wrinkle release spray I use for on the go wrinkles.
High Waist Bikinis
I will admit, this one took a bit of convincing for me. But now, I am totally on board for this adorable trend. These high waist bikinis have a vintage aesthetic to them. They come in many different patterns and cuts, so if you don't want it super conservative, you can opt for a cheeky bottom or a high cut hip. I will link my polka dot suit from & Other Stories and some more cute options
Cat Eye & Big Frame Sunglasses
I am not loving this "tiny sunglasses" trend that is all over Vogue at the moment and I know a lot of people feel the same way. So, if you like normal size lenses, give cat eye a try! I never want to take off these adorable J.Crew sunglasses linked below and they come in three colors. Now I also love a classic big framed sunglasses, or as I like to call them, "Audrey Hepburn's". Sorry baby sunglasses, I'm not a fan.
Basic Tees
This is a trend that never fails to keep coming back. I love throwing on a basic tee with my linen shorts and espadrilles for a casual summer look. I have all three colors in this ruffle sleeve slightly cropped tee from Nordstrom that I will link below. I had to add basic tees in because who doesn't love them?
Rompers & Jumpsuits
You can't go wrong with a classic one piece! Rompers and jumpsuits are easy to slip on and give you a chic look instantly. I love light colors for summer and will link some cute options with breezy material!
Gingham
Oh, how I love gingham print. It has that irresistible vintage vibe that is really on trend for the summer. A gingham outfit would look even cuter with cat eye sunglasses *wink wink*. I love this print because it is playful and also feminine.
Where do I shop?
I have a lot of favorite stores to shop at all year round. I really love Nordstrom because they have thousands of styles that range from affordable brands to designer. Another great place is Shopbop, which is similar to Nordstrom. They also have an app where you can currently get 15 percent off your first order. Some more are JCrew, Madewell, & Other Stories, Abercrombie, and Anthropologie. I only shop during sales or if I have a coupon to get the most for the least amount of money possible. I'm thrifty, not cheap, I promise!
Thank you so much for reading and happy shopping to all my fellow fashionistas!
Katie McGuire
Hi I'm Katie! I enjoy writing, movies, books, traveling, and fashion so I'm here to share all my hobbies with you through my words. Feel free to check out some of my articles below!
See all posts by Katie McGuire →