A Simple Guide on How to Rock Biker Pendants
Biker fashion is the ultimate statement of masculinity.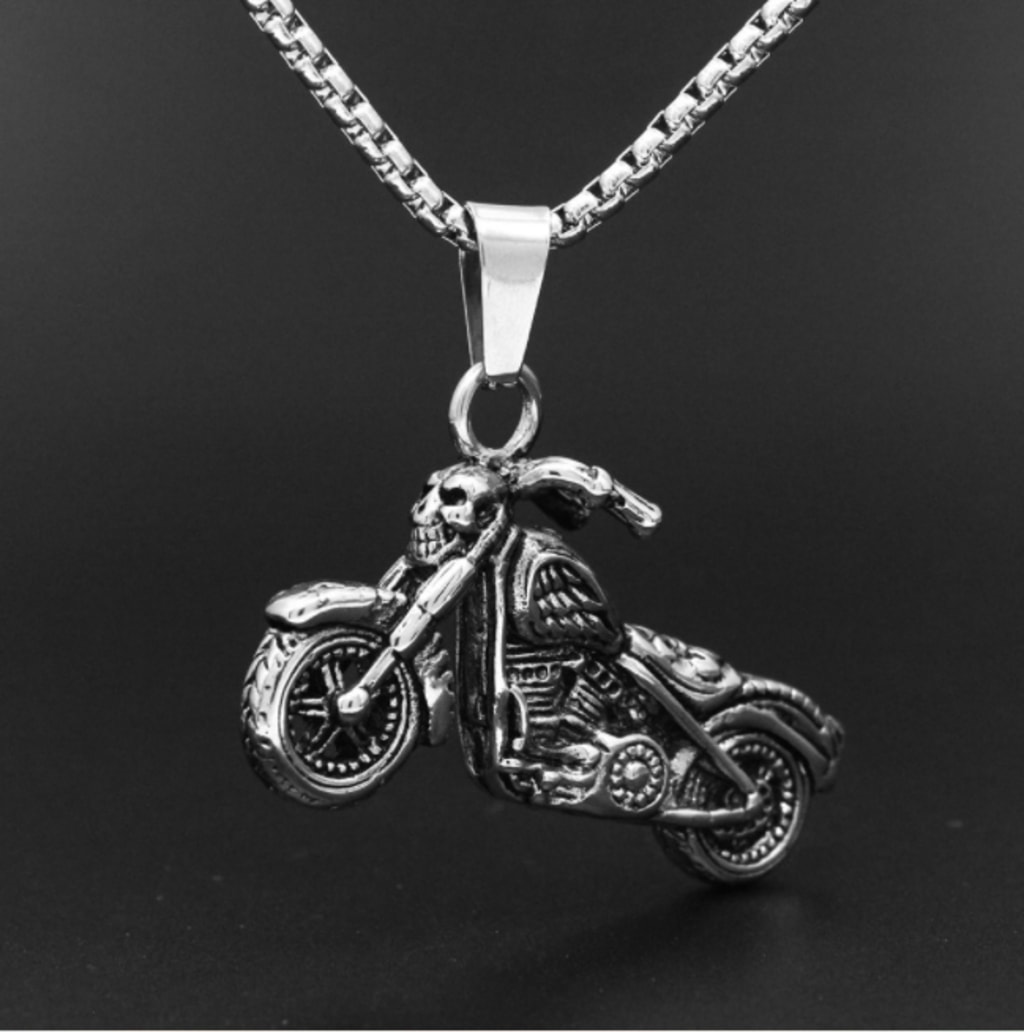 It comes as no surprise that many people who have nothing to do with riding a motorcycle introduce elements of biker style into their wardrobe. One may not be able to wear a leather jacket every day but a small biker pendant is an audacious accessory everyone can afford. Your goal is to make it look stylish, and we're going to teach you how.
Choose the Right Material
Historically, biker jewelry is made of silver or steel. The former option is ideal if you are looking for a long-lasting piece of jewelry that has some value. Silver is a precious metal meaning jewelry crafted from it is not just a trinket but a thing carrying a certain status. It may not become a family heirloom but it is no cheapie.
Steel, on the other hand, is a more affordable alternative to silver (although, frankly, biker silver pendants are pretty inexpensive). If you are looking for costume jewelry or want to build a small collection of jewelry without breaking the bank, steel will do nicely. Visually, silver and steel differ little from each other. Steel, to its credit, does tarnish over time, although if properly cared for, silver stays lustrous for decades.
Yellow metals do not resonate much with motorcyclists (although in the 1950s, many jewelry items were made of an alloy of nickel, copper, silver, and bronze resulting in a yellowish tint). Firstly, yellow is associated with luxury and extravagance, and these features do not fit well with the biker lifestyle. Second, and perhaps more importantly, motorcycles feature a lot of steel and chromium-plated parts, so it made sense to have white metals in a biker wardrobe as well.
Unless you're a true biker, you don't have to stick to the right metals. You may wear gold pendants if you like them more. However, you should learn how to combine them properly with other accessories.
Size Matters
It is generally accepted that all biker jewelry is massive and heavy. Indeed, many people believe that the more the better. However, you won't have any problems to find pendants with modest dimensions because the main principle in biker fashion is not heft, it is symbolism.
That being said, you must keep size in mind when pairing a pendant with a necklace. You have chosen a large and heavy pendant? In this case, a necklace should match it in appearance. A thin chain just won't support a significant weight. We suggest that you accessorize your neck with a massive Cuban or Anchor chain made of the same material as your pendant. To minimize the risk of looking like a caricature drug lord, stick to shorter pieces that rest on your chest rather than hang around your stomach.
If you have chosen a small and light pendant, the chain length may vary. It all depends on whether you want your jewelry to be visible under a button-down shirt is unbuttoned or you prefer to keep jewelry discreet. Since miniature pendants are normally lightweight, you don't have to pick an extra durable necklace. Feel free to opt for leather cords, which often look more stylish than metal chains. Plus, if your watch has a leather strap, a matching necklace will pack a double punch. Just make sure your accessories are consistent in color, texture, and design. A suede necklace won't match a polished leather belt or watch strap, and a black piece around your neck and brown around your wrist will look all over the place.
Biker Pendant Motifs
As we have already noted, it is not the size or material that turn a regular pendant into a biker pendant, but its symbolism. The biker subculture loves motorcycles and everything related to them, and this passion is reflected in their jewelry. Exhaust pipes, wheels, tire marks, motorcycle chains, pistons, a V-twin engine, and, of course, mean machines themselves collectively constitute the most popular motif in biker jewelry. It makes sense to resort to such themes when you yourself are a proud owner of a two-wheeler.
Another prominent symbol of bikershood is a skull. It can be depicted in various ways - a burning skull, a winged skull, a skull and a heart/rose/snake, etc. Additionally, it can be crafted as some kind of character (Grim Reaper, Pirate Skull, etc.). Bikers do not consider a skull to be the personification of death. On the contrary, it is deliverance and escape from death. For them, it is a patron and a good luck talisman. You may also want to get your own talisman; in this case, a skull will do an excellent job.
Along with that, bikers wear more risqué symbols such as the Iron Cross, 1%, weapon silhouettes, etc. These designs are suitable for bold individuals who are not afraid of public condemnation. However, if you do not know what a particular symbol means, do not risk it. Otherwise, you won't be able to avoid problems with the biker community.