9 tips for wearing gold chains for men
How you can wear gold chains?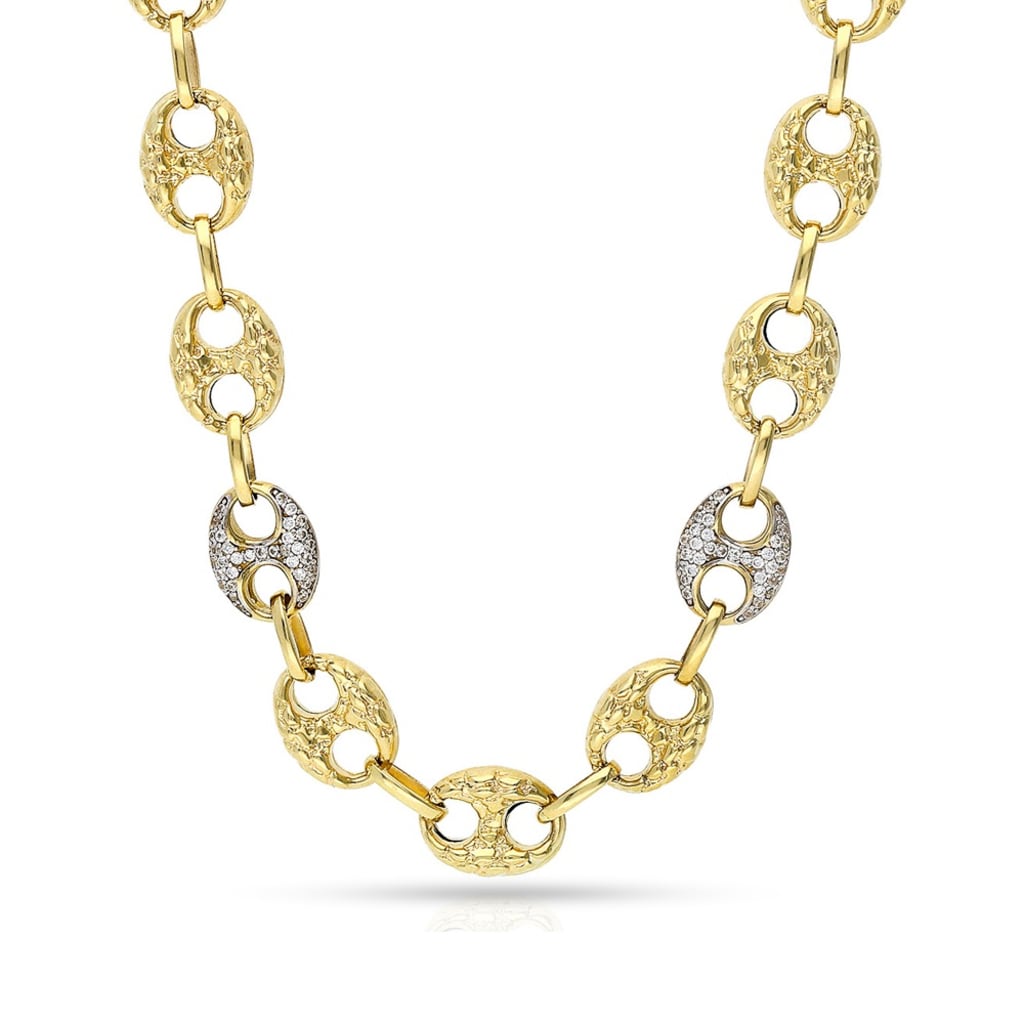 In the past, gold chains were worn as a token of devotion to a religion's supreme deities. They are now emblems of riches and social status. Rap singers were most typically the ones who popularized the usage of gold chains among contemporary guys.
Men's chains vary from women's chains in a few ways. Men's jewelry is designed to enhance rather than overpower, so it's a touch coarser and harsher around the edges. Men's chains should always appear spontaneous. Think about how long you've been wearing it after receiving it from your dad, who had worn it for decades before handing it down to you.
Today you'll see some livelier, richer objects, and even the huge "gold" of urban stereotypes will be in plenty. This type of Men's Gold Chains catches the eye precisely because it is unusual. Many guys who wear chains well aren't recognized only for their gold, and you'll first notice them as elegant before noticing the embellishments.
Men wear gold chains for a variety of reasons. They might be for emotional reasons or obtain the final piece of jewelry to finish the ensemble; this chain demonstrates their social standing and sense of style. Let's look at it more closely.
1 Identifying your gold
It's crucial to know the gold hue and karat that match your style while shopping for Men's Gold Chains. Yellow gold isn't the only type of gold available; white, rose, and even green gold are all available. When it concerns men's chains, though, yellow and white are the most popular choices.
White gold may enhance the simplicity and elegance of your earth tones and dark blues, whereas yellow gold adds a flash of brightness to your ensemble. Consider black gold and gold chain diamonds for a more macho style and a rougher mood.
The lower the carat number, the more robust the chain will be when it concerns chain longevity. If you're sensitive to certain metals, stick to greater karats like 14k or 18k gold, which won't affect your body even if you don them all the time.
2. Picking the Correct Chain Type
It's recommended to start with a traditional gold chain if you wish to innovate with your style. Various gold chain styles offered will generate more interest than you may be pleased with at first.
The chain you select will represent both your individuality and your sense of fashion. When it comes to men's chains, the goal is to complement an ensemble instead of being the focal point of your ensemble.
3. Making a Fashion Choice
Men typically view gold chains as a piece of flashy jewelry, a fashion statement, or a small gleaming item that wraps up their ensemble. Their personality determines their own taste and design, yet they consistently improve men's clothing.
Men's ornaments used to be restricted to timepieces and maybe a ring and an earring until gold chains. Accessorizing enhances men's clothing more enjoyable and pushes them to be more trendy, especially with the variety of real gold chains for men accessible currently.
A gold chain might be the right finishing touch for a man who wants to transform an average, everyday appearance into a beautiful ensemble. Allowing a slender gold chain to hang beneath an unzipped leather jacket may give a gentleman a feeling of great status.
Use a dainty chain to your daily attire for a faultless attractive appearance, or finish an exquisite outfit with a chain with a pendant.
4. Picking the Most Appropriate Width
Whether you're new to wearing a chain, a width of 2–6 mm is a decent starting point. When placing a chain, make sure it suits the chain and isn't swamped by it.
If you would like a bling dazzle gold chain necklace, choose a 12 mm or larger one. The breadth and thickness of a chain are inextricably linked. As a result, make sure they're in balance with one another. The 3 points listed here will help to clarify this.
1–6 mm — The thickness of such a chain varies from very slim to the typical width of most men's chains, and it may readily be hidden beneath your clothing.
Outside of your jacket, 6–10 mm is a good width for chains.
Ten and above — Chains thicker than 10 mm; the thickness of modern iPhones attracts attention; thus, if you want to amaze somebody, go for it.
5. Significance
Gold chains represent men's social standing and prestige in addition to being a stylish feature. Because they are usually costly, men who can afford this excellent piece of jewelry use it to show their social standing.
It can also indicate membership in a particular social group. Members of the hip-hop business, for example, were among the first to wear gold chains.
Furthermore, because yellow is associated with good fortune and impartiality in many countries, you can don a gold chain for good luck. Carrying such jewelry is also thought to keep negativity at bay; therefore, it provides wealth, joy, and tranquility.
Among the most common pieces of jewelry to offer as a present is a gold chain. As a result, many guys wear them because of the personal importance they hold.
6. Taking the Chain's Size into Account
The general design of your chain and the sorts of apparel you like will be influenced by the placement of the jewel that rests on your chest. The three factors listed below will help you better understand the length of the chain:
Shorter, choker-style chains go with everything, even if you're not wearing a suit. They do stand out beneath a shirt and tie or a turn-down neckline. However, this isn't always a terrible thing. They shine out on their own over a low neckline, and individuals can see the entire chain.
Unadorned metal chains usually have a mid-length length that ends around the base of your neck. A non-turndown collar, such as a T-shirt or an open shirt collar, exposes the majority of the links.
Pendants look beautiful on long strings or laces, and the decorations linked to them are usually only donned outside of extremely casual ensembles. If you want the chain to be seen, you'll have to wear it with a V-neck or a few undone buttons.
Note that you may always change chains as far as metals are involved. Nevertheless, it is recommended to save money by purchasing the correct length the first time.
7. Gold is an eternal material
Regardless of the sort of gold chain you choose, it will last a lifetime. As a result, this jewelry is a wise investment that may be passed down to the next generation.
8. Face shape matters
If you have a rounder face, a strong and shorter gold chain is not suggested since it will help your face seem rounder. A slender gold chain will look excellent on those with round faces to slim them down, while shorter gold chains look OK on those with thin faces. Furthermore, wearing a long necklace is not suggested for those with a long and narrow facial shape.
9. Regarding your wardrobe
Although gold chains may be worn with almost every ensemble, you need also be aware of specific, more stylish ways to wear them. You should avoid acquiring a choker if you have many turtlenecks because they can only be worn with garments that show your collar or neckline. Gold chains may look great with black or white circular T-shirts, jackets, Parker coats, and neck scarves depending on how you dress them.
Types of Gold Chains for men
1. Rope Chain
The tiny links in this chain make a rope pattern. The manner the links are connected provides this necklace with a serious aspect that can be dressed in various ways.
2. Box Chain
The square links are connected into a straight path, giving the chain its name. Denser models are a brilliant option for guys because of their sturdiness and ability to complete the macho style.
3. Herringbone Chain
The Herringbone chain is one of the few chains that can make a statement without a pendant. V-shaped links generate a distinctive herringbone pattern in the rows that interchange with each other.
4. Pendant Chains
Ball chain — Made of balls joined by a string traditionally used for Dog Tags, this chain is lightweight and robust. The tiny spheres are generally made out of metal, but for the best results, use the gold variant.
Figaro chain — A Figaro chain comprises two or three tiny circular links connected by an oblong link. This Italian style is regarded as one of the most high-quality chains in the world. A pendant, such as a cross or a medallion, can be worn with this type.
The term "rosary chain" refers to a collection of prayers used in Roman Catholicism. As a result, a cross pendant is always a good match for a chain. Wooden rosaries were used in the beginning. Gold rosary strands are now used to commemorate the incidents of Jesus' lifetime.
Wheat chain — This gold wheat chain resembles wheat grains and is an excellent pendant chain. It's basic and sturdy enough to go with a variety of pendants and trinkets.
Singapore gold chain — Because of its stylish, elemental pattern, the Singapore gold chain is one of the most common pendant gold chains. Because the chain is made up of coiled and braided strands, it's sometimes referred to as a Twist Curb chain.
5. Cable Chain
This traditional piece of men's jewelry comprises a series of circular links that are 90 ° apart. The Miami Cuban chain is a version of this style, with the thickness differing very slightly.
You may opt for a more oversized style by wearing a wider chain across your neck or a traditional look by adding a pendant to a narrower chain. These chains are available in jewelry store San Antonio tx, in various gold varieties, namely yellow, rose, and white gold (10K and 14K).
How Do You Clean Men's Gold Chains?
Gold chains for men are a sort of jewelry that may be worn for a long time. However, adequate regular maintenance is essential to guarantee that they endure a lifetime. When required, standard cleanliness and repair checks are needed.
While preparing to clean your jewelry, there are a few things to keep in mind, including:
First of all and foremost, a few drops of gentle washing soap should be added to a basin of tepid water.
Allow a few minutes for your gold jewelry to sit in this solution.
Soak a gentle, lint-free towel in the solution, then clean the necklace thoroughly before allowing it to air dry fully.
Remove any soapy residue from your gold chain by rinsing it.
Wipe with a soft rag, allow to air dry, then shine with a cleaning cloth for more luster.
Source:
https://exoticdiamondsa.medium.com/9-tips-for-wearing-gold-chains-for-men-7baf9a11230b