8 Charm Bracelet Concept Ideas that are Memorable and Chic
Want to find some insightful ideas about charm bracelets and catch the fashion of this summer? This article will do a big favor for your cham bracelets findings.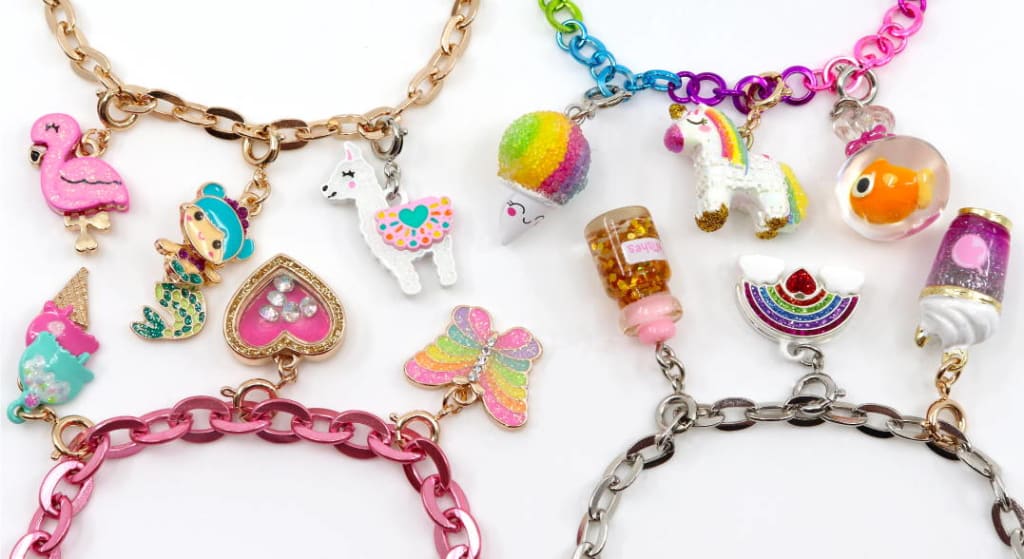 8 Charm Bracelet Concept Ideas that are Memorable and Chic
Charm bracelets are at their peak of popularity. This timeless trend has been around for many years but it has never failed to surprise us with new and refreshing takes on charm jewelry.
Aside from its cute and chic aesthetic, this design is beloved by many because no matter what your personal style is, there's always a charm bracelet for you. You can customize it based on whatever mood you're currently feeling, or even get a themed one celebrating a memorable moment.
The possibilities are endless. As for us, we've picked charm bracelet concept ideas that you might love. Here are some of them:
1. Victorian-inspired Charm Bracelet
Most in-trend charm bracelets for this year are usually playful with lots of bubblegum colors. But why not try a Victorian-inspired charm bracelet that will make you fall in love with the classics again and again?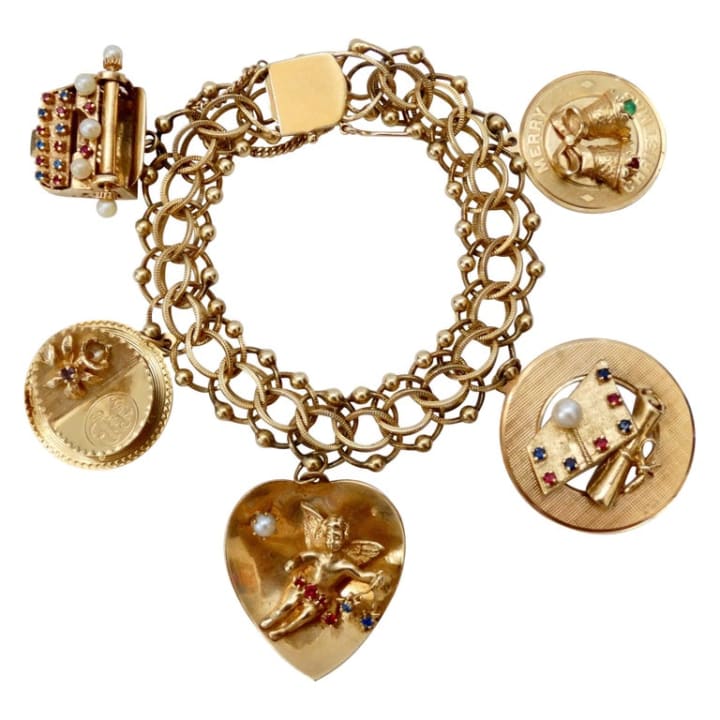 A mix of stained silver cherub charms with dull metal hearts and drops of pearls is the perfect celebration of what is considered a Romantic period. It's surely unique, especially when worn with casual clothes and it brings so much character to your style.
2. Vintage Floral Garden Charm Bracelet
Level up your usual floral jewelry with a vintage feel that will surely turn heads.
A vintage floral garden charm bracelet is for the ladies who wanted a more mature air for their beloved childhood floral accessory. Mix and match the charms of this bracelet with different flowers of different muted colors. A combination of blush pink, mustard yellow, and Tiffany blue works great against polished gold hardware.
Since it's not too bright and bubbly, this charm bracelet theme is perfect for office wear, formal galas, and more.
3. Fall Boho Charm Bracelet
Attending an outdoor party or music festival? Well, this charm bracelet theme might be just the thing that you need to spice up your wardrobe.
Embrace the outdoors through this fall boho charm bracelet. A mixture of black, gold, and stained silver would look great for a more darkened approach while keeping things bright with an all-pearl ensemble is the preferred look for many.
Whatever your preference might be, you can't deny that this concept theme is simply alluring. Pair it with your most flowy dress and you're ready to conquer the day.
4. Festive Bauble Charm Bracelet
Did you ever wish that you could just celebrate Christmas all year long? While wearing a Holiday sweater in the middle of June might earn you a few looks, this bauble charm bracelet will get you in a festive mood without being out of place.
A bauble charm bracelet works great with any outfit for any occasion. Charm combinations are totally up to you but our favorite is wire-wrapped gemstones mixed with pearls and small rhinestones. While it's an allude to looking like a well-dressed ornament on a Christmas tree, this charm bracelet theme will surely add the needed sparkle to your style.
5. Neverland Charm Bracelet
You can never be too old for fairytales and fantasies.
Channel your inner child that once dreamt to fly with Peter and Wendy with a Neverland-themed charm bracelet. Charms with tones of azure green and yellow accents surprisingly go well together. You can also use mixed materials like leatherette and twine to give it that lush forest feels.
This theme is on the rustic side that may not go well with semi-formal wardrobes but if you're going for a day of adventure, then this charm bracelet theme perfectly fits the brief.
6. Seaside Charm Bracelet
Nature-inspired jewelry is always a staple and we love to argue that you should always have one in your jewelry collection. But if you're late to the party, then why not start with this theme?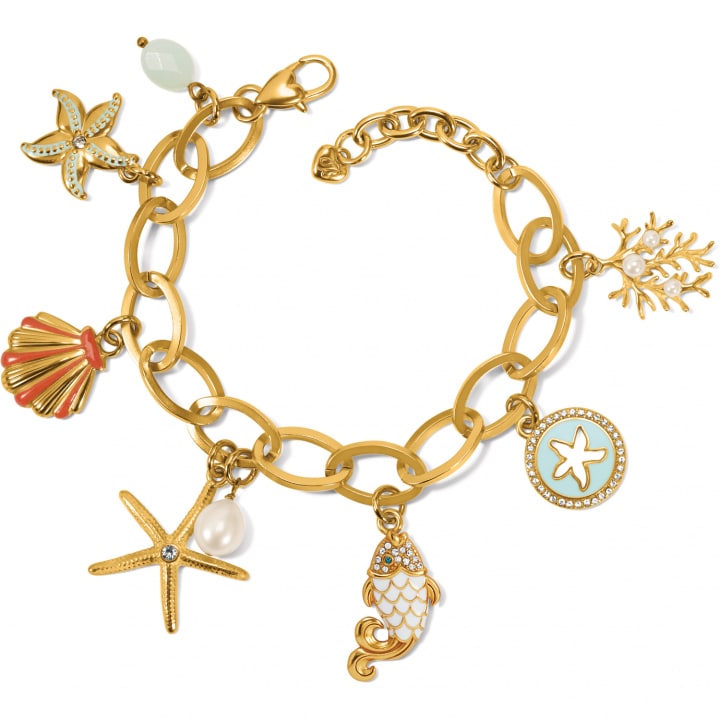 This bracelet style puts the charm in charming. It's sophisticated and whimsical at the same time —the kind of fashion jewelry that you would wear on vacations and at the office during the weekdays. For making your perfect seaside charm bracelet, take advantage of the colors that mimic the beach. Opt for yellow gold charms and turquoise blue for brightly-themed jewelry while royal blue and pearl white for a muted yet glamorous one.
7. Love Charm Bracelet
Celebrate your adoration for your family, friends, or a significant other with a love charm bracelet.
Since heart icons and charms can be overused in the jewelry industry, why not mix things up and create your own memento of love? It's a great idea to gift yourself with a blank bracelet and then add a charm to celebrate important milestones and events.
You could get a sunflower charm for the time that your boyfriend bought you a flower on your first anniversary. A shoe charm to remember a particular night out with your friends or a house charm to always keep a piece of your home close to you after you moved out. Since this bracelet theme is connected to your own experiences, it could possibly be the most unique jewelry in the world!
8. Travelogue Charm Bracelet
Everyone wants to have the freedom to travel and see the world someday. You might've felt this urge after your family took you on a Disneyland trip for your birthday or when you finished college and wanted to explore what the universe has to offer aside from homework and lecture notes.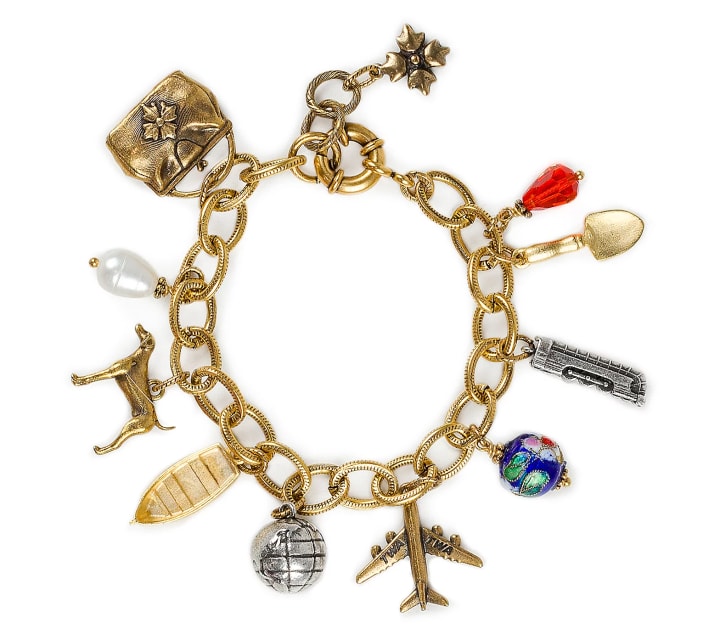 Whatever your case may be, it's safe to assume that you would want to celebrate and remember each wonderful place that you go to. So why not have a travelogue charm bracelet to commemorate every place on the map that you've explored?
Making a travelogue charm bracelet is quite easy. Start with a plain bracelet where you can attach different charms to it and then add one every time you visit a new place on vacation. Even better if you purchase the charms in the country itself. That way, you'd have a souvenir that you would actually use.
Charm bracelets are really fun to explore. Since everything is customizable and holds special meaning, you don't need to worry about which goes best with what. The process of picking the charms individually to turn into memorabilia is for us, the beauty of the jewelry itself. If you want to explore more about fashion bracelets, we suggest you check JewelryBund which is a very professional bracelets shop offers wide selections bracelets and bangles so that you can obtain more ideas or get your favorite ones at one-stop.