7 Most Stylish Nollywood Actresses Over 50 (Photos).
These women prove that age is nothing but a number.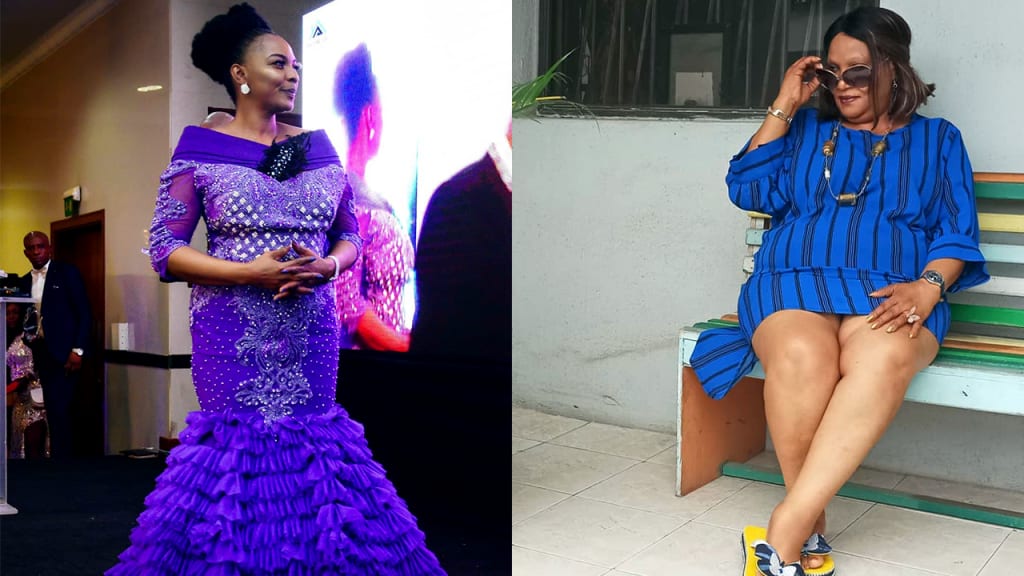 These women prove that age is nothing but a number.
If there's one thing Nigeria isn't lacking, it's women in entertainment. I think something I find interesting is the fact that when the feminist movement really picked up, especially in Hollywood and people standing up for more women in films, especially women of a certain age, I realized that I as a Nigerian was actually privileged. Why? Because we never lacked women on our TV.
For all the slack that Nigeria gets, I'm happy about this one thing: that Nollywood has been hiring women of all ages and making these women superstars from the beginning. Actresses like Patience Ozokwor, Hilda Dokubo, Sola Sobowale, and many more. The names keep rolling. These were women who are very much at the forefront of Nollywood. We know their names and they have star power. The equality in Nollywood I can say has always been there from the beginning of time, and for that, I am actually proud of we, Nigerians.
Oh, I'm digressing...that's not what we're talking about today. Today, I want to highlight 7 of our Nollywood actresses who are still very stylish, if not more stylish than they were when they broke unto the scene.
Without further ado, here are my picks for the 7 Most Stylish Nollywood Actresses Over 50.
Before we jump into the list, be sure to like and follow me on Facebook so you don't miss out on any new interesting, funny, exciting stories that I post every single day.
1. Ngozi Nwosu
Talk about ageless!
Ngozi Nwosu proves that you are never too old to enjoy yourself. You're never to old to join the trend, to wear the fun and bright clothes you want to wear, to live the life that you want to live.
From her energetic personality to the funny strong women she portrays on television, Ngozi is constantly having fun and we have no choice but to join in and have as much fun as she is having whenever we see her.
I mean, come on! This woman is 56 years old and she is living her absolute best life.
2. Ngozi Ezeonu
Ngozi posted the above picture with the caption: "Which is More Beautiful? Before or After?"
My answer is BOTH.
Ngozi Ezeonu is living proof that women are beautiful at all ages. Many times, society tries to act as though there is an expiration date on a woman's beauty, but I don't think that's true. To prove that something isn't true, you only need 1 proof that negates the statement. So if the statement is that "A woman's beauty has an expiration date", then I provide Ngozi Ezeonu as the proof to completely shatter that myth.
I mean, what are you talking about?!
3. Ireti Doyle
What's not to love and respect about Ireti Doyle? The actress is often typecast as the bougie mother, aunt, or friend who is always stylish. And although we don't know about the bougie part, I think we can all understand why Ireti is always typecast as stylish.
Whenever the actress shows up on the red carpets or we see her posts on social media, it is evident that this is a woman who cares about how she looks and puts an effort into putting her best foot forward.
Ireti has never looked better and her fashion sense is only going up everyday.
4. Sola Sobowale
Nigeria's TV Titan, Sola Sobowale is a woman who was been acting for a very long time now, yet is never a bore to watch.
With the ability to constantly invent and re-invent herself, the 56 year old actress proves that there is always room for improvement and growth.
In terms of style, the actress also doesn't disappoint. Although she's nothing like you probably think she is, she is definitely a style icon and a woman who is aging like fine wine both in looks and fashion, as well as in her acting career.
5. Ebele Okaro
Veteran actress Ebele Okaro who's been fondly dubbed the "Mama of Nollywood" is 56 years old and ROCKING IT!
Although still very much playing the role of "mother" a lot of times, Ebele is taking chances with other different types of roles and experimenting and challenging herself with every new script she gets. Who said it's ever too late to break away from a stereotype and try something new? Definitely not Ebele Okaro, because that's what she's doing.
And then, if we're talking style, I mean, come on! Check her out.
6. Tina Mba
Which type of role has Tina Mba not played in this Nollywood? Is it hero? Check. Is it villain? Check. Is it mother? Check. Is it love interest? Check.
Tina Mba shows us that there is no reason to fit into one box or settle for one type of role because that's what the industry says. Not every woman over 50 has to play the mother who only wants the best for her son and is constantly praying. Tina Mba shows us that. With every role she takes, she elevates the characters and brings something new to the table, and that is why we love Tina Mba.
We also love her because the woman knows how to put a look together. I mean, judge for yourself!
7. Joke Silva
Did you think I could even write this kind of post without including the incomparable Joke Silva? Come on, I've not yet lost my mind.
If you talk class, sophistication, talent, then you talk Joke Silva. She is a woman who has been around from time and till today, every time she speaks, it's wisdom. When you see her on screen, she brings emotion. She's an all around talented actress and inspiration to all of us.
And as for her style, I mean...there's a reason she has over 750,000 followers on Instagram. Look at this!
THAT'S ALL.
Did I or Did I do a good job of compiling a stellar list? Is there anybody you wished to see who didn't make the list? I doubt it, but if there is, feel free to comment under my post or message me directly on Facebook and I can smack myself for forgetting.
Either ways, I hope you've had a fun time going through the list.
Be sure to like and follow my Facebook page so you don't miss out on all of the interesting posts I make daily.
For other stories I know you'll love, check out my Vocal page here.
Until next time, have a wonderful rest of your day!