5 Times Simi's Clothes Embarrassed Her (Photos)
A look back at some fashion failures.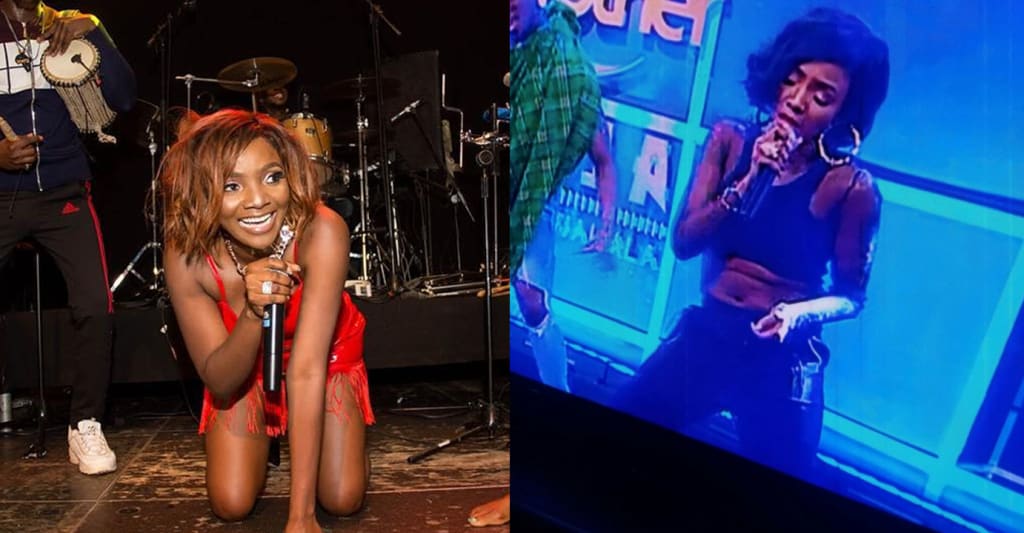 When I wrote the story, 5 Times Tiwa Savage's Clothes Embarrassed Her, I didn't think it would go on to become as successful as it did. You guys REALLY loved that post. So many of you even messaged me to do other celebrity fashion fail lists. Well, your wish is my command.
While Tiwa Savage has had her own share of fashion mishap moments, another artiste that has suffered immense scrutiny for her fashion choices is Nigerian singer, Simi.
Since Simi stepped unto the scene, she has been the object of a lot of fashion police attacks and a lot of her outfits have caused serious backlash so much so that she had to respond on the matter.
Without further ado, here are 5 Simi outfits that have caused her some wahala in her life.
**Before reading on, please make sure to like and follow my Facebook page (Jide Okonjo) so you don't miss out on any new and interesting lists, articles, and stories that I post every single day. I have a really fun page. If you like my page, you will have fun too. So what's stopping you? Like my page and let's have fun together!
1. This Green Jumpsuit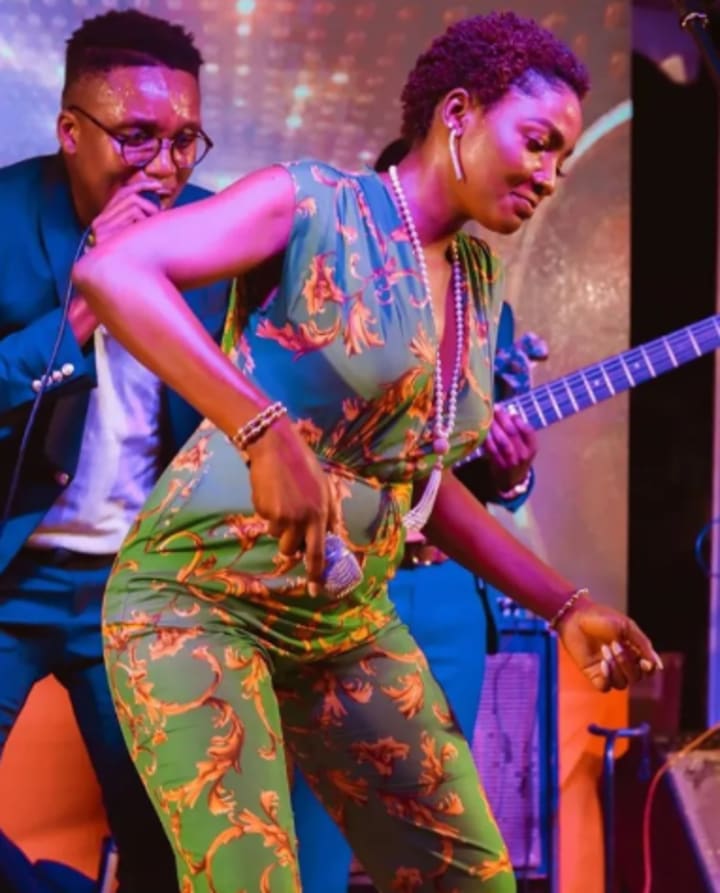 Simi rocked this in October of 2019 during a performance at the German Embassy. Once the pictures from her set hit the internet, it was go time! The onslaught of insults started immediately. People told her to 'watch her weight', that she should have 'worn something more flattering', and that she looked pregnant.
Now, the thing is that this performance happened in October 2019 and Simi welcomed her daughter, Adejare in May of 2020 meaning that this performance happened in the very early stages of Simi's pregnancy.
After seeing all the chatter about the picture, Simi took to Instagram and wrote about the picture:
When you suck belle, but belle don't suck you back; can two work together except they agree?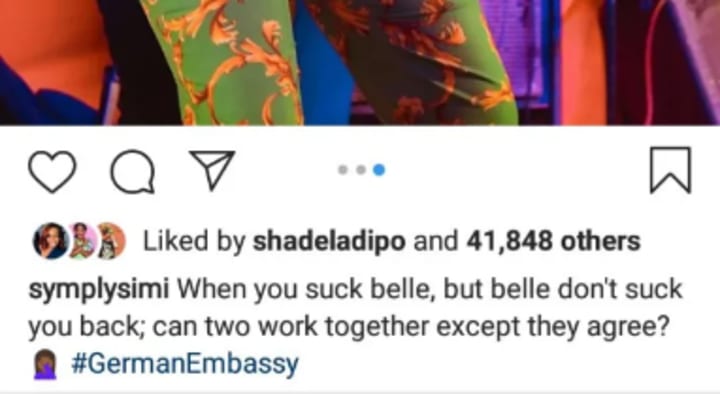 2. Big Brother Outfit #1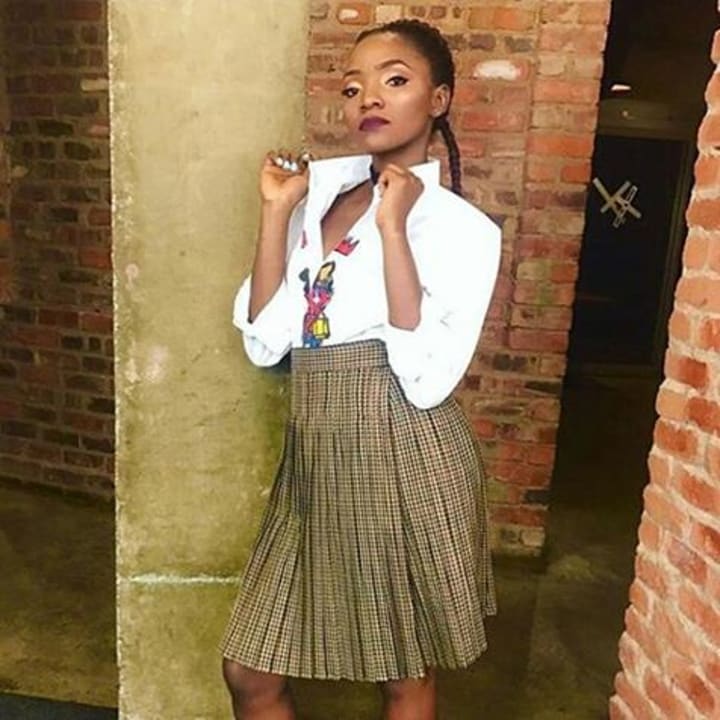 Nobody's Big Brother looks have been criticized the way Simi's Big Brother looks have been criticized and it all starts with this outfit that she wore for her second performance during a 2017 BBNaija eviction show.
The criticisms came quick.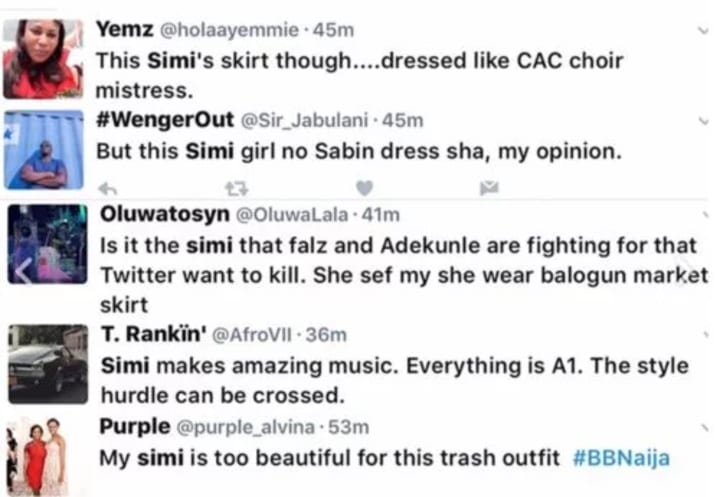 The onslaught was so much and yes, Simi responded to one commenter's outfit who said "Simi what is this skirt for gods sake, one step forward and 5 steps back" with the response "Nobody forced u to watch boo."

Wahala for who wear CAC skirt oh!
3. Big Brother Outfit #2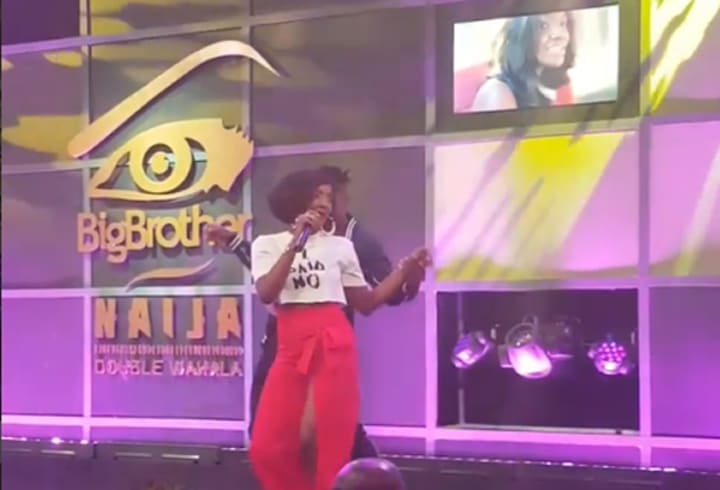 In 2018, Simi returned to the Big Brother stage for another performance and while I don't see anything wrong with her outfit (I really don't see anything wrong with any of these outfits btw), Nigerians definitely weren't impressed.
Speaking about the outfit, people said: "OMG… Am I de only one seeing this nonsense simi brought to d stage… Simi sef be doing like village gal", "I just want to know Is it that Simi does not know how to dress or dress doesn't fit her", "Please can someone illustrate what simi is wearing"



Maybe third time's the charm?
4. Big Brother Outfit #3.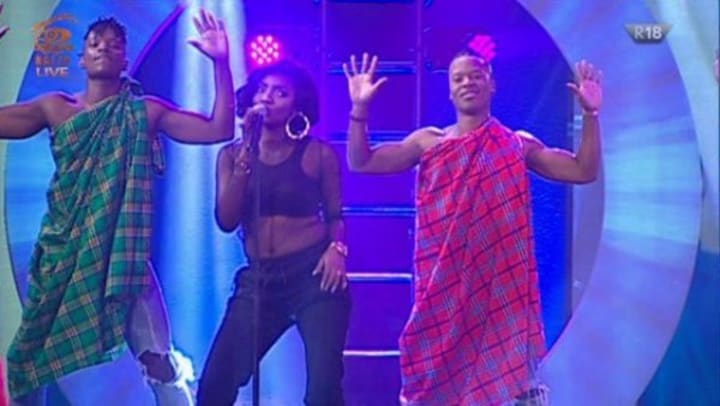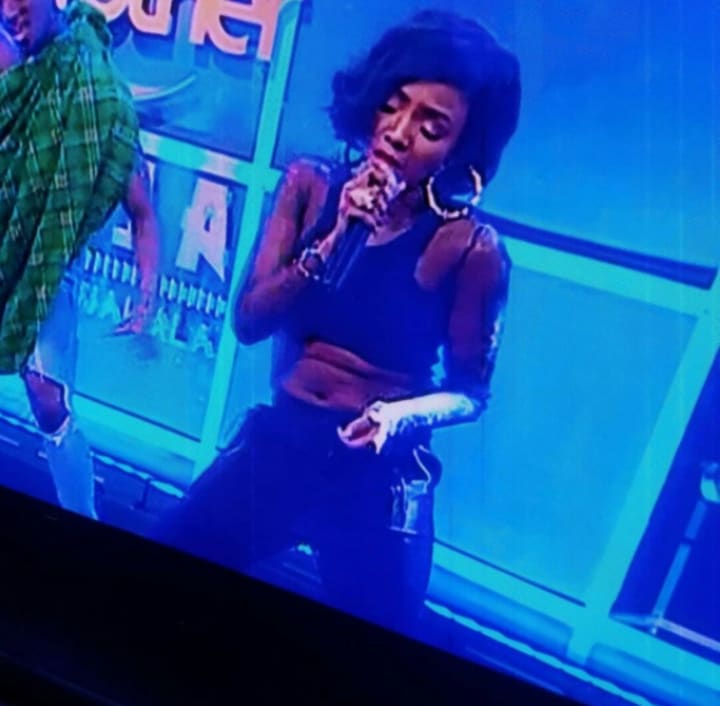 Third time was not the charm.
You see this outfit didn't cause insult for just the outfit like the other two did, it caused insult about Simi's body. The bashing was a lot and Simi this time didn't hold back in responding to people as they yabbed her.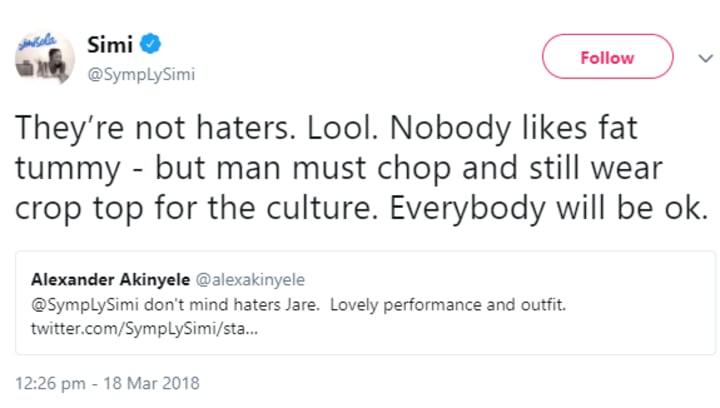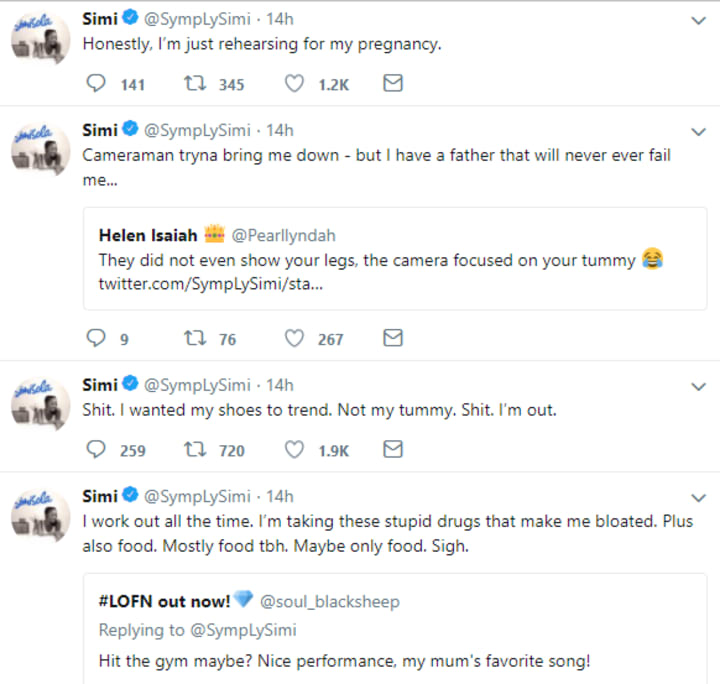 5. This Open-Bra Outfit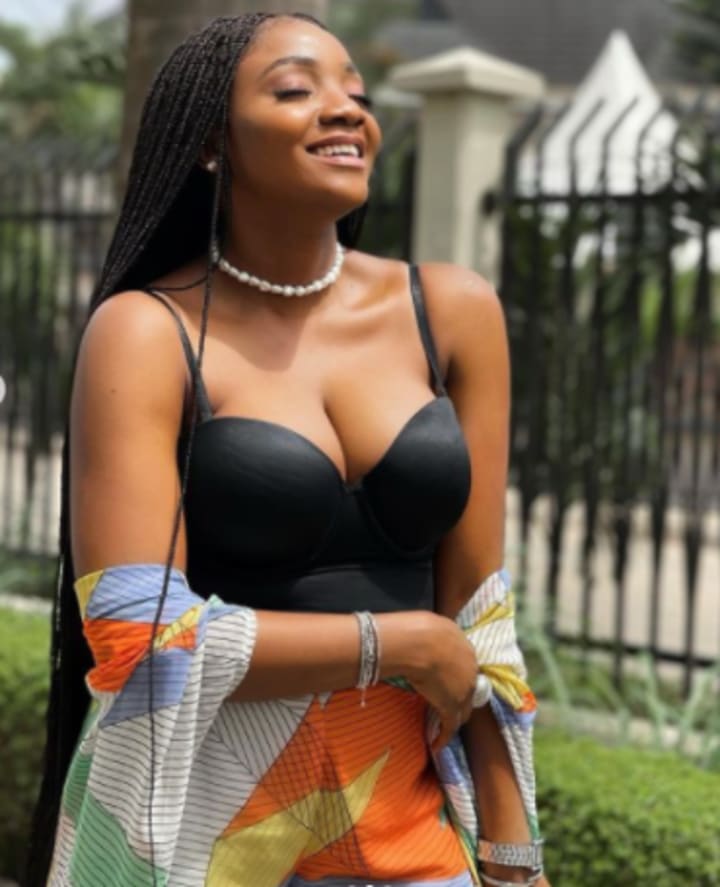 When Simi posted this picture after having her daughter, she was met with the 'you're a mother' backlash that a lot of mothers get. People abused her of 'showing too much skin', of the picture being 'too risque for somebody that is a mother', etc.
Simi upon reading the harsh critics took to her Insta story to write saying: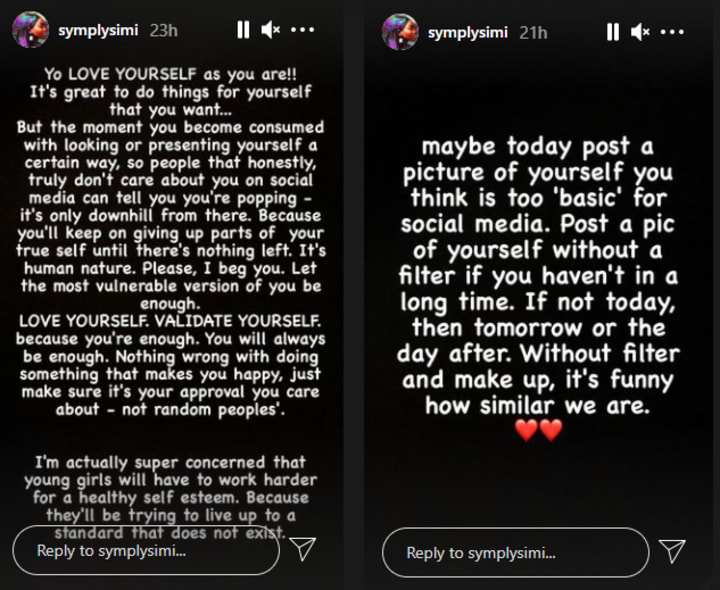 Wow! Nigerians and fashion criticism. What do you think about these outfits? Let me know any thoughts you might have by leaving a comment on my Facebook post.
That's All.
I hope you've had fun. Don't forget to like my page (Jide Okonjo) if you don't already for more stories like this, the fun never ends!
To catch up on other content you might have missed, click here.
Until next time, have a wonderful rest of your day.