5 Stylish and Trendy Shoes for Men
Footwear Guide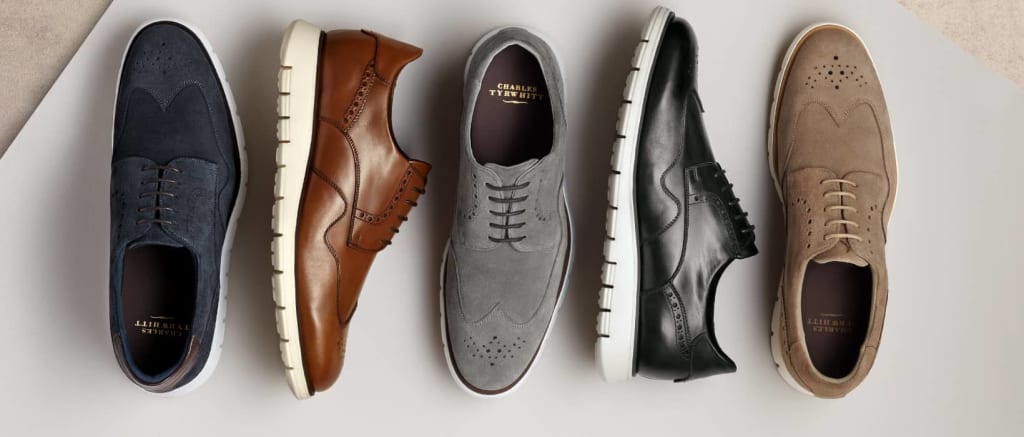 Shoes are one of the best things to buy because your feet' size rarely changes as you grow up. Moreover, the shoes are made to be durable. Buying shoes means finding things that you know will fit your feet for the future. Also, spending money is more fun if you feel like it's well spent.
But, with that comes more essential questions: what shoes are the best to have? What is a reasonable basis for a shoe closet that can be balanced with fun or trendy choices? From pool slides to dress shoes, these are the shoes that every guy should own.
We have everything for you, from sleek, elegant, elegant casual shoes to headline-grabbing leather boots. These are the five best men's shoes you need for a perfect feeling in your wardrobe and which can be easily available at any online marketplace:
In terms of style and appeal, loafers are one of the most classic slip-on shoes you can wear and still look elegant. They can be worn almost anywhere and with anything — formal attire, casual wear, or even walking along the beach. Loafers are shoes that don't have any lace or tightening system, making them casual, relaxing, and comfortable to wear.
Loafers come for both women and men and are popular among all age groups, be it the teens, adults, or even old age, because of their comfortable fit and wear technique. It can be worn in all weather, and at any place, also the loafers get easily fit with both formal and casual wearings. Loafers come in different ranges and varieties. The most common types of Loafers are The penny, The Tassel, The Aurland, and The Gucci.
Oxford is the most acceptable royal shoe for men. These shoes originated from Scotland and Ireland and became famous when Oxford University's rebel students wore them instead of knee-length and ankle-length boots.
Oxford shoes generally come with a leather sole, low heels, tight lacing, cap-toe, and black and brown color. These shoes are the most favorite of formal lovers, and it is also super comfy. It quickly enhances the beauty and the looks of the wearer and makes him look outstanding.
Ideally, Oxfords are the perfect choice for formal wear and are available in the most popular colors, black and brown. Oxfords also come in various styles such as cap-toe, buck, wingtip, and many other classic styles.
Sneakers are sporty and casual, like no other pair of shoes. There's classic white that goes with whatever you wear, and then the retro sneakers give a cool look to your t-shirt and jeans.
One of the most sturdy and comfortable shoes for men is a sneaker. Not only do they look generous to all, but they also blend in with a wide variety of costumes. It's the right decision, whether you're going to a basketball court or meeting friends at a cafe.
Sneakers come in so many different types and can be used for various things, making them ideal. They can be used, for example, for casual walks in the park, for exercise, and you can even wear them in the office. So, if you are searching for some trendy sneakers, then why don't you visit the sites like eBay.
Work Boots were initially developed in Germany during world war 2 for the workers to protect themselves from dangerous machines or tools and provide the proper grip. Before these rough and tough boots were invented, workers usually used to wear plain leather or wooden shoes, which were less safe and mostly uncomfortable.
In olden times, men used to wear work boots that could support the body's weight during the day for farmers or woodcutters. This unique hard-soled shoe has been available since that period.
But slowly, as time passes, these boots start becoming famous among the larger population because of their toughness, comfortability, and long-lasting nature. But actually, the Biker gangs were the ones who had taken the popularity of these tough boots to another level. They are the ones who had started wearing the work boot in a large no. which suits their personality and helps them to travel and ride in challenging terrain.
After then, the work boots got their real popularity. It was adopted by various fashion and shoes making Industries started developing modified and designer work boots in large no. to make them more attractive and increase its sale. Nowadays, the work boots come in a large variety and designs and are now famous among every section of the society, be it the men or women everyone craves for these long-lasting and robust work boots.
Boots are rated as high fashion and an excellent choice for the winter wardrobe. This beautifully made shoe will last longer if treated adequately with milk oil and conditioner.
The dress boot! Its versatility in style and function provides extra durability all season. These shoes are also an excellent footwear piece to have in your closet. Dress boots are perfect with formals but can also be paired with your favorite denim jeans. Dress boots are a must for every man.
Factors to Consider before Buying Shoes
Purpose: Purpose is an essential factor to think of before buying anything. If you are thinking about buying shoes, try to find out the primary purpose behind them. E.g., why you want new shoes and for what. Are you buying the shoes for any party or hangout, official meeting or formal work, for a long ride, running, or exercise. You should also consider the type and color of shoes concerning the clothes you have or will wear with the shoes you are buying.
Quality: Quality is the second most crucial factor to consider before buying any shoes. In the case of shoes, the quality really matters. The low-quality material, heels, or sole may cause you harm while doing any kind of work. It's crucial to consider the quality generally if you are buying formal shoes as it will represent your personality in your office, and if you are buying shoes or boots for travel or riding purposes as it will keep you safe and stable in challenging terrain.
Size: Size is the most crucial factor. This is unusually true in the case of the shoes. It's got to be right, or you're going to be in trouble. If your shoes are an inch shorter or longer than your legs, they're going to hurt your legs and make you feel totally uncomfortable.
Price: The last but significant factor. In a world where everything is possible and nothing is fixed, you can get your desirable shoes of the desirable brand at a desirable price. The thing you have to do is play smart and buy it from the trusted sites that offer your desirable shoes under your budget or the sites that usually offer a bigger discount on the shoe's price. TrueGgether is among one of the trusted sites that usually offers shoes and a variety of other products at a desirable and fair price.