5 Small Instagram Brands to Support with Your Unemployment Checks
These are the small online businesses you should be stress buying from while stuck inside.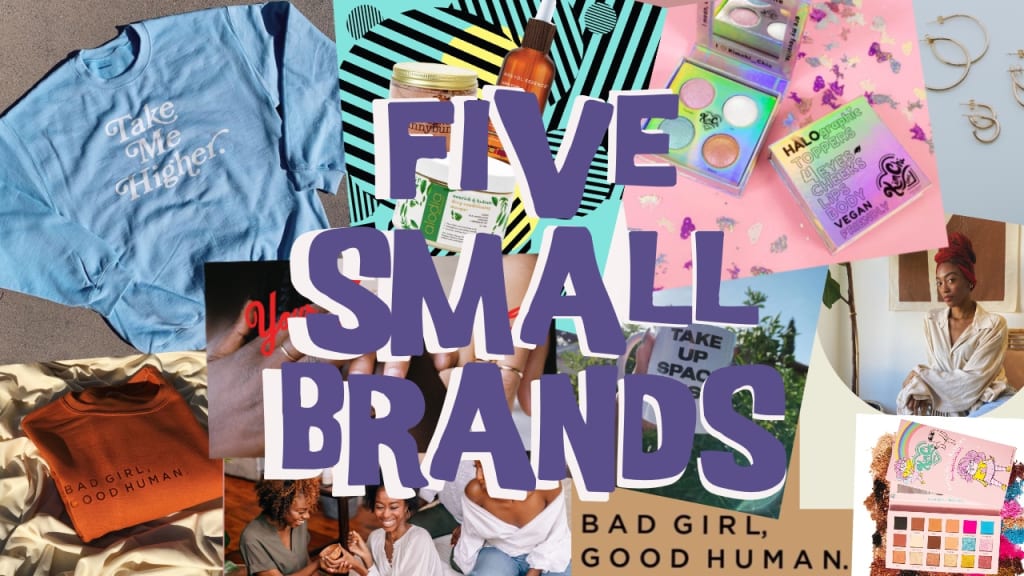 Self-isolation spending seems to be a new trend. People have complained on social media about spending more money while stuck on their couches than when they had the opportunity to go shopping physically. Online shopping is fun, and if you find yourself with a little extra money in your pocket and decide its the time to upgrade your wardrobe, expand your jewelry collection or try some new beauty products, these are the five small, predominately woman-owned companies you should invest in.
1. Hey Sis LA (@heysisla)
Located in Pasadena, California, Hey Sis LA was started in 2017 with the name "Life of Her." Selling predominately clothing products, Hey Sis LA changed their name in 2019 and continued to grow and expand their range of feel-good, spiritual clothing. Owner Taylor Jaxson (@taylorjaxson), has been working hard producing content and selling her merchandise for almost three years now, promoting strong positive energy, daily mantras, and encouraging her audience to embrace themselves and live higher. The Hey Sis LA website and shop is currently under re-construction, but Taylor keeps a close connection with her followers, giving updates on new items and the re-opening of the shop this summer. I own a hoodie and t-shirt from Hey Sis LA and have plans on purchasing more of the comfy, affordable clothing once the shop opens back up!
2. RCHL (@rchlmade)
Located in Los Angeles, California, RCHL is a small jewelry company that was started by owner and CEO Desiree (@desireegrrro) in her little Brooklyn, New York apartment in 2018. RCHL has become the movement Desiree only dreamed it would be, by producing thousands of handmade jewelry to be loved around the world. Affordable and well made, the pair of studs I own for RCHL have never irritated my ears or given me any reason to not purchase more from this fabulous one-woman show of a brand. (And I'm not just saying all this because I was featured on their Instagram!) With continued shipping and producing during the current pandemic, RCHL is a great woman-owned brand to explore if you're in the market for some new, fun accessories.
3. Bad Girl, Good Human (@badgirlgoodhuman)
This black woman-owned company is based in Los Angeles, California, and was created by spiritual goddess Orixa (@hueofstyle) in 2017. Selling predominately clothing, this brand celebrates powerful, strong women owning their sexuality and spirituality. The company platform is all about "rebellious, alluring, sassy women," finding their place in a society that continuously pushes them down. Though this shop is currently closed due to the high demand for its products, I highly recommend you follow their feed for some beautiful photos, daily mantras, and good vibes! (Also, to receive updates on when the shop will open up next!)
4. BLK + GRN (@blkandgrn)
This wellness product marketplace is the perfect shop to go to if you want not only organic, and healthy products, but products produced and made by black artisans! BLK + GRN is a great online site to support because of the expansive array of products and merchandise they offer. From bath and body, skincare, beauty, hair care, and feminine products, this marketplace has what you're looking for to contribute to your healthy, virus-free life. What better time to not only support black artists, but get yourself on a healthy track, than now? 2020 may not be your year for traveling, drinking alcohol on beaches, and questionable one night stands, but it can be your year for healthy hair, clear skin, and giving back to independent creators!
5. KimChi Chic Beauty (@kimchichicbeauty)
KimChi (@kimchi_chic), best known for being on Season 8 of Rupauls Drag Race, recently came out with a makeup line in 2019. KimChi Chic Beauty has been on my radar for months, because of their beautiful products, and affordable prices! Known for her breathtaking makeup and fashion looks, it seems only right that KimChi produces a makeup brand that attributes to her love for makeup and beauty. Still a small fish in the big pond that is the beauty community, KimChi Chic Beauty has a range of complexion and eye products that are beautiful and inclusive. The best part is that 2% of every purchase made from this brand goes to The Trevor Project, an LGBTQ+ foundation that supports young queer people in need.