5 Personalized Jewelry Gifts in Sterling Silver and Gold for My Girlfriend
Personalized Jewelry Gifts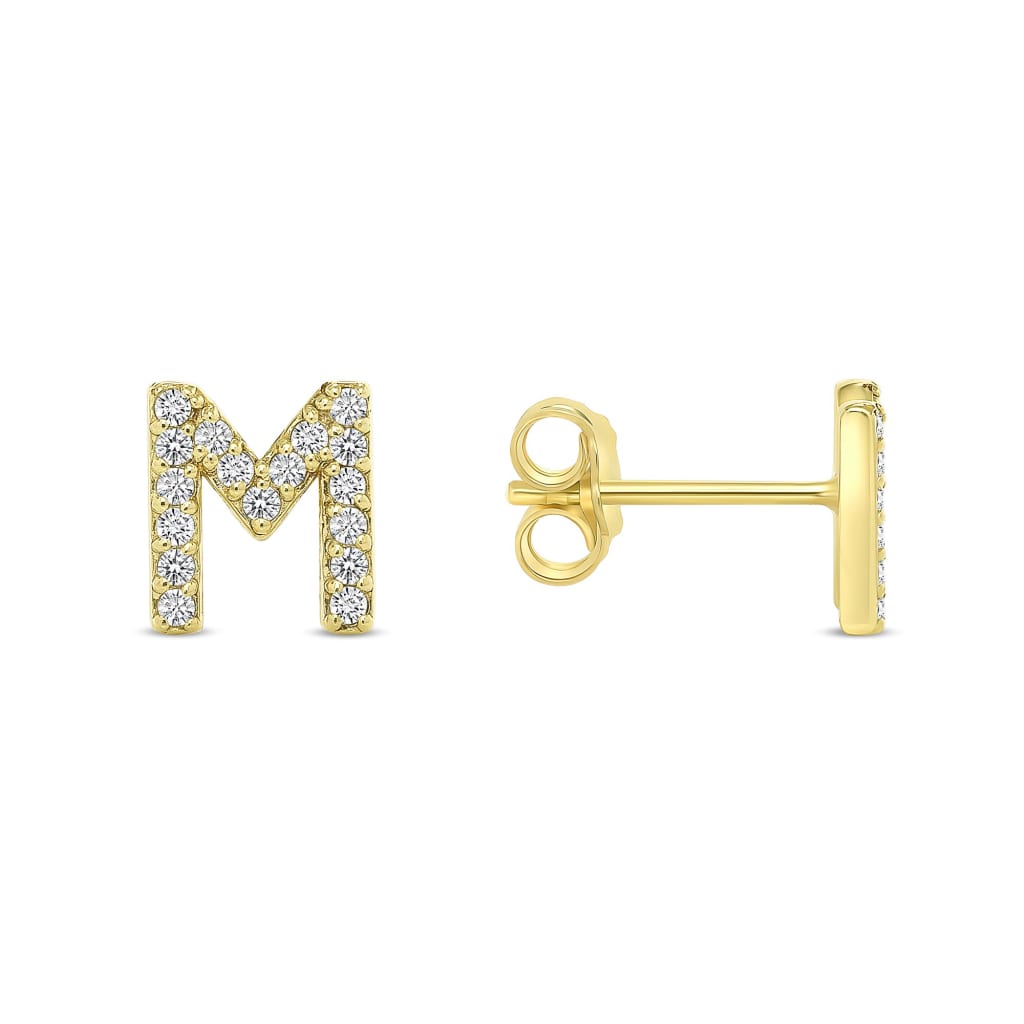 Personalized Initial Pendant
There are quite a few reasons why Personalized jewelry has become such a popular category of jewelry in recent times. There are quite a few different types of customizations that are used to create a sense of identity and relatedness with the piece. For starters, there are specific symbols and images that people might relate to, and want engraved on their jewelry.
Further, perhaps the most popular form of personalization that is seen in jewelry nowadays is 'initials'. Jewelry pieces with specific initials give a sense of identity to the piece, and effectively makes it unique and special. Further personalized engravings or styles also add to the overall uniqueness, and makes the piece a special one especially made for the wearer.
Things were vastly different in the previous century. Jewelry pieces were considered transformatory, and were seen as symbols of a person's wealth and Social status. Nowadays however, jewelry pieces are seen as an extension of the person's personality. People do not consider them to have the same kind of importance about the person's identity, which is a reflection of changing worldwide values, as well.
Further, we have more advanced machinery better suited to engrave certain customizations on jewelry pieces. Moreover, people nowadays are more inclined to choose pieces that are bold and unique, and convey specific messages about them. In addition to engravings and initials, this can be in the form of pictures, or a deeper sense of symbolism that might even require explanation to be understood,
Jewelry is no longer worn for others. A person wears jewelry pieces to better convey the kind of personality that he or she wants to with the rest of the world. It is worn by people because they feel better about themselves, irrespective of how it is seen by others, in quite a lot of situations.
Of course, personalized jewelry always runs the risk of being too 'tacky', or over the top. While there might only be a finite number of customizations that are available to a person, the way in which these translate to pieces is what determines the overall popularity of the jewelry piece.
In this article, we look at some of the best personalized jewelry pieces made out of Sterling Silver or Gold. These pieces are intricately handcrafted, beautiful, and convey specific messages about the wearer's personality with the rest of the world.
Initial "A" Diamond Letter Pendant in Solid Gold
The Personalized Initial Pendant features a set of 14 tiny round shaped diamonds that are well complemented by the yellow gold finish. Further, the piece has a scintillating polished glow which gives an intense sparkle to the pendant.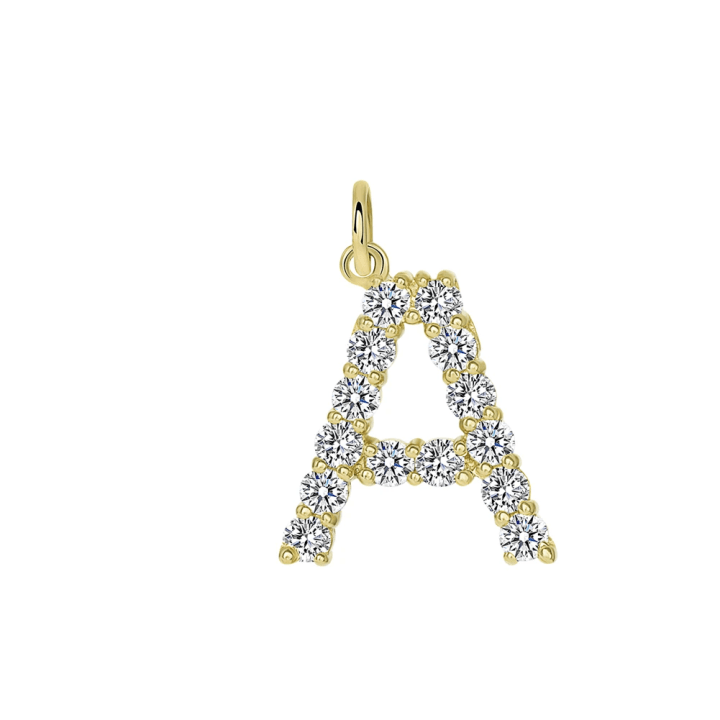 On the Takar Jewelry website, you can find a large range of customizable Solid Gold initial pendants that will feature the letter of your choice. These pendants are not only beautiful and handcrafted, they feature 100% natural stones and are Made in the USA.
Further, the pendant comes in three different color options: Rose Gold, White Gold and Yellow Gold. All these colors have their own specific auras that add to the overall visual quality of the piece. Finally, the overall nature of the necklace makes it especially suitable to be gifted on a wide variety of occasions, irrespective of the kind of relationship that you share
Personalized Cursive-Style Letter "A" Initial Pendant in Solid Gold
Unlike the personalized Initial pendant that we saw above, the Cursive style initial pendant goes for an understated yet beautiful font which has a modern and unique twist to it. The pendant comes in both 10k and 14k gold variants, and customers can choose the exact letter that they want their personalized pendant to feature.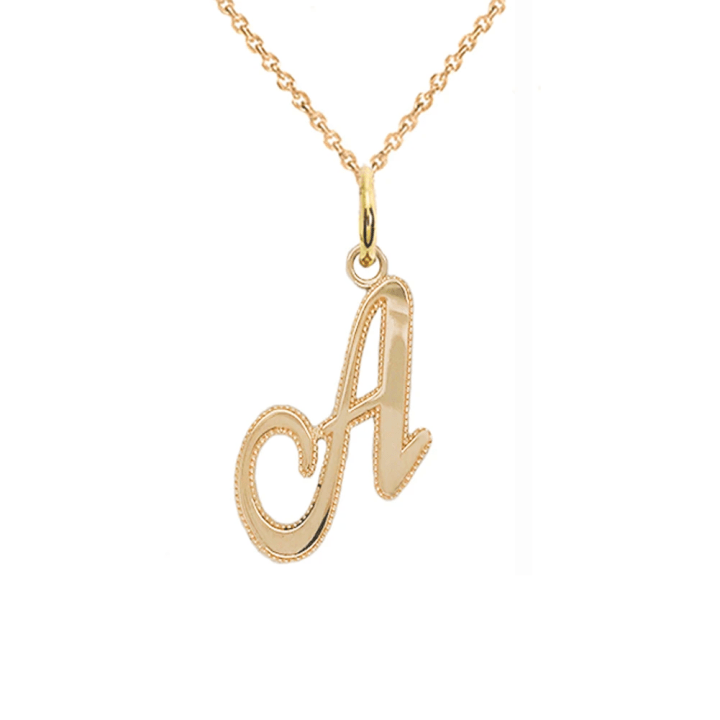 The cursive initial pendant is a cheaper yet visually brilliant alternative to the diamond studded initial necklace that we talked about, above. As always, all our products are handcrafted, and we take great pride in the quality of our handiwork. Finally, the pendant comes with a sophisticated Rolo chain which further accentuates the visual brilliance of the piece.
Initial Pendant Necklace in Sterling Silver
Finally, we have another Initial pendant that has a rather simple yet majestic design and comes in authentic sterling silver. The necklace, as you can see below is suitable for all kinds of occasions and comes in a variety of different styles.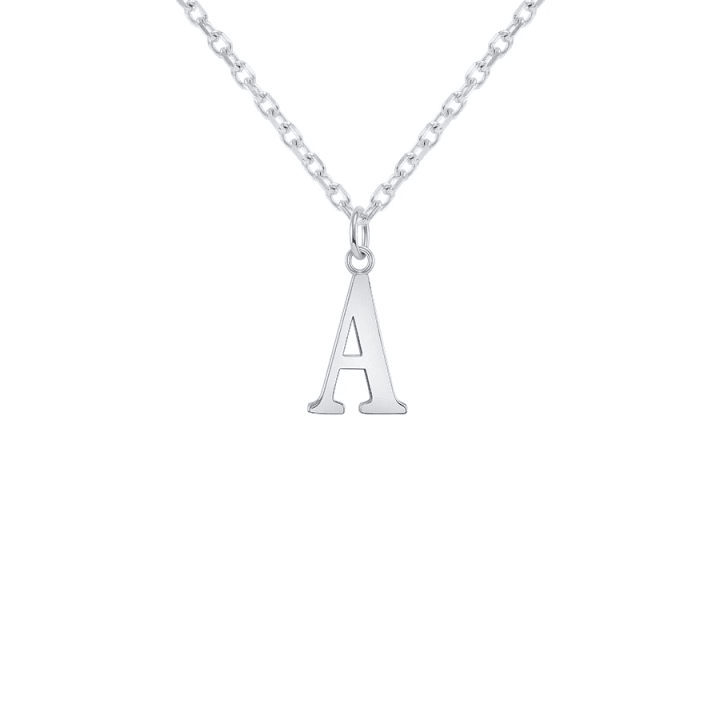 In addition to the style you see above, we also have the cursive style initial pendants that have a certain extra quality which makes them perfect for casual occasions.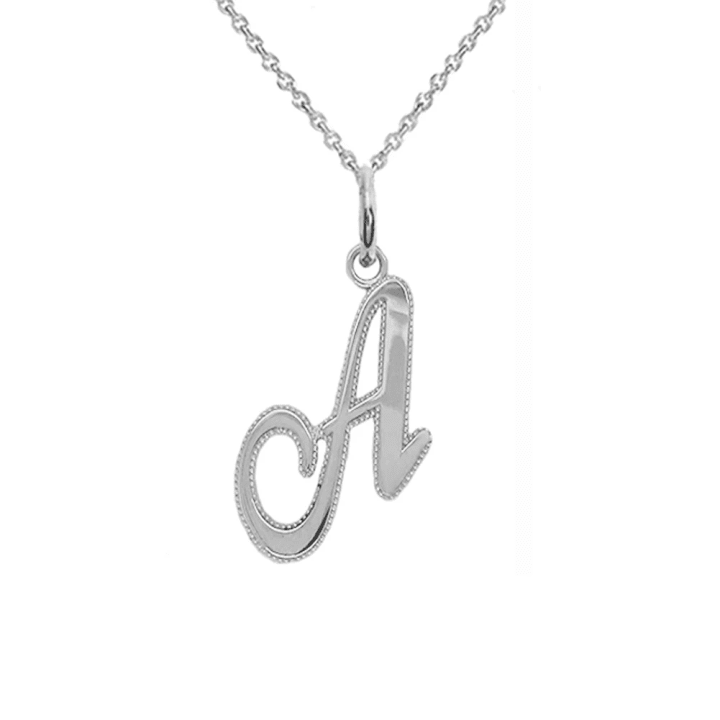 FInally, we have a large variety of handmade personalized jewelry products that all feature 100% natural diamonds, gemstones and other materials. You can check our large range of products on the official Takar Jewelry website.