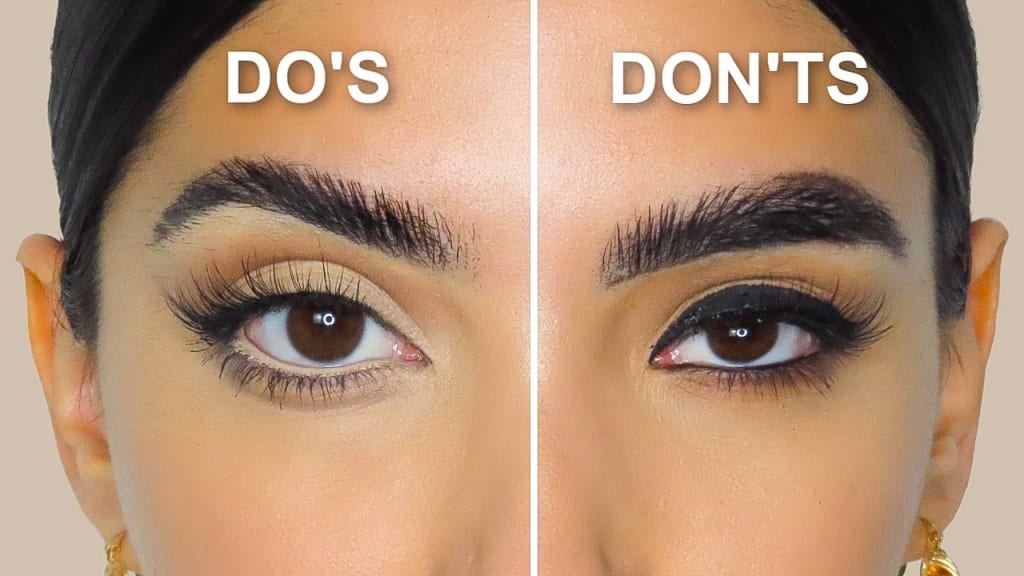 Not all of us are blessed with Bambi eyes, but that's okay. There are a number of eye makeup looks that are particularly suited for small eyes and make them look super attractive. However, sometimes, we do feel like making our eyes appear larger and wider, for bigger eyes look magnificent. It's possible to create the illusion of bigger eyes with makeup, but you need to gain mastery over eye makeup techniques and get hold of the right makeup products to do so.
Let's know the top 4 eye makeup tips to make your eyes appear bigger.
Eyeshadows to Make Your Eyes Appear Bigger
The key to making your eyes look bigger lies in using the right eyeshadow shades. If you want to make small eyes look bigger, your best bet would be to go for lighter eyeshadow shades than dark ones. Light shades create the illusion of bigger eyes, whereas dark shades narrow down your eyes. You can also use light shimmery shades to do your eye makeup as these will reflect light, making your eyes look bigger. Use light gold, silver, peach, light pink, and champagne shades for bigger eyes.
Highlighting the inner corner of your eyes with a highlighting or light shade is a great eye makeup technique to widen your eyes and brighten up your look.
However, having small eyes doesn't mean that you have to ditch intense smokey-eye looks. Choose a shimmery black eyeshadow to smoke out in place of matte black eyeshadows.
Speaking of eyeshadows, how can we forget about blending? Harsh lines or poorly blended colors will ruin the look and take the attention away from your eyes. Therefore, use the right eye makeup brushes to blend in the harsh edges or meeting points between colors. This will ensure that your eye makeup looks seamless and neat, making your eyes look more appealing.
Lining Techniques to Lend More Definition to Eyes
One way to properly define your eyes is tightlining, which is the eye makeup technique of lining the upper and lower waterlines. This gives the illusion of thicker and fuller eyelashes by darkening the roots, thus creating the illusion of intense and big eyes. Just tightlining your eyes and coating your lashes with mascara will help you sport bigger eyes while keeping your makeup minimal.
Using the correct eyeliner/kajal is crucial to the art of making the eyes appear bigger. For small eyes, it is usually recommended to line the lower lashlines with brown or white kajal as these light colors make your eyeballs seem bigger. If you can't ditch the black kajal, you can line just the lower waterline with a stroke of white or brown kajal and go in with a black kajal on your lower lash line.
Winging your eyeliner is also a great way to make your eyes appear bigger and longer. However, make sure that you don't go overboard with the eyeliner strokes. Apply the black eyeliner very close to the lash line and keep the strokes thin and sleek. You can thicken out the wing on the outer corner of the eye to give your eyes an elongated and uplifted look.
Give an Incredible Length to Your Lashes
Another foolproof way of making your eyes appear wider is giving your lashes that lift and curl. Just mascara will not do the job completely. It's advised to give your lashes a nice curl with an eyelash curler and then go in with a curling and volumizing mascara.
If you are dolling up for glamorous occasions, then wearing false lashes will also make your eyes pop. However, false lashes can weigh down your eyes if they are too heavy. Therefore, always find eyelashes that are suitable for your eye shape and size. You may also have to trim off the excess at the corner of the false eyelashes so that they can fit your eyes better.
Get Your Eyebrows That Lift
Grooming and shaping your eyebrows the right way also plays a major role in making your eyes appear wide awake. Messy, unruly, or ungroomed eyebrows make your eyes look tired and closed off. Therefore, have the excess hair plucked out and give your brows a proper shape using an eyebrow-filling powder or pencil. Lending an arch to your brows also helps as it gives an illusion of a lifted look. It also increases the space between the eyes and brows, which again adds to the illusion of bigger eyes.
Pro-Tip to Make Your Eyes Appear Bigger
Saving the best things for the last. A trick that will completely change the eye makeup game for you is correcting imperfections and discoloration around the eye region/ Dark circles or discoloration on the eyelids and under the eyes can make your eyes look smaller. If you have heavy dark circles, color correct them and then go in with a lighter shade of concealer to illuminate the under-eye area. If you have light dark circles, just the concealer would work. Set with powder to avoid creasing.
So these were some foolproof eye makeup techniques to make your eyes appear bigger. Grab the best eye makeup products online, including eyeshadow palettes, eyeliners, mascaras, and brow-filling pencils. Amp up your eye makeup now and flaunt wide and hypnotizing eyes.
Reader insights
Be the first to share your insights about this piece.
Add your insights