3 Most Beautiful Waterfall Bracelets
Marla Trudine's bracelets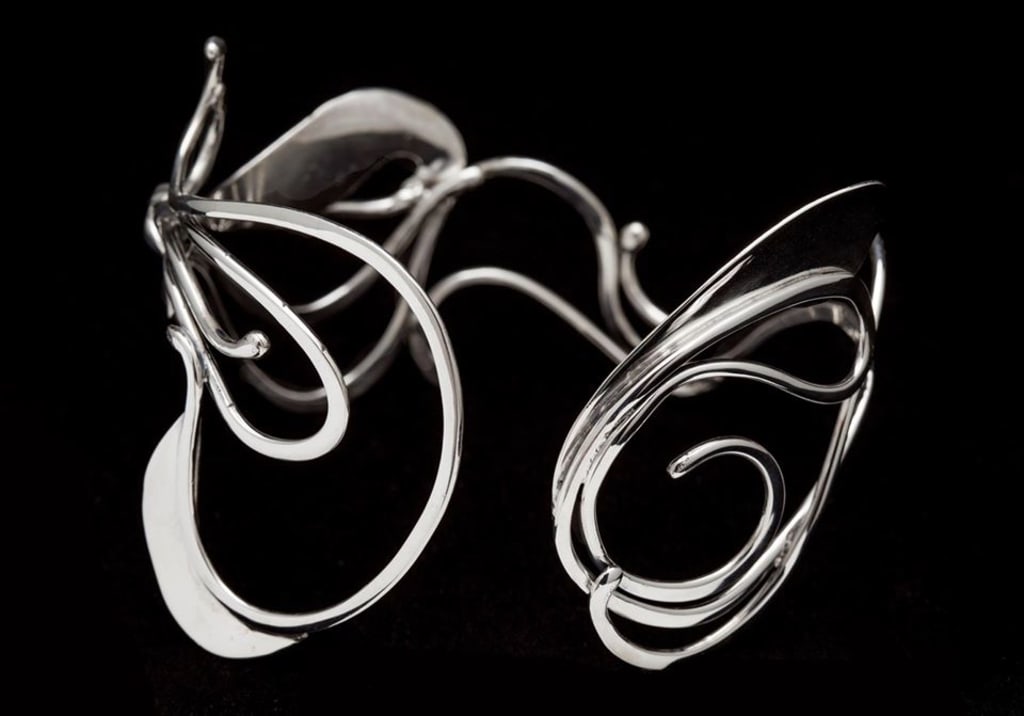 Waterfall Bracelet
Bracelets are one of the most versatile jewelry pieces out there. Personalized bracelets have a number of customizations that make each piece significant for a particular person. Different regions have different styles of bracelets that hold historical significance.
Imagery of holy deities and statues wearing bangle bracelets is also common. What is interesting is that like some other pieces of jewelry, bracelets have not been considered to be feminine, historically.
Bracelets have always been associated with both genders, and various styles were considered more suitable for men. Even today, certain religious officials and priests wear beaded bracelets that are considered holy. Further, bracelets are considered particularly suitable for a high number and types of customizations.
These include beads, as already mentioned, and engravings, initials, or just elaborate design elements that add to the visual quality of the piece. Further, certain pieces have vivid imagery with open designs and may take inspiration from nature, or flora and fauna.
Further, bracelets with gemstones and diamonds are also particularly common. These stones allow the piece to be multicolored, and generally add to the visual quality of the piece. Further trends such as Friendship bracelets have also gained traction over the past century. Friendship bracelets are given to friends on Friendship Day, which falls on 30th July, this year.
Other more detailed customizations such as charms and strings are also commonly used in bracelets. Charms are particularly versatile, and can be used in a variety of jewelry pieces. As far as bracelets are concerned, charms allow for personal images or text to be used. This makes the piece even more special, and one of a kind.
While certain bracelets are personal, others are just intricate and beautiful. These pieces are more suitable for formal and semi-formal occasions when you need a look which is more professional, or official. Further, these pieces are also better suited to be accompanied with other kinds of jewelry.
Bracelets of the same kind can be stacked together, and they also work to enhance the overall look that you are going for. Of course, looking for intricate designs when it comes to bracelets is not a particularly easy task. Further, if you have your heart set to find a piece which does well with the jewelry you already own, the task becomes even more difficult.
In addition to the high variety, this is because bracelets tend to have customizations, and finding pieces that are beautiful on their own accord becomes even more tricky. Further, due to the high number of sub-categories in this particular jewelry type, we will focus on a specific nature themed design, namely our Waterfall Bracelet.
This silver bangle bracelet has a free form open end design that is curvy and feminine, and has a unique aura associated with it. The bracelet has a whimsical design which is full of life and movement, and takes inspiration from various natural phenomena.
These include flowing river water, a beautiful random waterfall, ocean waves, or a bird soaring or taking flight through the sky. As always, the bracelet is entirely handcrafted, and its complicated design means that each and every piece is unique, one truly one of a kind.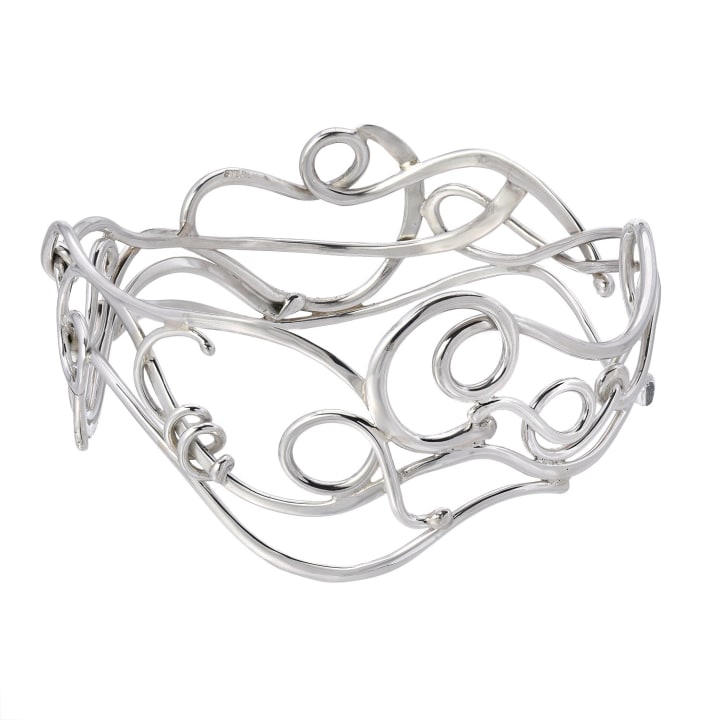 Of course, the piece is available in various colors, most notably the white gold and the yellow gold bangle bracelet. These bracelets do not only look brilliant on their own, they can also be stacked together to form a stunning combination. However, there are two further variants of the product that I want to talk about.
The yellow gold bangle bracelet is suitable for women who like attractive eye catching pieces that are bound to stand out in a crowd. The piece has a majestic glint which does well to attract attention even when accompanied with brighter pieces.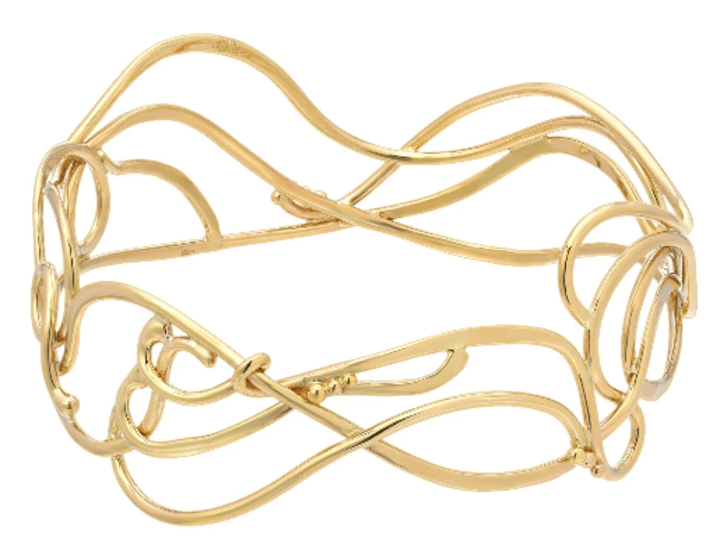 Further, a combination of the two bracelets mentioned above create a complimentary and contrasting look that is highly versatile, and fit for every occasion which is not formal, or professional in nature.
As always, the rose-gold color option works to give a choice to customers who prefer a subtler tone to their jewelry. The rose gold color is not only complimentary with other jewelry pieces, it is also particularly easy on the eye, and the subtle color allows people to actually soak in the various design elements of the bangle bracelet.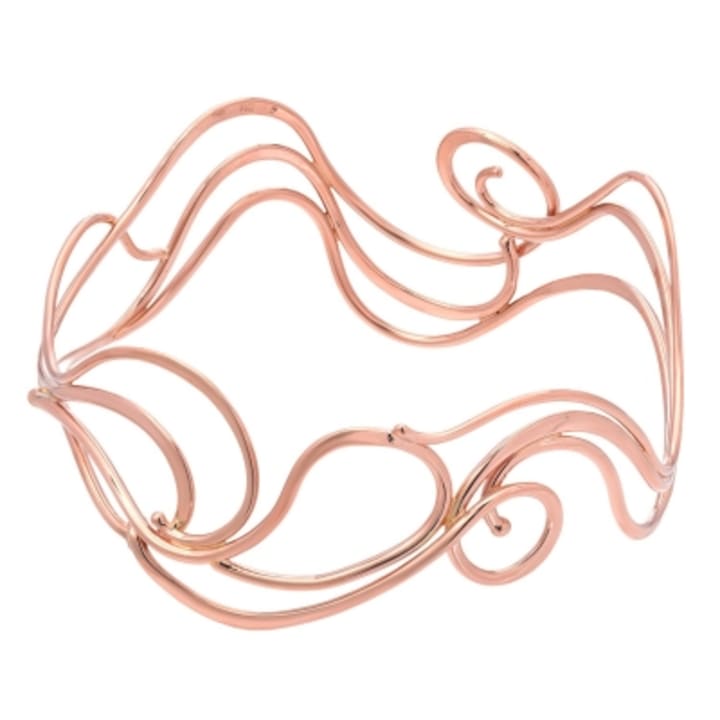 Apart from the full rose gold variant, there is also the pink and green bracelet, which combines the yellow gold and rose gold colors to create a truly majestic piece which cannot but help be noticed by people.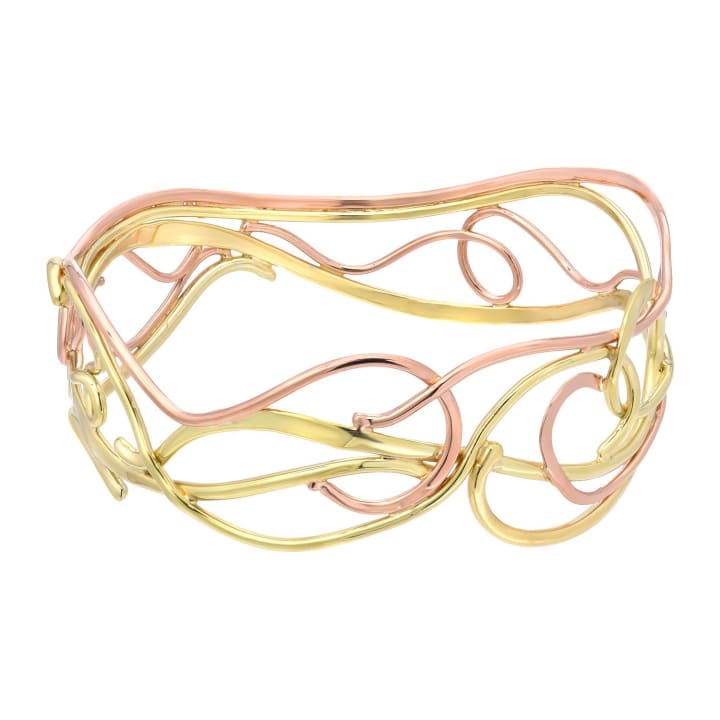 As you can see above, all of my products are truly unique and one of a kind. Further, I use only 100% natural stones, and all of my products are handcrafted and Made in America. You can check out the entire range of fine jewelry on the Marla Trudine website.
Finally, as mentioned before, creating a stack of different color options of the waterfall bracelets creates a truly majestic combination!